Your One-For-All Curb Appeal Guide
Published: 05/12/2022 | Updated: 14/04/2023
Curb appeal is a term dominantly used by real estate agents. And for good reasons!


While curb appeal can generally mean the attractiveness and appeal of a house and its external surroundings as looked upon from the street, it's mostly used in the context of the house's appeal to potential homebuyers.
When it comes to the appeal of your home's external parts, don't underestimate the power of appearances and a great first impression when it comes to selling your house. That's the first impression a prospective buyer gets, and it's a powerful one.
Even if your house's interior is perfect, if everything beyond your front door is mediocre or less, that won't matter. Because potential buyers will be less likely to even step inside to see it. Home's exterior matters! This is a huge reason why you need curb appeal ideas.
To help your house sell faster (and for a higher price), keep curb appeal ideas in mind.
But also, if you're not looking to sell your house, your outdoors is a reflection of you and your style, and it will be the first thing your visitors, relatives, and friends notice about your house and how you like to live.
That means that whether you are looking to sell your house or not, you should have the home's curb appeal in mind anyway.
It can dramatically increase the value of your property, but it can also be a self-reflection and a beautiful invitation to your visitors!
First impressions matter, keep that in mind!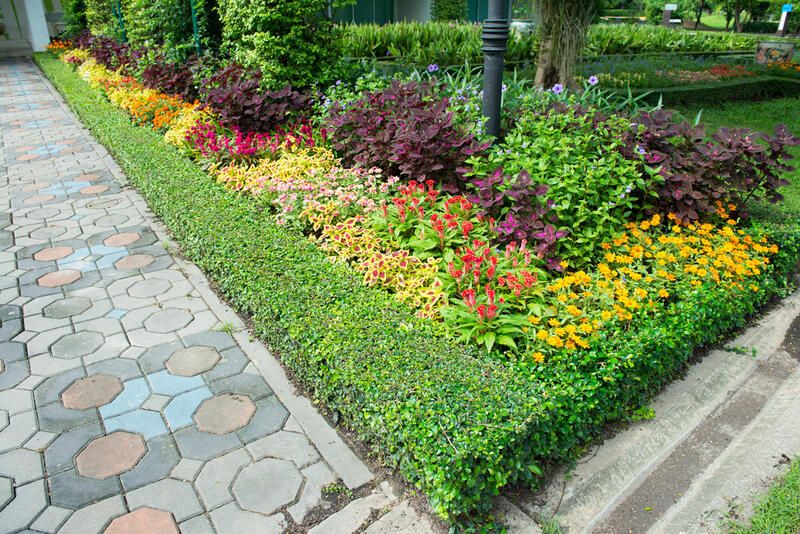 How Do I Increase My Home's Curb Appeal?
That's a monster of a question—but only in appearance! In truth, working on your curb appeal can be challenging.
It can be expensive and demanding. But our guide's responsibility is to help you do the best with what you've got to get the best out of your home's style. With our curb appeal ideas, you can sort out your thoughts and priorities.
There is always an easier and/or cheaper alternative, so no matter your budget or how little time you have, you'll find something here that can help you boost your curb appeal!
Make Sure your Roof is Up to Date
Roof maintenance is one of those things that's easy to forget unless the problem is glaring at you. The thing is though, that is a terrible way to go around it. Especially when you're aiming to raise your home's curb appeal.
Which is why it comes first on our curb appeal ideas!
Not only would the problems caused by negligence be way more expensive to fix than just regular maintenance, but it also devalues your house and lessens your curb appeal even if the problem isn't huge.
A roof that has a bit of a shabby look speaks tons of negligence and generally just ruins the pretty picture. And otherwise, if potential buyers think there is anything that needs possible repair, they'll consider that cost for the deal, and you'll be the one losing that money. Putting it in now just means you'll get it later!
You might think a missing shingle or some dirt couldn't possibly be this bad, but dirt and broken pieces accumulate, and, in the end, they do become that bad. Your curb appeal won't thank you for it!
Take care to run some inspection yourself first, with easy things like checking for cracked, buckling, or blistering shingles, and if there are any missing.
Then check for rusted roof flashing because that might repel water. Cracked caulk causes the same problem so also take a good look at it.
And of course, check for moss and lichen because of any possible decay. And the dirt. But don't try to clean it yourself! This takes professional work and is worth every penny. In the end, it will feel like you got a new roof.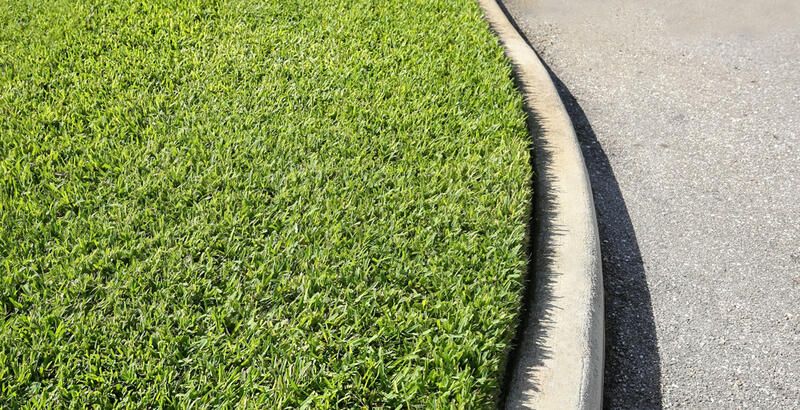 Clean the House's External Parts
As basic as it sounds, you'd be surprised how often this slips off people's minds. But it shouldn't!
Sometimes all, or one of the main things your curb appeal needs, is just to have the house and its surroundings flash their true color underneath years of grunge, grit, and dirt.
It might do wonders for your curb appeal. And generally, it's always better to start on fresh and clean grounds when doing particular repairs or planting your yard, and so.
Even if it doesn't look particularly dirty to you, that doesn't mean there isn't any dust, dirt, and small bundles of mud that made their way across the surfaces of your outdoors like brick, cement, wood, and even vinyl and metal. And also, to the corners of your windows, front door, downspouts, and gutters.
Potential buyers will have it in mind even if you don't, and as easy as it is to care of, if you don't, it'll harm the curb appeal of the house.
And the good part is, it's easily doable. Depending on what you currently have a shortage of -money or time, you can have professional cleaners take care of everything in a few days, or you can free a couple of weekends with a spouse, family member, or friend and take care of it yourself.
Maybe include it in your next spring cleaning!
Power Wash Your Driveway
Your driveway and garage are also parts of your house's exterior landscape that can affect the curb appeal either in the positive or in the negative!
Remember the original color of your garage door? Exactly! It needs some good power washing to return to its original glory. Your driveway generally speaking needs the same.
A driveway is one of the most dirtied places in and/or around a home, so it needs a powerful cleaning!
It's a job you can take care of in one afternoon too. Rent the power washer and go wild with it! You can pressure wash the driveway with a friend and you'll have fun while also getting a sparkling, fresh look that will boost curb appeal.
Paint Your Garage Door
Hell, why stop cleaning it? You don't have to limit yourself to its original color. The garage door can surprisingly look appealing with vibrant or surprising colors!
Without going too far, a creative take can do wonders for the value of your house. If you can increase the house's curb appeal by such a simple change, why not do it?
And also, it can be more attractive to you if you intend to continue living in it!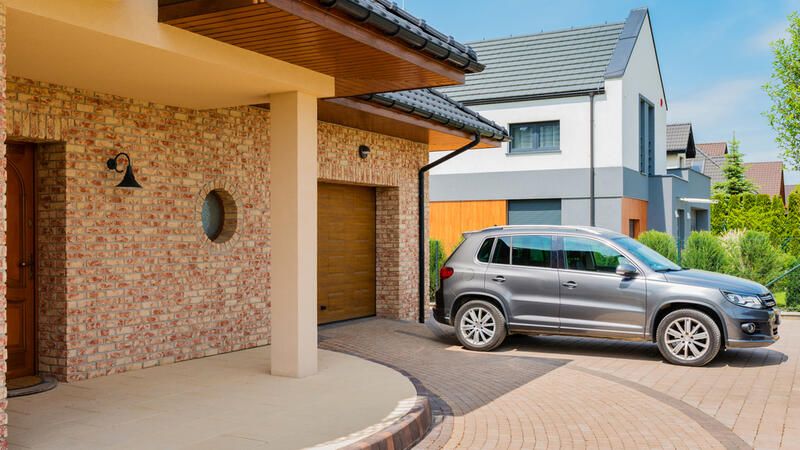 Don't Forget About the Maintenance
Another thing that might sound boring and slip off your mind is very important and might have a drastic effect on your curb appeal and the property value.
The reason this, even though it might be technically easier, causes more groans than many other items on the list is that it's a regular thing that you should give constant attention to.
Just like with other things here, small, costless problems can and do accumulate into big, expensive problems that will cost you when it comes to curb appeal.
Keep a constant eye out on your house and take immediate care of problems.
Straighten shutters or replace old ones if they are barely working, replace any cracked windows or glass when it happens, fix any buckling or broken steps leading to your porch, and seal any cracked asphalt or cement.
Work up your Front Yard
Front Yard work, not unlike other entrees on the list, is part maintenance and part renovation. For curb appeal, this is more often the case than not.
There is a definite constant aspect of taking care of your yard. Occasional mowing and seasonal alterations can help you dramatically in the long run. Leaving it in a poor condition is simply not optional when you're looking to have your property be valuable in real estate.
Every season has its demands, so it's best to mow (and if you hate mowing, you can always opt for tall grass that doesn't need it!), clean, and give extra attention to your front yard at the beginning of every season.
Every season leaves its particular debris and needs a different sort of care. And a grassy lawn is neither inherently good nor bad, as long as the lawn is well-taken care of.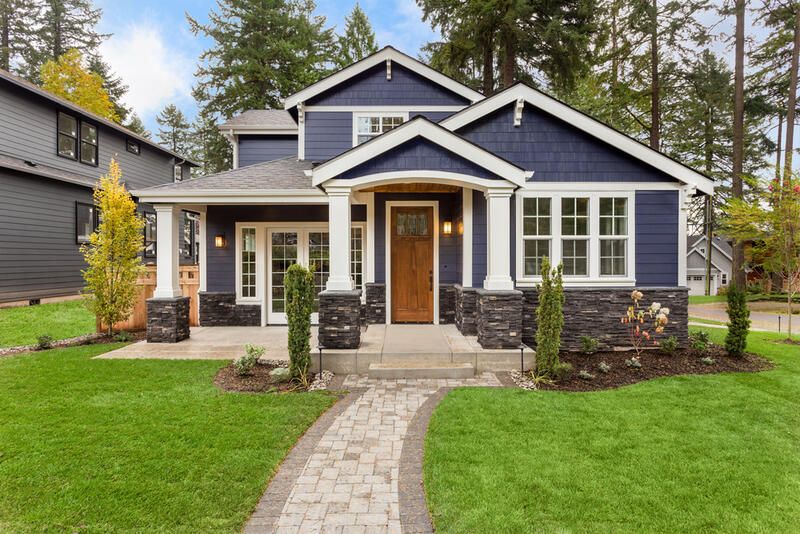 For general lawn maintenance:
Aerate your Lawn
All lawns are due for some aeration every once in a while. Bown patches might be a sign that the lawn is too compacted with earth and the soil needs better penetration to let water and air in.
It leads to stronger roots, a greener lawn, and an overall more beautiful and healthier front yard.
Fertilize and Reseed
Generally speaking, don't go too hard on fertilization, especially when it's not organic. But it's sometimes needed to promote better growth.
For bald spots in your front yard, reseed it.
Trim your Old Trees and Plant New Ones
There is no better time than the present to start working in the long run. Trees won't suddenly appear in your yard when you occasionally look wistfully at it and murmur that it needs some trees.
Start planting trees now!
And for the old ones, help keep them in their best shape and cut off the dead limbs for regrowth.
Then plant the flowers that work best with your climate! And not the entirety of your hard has to be in grass either, bundle up rocks creatively and make stone pathways to take work off your shoulder.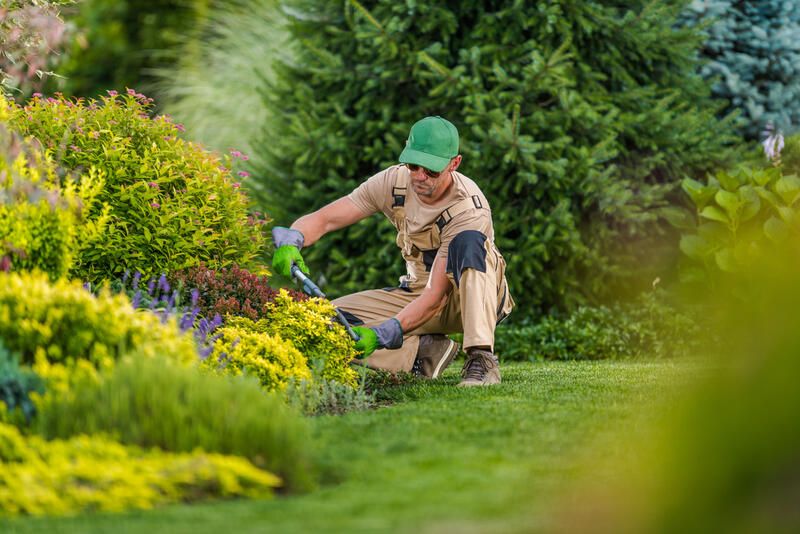 Rake Your Leaves - Carefully
Raking isn't always the answer, sometimes mowing them into the yard can work as organic fertilizer for the soil to soak up.
But if it's too much, better rake as much as is best for your yard to look beautiful and neat.
Attract Pollinators
Hit two birds with one stone by planting the flowers pollinators love! Pollinators can take care of a lot of natural work for you, and you can have a beautiful garden full of blooming flowers that will increase your curb appeal.
Spread Mulch
Mulch is the secret ingredient to the perfect yard. As quick and costless a task as it is, it will do a lot for your yard in the long run by helping prevent weed growth and adding nutrients to your soil that will make your grass look greener and healthier.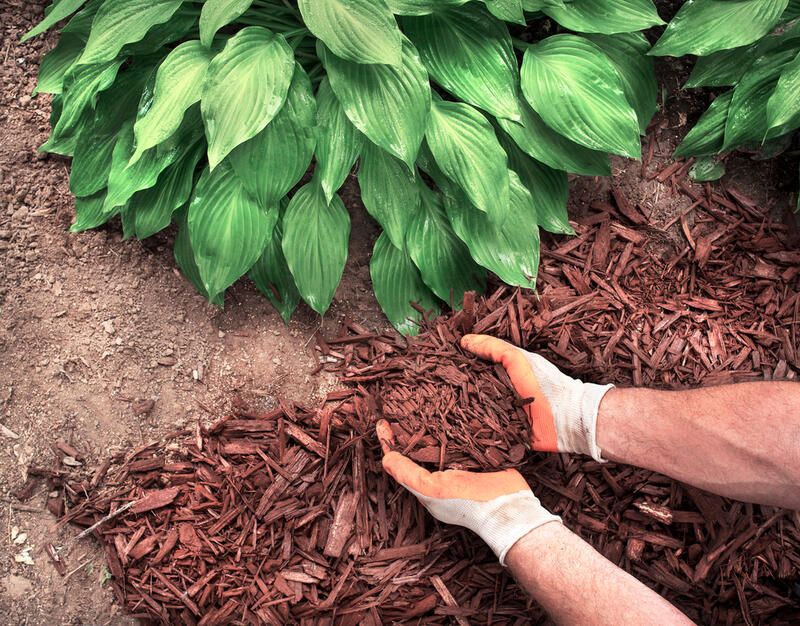 Plant for the Winter Too
It's not a difficult task to have your yard and garden bloom in spring. Most flowers naturally bloom then. But you don't want the long seasons of winter to be barren and colorless.
Plant winter pansies, snowdrops, and marigolds for a blooming garden during the winter! A house that has a blooming garden all year round will easily have a better curb appeal.
Put Up a Fence
That might look like a big move, and it is! It's more costly than most other entrees, but it couldn't be recommended more if you can do it.
After all, there are good reasons why a white picket fence is the poster image's shortcut for the perfect family home. Most homeowners should be aware of this and consider it, even if it's not personally necessary for them.
At first glance, a fence immediately gives a good feeling to potential homebuyers. A fence is great for privacy, a quality most buyers would care about, and safety, which families would especially be looking for.
But it can also make your yard look bigger and can add a sense of beauty to the yard and house.
Renew the Paint
Whether the old colors have faded and needed refreshing up, or you grew to dislike them, this is a great chance to think more about your style.
If you like the original colors, then freshen up the paint. You'll be surprised by how new your entire house will feel once you do so, even if you applied the same colors and scheme.
That's not a bad idea at all and might even be cheaper. But if you want to have real change since the work will already be done, you would also not be wrong!
Check more color schemes and pay a lot of attention to the landscape around you and your neighborhood, then test out new colors. Nothing wrong with going a little creative!
Paint Your Shutters
Even if you don't want or can't currently give a whole facelift to the entire house, painting the shutters would be a great and cheap option.
It won't cost as much money, nor will it consume as much time, but will give a fresh touch to your house that will boost curb appeal and make you feel better about it too!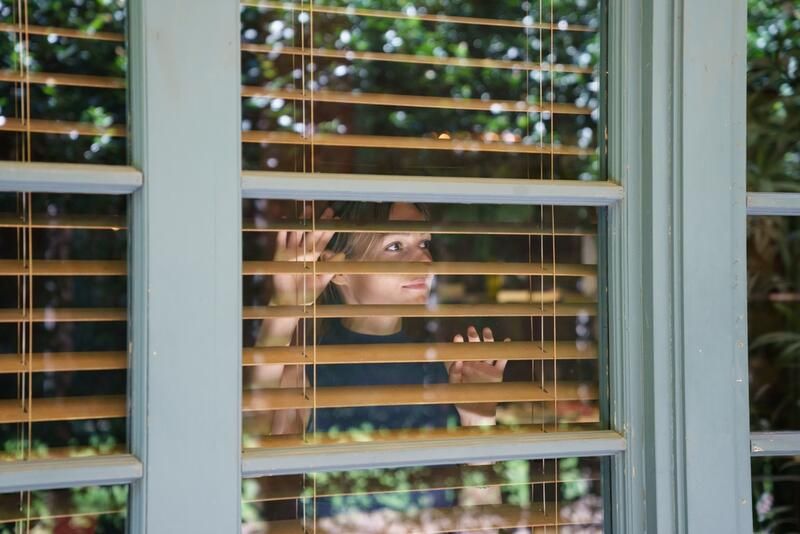 Paint Your Front Door
Similar to the shutters, the front door is just one part of the house that can cause dramatic change on its own!
Freshening up the paint will make it feel new and add this feeling to your entire area outdoors, increasing your curb appeal.
It'll also be best if you paint it a contrasting color to the current color of your house's exterior. It'll bring attention and be more pleasing to the eye!
Paint your Front Stairs
Also, not a huge job that can do wonders. Sometimes people forget and/or neglect the front stairs, but they are no less important than the shutters, the front door, and the front porch itself.
A fresh coat of paint is neither financially nor timely costly, so if you currently can't do a lot financially, this is among the small steps that can go a long way to improve curb appeal.
Stain Your Deck
This is also maintenance to an extent because staining your deck, or porch requires annual re-staining or a thorough cleaning to always looks its best.
But it's worth it when it comes to curb appeal and making the porch look fresh and inviting!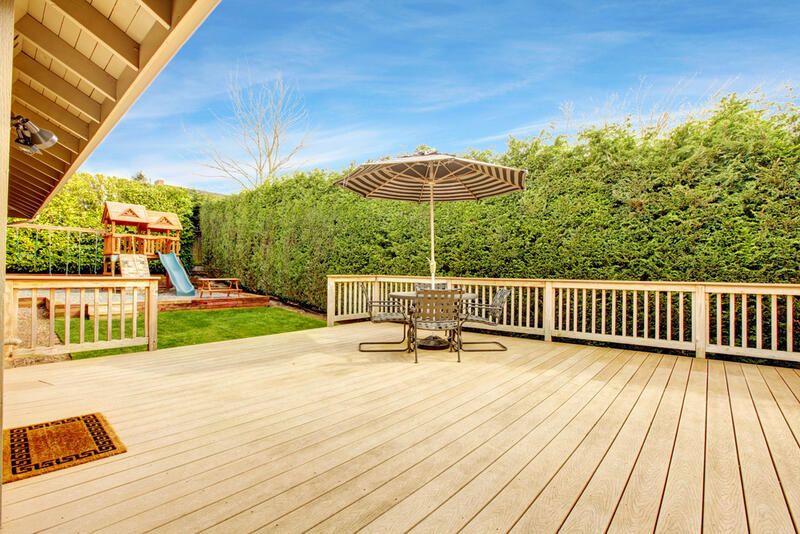 Style Your Front Porch
Setting up as simple a scene as just putting a coffee table and a couple of nice-looking chairs, or maybe even two classic rocking chairs around a bistro table on the porch can help improve curb appeal by making your house look more cozy, livable, and inviting!
Hang a Porch Swing
For the same reasons as seating area coziness, putting up a swing can increase your curb appeal. Your house will look more inviting and will be associated with fun, easy times with your potential buyers.
And even if not for the buyers, it will make the house more inviting to your friends and visitors.
Hang New Porch Lights
Light is functional, of course, but it can also be beautiful and striking. With modern, chic lanterns, your porch will look nicer and more elegant.
New light fixtures are a quick and easy update that has the power of making the whole exterior feel fresh and new.
Upgrade Your Mailbox
Just another thing that gets unfairly overlooked when it's not costly nor time-demanding yet can do tons for the home's curb appeal.
See if it needs fixing up, getting a fresh look, or maybe even replacing it for a more modern and elegant one, and then do it. It can have a huge impact!
Upgrade your House Numbers
Similar to the mailbox, the House Numbers plate is a detail that gets overlooked. Yet it's those tiny things that show everyone else that you care about details and will add curb appeal to your house!
Don't be intimidated! However, if all of this seems too overwhelming to you. All you need to do is take it one step at a time and prioritize the work and you'll end up with great curb appeal. Otherwise, consultancy and help can always be found on Shrubhub.com
Contact us at any time for any questions regarding your landscape.