Beginners' Guide To Vertical Gardening
Published: 11/11/2022 | Updated: 29/03/2023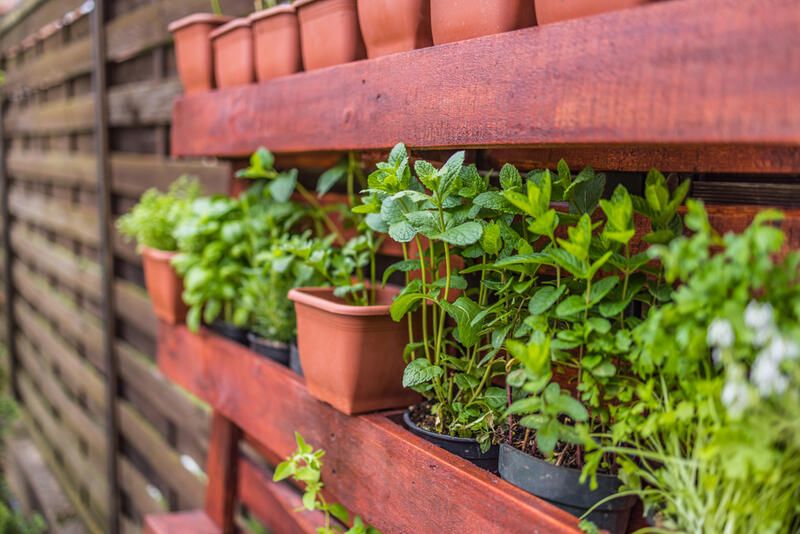 Gardening is an activity practiced by almost 55% of American households. It is a practice that's both productive and pleasing.


Engaging in gardening will not only provide you with a beautiful space but will also help you connect with nature and become more mindful of resources and how to deal with them. And as a plus, you'll be helping the planet breathe.
So, what should you do if you have a small space and are interested in gardening? If your yard isn't big enough for a traditional garden, worry not, your next best option would be vertical gardening, which is exactly what we're focusing on in this piece.
Why should I consider vertical gardening?
We've mentioned how vertical gardening is ideal for a small outdoor space, but does that make them only good for smaller yards?
The short answer is no, the long one is a list of reasons why vertical gardens work perfectly with any space you have.
Visual appeal: Vertical gardens provide great visual interest and help make use of spaces that aren't traditionally used in landscaping. If you have a patio wall or a wooden fence that you're looking to soften and add definition to, a vertical garden is your best bet!
Saving space: Planting upwards will give you more floor space to use for entertaining areas and other functional features. This will help you make the most of your available outdoor space.
Convenience: With no required special circumstances, a vertical garden will work with any vertical space you have.
Growing more: If you grow your vegetables, planting vertically will give you more surface to work with so you can experiment with different crops you didn't think would work in your space before.
Gardening vertically will also result in larger crops, being easier to take care of with a better aeration system, a vertical garden tends to result in healthier crops and turn, more crop yield.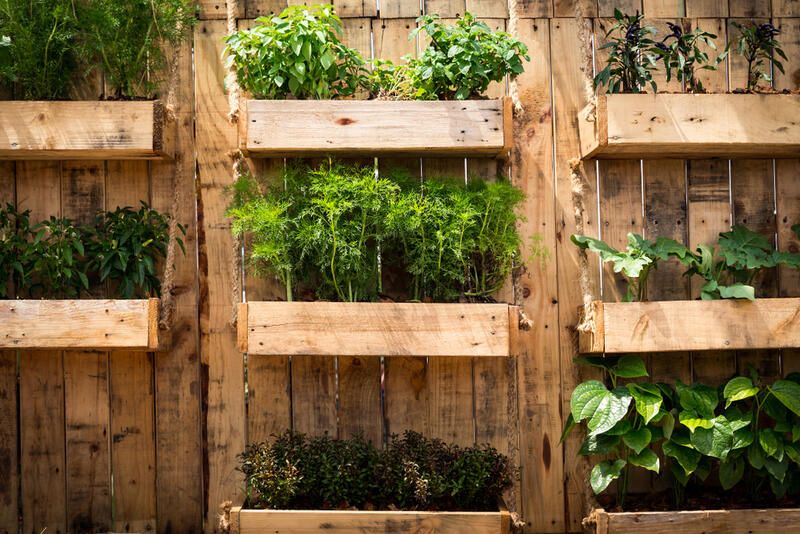 Plants you can grow in a vertical garden
When it comes to what plants you can plant in your vertical garden, the list is quite long. Most vegetables and many fruits can grow vertically in the right circumstances.
Growing plants vertically doesn't necessarily indicate having to stick to climbing plants, plants can grow vertically in hanging planters, a clay pot vertical garden, hanging baskets, and more.
Here are some of the plants you can grow in a vertical garden.
Vegetables and edible plants
Growing vegetables at home are one of the most sustainable and productive practices that has been in trend for the past few years.
Some of the vegetables you can plant in a vertical garden are:
Cucumbers: Cucumbers are a great option to grow in your vertical vegetable garden, they are packed with nutrition and are very refreshing due to their high-water content.

Cucumbers are considered creeping vine plants, which makes them ideal for vertical planting.

They can also grow in bushes but produce larger, healthier crops when planted vertically and as climbing plants.

Considering they grow up to 8 ft in height, all you would need is a trellis or a similar structure for support and you should be all set.

Peppers: A pepper plant typically has big, beautiful leaves that will add a beautiful look to your garden, and once they bloom, you get to enjoy how they look at their full potential and yield a healthy, organic kitchen essential.

Tomatoes: Tomatoes are a crop you are most likely to find in any home garden, and that is because they are relatively easy to grow and are constantly producing fruit.

Cherry tomatoes are the easiest type to grow so if you're a beginner, we suggest starting with them.

Fruits: Strawberries, melons, and squashes are some of the fruit-bearing plants you can grow vertically.
While some of them may not have a climbing nature or may not grow in vines, they can still be grown vertically using standalone vertical gardens or a hanging planter.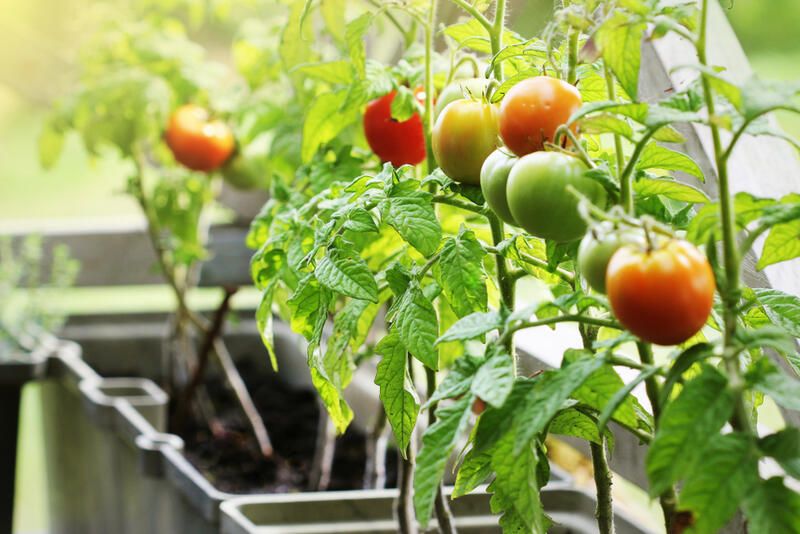 Herbs
Herbs are a great addition to your garden as they add a beautiful look, and fragrant air in addition to producing fresh herbs that will up your cooking game. Here are a few of the many herbs you can grow in your vertical garden.
Herbs like mint and basil are very easy to grow if you're a gardening beginner.
There is a handful of reasons why you should grow herbs like rosemary and lavender. They will give your garden color, attract bees and provide an amazing smell to your garden's air. They also happen to repel mosquitos for a comfortable space free of unwanted visitors.
You can create your own DIY vertical herb garden by using macrame hanging planters for the herbs to go in and a rod for the planters to hang on to.
Another idea is to spray-paint an old ladder and use it as shelves for herb pots.
Flowers
Daises, roses, and lilies are all flowers you can grow vertically for a decorative element if you're looking to soften a wall or create a walled garden.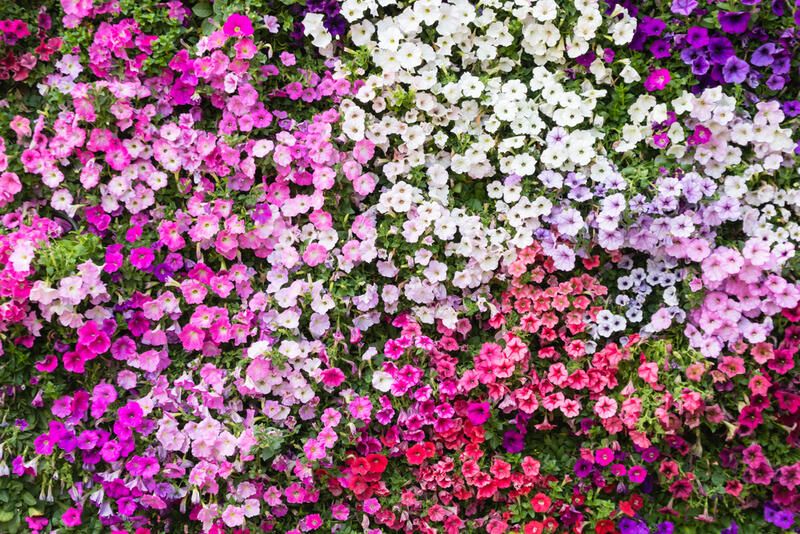 Vertical garden best-suited plants
Hostas: Hostas make a great option if you happen to have a shaded wall you're looking to beautify, their highly adaptive nature makes them ideal for vertical planting.
Succulents: Succulents are one of the most used types of plants in vertical planting, like hostas, they are highly adaptive and seem to thrive in a variety of climates and environmental circumstances. Some examples are moon silver and golden glow.
Air plants: As the name suggests, these are plants that do not need soil to grow or thrive which makes them perfect for vertical garden art. Some air plants are Aechmea and Tillandsias.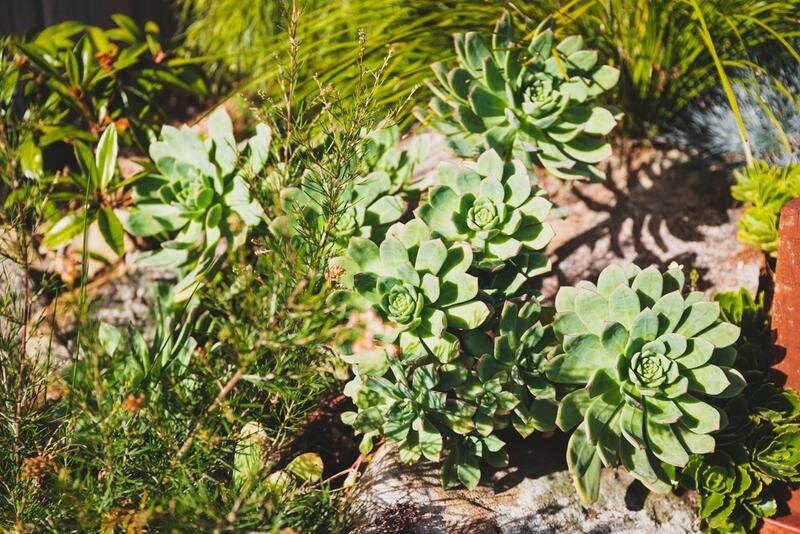 Vertical Garden Ideas
The best thing about vertical gardening is the freedom it provides; you can create a vertical garden using empty plastic soda bottles, sewer PVC pipes, an old dresser, or a shoe case.
There are no limits to how creative and sustainable you can get.
The following are some DIY vertical garden ideas you could consider when creating your vertical garden:
DIY pocket garden
This idea can provide you with a space to plant vertically and can provide privacy when employed in a space where privacy is needed.
All you'll need for this one are wooden posts for the base, a highly durable fabric like garden weed control fabric, wooden slats, and a wood stapler.
Start by digging and fixing the wooden posts into the ground. Make sure to adjust the distance between your posts to achieve the required width.

Your next step is to attach your pattern\ wooden slats to the wooden posts using nails or strong staples. (They should be attached so that the posts and wooden slats are creating an outpost fence shape together)

Pay attention to the distance between each slat and the other to make sure your garden will look even and well-made.

You can choose to spray paint your wooden structure a certain color to work with your yard. (optional)

Staple a piece of the fabric to the back of your structure to prevent the soil from running off with irrigation.

You are now ready to create your garden pockets. Stable the fabric to the top of the structure on each row then weave it into each of the slats and staple each pocket in place.

The final step is to add your soil\ compost to the pockets and place the plants of your choice in them.
Self-watering vertical gardens
You can create one by drilling holes in the bottom of PVC pipes and stacking them in parallel rows, this helps the water to move on to the next set, it also provides the soil with proper drainage since the excess water drains at the bottom.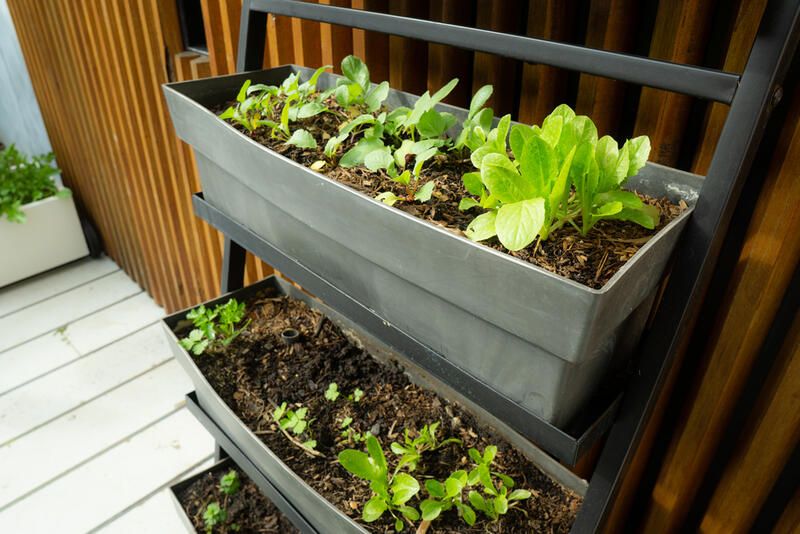 Vertical garden art
Using picture frames and hardware metal wires, you can create your living wall frames to give any wall in your garden character and definition. For this one, you should be using air plants or succulents with moss for a backdrop.
This is a very low-maintenance idea as all you'll need to do is mist your plants occasionally.
With that, you'll have beautiful artwork that's perfect for small spaces and wall decorating.
Preset vertical gardens
Fabric pockets vertical garden: These are garden kits you can buy on amazon or your local hardware store, they'll have openings to screw nails in for easy installation, and you can customize them to any wall or column you have.

Vertical box gardens: These gardens are very customizable as you can place them in whatever manner and use whatever color palettes that fit your space.
Shrubhub's Landscape Design Service
Finally, at ShrubHub we're constantly looking to recommend sustainable options to turn any yard space into a personal haven while being friends with the environment.
If you've been considering updating your yard, this is your sign! Check out our discounted design packages and get started on the journey of creating the yard of your dreams.
Go to Shrubhub.com for more information.