The Best Pergola Ideas For Every Yard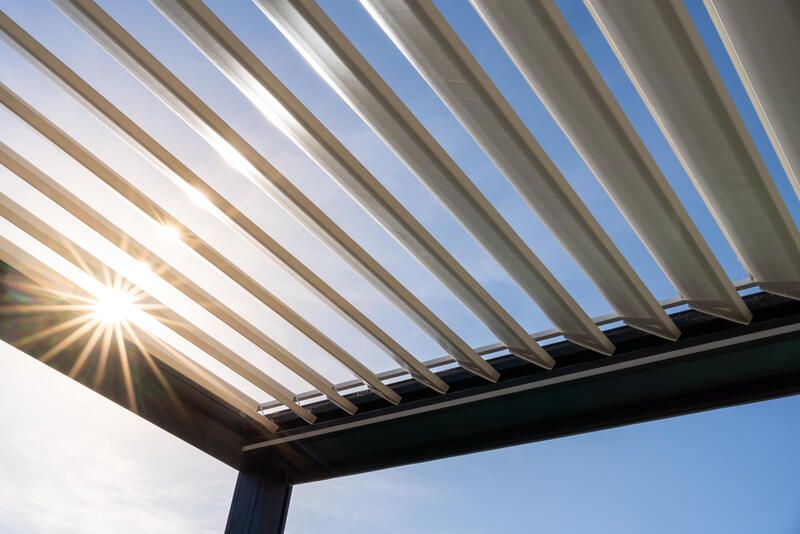 If you're looking to spice up your outdoor living space and add more visual interest and function to it, an outdoor pergola should be at the top of your list!


Pergolas are very aesthetically beautiful architectural structures that provide a shaded area to hang out and use your yard without being in the direct sun! The open nature of pergolas makes them airy, so you'd still enjoy that outdoor feel.
Pergolas come in all sorts of designs, sizes, and materials and they're also highly customizable so, if you're considering one, you'll have a variety of options to choose from.
Let's go over reasons why a pergola might be the perfect candidate for your next home improvement, things you should consider before purchasing one, and some pergola ideas to help you create your dream garden!
Spicing up your outdoor space
A pergola is one of the features that has been a trend in landscaping over the past few years. Since the pandemic had us all stuck at home, which made every homeowner try to make their outdoor spaces more functional and livable to still be able to go outside.
Adding a pergola to your backyard will provide you with more defined outdoor living spaces, privacy, and a shield from the sun.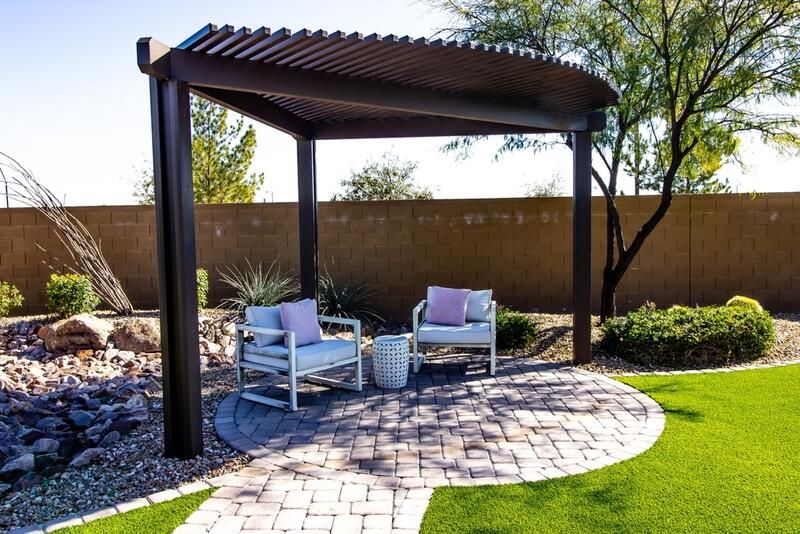 Add interest to your patio space
You might be wondering, what's the best location you should place a pergola? One of the best spots for a pergola is over your patio or a portion of it, not only does it provide shade and privacy, but a patio pergola extends your outdoor living space and makes your patio or deck more defined and structurally organized, giving your yard that professional finish and turning your patio into a focal point!
A pergola can be added off of your back door over your patio furniture, which would offer an outdoor living space extension, and add value to your home's exterior.
Make more use of your outdoor kitchen
Outdoor kitchens are valuable features you can gather your family by, enjoy time with friends and entertain, though oftentimes during winter or unexpected rough weather days they just sit there unused.
And while you can't control the weather, luckily, you can cover your outdoor kitchen. Using a pergola over your kitchen will increase the time you can use it and in turn, will increase its functionality.
They also offer a decorative element that will increase the visual interest of your outdoor kitchen and make it its own defined area rather than being lost amongst other elements!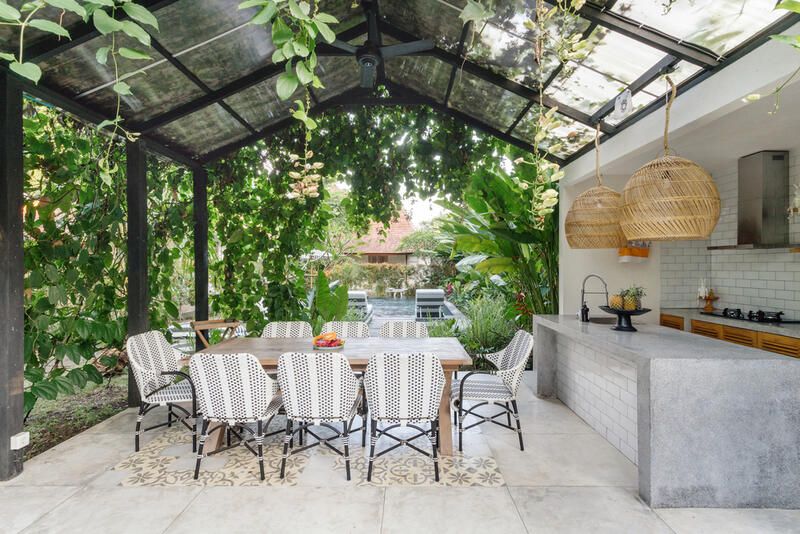 Fire features
Can you install a pergola over a fire pit?
If you happen to have a fire pit and want to create that cozy outdoor nightly feel, you might be wondering if it's even possible to install a pergola over your fire pit.
The answer to that is yes, you can. With the right precautions and accurate spacing, you shouldn't have a problem installing a pergola over your fire pit! Furthermore, you get to enjoy that outdoor cozy outdoor room feels on cold nights.
Installing a pergola over your hot tub or close to a pool
What's a better way to relax after a long day than chilling in your hot tub? To make the most out of your relaxing experience, you wouldn't want any inconveniences like leaves and bugs in your hot tub or having to worry about neighbors seeing into your yard.
Installing a pergola over your hot tub will provide both protection and privacy! With their covered tops, pergolas will create a protective layer, so you won't have to deal with bugs and leaves dropping into it. They also provide privacy from neighbors with higher houses.
A pergola near your pool will give you that beautiful pool house vibe and an additional hangout area for your family and friends. You can add a bar, patio furniture for a seating area, or lounge chairs for more functionality.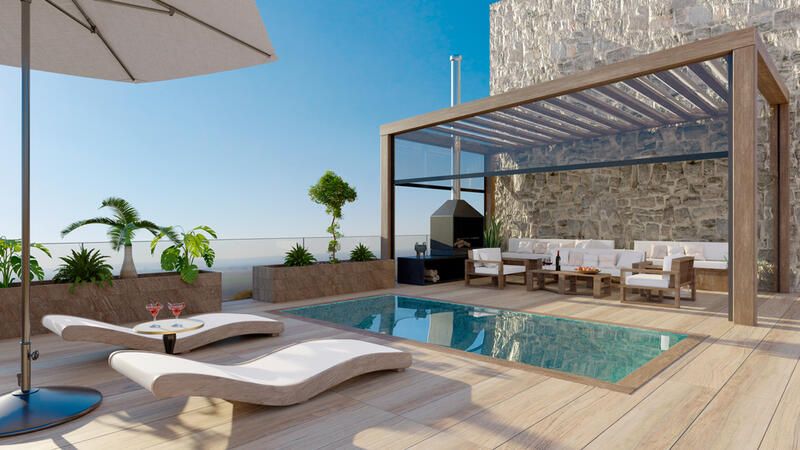 Customize your pergola
Pergolas come in all sorts of shapes and types, so they provide you with a wide scale to choose from based on your needs, budget, and the space you have!
Most pergolas in their basic form tend to have an open slat roof and are open on all sides. Though pergolas can be customized to meet everyone's needs!
A pergola's roof can be covered by a waterproof material to make it more closed off. A closed pergola roof will make your space more usable in winter and on rainy days.
If you happen to have privacy concerns, you can customize your pergola to have closed sides or privacy screening by adding wooden boards or an exterior wall as a more permanent option or curtains as a casual one.
Adding curtains to the sides of your pergola will give it that private feel so it would feel like a room of its own and will offer more shade but will also give you the freedom to open it up when you're wanting to enjoy the sunlight.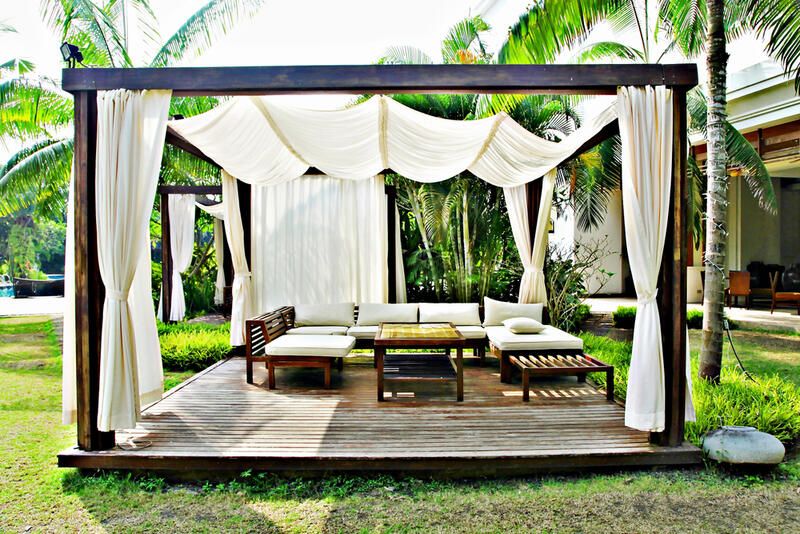 Types of pergolas
There are quite a few pergola designs to suit all home styles and work with everyone's taste. The most popular type is a regular flat roof pergola which is exactly what its name suggests. This pergola can have a partially covered roof with open slats, but as previously mentioned, it also can be customized to have a closed roof.
The other types would typically have more closed tops and would have a different architectural design like a gabled roof pergola with a more traditional vibe or a hip roof pergola that offers a more Mediterranean look.
A classic wooden pergola for a natural look
You might be wondering about your material options at this point so let's break down some of the most used materials for pergola designs and the best among them.
If you're like me, the first image that will pop into your head when a pergola is mentioned is that authentic-looking wooden pergola, this goes to show how the wooden look is the look most associated with pergolas.
Pressure-treated wood as a material for a pergola offers a lot of benefits like being the most affordable option and the ability to repaint and re-stain it many times for a refreshed look.
Though wood tends to have the shortest lifespan and requires the most maintenance, so, if your pergola is going to be placed somewhere near a pool where splashing would happen, our experts at Shrubhub advise opting for one of the following options instead.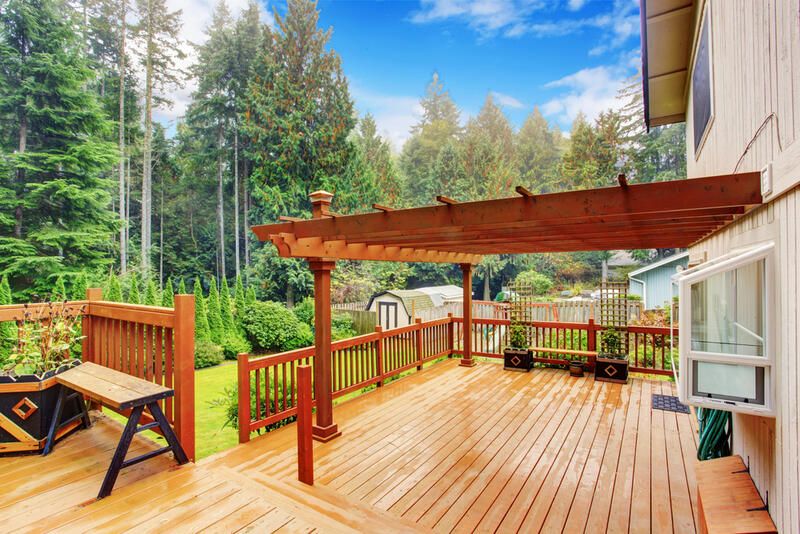 Metal pergolas
Aluminum pergolas offer a sturdy structure that can withstand weather changes and water splashing, which makes them ideal over or near a water feature like a pool or a hot tub. They can be placed anywhere, whether over a patio or in a separate spot in a yard for more outdoor living spaces, they are granted to bring interest to your yard.
Fiberglass
Fiberglass is considered one of the most durable pergola materials since it doesn't react to changes in weather or temperature, so it stays intact for the longest time. fiberglass pergolas also can withstand the same amount of wind as wooden ones.
Fiberglass materials tend to be significantly more expensive than wooden ones, which is the only downside when considering fiberglass.
Other Material
There are multiple other options like vinyl pergolas which offer a beautiful style that can be implemented in a modern or a traditional scene, though, they are a lot more expensive than wooden pergolas and can't be painted.
Decorating Ideas
A pergola's roof is designed to function as a decorative piece to give that beautiful garden element. the first thing you should consider, is using climbing plants and vines over your pergola's posts or roof to achieve the perfect garden look!
Lighting will not only give a beautiful party look but will make your outdoor living area usable even at nighttime! You can go for the classic and add string lights to your pergola or add a pendant light for a fresher look.
Another great way to enhance that garden element is by building smaller garden beds or hanging baskets onto your pergola.
We all love swings, right? The slats and posts on a pergola create the perfect support for a hammock or swinging chairs, giving you the chance to make an addition that's both beautiful and functional!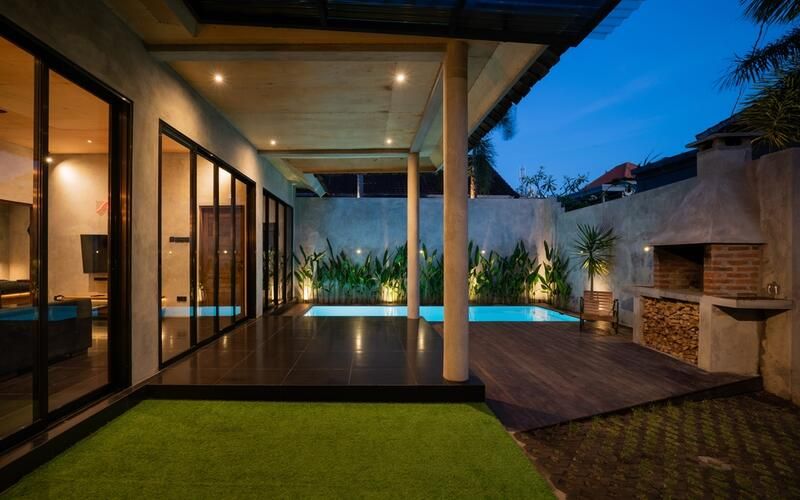 A final thought
Landscaping your yards is an investment that will make your homeowning experience much more valuable, making use of all different areas of your property and creating your dream garden will not only give you a lifetime experience but will also benefit you in the future when you're ready to put your house on the market!
Our affordable design packages will help you bring your vision to life and design your dream garden, our design experts will share their knowledge and talent to let you in on all the right features that will make a great return investment and that are granted to give you the best time spent at home.
Visit shrubhub.com for more information and design advice.