The How-To Guide: Rock Garden Design
Published: 05/12/2022 | Updated: 29/03/2023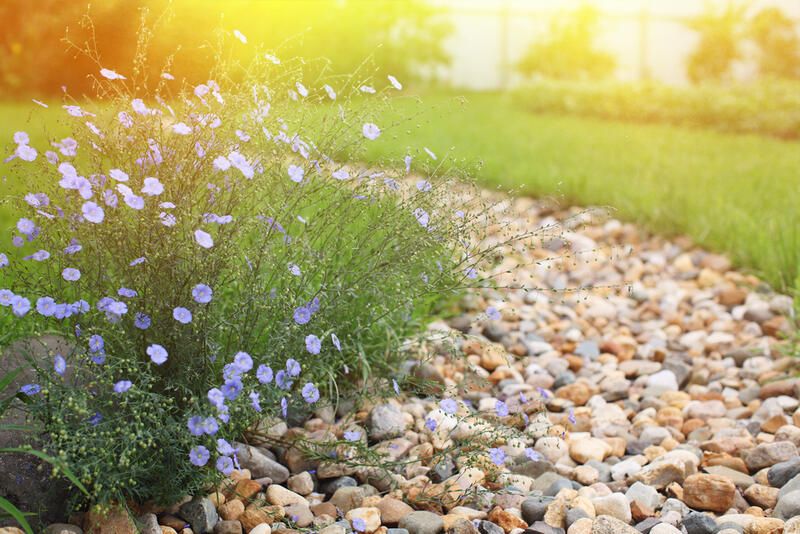 When you picture a garden, what is the first thing that springs to mind? Beautiful flowers and lush, green shrubs that release lovely, calming scents? A garden is more than just its greens, pinks, and scents, though.


You might want to think about the advantages of a rock garden if you're looking for a way to boost the aesthetic of your yard with natural stone. Although this landscape element is distinctive, it also has several useful benefits that you might not be aware of.
Like plants, rocks come in a variety of shapes, sizes, and colors. Textures can also differ. But the sense of connectedness to Mother Earth that rocks all evoke is what unites them.
When you combine the strength of these partners, your rock garden will look just as good—if not better—than your typical garden.
In rock gardens, various varieties of rock and stone are artistically arranged alongside other landscaping elements like paths and buildings.
Traditional landscape elements like gardens and fountains require a lot of labor and are only available during certain seasons. These conventional features could seem a little uninspired. A rock garden, on the other hand, appeals to distinctive house owners who love the look of natural stone and want to flaunt it in their yards.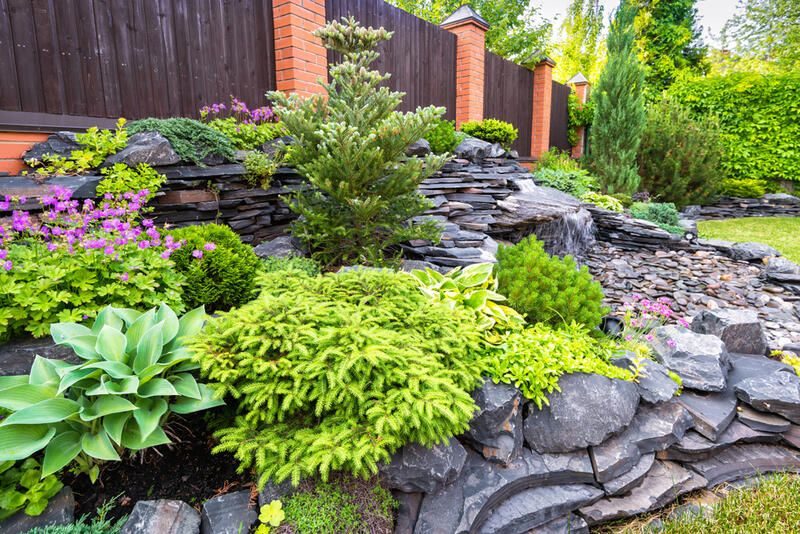 What is a Rock Garden?
So far, we've established that a rock garden is a stunning addition to any home and instantly adds interest to any yard but what even is a rock garden?
A garden designed around man-made or naturally occurring rock formations to mimic natural (typically mountainous) conditions. The idea of rock gardens is thought to have come to the West in the seventeenth century from China and Japan. Since then, they have grown to be widely recognized as the best technique for cultivating mountain flora and for beautifying mountainous, stony, or another challenging terrain.
Long roots that are characteristic of rock plants allow them to absorb rainwater even when the surface is hot and dry. In addition to alpine plants, low-growing plants that require well-drained soil are suitable for rock gardens, such as types of phlox, bluebell, and succulents.
Even in a relatively small space, a rock garden can offer a variety of habitats. For instance, a boulder can be positioned to allow plants that prefer the light to grow on its sunny side while plants that prefer the shade to nestle in its shadow on the north side. A huge garden is not necessary because a rock garden may be incorporated into plots of any size.
Japanese rock gardens, or zen garden, for instance, makes use of various rocks, water features, and moss together with smaller stones or sands spread out on the ground.
These Zen gardens were designed to mimic the essence of nature and make the ideal background for meditation. Some sacred picture grottos double as rock gardens.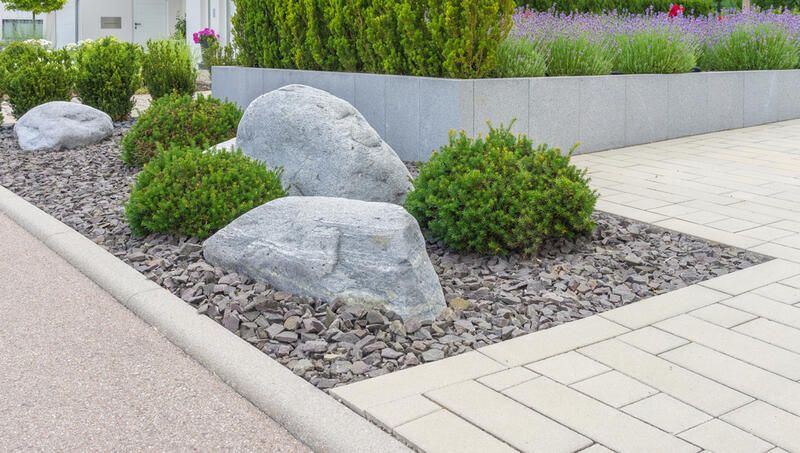 How to Build Your Own Rock Garden
Rock garden ideas can take many different forms, such as expansive, naturalistic works of art, fictitious dried riverbeds, and rustic mounds of rocks, soil, and plants. Everything depends on your preferences and the available area (and rock). The finest solution for a small space is frequently a straightforward, circular raised bed built of well-chosen rocks. When you mow your grass, this design will not get in the way because it may fit perfectly into any well-selected nook. It won't require a lot of maintenance if you plant it carefully.
Rock Garden Benefits
A Low Maintenance Garden Design
A rock garden requires very little upkeep after it is established to maintain its aesthetic appeal. A rock garden doesn't need to be grown or watered as a regular garden does.
A rock garden requires almost no upkeep at all. Your rock garden may need to be periodically inspected and cleaned, but aside from that, you may leave it alone.
Not Impacted by Weather
Any landscape-integrated vegetation tends to be weather-sensitive. A severe drought, for instance, could destroy a vegetable garden, which can be upsetting after you've invested a lot of time and energy into it. Your garden won't need to worry about the intense sun, strong winds, or protracted droughts. Rock gardens can withstand all kinds of harsh weather and thrive in both times of rain and drought because of the plants and greenery that are often included in them.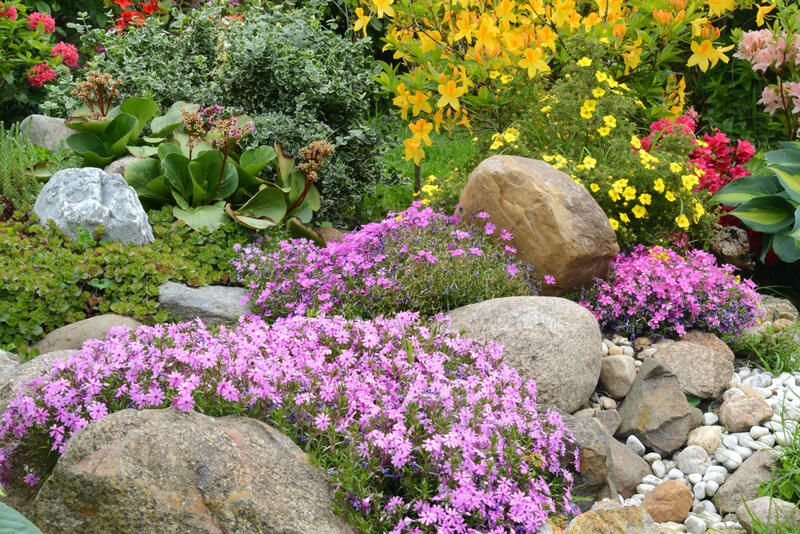 AeAestheticallyersatile
A rock garden can be used for a wide range of purposes. Your rock garden can be incorporated into architectural details like walls and buildings. Alternately, you may combine elements from your rock garden into any growing plants you have and sprinkle them across your flower bed to add some decoration throughout the winter months when most plants are dormant.
Rock gardens offer great design flexibility. Find pictures of rock gardens that appeal to you by doing some study and searching online. A combination of little pebbles, larger stones, and enormous boulders can simply be used to create a rock garden that is deep and diverse.
Won't Break the Bank
Rock gardens are typically much cheaper than other landscape features because they require so little upkeep. Your rock garden won't require continuing landscaping services to stay in good condition.
Even the initial costs for a rock garden are typically not too high. You only need to pay for the supplies if you design your rock garden. If you choose, you should be able to set up your rock garden rather easily.
Makes Your Yard Seem More Spacious
Dense landscaping vegetation might give the impression that a property is smaller than it is. In general, a property with a rock garden has more open areas. This garden can be ideal for you if your yard is modest.
By reducing some of the clutter that landscaping plants frequently bring with them, rock gardens can give the appearance that a yard is larger. Homeowners with small lots should research the advantages of rock gardens for space efficiency.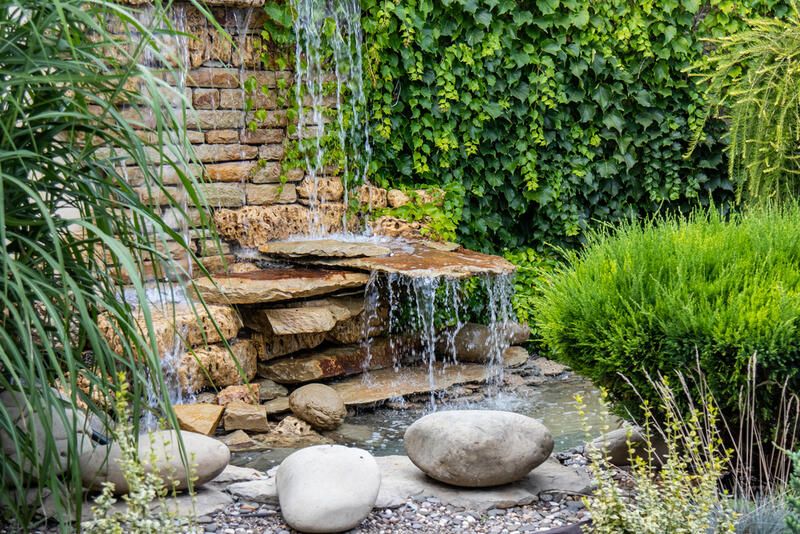 The Perfect Visual Interest Year Round
A rock garden is suitable for any home or climate, regardless of how artistic or how well it complies with design trends. Any environment can accommodate a rock garden.
No matter where you live or how your house is built, you should create a rock garden that will enhance the beauty of your current landscaping.
You may enjoy your rock garden year-round if you employ a combination of spring and summer flowers, fall leaves and perennials, and shrubs.
Key Points for Rock Gardens
Creating and designing a rock garden involves some considerations, just like with traditional gardens.
Because even while a rock garden's overall impression may be unpolished, good background knowledge is usually required to achieve it.
Important: Rock gardens are not created randomly, and just piling stones on grass does not constitute a rock garden. For someone with good taste, at least!
Rock Garden Plants
Picking tiny, drought-tolerant plants for your garden is a good rule of thumb to follow.
These gardens look excellent with tiny bulbs and succulents, but you might also think about using creeping plants.
Do not, however, limit yourself to only using small plants; large plants can also look fantastic in this style of garden.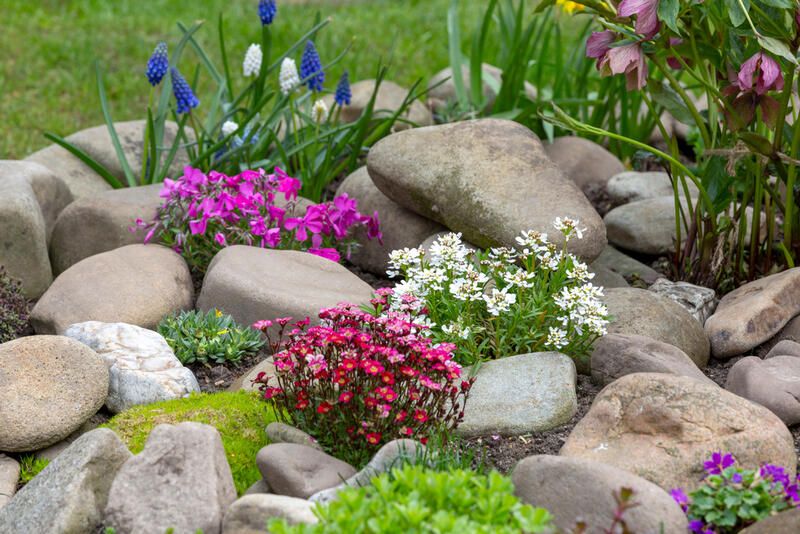 Rock Size
The difference in size is one of the elements that make your landscape beautiful.
One popular option would be to use a few giant boulders or stones as the main foreground and little pebbles and rocks as the contrasting background. For a more consistent appearance, it is also feasible to have rocks of similar sizes. Don't be frightened to try new things!
The Aesthetic
Your garden's atmosphere will be influenced by the rocks you choose and how you put them. Random clusters of rocks go nicely with uneven rocks for a relaxed, organic look.
Smooth pebbles or rocks that are available in a range of sizes, on the other hand, work great if you're going for a more refined and cleaner look.
Location
Keep in mind that rock gardens are relatively long-lasting constructions. To put it another way, it will be difficult to move them later if you don't choose the best location for them at first.
The corner of your backyard makes a good spot to start. Try extending to a third or half of your yard if you're feeling more confident and up for a significant task.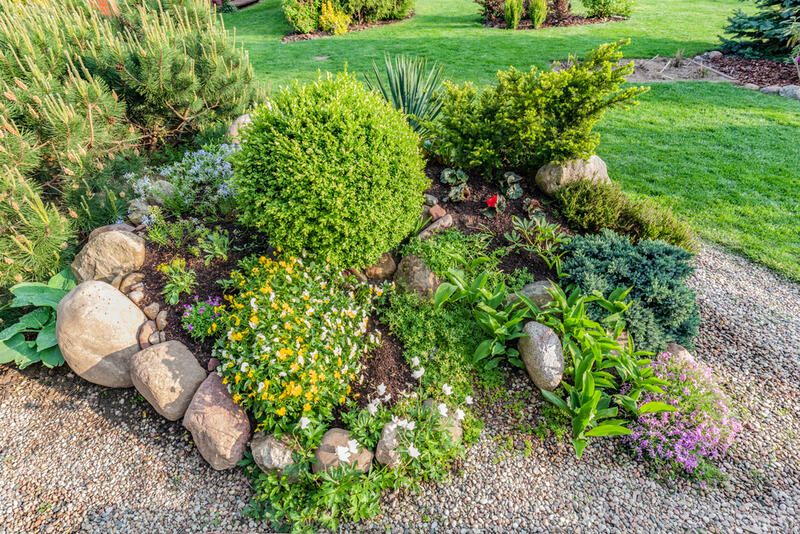 Rock Garden Design Planning
Select and assess your landscape.

Where in your yard would a rock garden look the best? Is the location in sunlight or shade? Will the landscaping be drought-tolerant or will the plants require regular watering? Don't be frightened to consider unconventional ideas. A rock garden is possible even in the front yard.

Do your research.

Gather inspiration by visiting nearby gardens and browsing online rock garden pictures. Make a list of the qualities you wish to incorporate or an idea board with them.

Create a design.

Once you have a few fundamental concepts, create a plan and a rough sketch. You might want to speak with a landscape designer for a larger project. It's difficult to move and position larger rocks, so it's essential to plan where you want them in advance.

Think about scale.

Make use of materials that are proportionate to your house and yard. Tiny stones will be lost in a vast environment, whereas large boulders can overpower a small area.

Select a look.

Smooth pebbles or crisp, white gravel give a more formal appearance, as in Japanese rock gardens and Zen rock gardens, while rough, uneven rocks add a rustic, outdoor appeal. Create an appearance that blends in with the rest of the yard and the design of your home.

Keep an organic natural appearance.

Make the rock garden appear natural by taking a hint from Mother Nature. This will improve the design's aesthetic appeal and consistency with the yard as a whole. Stones arranged at random will appear more organic than those arranged in precise rows or structured patterns. To increase the allure of nature, add stepping stones or a water feature.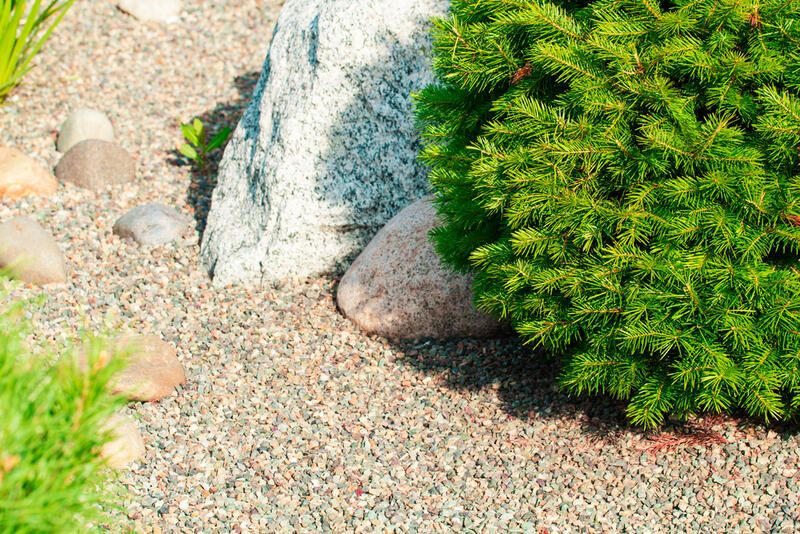 Different Design Elements
Stones
Without stones, it wouldn't be a rock garden. Rocks can serve a variety of functions in the design of a garden and come in a wide range of sizes and shapes. While little stones can be used to make ornamental mulch ground coverings or paths, a large boulder is a terrific place to relax and soak up the sun. You can find them anywhere from online to garden stores at a plethora of price points. Here are some of our favorite stones to use:
Beach Pebbles & River Rock: A cozy rock garden might benefit greatly from the addition of beach pebbles. They have different colors, forms, and edges that might be rounded or pointed. Make your plants and rocks stand out from the dirt by using these stones as mulch in your rock garden area. Otherwise, weeds, leaves, and encroaching grass will fight for attention with your stones and flower beds.

If you want to give your plot a more naturalistic feel, river rocks make an excellent choice for landscaping. Additionally, because there are so many methods to include them, they may be used in a variety of settings, from big country gardens to little courtyards in cities.

Peat Moss: When sufficiently large, mossy rocks make great seat cushions. Their velvety surfaces, earthy scent, and striking flora produce a cozy ambiance.

Are there many shady trees on your lawn? Your mossy rock garden will be transformed into a lovely spot to cool off and smell the flowers if you grow a shadow garden around it. If you want to give your mossy rock garden an earthy feel, think about including a decomposing log.

Petrified Wood: Try a rock that doesn't even appear like a rock if you want your garden to have an eclectic feel. Or even better, it's a fossil.

The fossilized remains of trees (or plants that resemble trees) that have turned into stone through a process known as mineralization are known as petrified wood. During this process, the rock minerals frequently fill the voids left by the organic tissue, acting as an internal cast.

Lava Rock: This lightweight rock may be just the touch you need if you're creating a dry rock garden or a desert landscape design.

Lava rock, however, can create a focal point that contrasts with the surroundings and brings attention to your rock garden if you are not building with a desert landscape in mind. Lava rock is a fantastic stone for mulching or producing a beautiful mosaic pattern out of spirals, curves, or circles since it is simple to move and spread.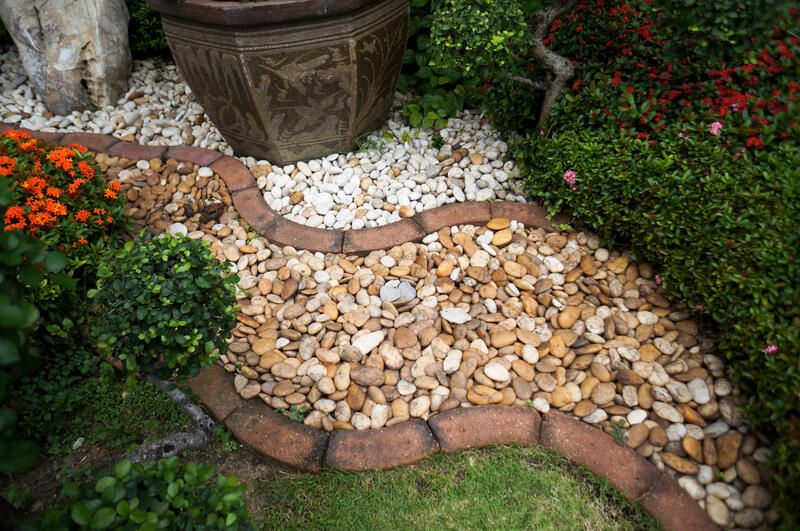 Choose Plants
Use rock garden plants to spruce up your yard and add interest. If your rock garden is barren of flora, it is probably lacking in texture, color, and hummingbirds.
Just as important as choosing the rock patterns for your garden is the floral arrangement. Flowers in bloom can fairly easily help people notice your impressive rocks, lovely white pebbles, and winding stone paths. You can also choose plants that require little maintenance to keep the garden design friendly to your lifestyle.
Dwarf conifers: Conifers come in almost every green hue imaginable, from light gray to vivid chartreuse to deep emerald to earthy olive, and finally the darkest, deepest green. There are also lots of conifers with blue needles, whose hues range from powder blue to silvery, and occasionally even have a teal undertone. Particularly in the sunshine, certain conifers have an almost greyish appearance. Golden or yellow needles are seen on the showiest conifers.

The majority of conifers, though not all of them, are evergreen, which means they will persist through the fall and winter with green needles, offering color, texture, and occasionally privacy, while the majority of the landscape is bare.

Succulent plants: Your rock garden will benefit from the exotic colors, textures, foliage, and shapes added by succulents. They are widely sought-after plants due to their low maintenance requirements and thick leaves, which aid in water conservation.

For a pleasing appearance, think about using succulents in garden designs that are the same color (blues, pinks, or greens), or grow different plants with eye-catching hues and textures.

Trees: Your favorite oak tree will stand out if the base is highlighted with large boulders, pretty white stones, or stone edging.

The tree's canopy will also give your rock garden plenty of shade, transforming it into a welcoming area for lounging, cultivating a shade garden, or enjoying a happy picnic.

Shrubs: If you want a spectacular display of color and scent in your rock garden, flowering shrubs are just the thing. Put some beautiful hydrangeas or lilac in your garden to make your neighbors envious.

Shrubs are woody plants with rounded shapes that are smaller than trees and give comfort and beauty to any rock landscape. Small creatures like birds, chipmunks, and rabbits can also find additional housing and upscale eating alternatives in shrubs.

Creeping phlox: Phlox stolonifera, a mat-forming, low-growing plant, can be observed creeping across the ground as a ground cover, in rock gardens, and even in the cracks of stone walls. With clusters of fragrant, five-petal blossoms that measure over an inch across, it blooms from late spring to early summer.

Ornamental grasses: Classic autumn stars and ornamental grasses are typically coupled with other outstanding fall bloomers. They look fantastic when added rockeries and give you that hillside garden feels. Try adding small stones, other plants, and tall grasses to make it pop and add depth.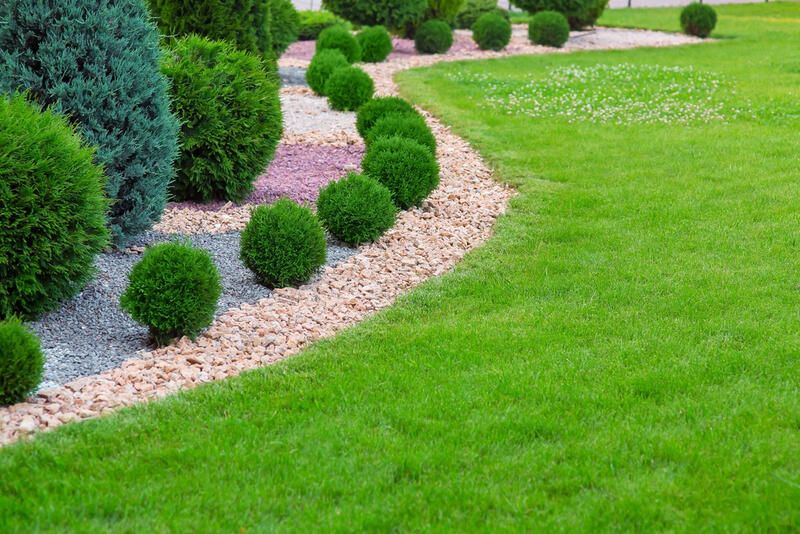 Rock Garden Ideas
Adding a Water Feature
You've got your stones; now decide whether or not a serene water feature would enhance your rock garden. Make a habitat for wildlife in your rock garden, take in the sound of trickling water, and make interesting ripples to relax your mind.
Create an Alpine Garden
Alpines are accustomed to growing at high altitudes above tree level in arid climates and prefer well-drained soil. To improve drainage, remove the soil and put in some grit and sand.
Your boulder components can now be added. You may find pebbles and stones in a variety of colors, sizes, and forms at your neighborhood hardware or garden center. Try to divide the space with various levels, ledges, cracks, and contours to give your plants a dynamic backdrop.
Stepping Stones
Nothing completes a rockery like a few stepping stones so you can fully indulge in the natural world. Stone steps look stunning when surrounded by native plants and big boulders. Try a few small rocks and smaller plants up a winding pathway for visual appeal. Random groupings of perennials, flowers, and straight lines are always a go-to!
Small Rock Garden: Zen Garden Edition
Zen gardens offer a space for peaceful reflection and meditation, bringing peace and tranquility into hectic daily lives. The simplicity, subtlety, and asymmetry of a little Zen Garden will create a calming environment inside your house. The act of creating a Zen Garden, including the numerous components, and raking the sand is peaceful, whether you choose a small rock box or a big tray as your container.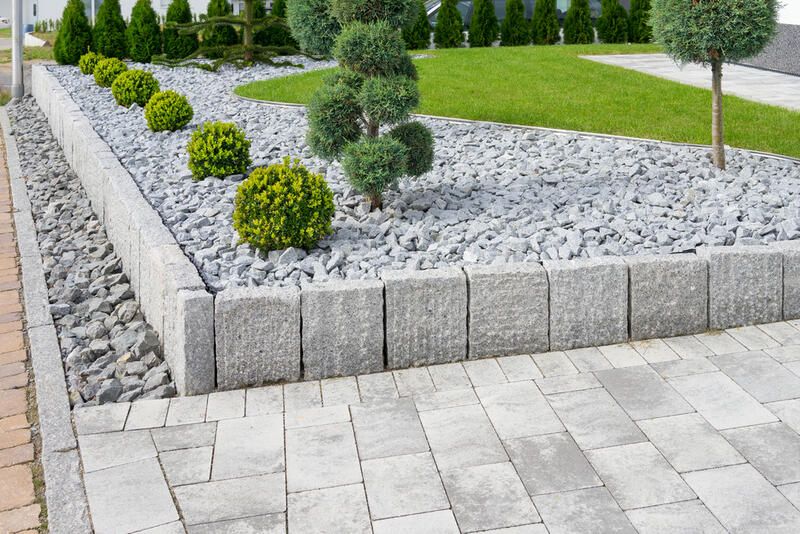 Now Rock Your Rock Garden!
Most gardens contain landscaping rocks, but you might not have considered incorporating them as standout elements. You are reminded of the beauty and variety of natural landforms on earth by a rockery. Considering they're such little maintenance as well, you can enjoy the year-round interest they provide!
In the end, a rock garden can be the one you've been waiting for if you've been gardening for a while and want a change of pace.
Want to incorporate a rock garden b