The Greatest Minimalist Garden Ideas
Published: 18/01/2023 | Updated: 10/09/2023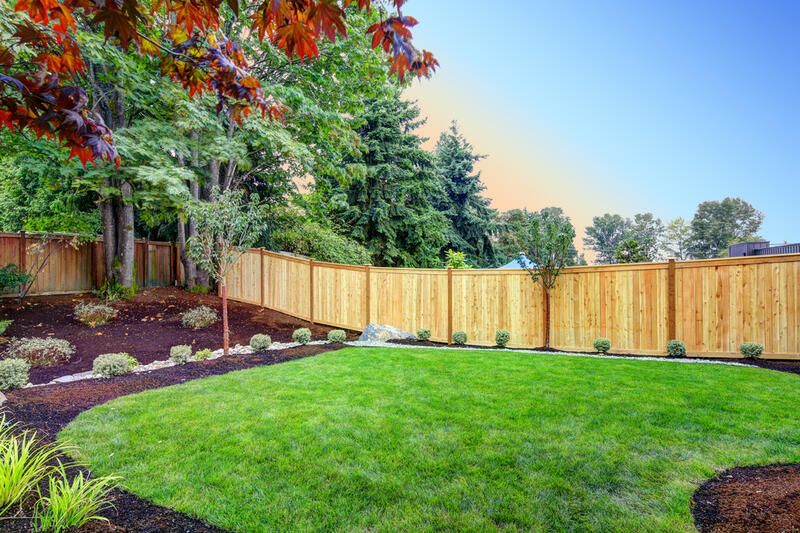 Many of us struggle to keep plants alive or maintain gardens, others can't stand clutter or find it extremely stressful to be surrounded by different garden elements in need of attention.


If you're one of those people, it's time to make a change!
Heading out for fresh air in your garden should be a relaxing experience rather than a reminder of your garden chores.
In this blog post, we will focus on the principles of a minimalist garden and how to create your own!
With these minimalist garden ideas, you can rid your yard and life of unnecessary maintenance!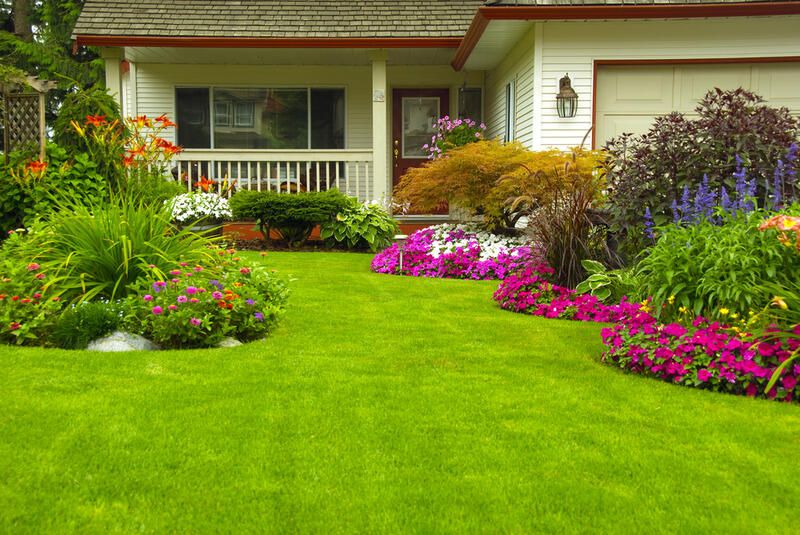 What Are Minimalist Gardens?
While the term "minimalist garden" is likely to mean different things to different people, the core concept of the minimalist style remains the same.
All minimalist gardens share one common objective; creating an uncluttered elegant space with the least possible required upkeep.
A minimalist layout tends to focus on maximizing function, getting rid of redundant objects, and avoiding excessively ornate elements.
Is A Minimalist Garden The Right Option For You?
Whether or not a minimalist layout is right for you is determined by your personal preferences and lifestyle.
Regardless of the size of your space, if you find the modern sleek style appealing and don't enjoy a lot of garden work, a minimalist garden is likely to be in your best interest.
How To Create a Calming Minimalist Garden Design
There is no hard and fast rule to creating a minimalist garden as there are numerous approaches you can take to tailor your own space.
You can go the zen route, the sleek modern route, or even add your take on the minimalist style.
Throughout the planning process, keep one question in the back of your mind: How can I accomplish more with less?
Here are some tips to keep you on the minimalist track.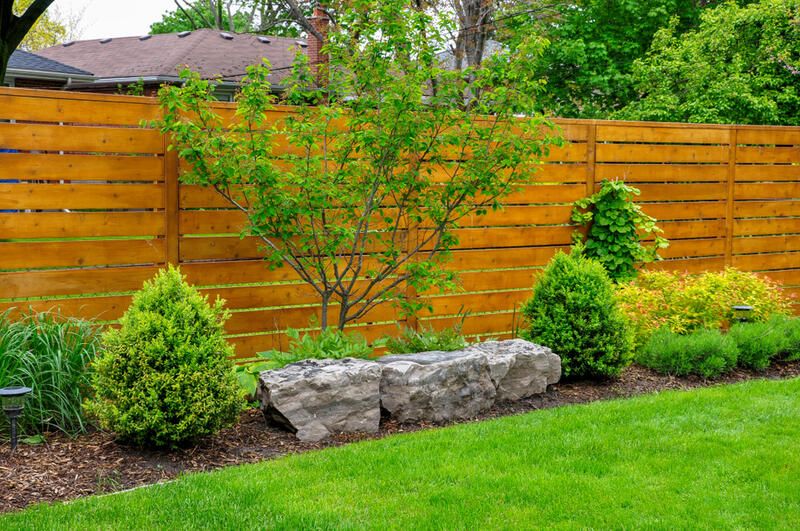 Go for a Uniformed Color Scheme
To achieve visual simplicity and cohesion, keep your color and material palette to a minimum.
When selecting colors, stick to muted, earthy, and neutral tones and a palette of no more than three colors or textures.
This will create an organized space and a balanced composition with minimal effort.
Define Borders and Edges
Clean-cut lines and refined edges are what make a minimal design distinguishable, make sure to create clear borders between different materials or different sections of your garden.
You can achieve this using minimalist hardscape garden edging materials.
Plan out Your Space
Starting with a clear plan is essential to achieving a successful minimalist garden.
To minimize required upkeep, minimalist layouts ideally have a higher hardscape-to-landscape ratio.
For the best effect, plan a clean-cut concrete patio for a minimal foundation and connect different sections of your space using pathways and pavers
To make use of every square inch of your yard, plant near your perimeter. This will give you more yard space to use for entertainment.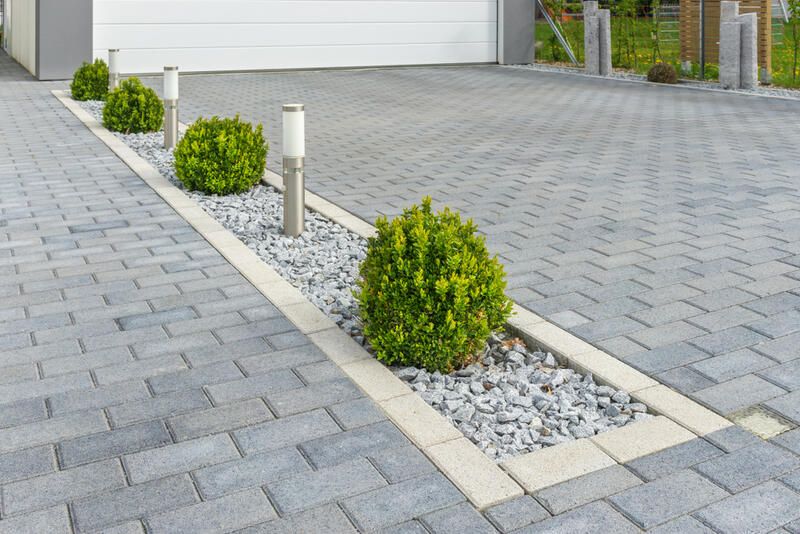 Swap out Lawn
The high care requirements of lawns can defeat the purpose of a minimalist garden.
One option many homeowners resort to is replacing lawns with hard landscape elements such as pavers, concrete, or rock flooring.
If you want to keep a clean space and a low-maintenance garden while still enjoying a green lawn or an open space for the kids to run, choose an easy-care lawn substitute like Ruschia Nana, a creeping ground cover like sedum, or invest in high-quality artificial turf.
Finish Your Garden with Basic Furniture Pieces
The wrong furniture arrangement will give you a haphazard space and ruin the overall minimalist look.
Try only going for simple pieces of high function. A dining area and a patio set-up are two examples of basic furniture items with a high need or function in an outdoor space.
When selecting furniture for a minimalist garden, go for sturdy materials, simple designs, and uniform colors.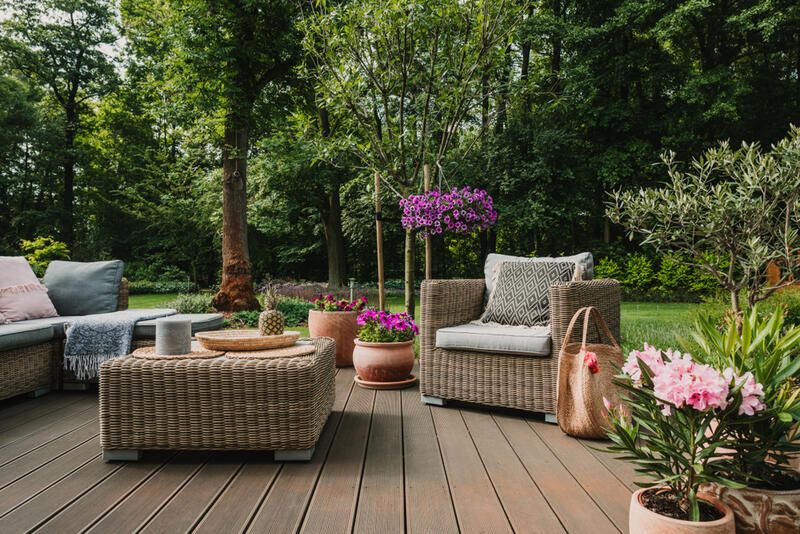 Choose The Appropriate Plants
In minimalist designs, fewer plants are responsible for setting the landscape mood of your garden.
Go for a mix of ornamental grasses such as blue fescue or black mondo, deciduous trees like maples and crepe myrtles, and low-maintenance perennials like yarrow or astilbe.
If you're looking to incorporate natural privacy, evergreens are perfect for the job.
Carefully clipped hedges will both provide the needed privacy and add value to your landscape.
To avoid different maintenance requirements, go for a limited list of plants and repeat them where needed or choose plants with similar growing conditions and nature.
While the essence of a minimalist garden aims for a simple landscape, you can slightly stray from the rule by using more lush vegetation, perennial flowers, or even edible fruits to personalize your own space.
Go for Container Gardening
Stucco and wooden planting beds both provide an ideal look for minimalist gardens and give better access to plants so they're easier to care for.
Container gardening will also give you the freedom to plant a larger variety of vegetation based on your needs or style preference.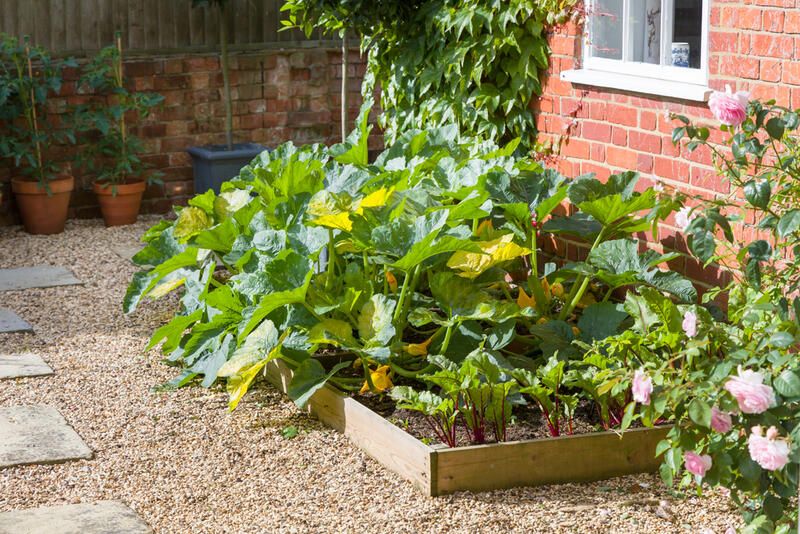 Minimalist Doesn't Mean Boring
A minimalist design can be as interesting as you're willing to make it!
For a focal point, consider an ornamental tree or a minimalist orb water feature.
Fire features are also great elements for both visual interest and functional value.
A well-planned minimalist fireplace will take up little space while adding a lot of style and functionality to your garden.
Design Your Minimalist Garden With Shrub Hub
While simple in concept, minimalist gardens can take various approaches and include a diverse range of styles.
Shrub Hub's design service will work with you to create a minimalist garden that meets your needs and reflects your style.
To get started, simply visit our website and begin your design journey today.