The Best Water Features For Your Yard
Published: 31/10/2022 | Updated: 29/03/2023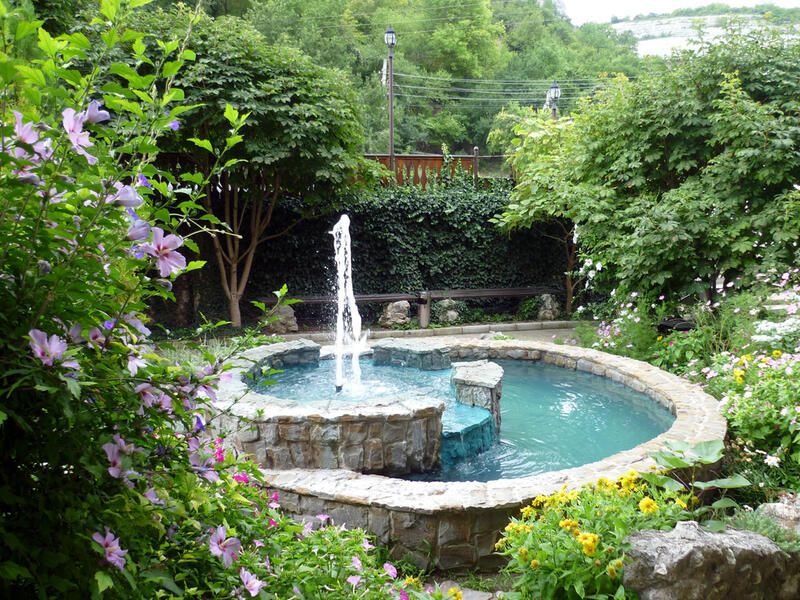 Water features add a relaxing and serene ambiance to your backyard and can be crucial to the overall design of your outdoor living space. Many homeowners are opting to add a water feature to their yards due to the variety of benefits they provide.


Other than the obvious aesthetically pleasing benefits they provide, water features are also a great long-term investment to make. When you build a water feature in your backyard, you are increasing its curb appeal making it more attractive for potential buyers, this also increases the resale value of your house significantly!
Water features are a great way to fill up your outdoor space with a delicate balance between natural elements and structure. They can fill your whole property with the relaxing sound of splashing water which not only reduces stress and creates a calming environment, but also reduces the noise pollution coming from the surroundings of your house.
Another benefit to adding a water feature to your backyard is that it will require little maintenance, having a built-in pump allows your water feature to constantly recycle its own water.
Water features also attract wildlife to your yard, birds love to drink from running water and bathe in it which will make your house a central attraction for native species.
Now that we've established their benefits, it's time for our ShrubHub experts to provide you with all the different types of water features you can build in your backyard!
Outdoor Water Fountain
Outdoor fountains are perfect for elevating your backyard and transforming them into a timeless and elegant space. Mediterranean villas and European-style mansions always include a fountain on their property, whether as a centerpiece in their large front yard walkway or as a decorative feature in their garden.
For those of you who are Eco enthusiasts, instead of using electricity as a power source for your fountains, you can use solar power which may be expensive to install initially but down the line will save you from expensive electricity bills!
There are a variety of fountain styles you can add to your garden to improve its overall design. Depending on what sort of plumbing you have or need to get installed, these fountain ideas are perfect to implement in your yard.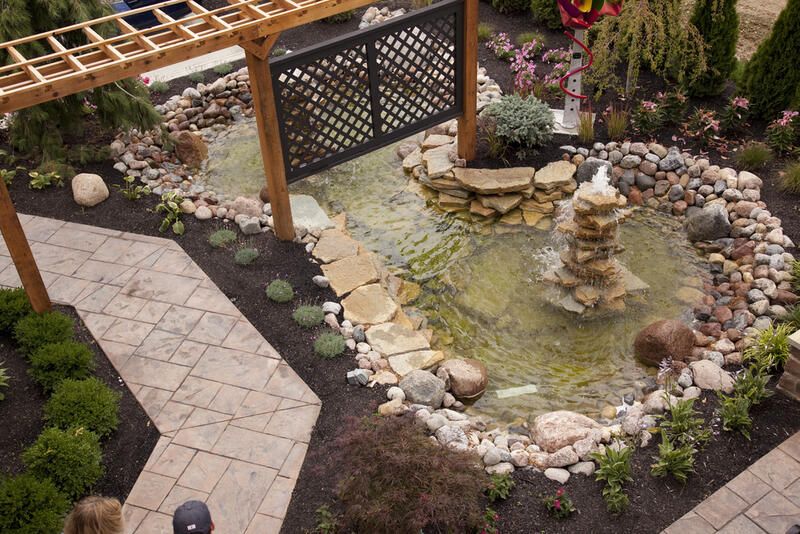 Wall Fountains
When building a wall fountain add an elaborate piece of decor to your fountain in order to add a lavish and elegant touch to the overall design. Wall fountains are perfect for making use of a smaller area as they are built into an already existing structure like an empty wall or fence.
The idea of a wall fountain is inspired by Mediterranean-style homes. You can lean into this aesthetic and use concrete with warm earthy tones for your decor as well as add a statue or sculpture to your wall fountains
Stand Alone Fountain
A stand-alone fountain not only provides a magnificent focal point for your garden but is also perfect for water conservation as it recirculates and recycles water and feeds it back into the fountain.
A recirculating fountain is perfect for environmental enthusiasts as it allows you to recycle water from other water features in your backyard such as your pool. Not only are they a sight for sore eyes but they also provide an abundance of benefits, such as drowning out noise pollution from your surrounding neighborhood, and during dry and scorching hot summer days they fill your garden air with moisture!
There are a variety of materials you could use to build your stand-alone fountains such as concrete, natural stone, and even resin!
Waterfall Fountain
Who doesn't love the calming sound of falling water? Waterfall fountains are becoming more popular due to their zen and calming nature. The sound of trickling water will fill your garden with a relaxing ambiance and tranquility!
Waterfall fountains can also be very stylish additions to your yard, especially if you opt for a more contemporary design. Your waterfall feature can also be used as a recirculating fountain in order to recycle water and stop you from exceeding water consumption limits, you can even recycle rainwater!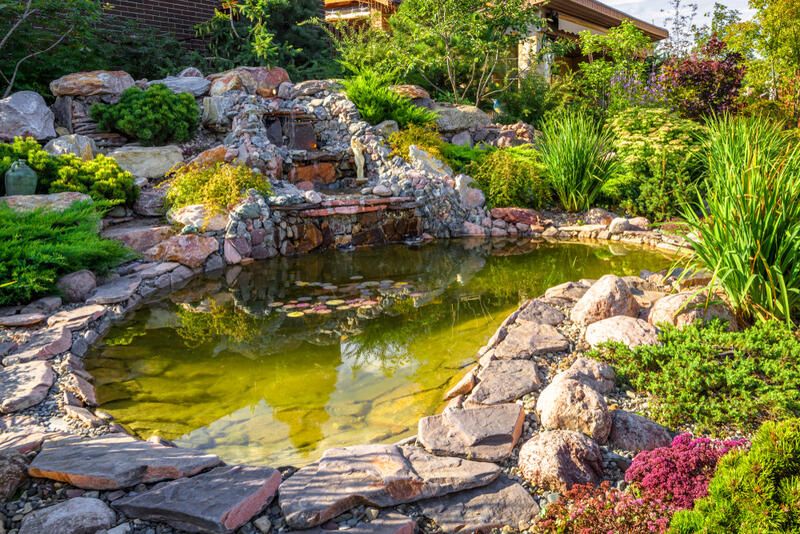 Swimming Pools For A Large or Small Outdoor Space
Who doesn't love the thrilling feeling of taking a plunge into a swimming pool on a hot summer day? Pools provide fun for all, they are the perfect place to gather all your loved ones and have a wonderful day basking in the sun. If you add pool lights you can also enjoy a good night's swim!
Normally people assume pools are reserved for larger yards but there are plenty of swimming pool options for those of us with a smaller yard and limited space to work with. Here are some pool examples for those of us with larger yards or smaller ones to enjoy!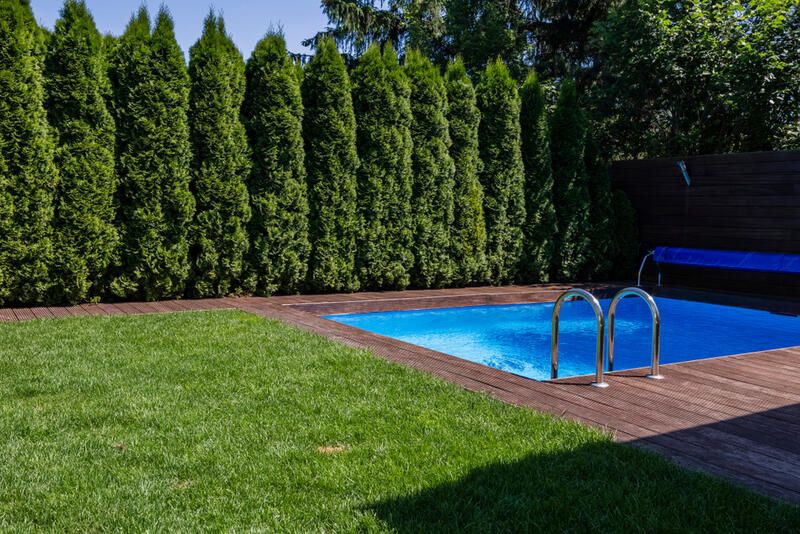 Inground Pools
Inground pools are perfect for those of us with enough room in our backyards for a larger water feature. You can throw pool parties, birthdays, family gatherings, and many more communal activities and your summer will be that much more special!
They also create an overall look and feel of luxury to your home making them the ideal water feature for luxury living. Whilst the initial cost of adding a pool to your yard may be high, it will increase the curb appeal of your home and make it more attractive to potential buyers. This means that the resale price of your home will increase!
Plunge Pools
For those of you with smaller yard space to work with, plunge pools are the perfect option for you. They are normally long rectangular deep bodies of water with a small width and are perfect for swimming laps or for relaxing on a hot day in your garden.
Plunge pools are very popular in Europe and Australia, however, their popularity is rising in the US, especially among those of us who want to enjoy a swimming pool but don't have the space of a large inground one!
A plunge pool can also be above ground which is another classic example of maximizing the use of a small garden area. Above-ground plunge pools are much easier to maintain as they don't require heavy plumbing like a regular pool.
Hot Tubs & Spas
Hot tubs are a staple for your garden. They can be as big or as small as you like depending on how much room you have. Hot tubs and spas and perfect for enjoying a relaxing moment in the comfort of your own outdoor area whilst sipping on a nice cold beverage.
They are ideal for social gatherings and can be enjoyed even in cold weather which is perfect as the fall season is finally upon us! Just don't forget to time how long you spend in your hot tub as too much exposure can make you queasy!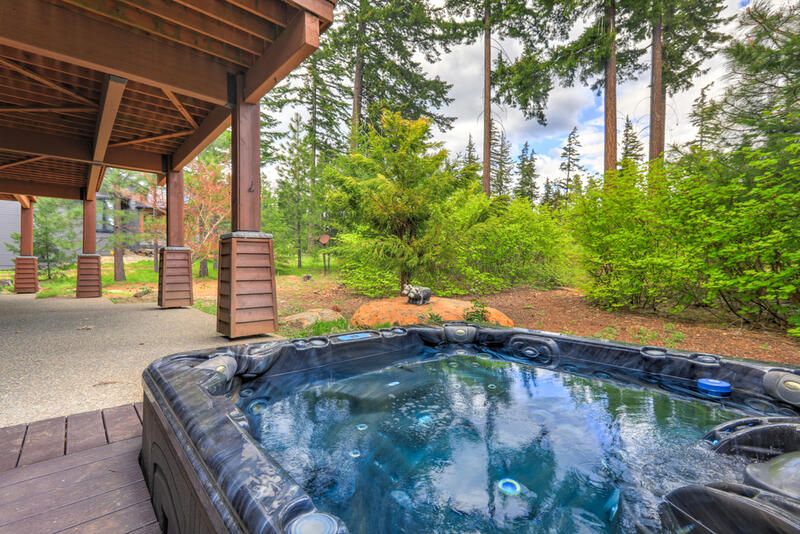 Backyard Ponds
Backyard ponds can be a magnificent addition to your landscaping design. They are a perfect way to utilize nature to elevate your outdoor living space. You can design a pond across from your patio or a large deck in order to create a gorgeous natural view facing your seated area.
You can add fish to your pond, this ranges from Koi fish to goldfish or other creatures that prefer to live in the water like turtles and tadpoles. If you live in Florida, you might want to watch out for unwanted visitors to your pond like pesky alligators!
You can also grow water plants in your ponds, such as water lilies and papyrus plants. Not only will these increase the aesthetic appeal of your pond but they will also create a natural ecosystem within your very own garden!
Ponds are a beautiful way to give back to nature and your children will love to spend more time outside tending to the pond life growing and thriving in your own private ecosystem.
There are plenty of ways you can design your pond, you can add a cascading waterfall using natural stone and rocks. If you have a larger garden, you can add a stream-like pond that flows around your outdoor space.
Bird Baths
Ponds are not the only way to attract natural wildlife to your gardens. Another beautiful water feature you could add to your backyard that is sure to turn heads is bird baths.
Bird baths have been around since the 1800s and were introduced in the UK, they were used by the upper middle class as a symbol of wealth and prosperity in their gardens.
Their main purpose is to attract wildlife to your garden to bathe in the water and drink from it. For those of you who love wild birds and enjoy bird watching this water feature is the perfect addition for you.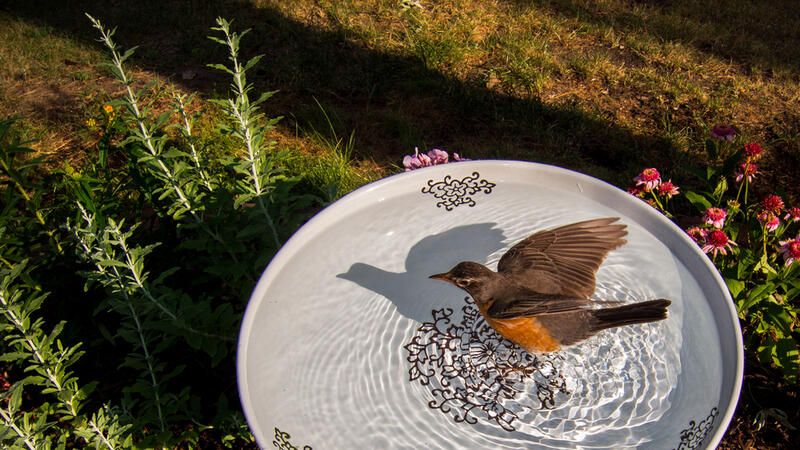 How Else Can I Improve My Outdoor Living Space With A Water Feature?
Water features are a great low-maintenance outdoor home improvement that can transform your backyard space.
Our experts at ShrubHub have extensive knowledge in all things water feature related and will guide you every step of the way from planning out your garden to installing your water feature.
All you need to do is log into ShrubHub and sign up for our unmatched landscaping service and for just under $300 you can design a garden space full of beautiful water features!