The Best Drought Tolerant Plants For A Sustainable Yard
Published: 15/08/2022 | Updated: 29/03/2023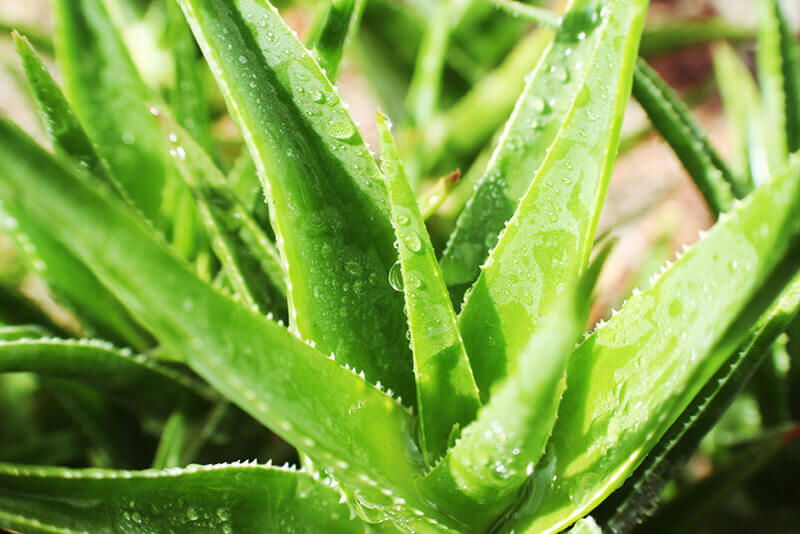 If you live in a hot state where summers can be dry, scorching, and drought-prone, you probably know the importance of drought friendly or drought-resistant plants.


But if you didn't already know, drought friendly plants are low-maintenance, very easy to care for, and pretty much thrive on negligence. The best part is, you barely need to water them which is not only eco-friendly but also helps you keep those increasingly expensive water bills down!
For those of us living in Southern California, Arizona, or even Nevada we know just how challenging it can be to keep our gardens alive, especially during harsh dry spouts in the summer. What makes life even more difficult for us are strict water restrictions, so why not make our lives a little easier by opting for plants that don't require constant watering?
Usually, when we think of drought friendly or drought-resistant plants, we think of cacti or succulents, but did you know that there is a wide array of traditional plants that are also drought friendly and thrive off of little irrigation?
You may not know this but there is actually a distinctive difference between drought friendly plants and drought-resistant plans! drought friendly plants are able to survive on little watering for a small amount of time, whilst drought-resistant plants can last for very long periods of time without needing to be watered.
Our ShrubHub design experts have compiled a list of the most beautiful drought friendly and heat resistant plants that will make gorgeous and low-effort additions to your yard!
1. Succulents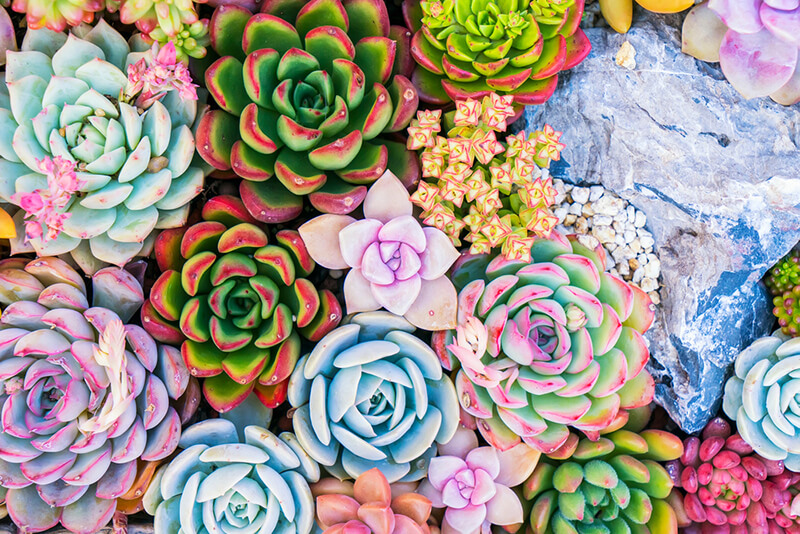 Those of us with a brown thumb are already very familiar with the beauty of succulents, no wonder the boho, millennial hipsters brought them back in style! Not only do they come in many striking shapes, colors, and sizes but they are also ridiculously low-maintenance.
Succulents can be grown anywhere with direct sunlight or slight shade, from your yard, to a garden balcony, to even the windowsills of your kitchen. Succulents are also amazing additions for indoor planting, we have an entire section dedicated to planting and growing succulents in your home at ShrubHub, be sure to check it out!
Here are some of our favorite succulents that we hope you will love just as much as we do!
Senecio Mandraliscae AKA Blue Chalksticks
This succulent is absolutely stunning and grows in large clusters which makes it perfect for walkways in large front yards, surrounding seated areas, or even ground covers across your yard. They are a deep shade of blue that almost gives off an ice-like aesthetic and are extremely beautiful.
They thrive off direct sunlight and can handle little shade, they are drought friendly but can also handle irrigation. What makes these plants unique to succulent species is that they tend to grow in the winter and remain dormant in the summer. They can survive very long periods of time without watering and are extremely easy to propagate.
If you're lucky enough to have a sweet neighbor who lets you nip off a few cuttings from their plant, within 6 weeks your Senecio Mandraliscae will begin to form roots. During the spring, these succulents bloom beautiful white flowers that bees are very attracted to!
Aeonium Arboreum
This evergreen succulent is very unique-looking, it grows sausage-like branches that stem beautiful, fleshy green leaves. Different species within this plant can produce different colored leaves, for example, the Schwarzkopf and Aeonium Atropurpureum stem purple-colored leaves.
If you grow these different species together in your yard you will have a variety of beautiful striking colors that can be used to make rock gardens or Mediterranean-inspired gardens. During the late stages of winter and early springtime, this plant blooms gorgeously star-shaped golden flowers. These plants are pest-resistant and disease free, they also require watering every 2-3 weeks during the summer and even less in the winter.
Agave
These plants are virtually drought-resistant and only require watering when soil is completely dry due to drought. Agave succulents make for perfect focal points for your yard and add a unique desert-like accent to your garden due to their long dramatic leaves. You can grow them in a border-like cluster against the edge of your yard with other species of succulents or across pathways to transform your yard into a tropical savanna.
There are 4 main species of Agave, all with unique and very attractive-looking leaves, Agave Attenuata, Agave Victoria-reginae, Agave Parviflora, and Agave Tequilana Azu
2. Cacti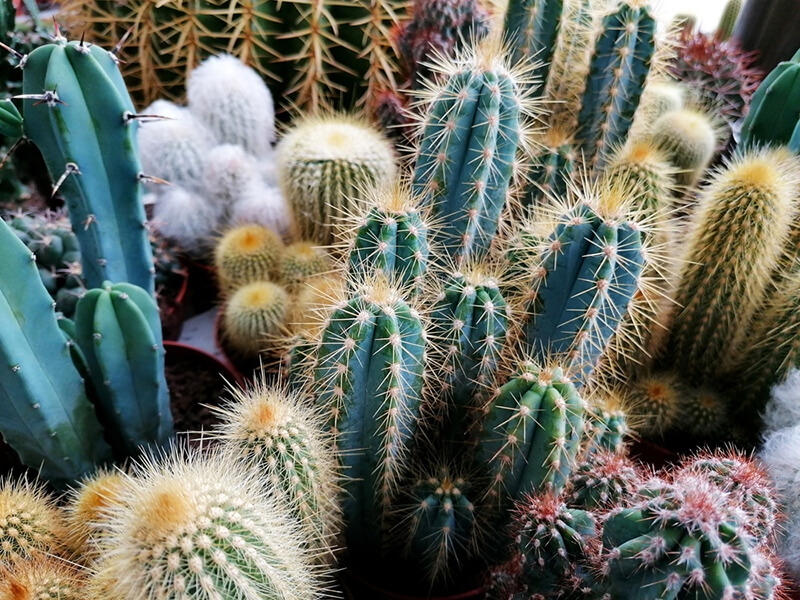 If you want to design a desert-wonder aesthetic yard, these prickly beauties are perfect for you. But beware of the little spikes, they may look cute from afar but don't let that tempt you into touching them, they can leave a nasty sting! Nevertheless, if handled with care these species of cactus look gorgeous in your yard.
Beavertail Cactus AKA Optunia Baslaris
This prickly pear is native to many southwest regions in the US which makes the perfect addition to your yard if you are located in this region. The fact that this cactus is found locally in your area means it is already acclimatized to your environment and should grow extremely easily in your yard as well as provide balance to your ecosystem.
If you aren't located in that region no need to worry, this cactus would still make an impactful statement in your yard. It can grow up to 20 inches in length and 6 feet wide, it is bluish greenish in color and blooms breathtaking cherry pink flowers that give off a distinct watermelon-like scent.
They thrive off direct light and only need watering when the top few inches of the soil they are planted in dries up.
Mexican Fence Post Cactus
This cactus is extremely bold looking and stands out amongst all the plants in your yard which automatically draws attention to it when someone enters your yard. It can grow up to 16 feet high and up to 8 inches wide which makes it perfect for covering up any wall spaces in your yard.
You can plant them around your front door to make your home feel like a beautiful resort off the coast of Mexico and you can plant them across your fences for more privacy and to elevate the look of your fences.
Strawberry Hedgehog Cactus
Unlike the cacti mentioned above, this species is relatively small in size and looks very pretty when complemented with other cacti and succulent species in a rock garden. These little cacti don't get their name from just anywhere, they grow long thin spines that are very sharp and prickly much like a hedgehog which is why it's important to handle them gently and with care and keep small children away from them.
These prickly hedgehog cacti bloom beautiful pink-purple flowers and produce an edible fruit that tastes a lot like strawberries. Just remember to wear gloves before going berry picking! They require direct sunlight but can survive in a little shade and are disease and pest-resistant!
3. Traditional Plants That Are drought friendly
We did tell you at the beginning of this guide that traditional plants can be drought friendly, didn't we?
Well, as promised, here are some of the most beautiful shrubs, flowers, trees - and yes, even fruits - that can grow in hot, dry climates and are drought friendly!
California Poppy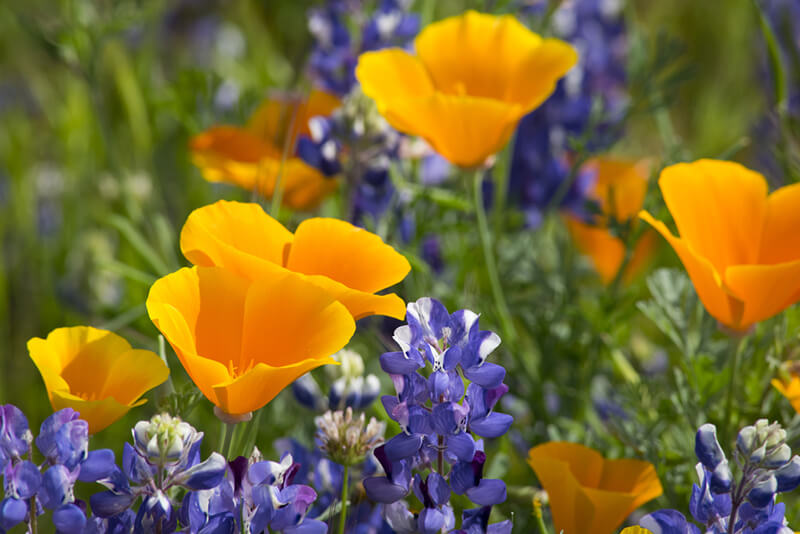 You guessed by its name, this beautiful orange poppy flower is native to California so to all you Cali folk looking to design a vibrant native garden, this flower is for you! Of course, even residents of other states can get to enjoy this brightly colored beauty.
The best part about these flowers is that they can grow in the toughest, hottest climates and can even survive in neglected and poorly fertilized soil. Just give them plenty of sunlight and they will bloom throughout the entire spring and early summer seasons.
Lantana
This lush evergreen shrub blooms with gorgeous flowers that range from yellow, orange, pink, purple, or even blue clusters. This shrub will add a beautiful pop of color to your yard and if you live in a relatively hotter, frost-free state this shrub will bloom all year round!
They require plenty of sunlight and well-drained soil in order to thrive! There are a variety of species of Lantanas, including the Texas Lantana, which usually blooms clusters of orange and yellow flowers.
Lavender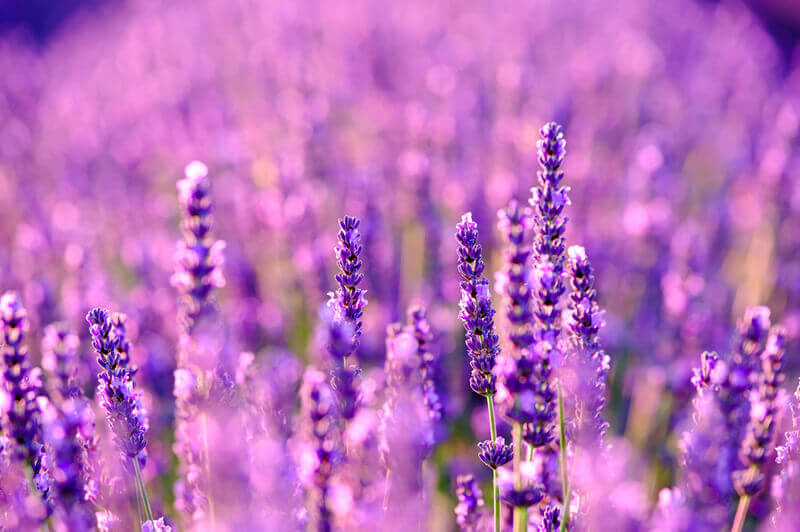 We all know lavender has a beautiful and distinctive scent that is used in many perfumes and fragrances, but did you know that these vibrant purple flowers are also drought friendly? Not only does it require very little watering but much like the California poppy it too does not require well-fertilized soil to grow and thrive!
All it needs is 8 hours of direct sun a day and well-drained soil and your garden will be full of these magnificent purple flowers that smell like heaven!
4. Olive Trees
Not surprisingly, these Mediterranean beauties made it on the list! Having already been adapted to the hotter climate of the Mediterranean these are very drought friendly and can produce an abundance of fruit with very little watering. They are also extremely durable plants that can live for thousands of years!
They are an ancient plant that is as tough as they come which makes it the perfect addition to your drought-resistant yard. In fact, olive trees have so many undeniable benefits that our experts dedicated an entire blog on why you should plant them as soon as possible in your yard be sure to check it out, just visit ShrubHub!
5. Kentucky Coffeetree
This tree makes a wonderful centerpiece for your garden and provides shade, meaning you can hang a swing from its branches or add a small tea table to enjoy your yard under the shade of this glorious drought-resistant beauty!
As you guessed by its name this tree is native to Kentucky so for those of you living in the great state of Kentucky you've probably come across this large tree at your local parks or golf courses. This tree is tough as nails and can survive a variety of types of soil, is pollution resistant, and has extreme drought resistance.
6. Tomatoes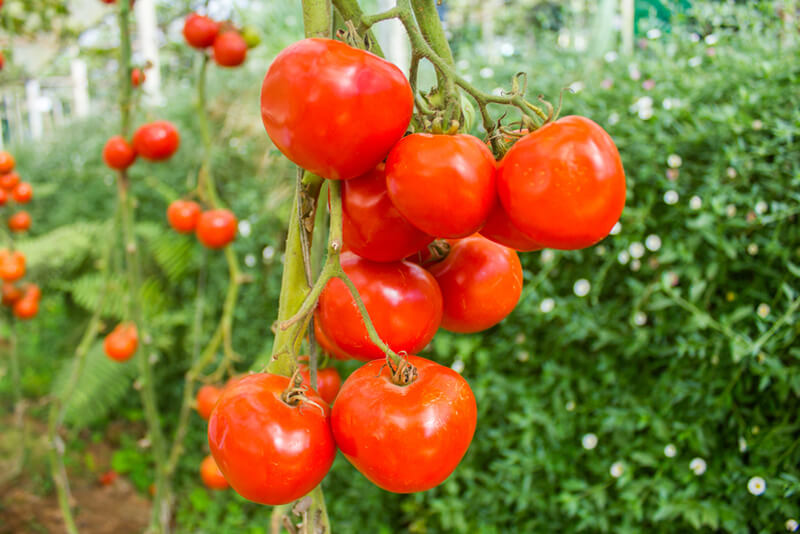 Who doesn't love tomatoes? They can be turned into soups, sauces, pizza toppings, salad ingredients, and even for those of us who are a little more brave, juice! So why not grow them in the comfort of your own garden?
The best part, they are extremely easy to grow and are drought friendly! Using the dry-farming technique with your tomatoes may make them smaller due to their roots growing deeper into the soil which in turn makes the plant focus all its energy on perfecting the fruit.
This leads to the tomato being smaller but packing a much more flavorful and delicious punch! If you harvest tomatoes with too much water, they will quite literally taste watered down.
Choosing the Best with a Little Help From Your Friends
Because we have years of experience in the landscaping industry there is no better place you can turn to; the design experts at ShrubHub can help guide you every step of the way and help you transform your yard from a garden that racks up the water bills to a sustainable, eco-friendly and most importantly inexpensive, drought friendly haven!
All you need to do is visit ShrubHub and order their best-in-class complete design package to design the drought friendly yard of your dreams!
Summer is almost coming to an end, and with August being the hottest month of the year there is no better time to invest in some beautiful drought friendly plants. If you hurry now you can still catch our limited summer offer and get both your front and backyard designed for under $300!