Stunning Landscape Retaining Wall Ideas That Won't Break the Bank
Published: 23/03/2023 | Updated: 25/05/2023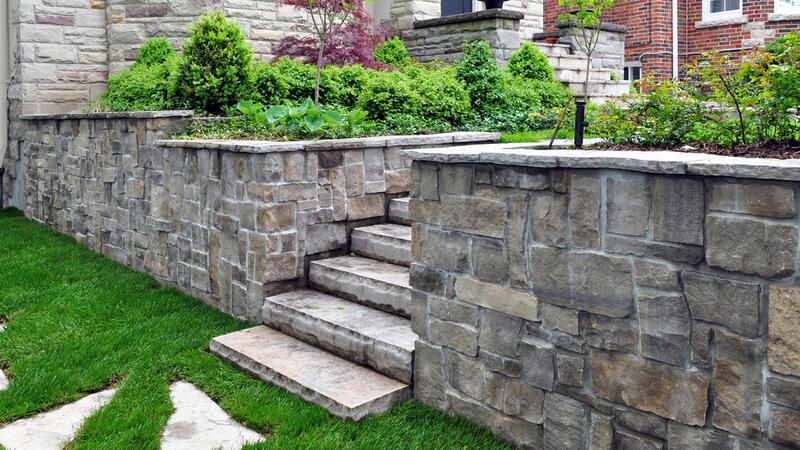 If you're looking to spruce up your yard and create stunning landscape features, one of the best investments you can make is to add a retaining wall. Not only can these hardscaping structures look beautiful and enhance your curb appeal, but they also serve a practical purpose: retaining soil, preventing erosion, and delineating distinct planting areas. From keystone blocks and poured concrete to pre-cast stones and natural stone walls, there's no shortage of stylish and sturdy materials for your retaining wall design.


Getting Started
When planning your retaining wall, there are some important points to consider. Start by examining the dimensions of your yard and deciding what types of materials will best meet your functional and aesthetic goals. Depending on your soil conditions and drainage requirements, it's important to make sure the material you choose is appropriate for the climate you live in.
Bricks and stones are classic choices for any outdoor space and provide an easy-to-maintain yet striking visual. Masonry block walls, on the other hand, can curve or twist, which gives your wall a modern look while remaining functional and sturdy. Precast stones and large rocks can be especially great for natural, free-flowing garden areas. If you're seeking a design with bold contrast and high impact, think about choosing bricks in a unique shape and finish for your wall.
Another great way to make the most of your landscape wall design is by including various types of plant life into the mix. As long as you follow the best practices for gardening near a retaining wall (namely, no heavy plants like trees, and using light to medium-weight plants like succulents), you can create a stunning, yet low-maintenance planting design that makes your space come alive.
The great news is, with the right resources, anyone can be their outdoor landscaping designer. Shrubhub.com offers an amazing 3D design tool that allows you to map out and plan your retaining wall design or any landscaping project right in the comfort of your home. Plus, right now, their 3D design services are 70% off!
Landscape Retaining Wall Ideas
Whether you're planning for a high-impact makeover or want to create a serene outdoor oasis, landscape retaining walls are a great way to boost your outdoor curb appeal and create a special outdoor space that is tailored to your needs and lifestyle. With these design tips, you'll have the perfect foundation for transforming your backyard into a peaceful and vibrant space. Let's get started!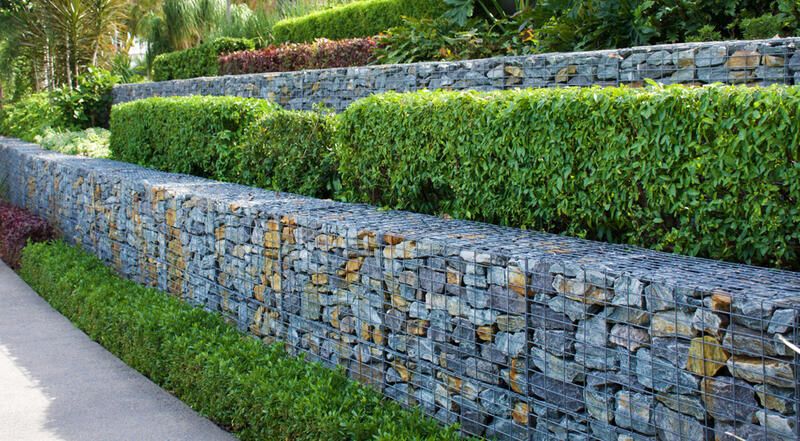 Natural Stone Retaining Wall
A wall made of natural stone will easily blend in with its surroundings. While drawing attention, the diverse stone hues and textures won't overshadow the beauty of the surrounding landscape, like the large oak tree or bright flowerbed.
Additionally, there are several stone varieties to choose from. No two natural rocks are the same; they might be large or little, rough or smooth. Fieldstones and flagstones are two popular options for natural stone retaining walls.
Irregular Flagstone Wall
This flagstone wall, which is made up of many fragments of varying sizes and shapes, looks amazing. It is more of a defining element in the environment than merely a useful retaining wall. Natural flagstones have a rough appearance, and the absence of uniformity gives them a more earthy, rustic feel. Despite these factors, the wall nevertheless manages to look fashionable and contemporary. Gray lends itself wonderfully to a contemporary style, which is a vital component in this success. The wall and blocks' enormous size is incredibly stunning and will undoubtedly become a talking point about your home. Even though the build's irregularity could lead you to believe you could do it yourself, a professional would be needed to finish.
Entwined Brick Retaining Wall Idea
Designs for concrete retaining walls don't need to be one color. Neutral grey and brown stones intertwine in this distinctive pattern to create a striking composition. These neutral-colored bricks can offer unique depth and texture to any outdoor space, especially if they coincide with a tiled garden floor, as shown in the image. It's a simple method to "decorate" a wall without drawing attention to itself. It seamlessly blends with the landscape wall and furnishings.
Outdoor Kitchen
Make a retaining wall out of your new outdoor kitchen by using imaginative landscaping ideas.
How do you do that? Behind the counters in your outdoor kitchen, grow a raised herb garden. Pick up a few basil leaves, add them to the pizza, and then place your family's dinner directly into the pizza oven in the kitchen.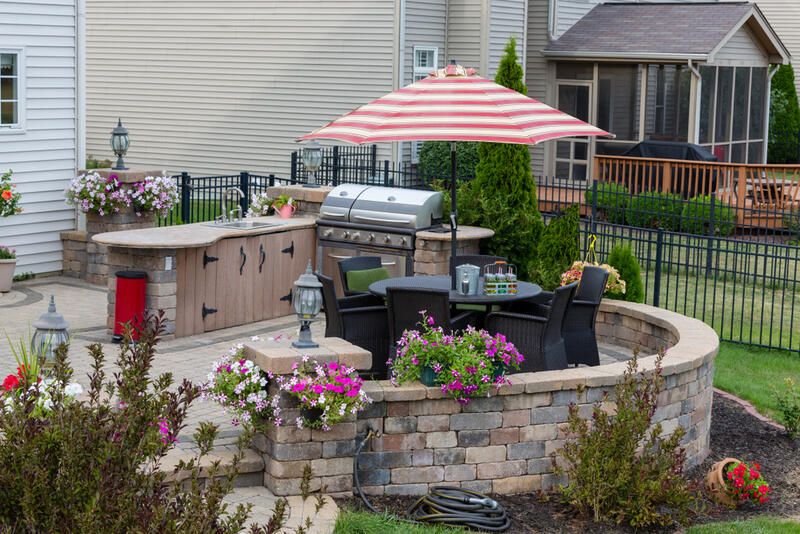 Decorative Block Work
This retaining wall was painstakingly constructed with exact specifications and a repeating pattern. The end product is something that nearly appears futuristic and it might blend in seamlessly with flying cars and robotics! The wall is unquestionably a design element in and of itself, but because it is so repetitious, it can also serve as a good backdrop for your landscape. Although the design in this instance works well on a large scale, it would also look stunning when applied to a small retaining wall.
Overlapping Stones
Here's one of the more intriguing brick wall design concepts we saw; it's straightforward yet sophisticated. It's an excellent approach to introduce a fresh idea to an old wall to have the stones overlap to show "pockets" of darkness. If you have a larger wall area to cover, it would look fantastic because this specific design benefits from having more shadow pockets. Your home would stand out in any community with this idea.
Retaining Water Feature
A retaining wall can be built without soil in the same way that a garden can. Why not hold onto some water this time?
Water features may transform your landscape, and retaining walls can help you keep the water where it belongs.
Any backyard can be transformed into a tranquil oasis with soothing rushing water noises with the addition of water features. Let your outdoor fountain help you relax after work.
Patchwork Stone
This retaining wall's choice to only utilize a few specific colors of blocks creates a design that resembles a quilt that your grandmother painstakingly pieced together. The colorful blocks are purposefully not arranged in a pattern but rather haphazardly, which gives the wall design a slightly more laid-back and cozy appearance. These bricks' slightly rounded edges help to create the image of a warm and inviting home, as opposed to more angular bricks, which would feel harsher. To maintain consistency throughout your property, it is a good idea to try to match the style of your retaining wall to the style of your home.
Concrete Planter Boxes
This idea is distinctive when it comes to landscaping retaining walls because it uses typical garden planter boxes. Once more using the "shadow" effect, this wall produces wonderful pockets of shadow that simply enhance the overall appearance of the wall. You can pick a design, color, and shape that would completely meet your demands and go with any of the décors you have because these types of planter boxes should be available at any home improvement store.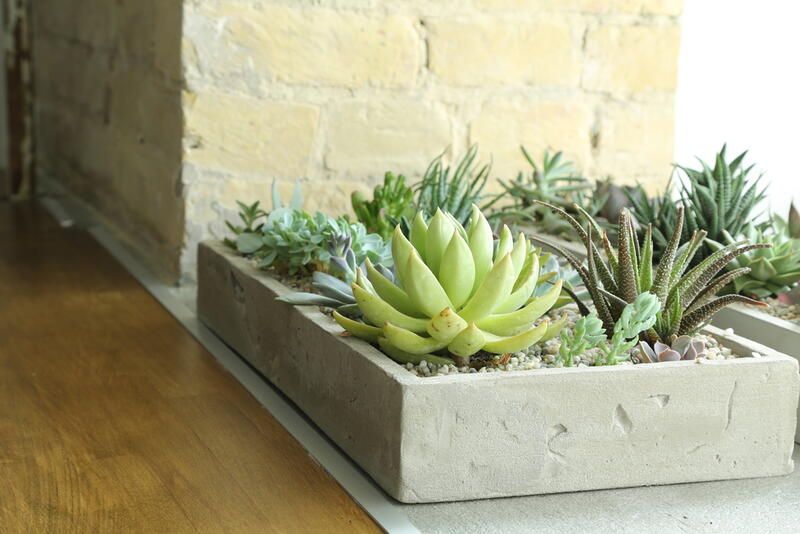 Gabion Wall Basket
Galvanized or stainless steel wire is used to construct gabion baskets, which are enclosures or cages. To build a retaining wall for the landscape, fill these baskets with inorganic materials like rock or brick.
Homeowners can utilize materials like small boulders, river rocks, or round rocks that make it challenging to stack a retaining wall by building gabion walls since they are simple to erect.
Moreover, gabion baskets require little upkeep. You don't have to worry about fixing an unsightly crack like what can occur in a concrete wall.
Strong Fencing
When building or rebuilding a retaining wall, a wooden fence is typically a far more economical choice. If staying within your budget is one of your top goals, a wooden fence will likely suit your needs. Timber fence panels are not only more affordable than concrete or stone alternatives, but they also look nice and orderly, giving your landscaping a consistent appearance. One thing to keep in mind is that the fence's design must be particularly strong to handle the weight of the soil on one side. Another factor to take into account is that fences often last less time than their stone equivalents, so you might discover that you need to rebuild your retaining wall more often.
Interlocking Block Retaining Wall
Are you seeking designs for block walls? When it comes to stylish retaining walls, this design is just brilliant. To construct the wall, the design asks for interconnecting blocks. These cylindrical bricks provide so much depth to the whole concept and depart from the typical brick or planter box concepts. The cylindrical blocks are unusual for that artsy garden theme you may be trying to accomplish, but you can choose any shape you wish.
Mixing Rock Sizes
The various sizes and shapes of a rock wall will be a fantastic visual treat, especially if you can incorporate some vibrant colors.
You will not only have the opportunity to play a game of Tetris in real life, but your wild rock patterns will also instantly increase curb appeal.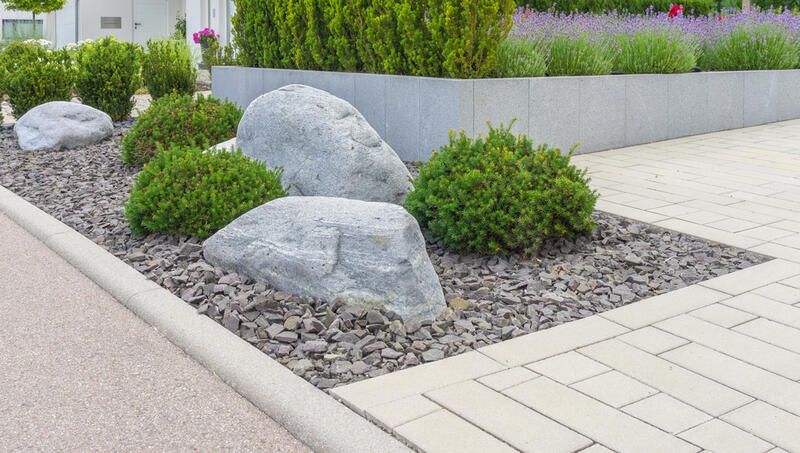 Integrate Steps
Your retaining wall will appear to be more decorative and less functional if you include a stone stairway in the design. What would otherwise be a relatively uninteresting retaining wall is made interesting by these ornamental stairs. They also make better use of the available space because a staircase makes it simple to access the upper level that your retaining wall has created. Integrated steps aid in bridging the gap between your two levels, softening the contrast between a high and low level.
Stacked Stone Retaining Wall
If you need any inspiration for a backyard retaining wall, look no further! It is a fantastic idea to stack small retaining walls since it gives the outdoor area a tonne of depth. Since the walls are so short, you wouldn't even need a lot of supplies to finish the project. Even better, you could use this as a simple garden design and fill each layer with a different kind of flower or plant. The wall pattern would give the design a polished, tidy appearance.
Sloped Backyard Retaining Wall
A slope or hill can seem tough to the landscape. What use is it to try to defy gravity, after all? The good news is that retaining walls can hold the land together by enclosing the soil from the slope.
Your ensuing actions? Select the materials you prefer for retaining walls.
Consult a qualified landscape architect or landscaper for advice on the ideal outside layout for your space. And turn that hill that takes up so much space into something you can finally utilize and enjoy.
Sandstone
The uniform block pattern of this light sandstone strikes the ideal mix between a contemporary aesthetic and a nod to the past. It conveys a sense of old-world luxury without coming off as ostentatious or complicated. If you like this style, be prepared to pay a lot for a substantial retaining wall because these sandstone bricks are expensive to purchase. However, a retaining wall like this would be a wise investment if you care about quality and longevity because these natural bricks will endure at least a lifetime.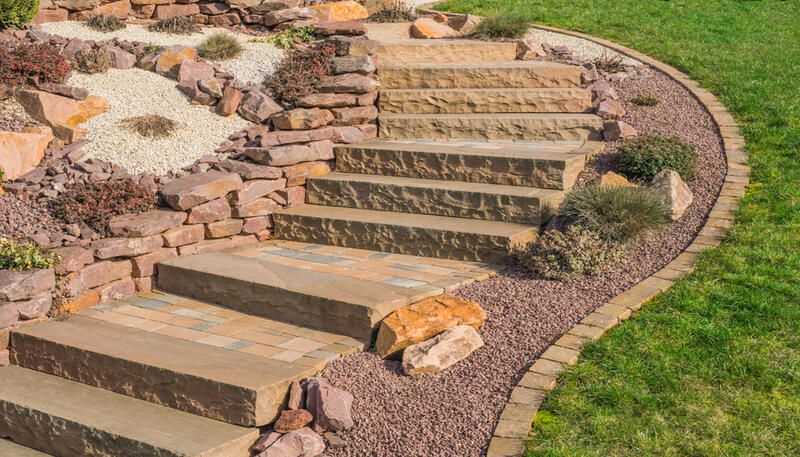 Rugged Look Rock Wall Design
Are you seeking tiny retaining wall designs or rock wall landscaping? This design, which uses granite slabs with a jagged texture to create a wall charming enough to be in a garden magazine, is one of the most original rock retaining wall ideas. The spectator would think that the wall is made of several crudely cut boulders rather than neat slabs of textured stone due to the stone or concrete slabs. In addition to being visually appealing, it's also quite simple to install because the slabs have already done the hard work for you.
Tiered Retaining Wall Structure
An excellent technique to stagger the appearance of your retaining wall so that it appears more gentle within the landscape is to use several short retaining walls that rise from this block terrace. The tiers of levels also provide you the chance to build flower beds in rows or regions that you might line with solar lights and colorful pebbles. This build will probably demand a higher spending limit when using a contractor because it is a more difficult and time-consuming undertaking than one retaining wall alone.
Highlight Trees
Does your beloved oak or dogwood tree require some extra attention? By day, accentuate it with a modest retaining wall (and some sort of landscape lighting at night).
The roots of the tree will be better shielded from erosion by a retaining wall. Even a flower bed for decoration can be placed there. Put the finishing touches on your tree's trunk by scattering vibrant blooms and mulch for color and texture.
Multicolored Mosiac
A range of hues of natural stone pebbles is used to construct this retaining wall. The pastel colors appear whimsical and cheerful without being overly bold. If you want to add a splash of color to your yard but aren't a very good gardener and don't want to have vividly colored blooming plants, this would be a terrific feature wall to choose from. The integrated staircase is made of the same stone as the retaining wall, creating a sense of continuity and aiding in the integration of the features into the surrounding landscape.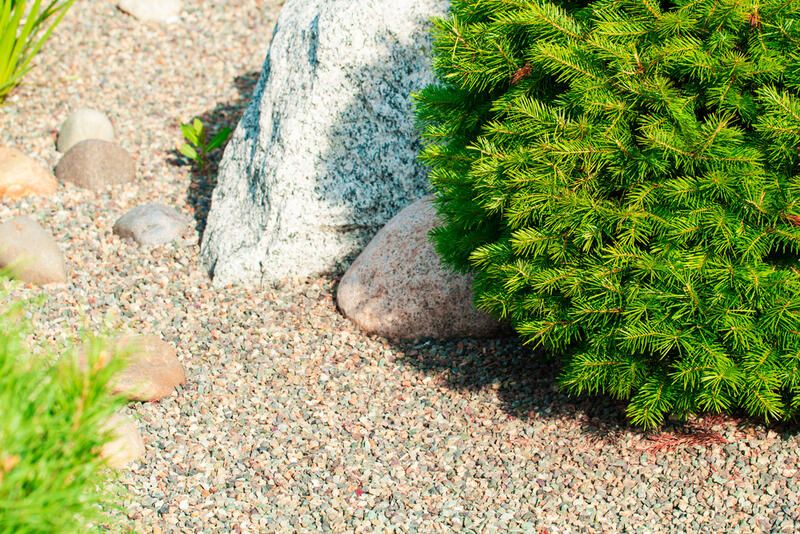 Grass, Stone & Timber Retaining Wall
This picture, which combines stone, grass, and wood, has an intriguing notion for these retaining wall landscaping ideas! By fusing all these components to make a modest retaining wall that will enclose nature, you can construct your artistic masterpiece. The short, wooden retaining wall, which is built of timber, clearly divides the grass from the rocks. It would be ideal for a little courtyard or outdoor garden area where visitors can relax and take in the view.
Tiered Hedge
An alternative to a tiered retaining wall is this design. The use of gabions interspersed with rows of hedges creates a modern aesthetic that perfectly balances lush flora and sophisticated design. To accomplish this effect, be sure to give enough room between each layer for a thick hedge to grow. You should also keep on top of hedge pruning because a disorganized or excessively tall hedge will quickly spoil the design. Use pebbles that are black or very light in your gabion to contrast with the vibrant green of the hedges' leaves. A stone of medium color would not stand out or be as remarkable in these gabions.
Flowering Plant Beds
Your retaining wall's one side will have a higher ground level than its opposite side. If there are lots of flowering plants in the highest level of soil, it will appear to be a deliberate design rather than something essential. A flower bed with vibrant colors can draw attention away from the wall itself, so it's a wonderful option to update the appearance of your landscape without having to remove your current retaining wall. A romantic appearance can be achieved by using trailing plants, which will cascade over the wall as they grow.
Traditional Brick Retaining Wall
There is nothing wrong with building a traditional brick structure if you need to build a retaining wall but are on a restricted budget. A typical brick wall can be built for far less money than real stone alternatives while still looking conventional and neat. Bricks are widely utilized because they are inexpensive, durable, and simple to use. If you're skilled with a tool, you might want to attempt building the wall yourself to further reduce costs.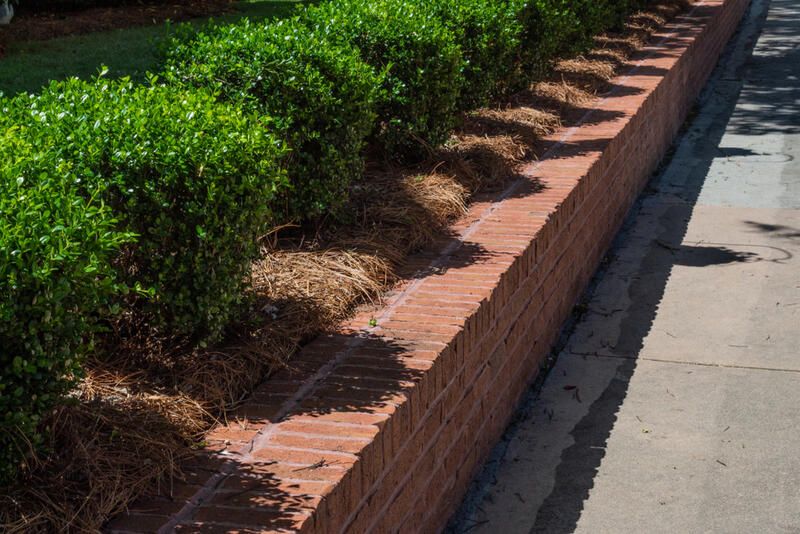 Wood Retaining Walls
A more unusual alternative to fence panels is these timber retaining walls. They will take longer to build than a wall of wooden fences, but they also have a more elegant, modern appearance. If you are skilled with woodworking, you might build your wooden retaining wall out of any length of wood you can find. If you enjoy upcycling, you could disassemble old pallets and use the wood to construct a wooden wall that is uniquely yours. If you have access to unused wood, this retaining wall might be a very affordable solution.
Cinder Block Retaining Walls
It is preferable to employ leftover cinder blocks in the landscape as opposed to throwing them in a landfill. Use these stackable blocks to create a retaining wall for your outdoor flowerbeds or gardens. Additionally, you can use them to create a vertical garden.
For an additional splash of color, consider including raised garden beds in your backyard retaining wall ideas.
Living Retaining Wall Ideas
Your retaining wall may hold back the soil of the landscape and support the growth of a garden from its walls with the right garden retaining wall ideas, designs, and structures. A vertical garden wall makes it simple to harvest vegetables and guards against pests and disease.
You don't have to merely grow veggies in your vertical garden. Grow your decorative plants to make a stunning living green wall that absorbs sound and offers solitude.
Concrete Blocks
Here is a stunning design using concrete blocks. massive blocks of concrete, that is. If you're looking at cinder block wall designs, this one might be where you want to stop. The large, textured blocks offer unique character and depth to any garden space and are a neutral shade of grey. The stone steps carved into the large blocks resemble a scene from a fairy tale in the woods. It is a fantastic concept for a mountain resort or summer vacation property.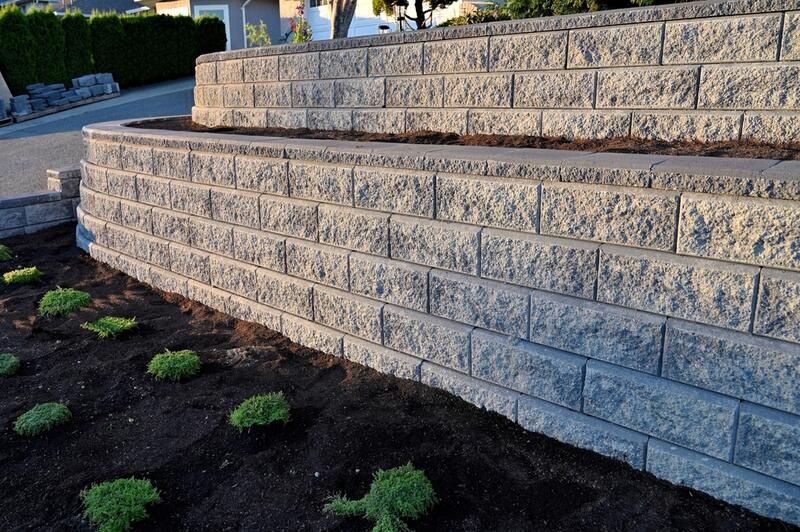 FAQ's
Average Price for a Retaining Wall
Depending on the materials you choose, installing a retaining wall will typically cost between $4,000 and $9,00. The price of retaining walls varies according to the size of your project and the materials you select. For beginners, some DIY retaining wall projects are straightforward. Advanced retaining wall projects, however, call for expert assistance.
A professional will cost money to hire, so keep that in mind. Installation is quick and simple thanks to landscaping bricks. Depending on the materials you select and the home improvement store you purchase at, their prices normally range from $2 to $5 per block.
Prefer stones to pave stones? While stone veneer typically costs around $10 per square foot, natural stone typically costs between $30 and $40.
Are you considering creating an outdoor kitchen out of the retaining wall? For this one, you could need a loan or your credit card. The normal price range for an outdoor kitchen is $5,000 to $18,000 however, a luxury outdoor kitchen may cost up to $40,000 or more.
Can Retaining Walls Be Used in Other Builds?
Retaining walls don't necessarily have to be the only thing. We have retaining walls with steps, water features, and outdoor kitchens on our list of suggestions, but those are just the beginning. Numerous landscape features might use retaining walls:
Driveways

Patios

Decks

Outdoor Living Spaces

Walkways
What Should the Height of My Retaining Wall Be?
Check your neighborhood's building codes or homeowners' association regulations. Your retaining wall's height and the height of other landscaping elements may be governed by these regulations. A builder's permit could be required before you can construct your retaining wall.