Shrubhubs Guide to Backyard Pergolas
Published: 02/08/2022 | Updated: 29/03/2023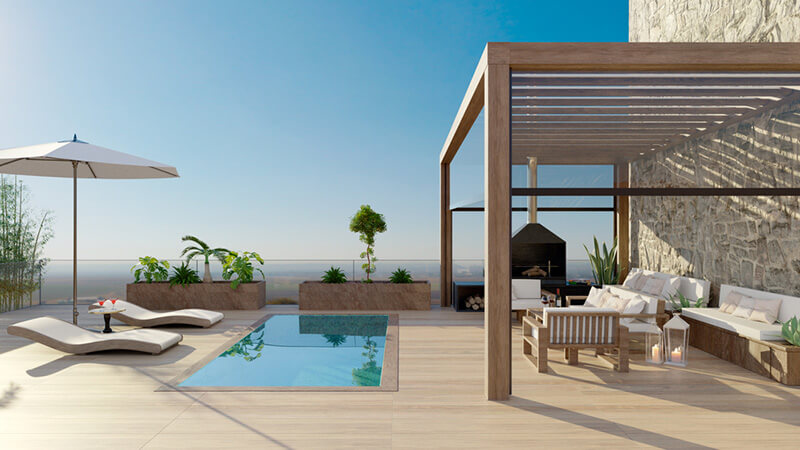 Is there anything quite like that feeling of morning serenity? When the sun begins to peak over the mountains, the dew is still in the air, and the start of a new day is filled with hope.


From those first rays of the sun to the last, sometimes it's nice to be outdoors and soak it all in. Now although sunshine is usually our friend, sometimes we want to enjoy it without having to deal with direct light. Maybe we just want to avoid some UV rays since we are not wearing our sunscreen, or simply because it's too hot. This is where the pergola enters the conversation.
Pergolas are a great way to allow yourself some shade & privacy in your outdoor space without restricting the space in your garden. Pergolas vary from gazebos to awnings to small, shaded areas on your patio, and depending on what you're aiming for there is a pergola to match!
The Perfect Pergola for You
First, let's talk about what the "perfect pergola" actually is.
With any freestanding structure, there's a lot to consider. What suits your house? What is ideal for your budget? Is it even worth it?
The perfect pergola is one that suits all of your needs both functional and aesthetic. It fits within your budget and spacial parameters without compromising what you want. We know this can sound impossible but you'd be surprised how many pergolas there are the different materials that can be used, and the space requirements. With all these factors, creating one that is perfect for you is completely attainable so let's get started!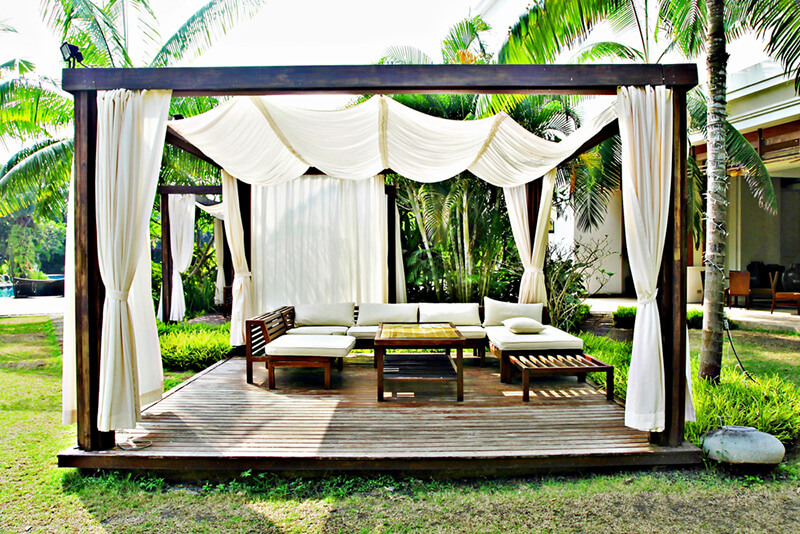 Types of Pergolas
To understand what pergola suits your needs best let's go over the main types of pergolas, and if you're stuck between a few options we'll go over a great 3D design platform that can allow you to try out multiple options.
Traditional pergolas are made with a more traditional or shed-like roofing, these were the most common forms used a few years back so these are the ones you are probably used to seeing the most. These are great for shading and would work great with more traditional-styled homes.
Thatched pergolas embodied that tropical vacation-by-the-beach look. They are usually created using thick raw material and come to a point or have a more triangular look on top. Great for backyards with tropical plants and intricate pools.
Pergolas that are freeform don't conform to a specific style or look. Freeform pergolas are completely customized and can be very intricate or simple. They can include multiple levels or incorporate multiple areas of your backyard depending on the design.
A powder-coated aluminum pergola with a polycarbonate roof is a common example of a straightforward yet elegant design. Compared to a standard timber pergola, you can cover a larger area thanks to the curved design.
With the push of a button, you may extend or retract the covering on a retractable pergola to the desired location. Louvered pergolas, which are also adjustable, enable you to regulate the amount of sun or shade you let in without retracting the entire roof.
What Material Can I Build My Backyard Pergola With?
If you are interested in going for a more customized look when it comes to your pergola you might be looking at different types of materials, you can use or what works best for you and your climate. There are 3 main materials that are used for pergolas, let's take a look at them and their selling points.
Cedar Wood, Redwood, or Timber
Timber, cedar wood, and redwood pergolas have the benefit of being natural products with the organic feel, texture, and appearance that many homeowners prefer. The most popular materials are redwood, cedar, or treated pine, although both need routine upkeep to keep it protected from the weather.
Metal pergolas, like those made of Colorbond, won't rust and may be swiftly built if purchased in kit form. They don't require as much structural support as timber yet can cover a much larger area.
Aluminum pergolas are solutions that are robust, lightweight, and won't corrode. Aluminum that has been powder coated has more color options and provides better protection.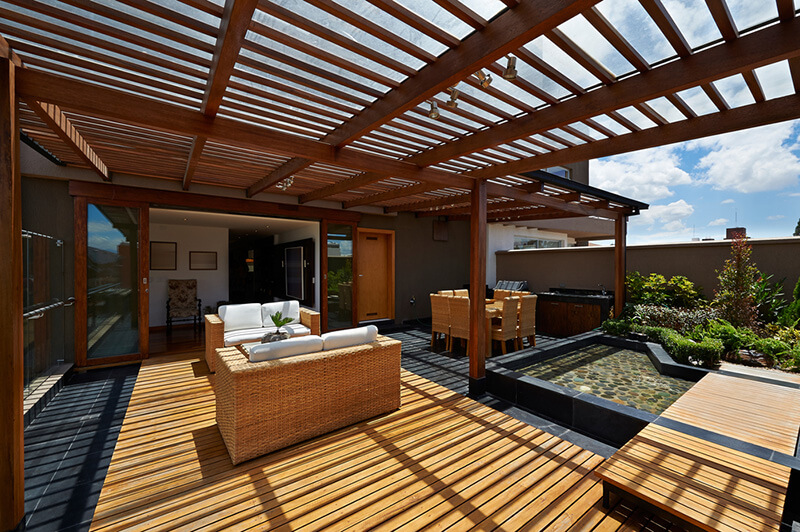 What Are The Pros & Cons of Pergolas?
When deciding on whether you want to include this design element in your backyard it is vital to go over the pros and cons to determine whether or not this is a good choice for your space. Let's begin with the pros.
The Pros
Pergolas aren't as pricey as you may think. Depending on the size and material, pergolas are one of the more functional and affordable options when it comes to backyard renovation.

You can DIY them! Yes, you read that right, you can DIY your own pergola, using affordable, environmentally friendly material like reclaimed wood and a good design plan which you can get online, making DIY'ing a pergola easy, rewarding, affordable, and environmentally friendly.

Pergolas are long-lasting. Pergolas are one of the elements in your backyard you won't need to maintain much and will last for years on years, possibly even through your next yard renovation! Most material is very durable so just make sure the material you choose is durable in your climate.

Creating an outdoor living space is much easier with a pergola. They allow for a natural separation of your yard and allow you to create a beautiful lounge area under it or even an outdoor kitchen!

Weather protection. Depending on your climate, rain and hail protection is an important aspect to consider. You can attach fabric coverings to your awning for more protection if needed or if you have a retractable pergola, it's great for better weather protection.
The Cons
Unlike water features, pergolas most likely won't increase property value too much. This topic is often up for debate depending on your yard and design. However, it's very unlikely they would decrease your value either. It's more of a non-factor than a con.

Maintenance. Pergolas do require some maintenance every now and then. Depending on the type of wood used, pergolas will eventually need to be cleaned, treated, and repainted if you want to keep them from looking weathered. You should be on the lookout for mildew if you reside somewhere where the air is humid.

Pergolas like many other things are subjective to you and what you like. Not everyone likes pergolas which are fine unless you plan on selling soon. Some buyers don't want to deal with a more permanent structure like a pergola, however retractable or louvered pergolas often grab the attention of some buyers.
Backyard Pergola ideas
Fire Pit Pergola Ideas
Nothing beats a cold winter night surrounding a warm fire in your backyard with family and friends. The issue with fire pits is often the area we put them in or the lack of one. Building a fire pit area within your pergola is fantastic to bring the family together and bring life back to your garden. Not to mention fires ward off those pesky insect attacks!
Pools & Water Feature
We all love those tanning seasons, especially those pool days, the only thing missing from it is an ice-cold cocktail and some shade! Adding a pergola over your entire pool or half of it can help you define the space while still enjoying the weather! Adding a pergola hot tub deck is always a perfect fit as well!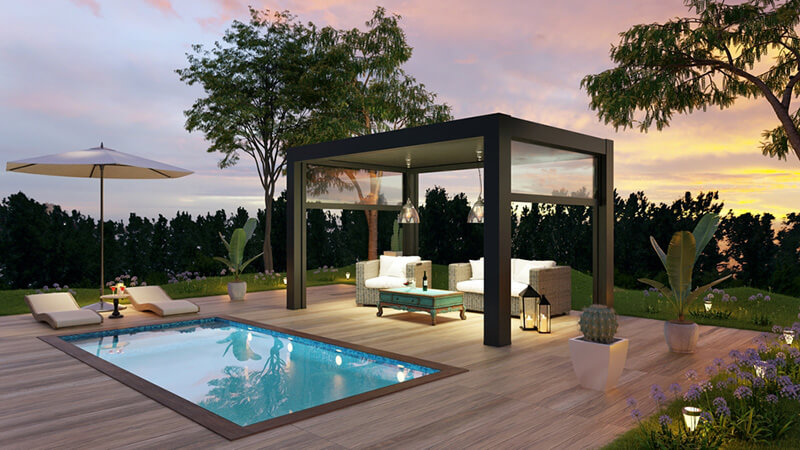 Outdoor Kitchens
Can you smell that? It's the smell of those summer BBQs! We think it's about time you hosted it this year around, maybe using your new grill shaded by your inviting pergola! If you're adding a grill, make sure your pergola is high up and preferably slotted to allow the smoke to go up and not stain the wood. Add a pizza oven and mini fridge if you're feeling cheeky!
Pergolas Can Be Modern!
Just because you decide to add a pergola to your yard doesn't mean you have to give up on your modern aesthetic! Modern pergolas are easier to create than you might think. All you really need to do is stay away from cracked wood and white or bright colors. Focus on black for a cleaner look (black pergolas are widely available). If you do decide to go for white. Try to keep it clean and not obviously wooded.
Add Furniture
You can never go wrong with some patio furniture. Throw in a few blankets, accessories, and pillows for comfort and a colorful rug as a centerpiece! You can even spruce up the furniture you choose by making your own or staying away from the basic garden store furniture sets! Try swinging lounges or attached seating! This is a very easy way to elevate your outdoor space.
Pergola Covers or Canopies
If you live in a rain-heavy environment, it's a good idea to buy a cover for your pergola. They typically come as vinyl or plastic and are very easily attached. This lets you enjoy the cool air without having to deal with too much humidity or rain while also providing a cute little shelter area in your garden. You will also avoid any type of decay with a cover!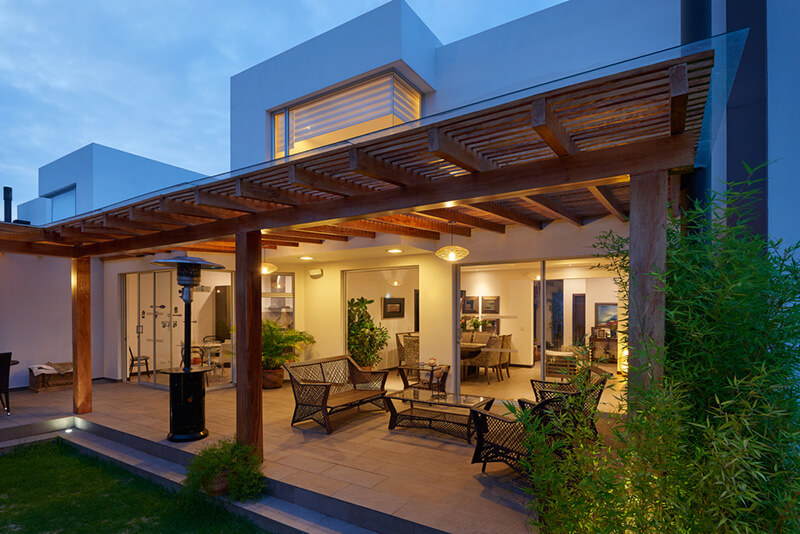 Flowers & Shrubs
If you aspire to live in a cottage fairy tale or maybe just want to add some color to your garden. Surrounding your pergola with flora, shrubs, and climbing plants is a perfect fit! Our favorite types of climbing plants for pergolas are;
Honeysuckle

Passion flowers

Potato Vine

Grapevines

Clematis

Climbing & rambling roses

Wisteria

Trumpet Vine
It's Time to Start Shopping!
Keeping all of this information in mind, you might have a few thoughts on how different materials matched with different pergolas will look in your garden, this is
where ShrubHub comes in.
Using an experienced, high-value design platform like ShrubHub can help you look at different options on a 3D model so you won't have to make any permanent decisions without a few trials first. ShrubHub is offering a 70% discount for a limited time so you have your entire backyard renovation designed with a free consultation call all for under $300!
Check them out today before the discount expires: ShrubHub.com