Potted Christmas Tree Care: Here's What to Know
Published: 28/11/2022 | Updated: 31/03/2023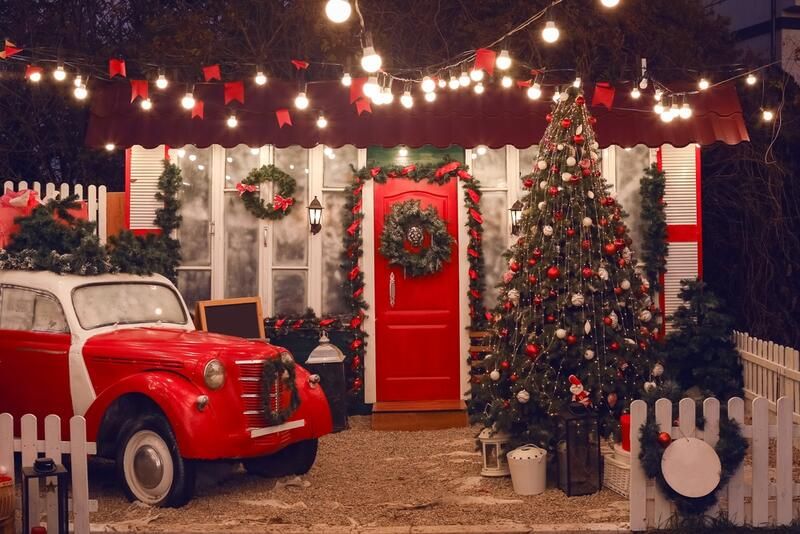 Streets are dressed in holiday style, the sky is adorned with glistening stars, frost-spikes hanging off your windows like glittery diamonds, fire flames dancing to the rhythm of the festive ambiance, and the lovely oven scents filling the house with the spirit of Christmas.


Merrily walking down the streets, you get to marvel at the festive displays of your neighborhood. From the trees, lights, and ornaments to the outdoor Christmas decorations that brighten up the front yards, each person opts for a jolly mood in tune with their character and home decor.
During this joyous time of the year, gathering with your beloved family while sharing a Christmas dinner creates an emotional, strong bond between all family members.
Childhood memories come flooding back, and you start reminiscing about decorating trees, exchanging gifts, sharing delicious meals with your loved ones, eagerly waiting for Santa Claus to finally arrive, and brightening up your home with Christmas lights.
Nothing beats a lit-up, live Christmas tree embellished with shimmery ornaments and encircled by beautifully-wrapped gifts that you can't wait to open! Christmas trees never fail to sprinkle the magic of the holiday all over your place.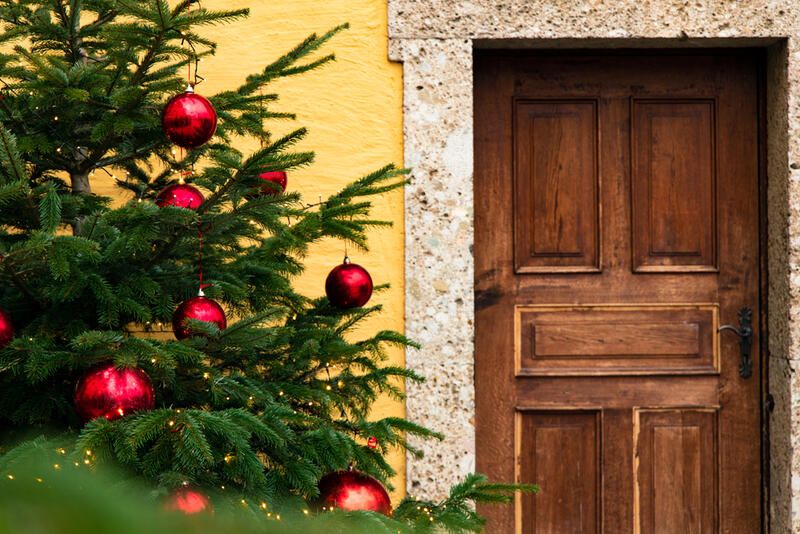 Is This the Perfect Christmas Tree?
One never gets bored of picking out a new Christmas tree each year, it's a classic holiday tradition that ushers in the festive vibes of the holiday season. However, you might visit the tree farm yearly, but settle for a tree that doesn't spread the kind of joy that you wish for.
To buy a merry-looking Christmas tree that sparks up your home design and adds a colorful punch to your holiday, learn more about the perfect Christmas tree.
Tips on Your Next Real Christmas Tree
Because not every Christmas tree can survive let alone thrive in a pot, it is essential to know which trees to buy:
When you grow trees outdoors, you find it extremely difficult to transfer them in a pot around the holiday, expecting them to accommodate just fine. Trees that are originally planted and grown in a pot tend to smoothly acclimate to your home, live longer, and grow stronger.
Unlike artificial trees, opting for a cut Christmas tree can be no picnic. Caring for freshly cut, real Christmas trees demand picking out a healthy tree, keeping it in fresh air till Christmas, buying a stand that holds water, protecting your live tree from heat sources, and watering it daily.
If you are considering the commonly-known fir trees or Nordmann fir as your next potted live Christmas tree, you might need to reconsider! Spruces, on the other hand, are a great option for potted Christmas trees. Bejeweled with your favorite ornaments and twinkling lights, this tree brings an air of dreaminess to your home.
Typically, potted Christmas trees grow to 3 to 5 feet tall, drawing on a beyond-compare embellishment that chimes with your both indoor and outdoor festive vibes.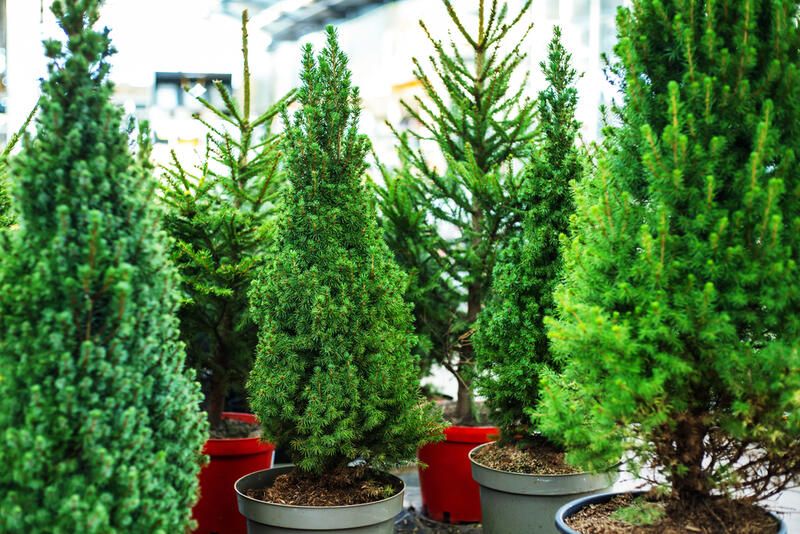 Before heading to your nearest local nursery or tree farm just yet, skim through the following commonly-asked questions to help you attend to your Christmas tree and turn it into a captivating design feature:
How to Care for Your Potted Christmas Tree?
Celebrating the joys of Christmas is not only confined to the fun journey you take to the tree farm, choosing a tree that is perfect enough to take center stage in your home, or sprucing it all up with your preferred glittery decorations that give your tree the glow-up of the year.
What is truly essential is to take great care of your Christmas tree so it not only flourishes but also stays looking fresh beyond the holiday festivities.
Where Should You Place Your Potted Christmas Tree?
From your Christmas tree's point of view, a cool spot is it's favorite. Whether you place it right next to your front door, back door, or window that brings in a chilly breeze, you should come up with a refreshing location that lets in the fresh air.
Wondering whether your potted Christmas plant should be left in direct sunlight or not? Although it might seem like sunlight is nourishing for your tree, it can scorch the needles and cause the plant to dry out. Instead, place it in a spot where it can be enveloped by the warmth of natural light.
To ensure your tree will live long enough for you to enjoy its charming festive beauty (and to also avoid starting a fire), do not place it near a fireplace, a radiator, or a stove.
When placing your potted Christmas tree outdoors to step up your winter display, pick out a sheltered spot so that your tree is not ruined by the wind or direct sunlight.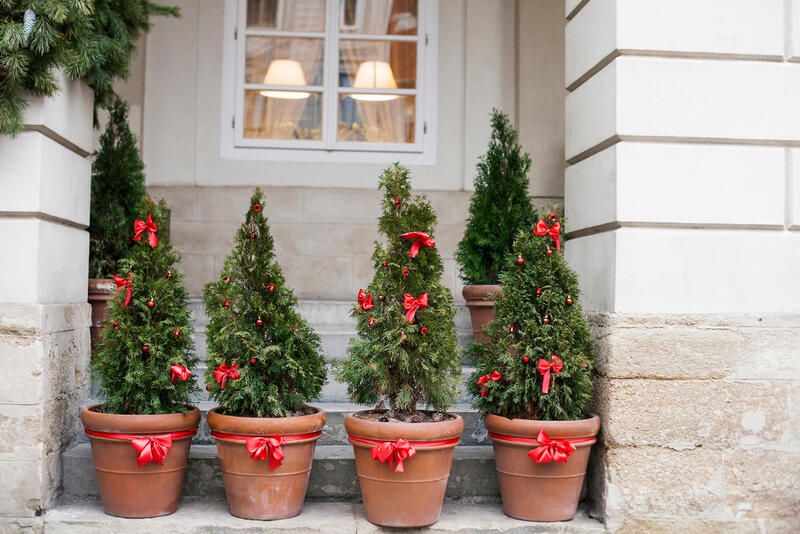 Is My Christmas Tree Thirsty?
To say underwatering your tree is a nightmare is an understatement. Curled leaves and brown edges are signs that this plant is withering away. Then again, too much water causes root rot and suffocates your tree.
So, how can you spare yourself the confusion of when exactly to water your plant and also spare your tree the suffering?
Avoid such a predicament by checking the container regularly. All you have to do is touch the soil with your fingertips. If it comes out dry and clean, then it's time for your Christmas tree to drink. If your finger is moist and dirty, you can leave it as is for a day or two.
How to Spruce Up Living Christmas Trees?
Grease your creative gears because it's time to tap into your inner artist. Decorating live Christmas trees is an interesting fusion that marries natural greenery with artistic ornaments, eventually creating a work of art that pushes the boundaries of creativity.
Fancy giving your tree a minimal-but-mighty design? Hang up some pretty bells and call it a day! However, if you want to live the festive vibes to the fullest, dress up your tree with over-the-top decorations.
Warm lights, classic tree balls, snowflakes, and shimmery bells will for sure help you get in touch with the spirit of the holiday.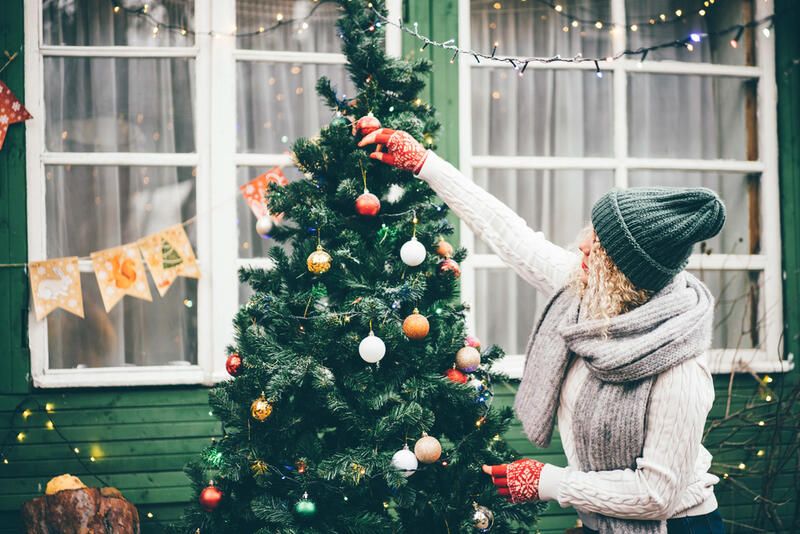 Can You Help It Grow?
If you are looking forward to offering your potted tree the loving, tender care it needs to thrive, do not place it indoors right after purchasing it. You should rather keep it outdoors until the holiday.
Your Christmas tree takes pleasure in being enveloped by nature, breathing fresh air, and steering clear from the unbearable warmth of our homes.
Imagine living all your life in a scorching hot environment where you are sunbathed daily. What happens if you have to move unexpectedly to a cold country?
Just like any human being who has to physically adjust to the temperature of a new environment, your plant needs to gradually acclimate to the warmth of your home. Instead of bringing your potted Christmas tree indoors all of a sudden, transfer your tree to your garage for a week and give it some time to adjust properly.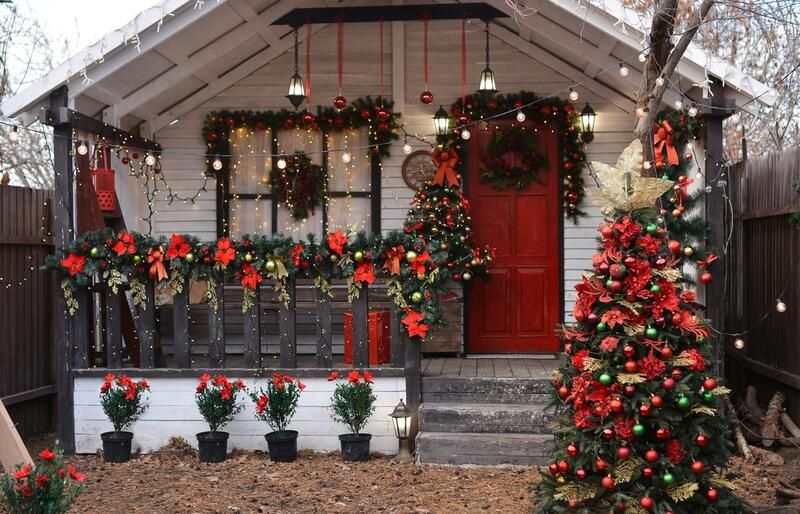 When to Bring Your Potted Tree Indoors?
For a healthy, fresh-looking tree that brings a posh, merry vibe into the scene, you should move your potted Christmas tree in as late as possible. One week before Christmas is ideal to ensure that you are providing your plant with the best care it needs to thrive.
And if you are willing to plant it outdoors, avoid keeping your living Christmas tree indoors for more than 12 days.
What Happens to Potted Trees When Christmas Is Over?
Who said you have to toss your Christmas tree with all the memories away or even turn it into mulch? For a twist on things, why not make each delightful holiday memory grow fresh before you simply by planting trees in your yard?
Turn trash into treasure by repurposing your Christmas tree and replanting it outdoors! It's a creative spin that keeps your tree alive for years to come and creates a magical spot in your yard.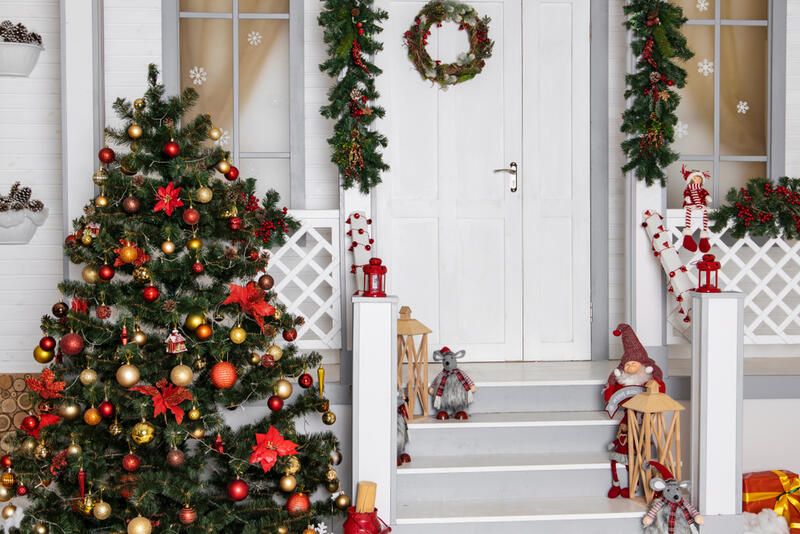 The Bottom Line
Is there anything fresher than a living tree for Christmas?
Having a real tree in your home around Christmas not only evokes your senses by adding depth, texture, and visual interest to your living space but also adds a whimsical glow to your seating area.
No matter if you need more information regarding potted Christmas tree care, or if you are searching for innovative ways to design your yard during the holidays, our designers have got you covered!