Plants to Grow in Winter: Keep Your Garden Looking Lush All Year Round
Published: 20/01/2023 | Updated: 29/03/2023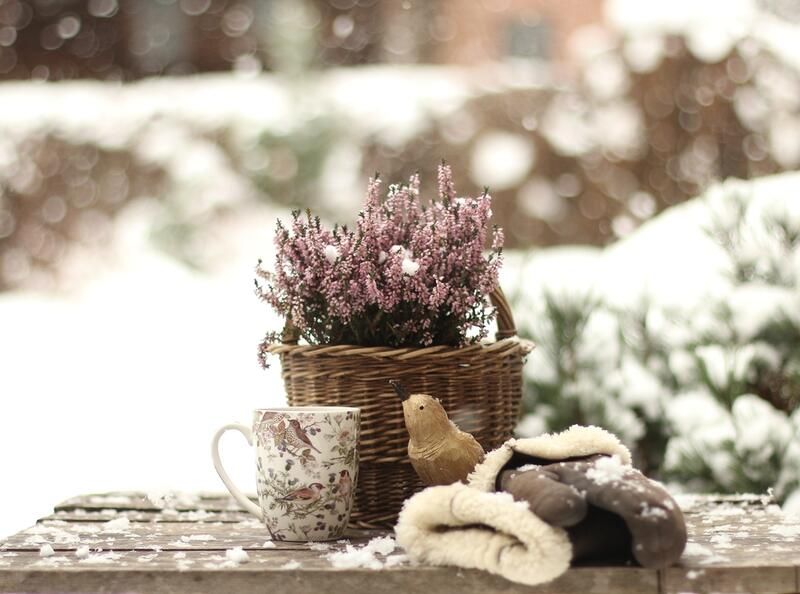 Don't let the freezing temperatures get you down, make the most of your winter garden and keep it looking lush from October all the way through to early these tips!
With the cooler weather inching its way in, winter may seem like an unfavorable season for plants, but with a bit of planning and winter smarts, you can prepare for the cold temperatures and enjoy a glorious garden, despite the harsh winter weather!


What does winter gardening entail?
Gardeners frequently refer to a range of items when they talk about planting food for the winter, including planting enough crops in the late summer and early fall to ensure a harvest throughout the winter.
These late-planted crops reach maturity before the onset of winter, but they also store well in the garden, enabling you to harvest them well after the other crops have long ago reached their peak.
They won't grow much during these chilly temperatures, but they will remain in good form for eating fresh. Accordingly, you must grow adequately to harvest without regrowth. Among the often planted plants in this category are spinach, peas, kale, parsley, winter lettuces, root vegetables, peas, and Asian greens.
The right tools
Winter gardening also involves using tools and techniques that are specially designed to protect crops so you can keep growing all winter.
If you have a method for extending the warmth of your season, such as a greenhouse, cloche, or row cover, you can lengthen the amount of time that your plants grow. Given the right conditions, many of the aforementioned plants will continue to grow quickly.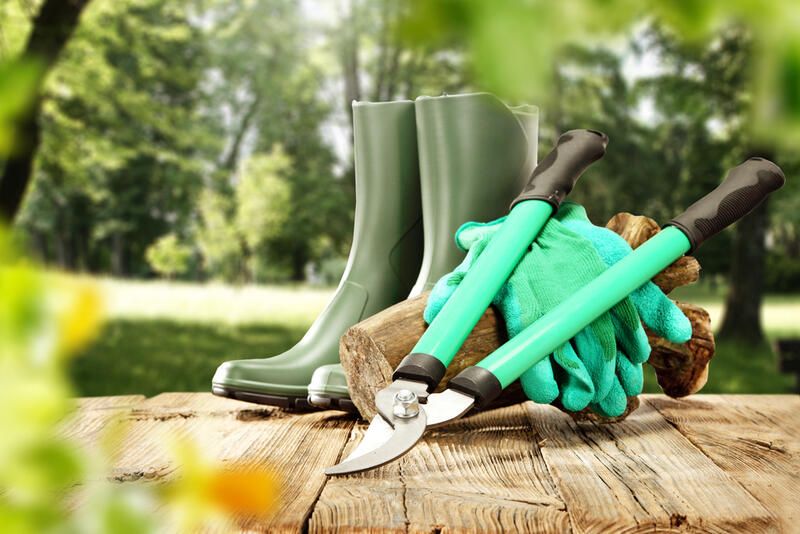 How to prepare for winter gardening?
Now is the time to start preparing for winter gardening. The first step is to clean up your garden and remove any dead plants or debris. Next, you'll need to add some organic matter to the soil to help it retain moisture. You can do this by spreading a layer of compost over the top of the soil. Finally, you'll need to water the garden well and cover it with a layer of mulch to keep the soil moist.
Quick tips to keep your winter garden in tip-top shape:
1. Make sure your plants are in a sunny spot.
2. Water your plants regularly.
3. Add mulch to your plants to keep them warm.
4. Bring your plants inside or use a frost cloth to protect them from freezing if the temperature gets too cold.
5. You will need to take care to avoid pests and diseases since they can be more prevalent in the winter.
6. Depending on the weather, you may need to adjust your planting schedule.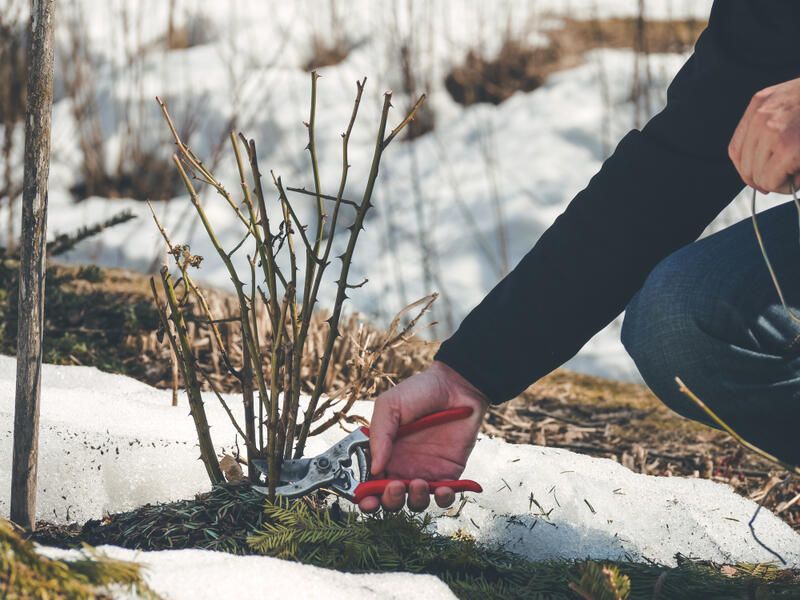 Slow growing crops
Planting for the harvest of slow-growing crops occurs in late winter or early spring.
Your crops won't be fully mature in this case before the winter. These crops go dormant when the days become shorter and the temperature drops. Then, as the calendar changes and the days start to become longer, they start to grow once more, adding to the growth they put on in the fall.
Crops that have overwintered are often ready for harvesting around the time you start planting the crops for the following season. They include various varieties of broccoli, onions, cauliflower, and garlic, and they normally don't need winter protection.
Which vegetables can you grow right away to eat through the winter?
As a general rule, the majority of winter crops are planted in the northern half of the country between late July and early August. However, planting schedules vary depending on where you are. Those who reside in the southern US should extend that window to October.
What plants can be grown in winter?
Many plants can be grown in winter. Some plants, such as pansies and violas, can be grown in cold weather. These plants can be planted in the fall and will bloom in the winter. Other plants, such as holly and ivy, can be planted in the winter and will bloom in the spring.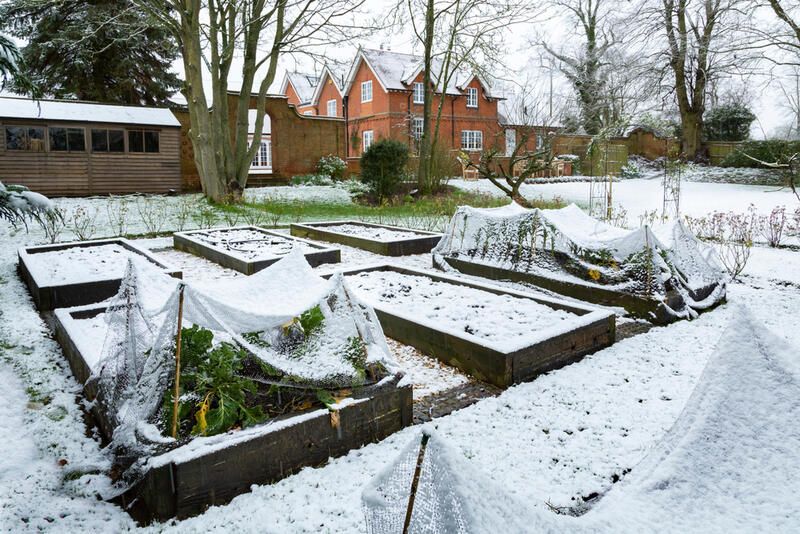 Can you grow vegetables in the winter?
The short answer is yes, although some vegetable crops are hardier than others and able to withstand cold winter temperatures. Here are some of our recommendations for winter vegetables:
Beets
Plant beets six to eight weeks before the projected first frost. Young leaves can be used as baby greens or the roots can be left to grow to provide scrumptious, vitamin-rich dishes. In general, beets can stay in the ground all winter long if they are mulched when the bitterly cold weather begins.
Runner Beans
Broad beans are a great, slowly growing crop that will continue to grow into the winter if planted in locations with a lot of snow in the middle to late fall and properly staked. Early in the spring, when the pods have grown fat, harvest them.
Garlic
One of the easiest crops to grow is garlic, which is typically planted in the middle to late fall and harvested in the summer. When planting, use plenty of compost and add mulch for weed and weather protection.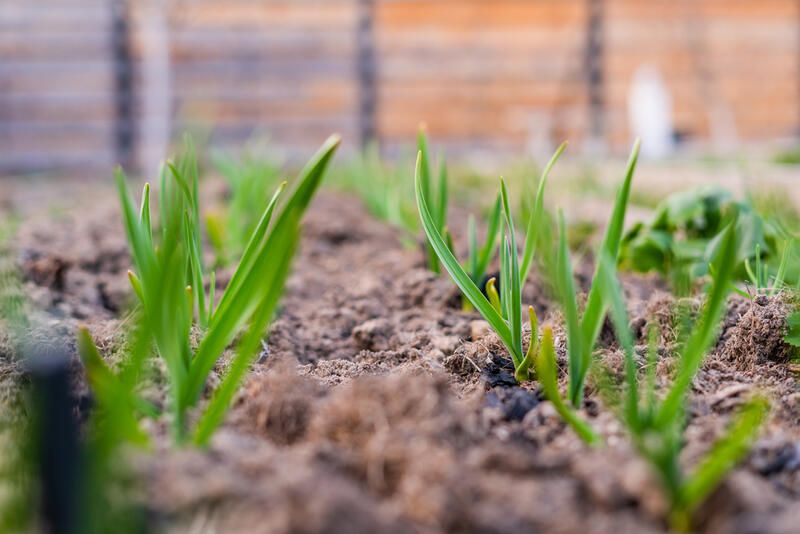 Cabbage
Because there are so wide varieties to choose from, you can harvest this bitter garden crop from summer to spring. To protect your crops against winter pests, if necessary in your region, seed overwintering cultivars in July and August (or even later in warmer locations). If you see a pause in growth, add some completed compost around the plants and then thoroughly water the area.
Carrots
By planting carrots in late July or early August and allowing them to grow until they are large enough to eat, carrots can be harvested in the winter. Throughout the fall and winter, keep them in the garden and pick them gradually sufficient to increase their shelf life. Carrots normally don't get much more significant once the temperatures drop, but they retain their quality in the soil for several months. A fresh carrot harvested in December is one of the best Christmas treats!
What about ornamentals?
Some plants, like short-day garden mums, keep blooming well into the autumn. But most have finished flowering by the time the weather cools. This doesn't mean you have to give up your precious flower garden until spring arrives.
Many plants offer an amazing display of autumn (and winter) color in the shape of ripe fruits and seed pods that carry on growing even after the foliage has withered away, so that you may continue to enjoy your garden long after the growing season is through.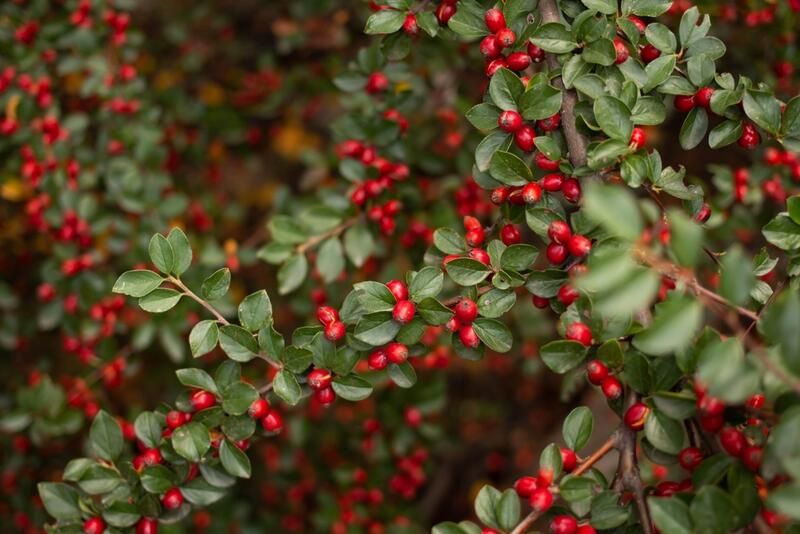 We've put together a list of some of the most attractive plants and shrubs for to keep your garden looking lively even during cooler months.
Cotoneaster
The Cotoneaster is a deciduous shrub with a year-round ornamental appeal and often makes for a highlight in cold climate gardens.
Cotoneaster berries turn a vibrant scarlet with the first frosts.
In the spring, pretty pink flowers bloom, and cranberry-, orange-, or red-hued pome fruits are produced in August. The winter months see plenty of these fruits. The tiny, glossy green leaves also add lovely autumnal color in shades of scarlet, burgundy, and bronze.
Harlequin glory bower
The clerodendrum trichotomum, or harlequin glory bower, is another four-season delight. It is a deciduous suckering shrub loved for its gorgeous fruits, a vibrant blue gumball-like seed enclosed in a deep pink starburst calyx, and its fragrant, honeysuckle-like flowers that bloom in late summer.
A wonderful addition to any garden, the harlequin glory bower is a plant with dark blue berries and dark pink leaves. Due to its hardiness, it can be managed as a perennial herb and pruned to the ground in the winter.
Oregon grape
The Oregon grape is an evergreen shrub with an upright habit, with four distinct color seasons. Yellow blossoms that are aromatic in the spring are followed by clumps of delectable, blue-black berries in summer, surrounded by lustrous dark green foliage which exhibits bronze undertones in the winter.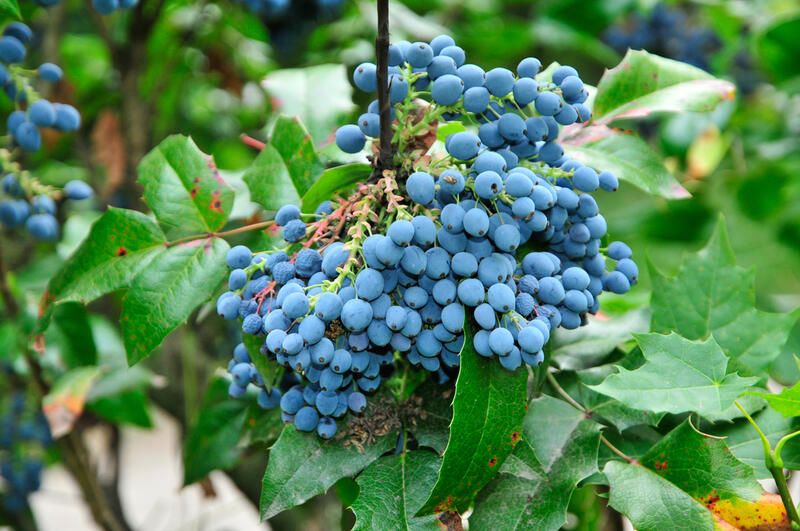 Roses
Throughout the fall and winter, roses can put on a spectacular display of color with their seed pods, or hips. Oval, spherical, or urn-shaped hips have stunning, persistent hues of burgundy, orange, red, or yellow that shine on naked branches in the dismal, frigid months.
Winterberry holly
Winterberry holly produces clusters of eye-catching, vivid red berries in late summer that persist through the fall and winter. The warm shades of red will add a touch of warmth to your garden during the winter months.
Need some help preparing your garden for this winter? Why not contact Shrubhub's team of expert landscape designers to keep your plants thriving all winter long?