Outdoor Patio Ideas
Published: 11/10/2022 | Updated: 29/03/2023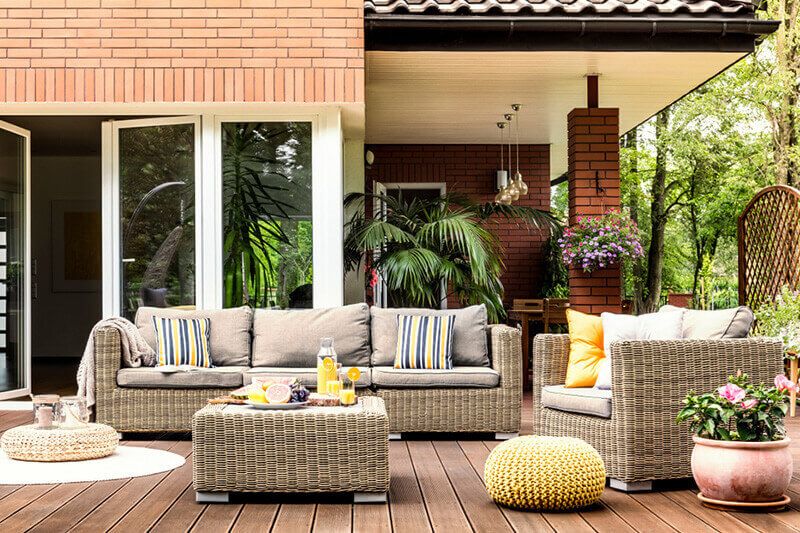 For the last 2 years, we all have gotten pretty comfortable being inside and outside our houses. Now while this may have given us some more time to relax it also gave us the rare opportunity to really notice how our outdoor spaces were looking and it may have led to some thinking!


If the thought of light renovation or even a complete makeover came to mind, you are certainly not alone. Whether the outdoor living space that has been taking over your thoughts was your backyard patio, poolside patio, or front yard patio space we have some solutions that may just be the answer you've been looking for.
Doing a complete makeover might be more than what you need or just doesn't fit the budget right now which is why we've come up with some refreshing outdoor patio ideas that can spruce up any outdoor space and help you extend that gorgeous interior design all the way outside!
Your home may be warm, cozy, spacious, modern, traditional, or a plethora of other aesthetics on the inside yet completely lack that on the out. We always tend to forget that no matter how important the inside of our homes can be, the outside is where it all starts. Where we say our sweetest hellos and saddest goodbyes, where we first set sight of our homes, and where the extension of us begins.
It's never too late to turn your small or large front yard from rags to riches! So let's get started with some patio design ideas.
Plants, Plants & More Plants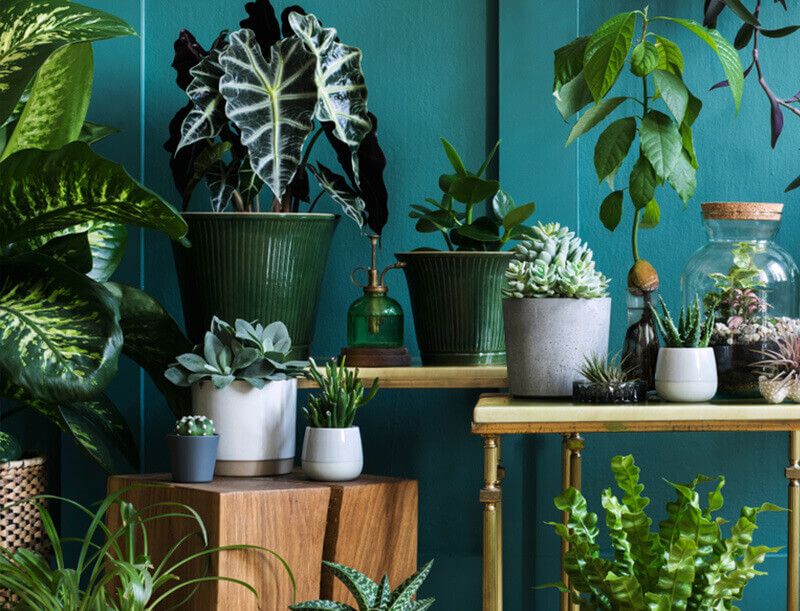 Nature is one of the very things on this earth we can never get enough of and the beauty of it is that regardless of your climate there are plants dedicated to you which is exactly why those luscious plants should be outside your home right now!
We know you may not have time for high-maintenance plants which is why Shrubhub does all the research for you and chooses the perfect plants for your climate so you can always stay gorgeous and low maintenance.
One great tip to use when searching for the perfect plant is to check out the USDA hardiness scale to find out your climate zone. Once you get that knocked out, finding your perfect plant is a lot easier than you might think!
Plants come in endless shapes, sizes, colors, and maintenance levels. Orange and red-tone plants can help bring a beautiful warm contrast to your yard. Cooler-toned plants like violets and blues can help cool down the look. It's all about what you prefer, and you'll always find something to fit you when it comes to plants!
If you have a small space or small patio but still want to incorporate plants, hanging gardens can be a stunning addition to add! Throw some succulents or perennials into the mix to match your personal style and your patio will be the focal point of the neighborhood!
Walkways & Pavers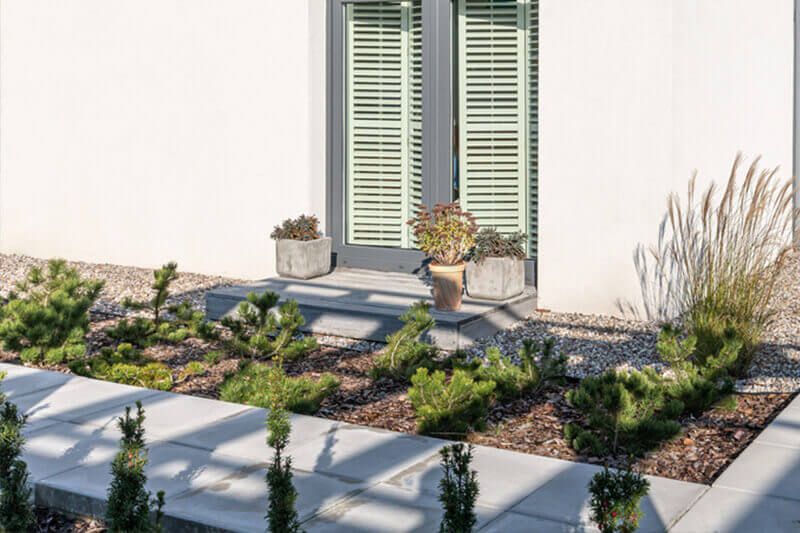 A lot of the time when we purchase new houses the entrance and walkways are always a drag. Super basic, ugly concrete that's either worn down or dirty and regardless of how much you do to your front yard it will just always be an eyesore. Which is why investing in quality good walkways and pavers to lead to your front door is essential. You won't have your guest jumping over the grass and it'll help you prevent tracking mud into the house when it rains.
Walkways and pavers are so simple, yet they can make or break your front yard which is why we would recommend 100% you take a look at some options that suit your aesthetic the best. Not to mention there are hundreds on hundreds of options to choose from. Getting black concrete pavers can complement a more modern patio versus going for a blue and white palette for a more Mediterranean styled home or you could go for a classic, timeless design like stone pavers. Endless options, endless possibilities, and gorgeous designs almost every time.
Privacy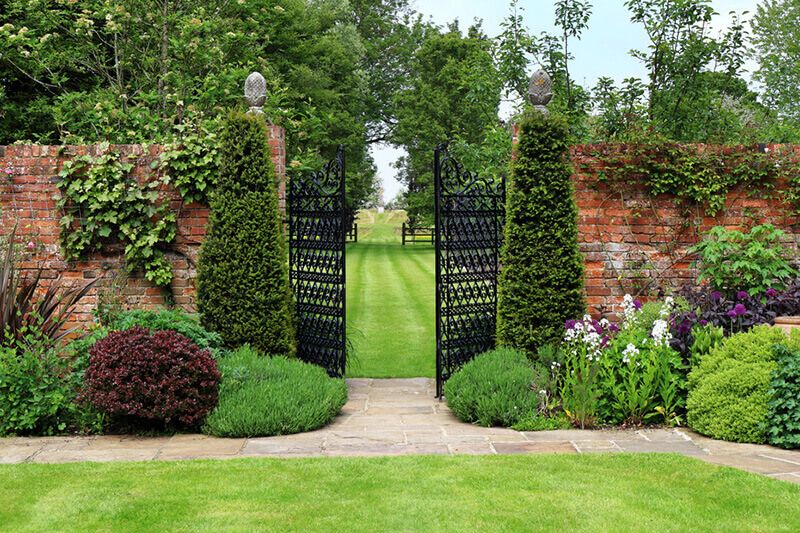 Sometimes we absolutely fall in love with a house that is just a little bit too close to the main road, or maybe we just prefer a little extra privacy around our front doors, regardless of who you are we can all agree nothing is wrong with a little bit of privacy here and there and when it comes to privacy you have a million and one options.
Tall Trees can be such an amazing, natural way to get some privacy while still keeping to the aesthetic of your house and front yard, make them fruit trees and now you have some yummy produce while you're at it!

Fences can be a great barrier if you're someone who likes a lot more privacy than trees can provide. Now add some plants, bushes, and hedges and you've completely transformed your front yard without just having a plain ugly fence.

Bushes & Hedges: If you're someone who would like minimal privacy, lush bushes and hedges can be a fantastic alternative. They provide a good amount of coverage yet are very subtle in their intention and can create a great atmosphere for your front yard.
There are so many ways to get some privacy, so we'll make sure to give you guys an entire article dedicated to it, stay tuned!
Patio Furniture
Nothing beats curling up on your patio after a long day watching the sunset, now imagine curling up on your patio and feeling a warmth wash over you knowing this cozy space was made especially for you, by you.
Patio furniture often doesn't get the credit it deserves, and most people opt for the very typical, boring, colorless couches and chairs. It's time to take a look at those modernized, vibrant lounge chairs and maybe throw in a striped rug!
Let's dive into some of the basics when it comes to designing your patio space:
To Cover or Not to Cover: Depending on how your patio is angled, you'll want to decide if you want to incorporate a covered patio or an awning/pergola. If your patio area has way too much sun for your liking, you'll want to go for something more sturdy and solid, if you would just like some light shade, look at slotted or half sized coverings. This can help you define your space a lot better than just leaving it open.

Seating Area: Every good patio area needs a good seating area. If you have a larger patio space, you might want to throw in some lounge chairs in one corner while leaving another side open to more cozy chairs, floating couches, or built-in benches. If you decide you'd like to add a dining table and chairs or create an outdoor dining area with a grilling station, you'll need to define that space with a small bar, so it doesn't get too overwhelming on the eyes.

If your patio is poolside, you'll want to keep the lounging area there and focus on all the cozy furniture a bit farther away. Comfortable seating is always super important so make sure you don't skimp out. You could even DIY it if you want to add a fun project to your list! Take advantage of the natural light and build a tire swing or rope ottoman. You can even create portable extra seating if needed!

Patio Decor: Transform your patio furnishings with some fun colorful throw pillows, fuzzy blankets, and string lights. Add a coffee table with your favorite book and create the perfect space for a morning coffee. Compliment your wood deck with some woven rugs for contrast. Bring the interior design of your home outside and create the perfect outdoor living room! Small items and knickknacks are what help complete and bring a space together, so spend some time gathering that lighting and throw pillows, it's 100% worth it!
Hardscapes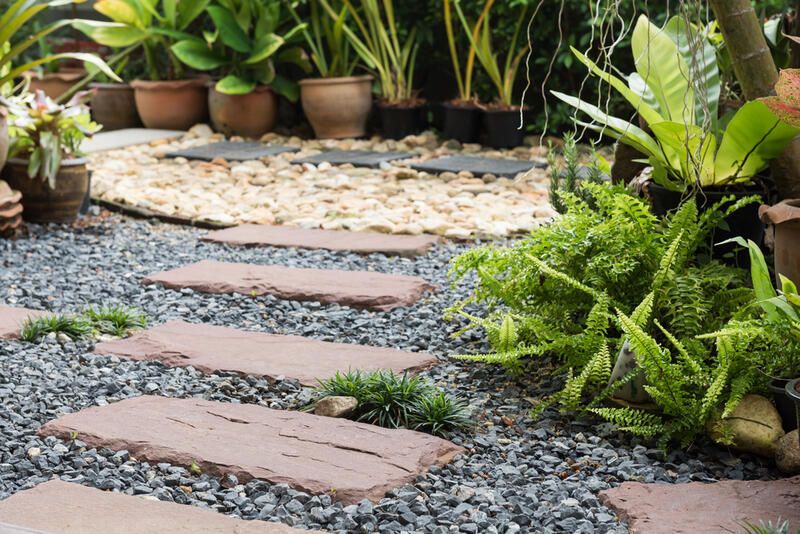 Do you ever get the feeling that something is missing in your outdoor space? Maybe the space feel is just a bit off? Well, we may have the answer you've been looking for! One word, Hardscapes.
People often forget the small luxuries that are hardscapes. Far away from the basic pavers and walkways, there's more. There's a quaint water feature inviting dragonflies and hummingbirds to the cozy fire pit that all the kids can't wait to run to and curl up under. Hardscapes help brings any outdoor space together.
Hardscapes is more of a general term, but there really are so many, let's discuss a few.
Water Feature: A water feature can be anything from a pool area or hot tub to a bird bath, pond, or water fountain. Each has its own benefits and uses but since we're talking about outdoor patios, we recommend looking into adding a water fountain, pond, or bird bath. They bring in a lot of wildlife in the area like bees and birds which can benefit your yard greatly and the sound of the running water is always a comforting, anxiety-reducing noise to hear. They range in size and go from something super extravagant with a lot of spouts to something simpler like the traditional bird bath.

Fire pits & Fireplaces: Once we say goodbye to those hot summer nights and hello to that classic autumn breeze which means hello to fireside smores and blankets! An outdoor fireplace or fire pit is always a great addition to any patio area big or small. Bonus points also give you full access to your outdoor space during those super chilly nights.

Outdoor Kitchen: One of our absolute favorites in any outdoor area is an outdoor kitchen. Outdoor dining has become very popularized over the last few years with more BBQs and pool parties being the go-to for get-togethers. This type of outdoor room is very easy to put together and can consist of a lot of equipment like a pizza oven and mini bar with mini fridge or just simple a nice grilling station all you need to do is see the square footage of your desired outdoor kitchen and then plan accordingly.

You can complement this patio area with a cute dining set and a few tables and chairs, creating an entire living space around the cooking area. Check out an outdoor rug for the tables, and maybe some ample seating and you're good to go! The perfect outdoor dining area.
Get it Done with Shrubhub!
We know it can be super overwhelming to design your yard or patio space. The ideas can get all jumbled up and it can get a lot harder to visualize what the outcome will look like plus getting a designer can charge a fortune (Some charge upwards of $2000!), and all these small complications can end up dealing with your project indefinitely! Now, what if there was a solution with full access to your own design that can provide you with a complete 3D design with all the variations you can imagine with a full plant legend for just $300? Say hello to Shrubhub!
Shrubhub provides each and every customer with their own project manager and designer to work with them closely on creating a space they are obsessed with all online from the comfort of their own home! Try out different designs and placements and even listen to recommendations! From landscaping to hardscaping, Shrubhub covers it all! Not to mention you get a free consultation call with a money back guarantee! Check them out now for a limited 70% off discount!
Find out more about it here: ShrubHub.com