Outdoor Lounge Furniture Ideas: Design Tips for the Perfect Outdoor Space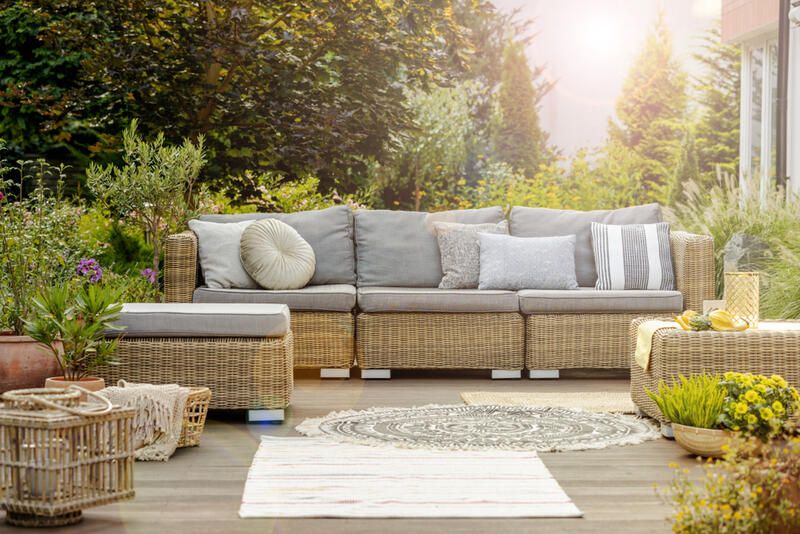 The past few years were very eye-opening to the importance of spending time outside.


They helped us understand the value of a well-designed outdoor space and how it makes a huge difference to the quality of our day-to-day life.
Your outdoor spaces should provide a haven in which you can spend relaxing time after a long work week or make memories with your family and loved ones.
Furniture is what makes a room inviting and usable and so furnishing your outdoor living space is as essential as providing an indoor room.
Turn your backyard into a favorite getaway spot with these lounge furniture ideas!
Outdoor Patio Furniture Ideas
A patio is what connects the inside of your home to your outdoor space and creates that indoor-outdoor living flow.
Good patio furniture ideas should provide both comfort and a beautiful aesthetic to make your space ideal for entertaining, gathering, and destressing.
1. Bring the indoor feel outside
Following an indoor design pattern for your outside spaces will further enhance the idea of an outdoor living room.
Opting for patio furniture pieces like a daybed or a couch and love seat setup will give you a relaxing space where you can unwind and entertain while enjoying the sun and fresh air.
Add in a stylish rug and a nice coffee table and you got yourself a homey outdoor living space.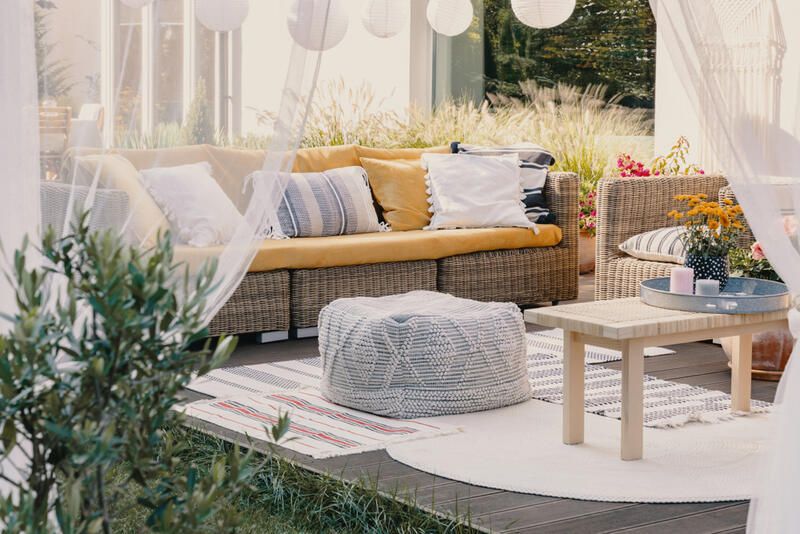 2. Firepit seating
What's better than a bonfire on a chilly evening?
Dedicate a corner on your patio for a firepit area to increase your patio's functionality.
The best thing is that there are no rules when it comes to firepit seating.
From the classic Adirondack chairs for a rustic look to sophisticated contemporary love seats or built-in benches, you're granted to find furniture that's well suited for your patio.
3. Outdoor Kitchen
Outdoor kitchens are a great addition to any patio space.
We suggest creating a simple kitchen setup with prep and storage areas for convenience.
A smart way to incorporate lounge seating into your kitchen is by using comfortable bar stools on one end of your kitchen counter.
4. Outdoor dining room
Family dinners in the outside breeze are super refreshing!
A simple way to incorporate a dining space in a smaller area is by replacing chairs with comfortable outdoor cushions.
Combine this with a low dining table and you've created a very friendly dining setup that is both casual and inviting.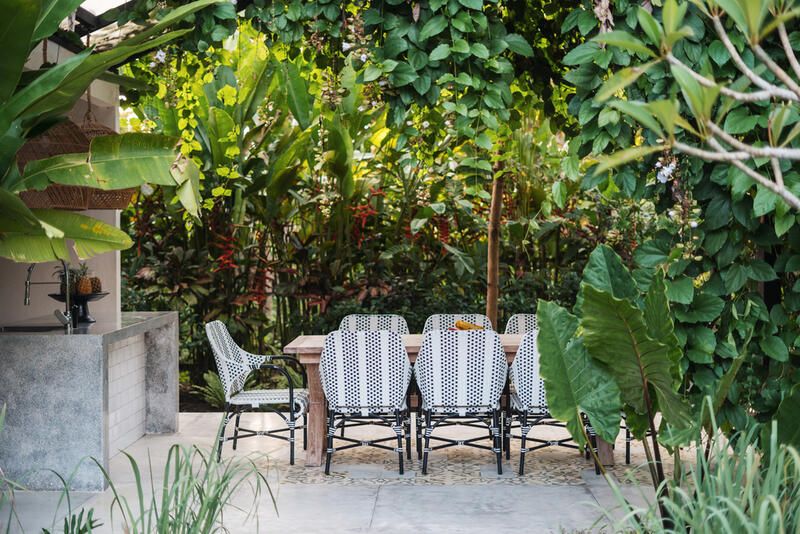 5. Porch swings
Add a simple porch swing to your patio and make your resting time extra relaxing.
Throw pillows, or soft cushions in with a lightweight blanket to make a new time-out favorite spot.
More Outdoor Furniture Ideas to Spruce Up Your Yard
Create your own mindfulness space
An area to practice yoga and mindfulness, or to enjoy reading a book in a serene space will make your outdoor living experience very peaceful.
Pick a nice spot out in your yard where you can add a floating ground-level deck.
Throw in your yoga mats and a comfortable love chair and enjoy the newly created tranquility space.
You can decorate your space using potted plants, statues, and decorative stones or boulders.
Double the fun
We suggest making multiple hangout spaces in different areas of your yard.
Something as simple as a conversation set up for additional outdoor seating, and board games can help you create numerous points of interest in your available outdoor space.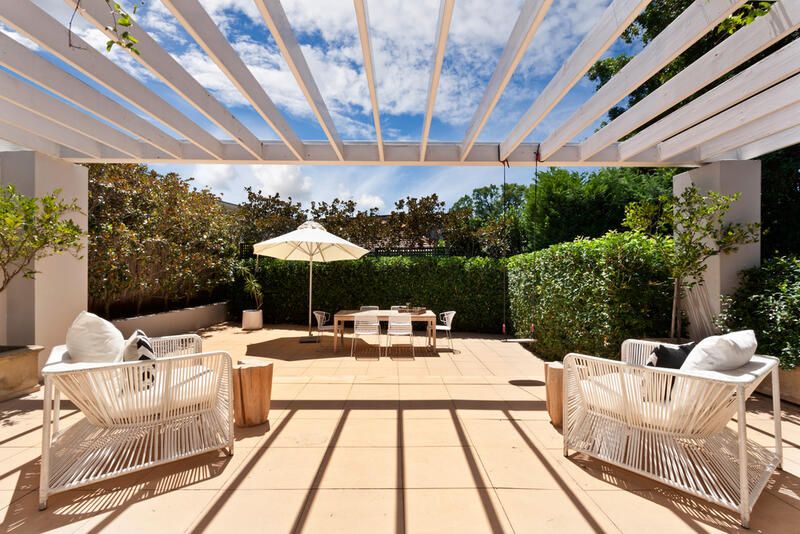 Soak up in the sun
Sunlight is proven to have positive effects on sleep, mood improvement, and the production of vitamin D.
Safe sun exposure also boosts serotonin receptors which helps you feel good almost immediately.
Creating your sunbathing area is quite an easy task.
A few comfortable lounge chairs near your pool, hot tub, or patio will do the trick.
Outdoor movie theatre
A yard movie theatre is a very simple and DIY-friendly project that makes a great difference.
Use a simple projector screen or a white backdrop wall near an existing seating area and enjoy endless fun.
Light Up Your Outdoor Space
Outdoor lighting increases the functionality of your yard by making it usable all day long.
It also provides safety and ambiance that gives warmth to your patio and highlights all the best features of your yard.
We believe that lighting is a step that should not be skipped as it helps secure your property and shows all the hard work that went into designing it.
Looking for the perfect lighting design? Check out our affordable design packages to make the most of your investment.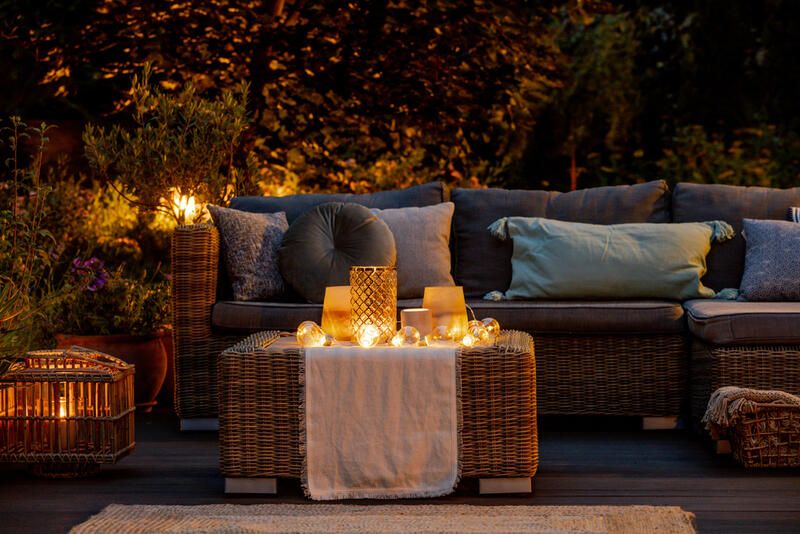 Tips For Buying Outdoor Furniture
1. Be mindful of quality:
Remember that outdoor furniture pieces aren't protected like indoor ones.
When shopping for outdoor furniture, make sure to go for durable materials that will withstand the sun and humidity of the outdoors.
Be sure to select materials that will work well with your surrounding environment.
2. Don't shop without a plan
Keeping the size of the space you're working with in mind is a must.
Patio furniture should fit the style and the size of the area of work to avoid a cramped-up space or one that makes no room for moving around.
3. Decorations
Make sure to opt for some decorative pieces to bring your yard together.
Big decorative pots, outdoor area rugs, hanging lanterns, or plant baskets can add visual interest to your patio and different outdoor spaces.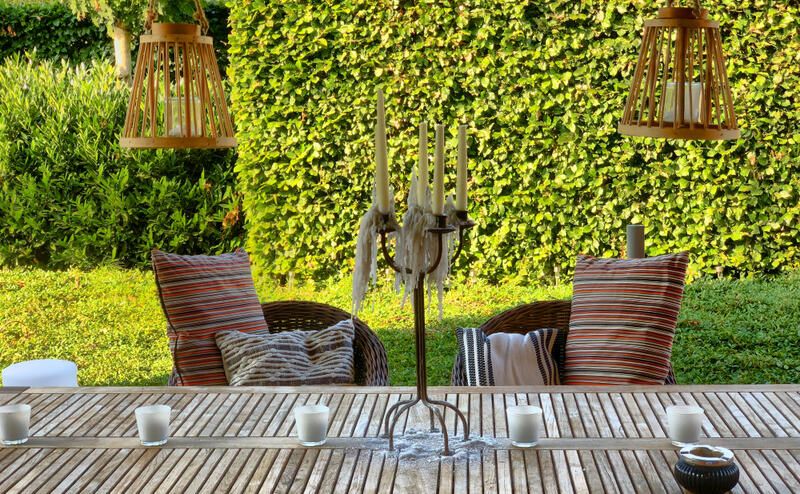 Trendy Outdoor Furniture Materials
1. Wrought Iron Patio Furniture
Wrought iron is a timeless material for outdoor living features.
It is strong, durable, and visually appealing.
Creating an outdoor sectional with a wrought iron conversation set consisting of a round table with chairs is ideal for a Mediterranean or an English garden yard.
2. Rattan Patio Furniture
Rattan patio sets arFurnitureendy in garden design due to their lightweight, durability, and easy maintenance.
Rattan furniture is made from certain plant vines which makes it eco-friendly and super visually pleasing in a garden setup.
Shrub Hub Landscape Design
Ready to level up your home improvement with a detailed design plan? Don't miss out on Shrub Hub's cyber week promotional packages!
For a regular 3D package's value, you'll be able to get a detailed design plan in 2D and 3D as well as lighting and irrigation designs.
All packages are currently at a 50% sale, visit Shrubhub.com for more information.