Outdoor Couch: Does Your Home Need One? This Will Help You Decide!
Published: 12/11/2022 | Updated: 29/03/2023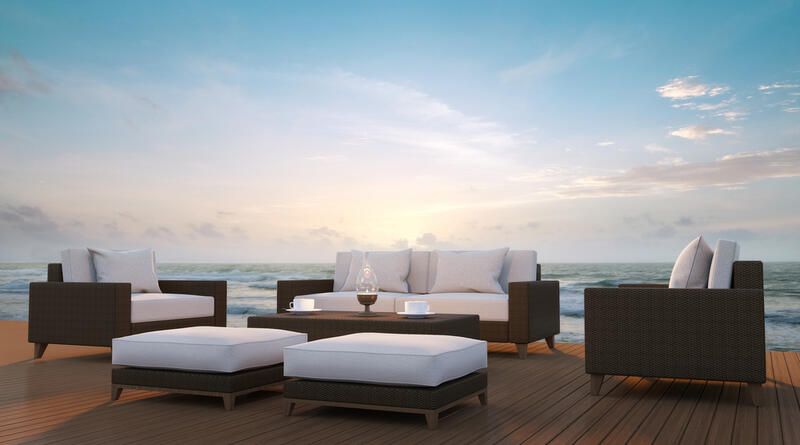 There's no better feeling than relaxing under a beautiful starry sky in the evening on a soft comfortable couch.


If you're a person who values comfort and quality time, which I'm guessing you're, then outdoor couches are an essential piece of patio furniture to have.
Outdoor couches come in all sorts of shapes and sizes. They add both comfort and functionality to your yard or patio and create an outdoor lounge area for you and your loved ones.
There's no wonder why many people would rather go for an outdoor couch than any other patio furniture.
In this article, we'll explore the different types of outdoor couches available in the market and why you should consider renovating your patio with some of them.
Outdoor Couch With Canopy
Did you know that nowadays they make outdoor couches with canopies?
These couches are the best of both worlds: a couch that will protect you from the sun and rain but also has a detachable cover that can be moved to other locations when needed.
It's made from UV-resistant material and waterproof fabric so it'll last even if exposed to different elements. The canopy also protects you from the sun and keeps you cool in the summer.
And when it rains, you don't have to worry about getting caught in bad weather because they're covered by a canopy. Just take off the cover and keep on enjoying your time outdoors!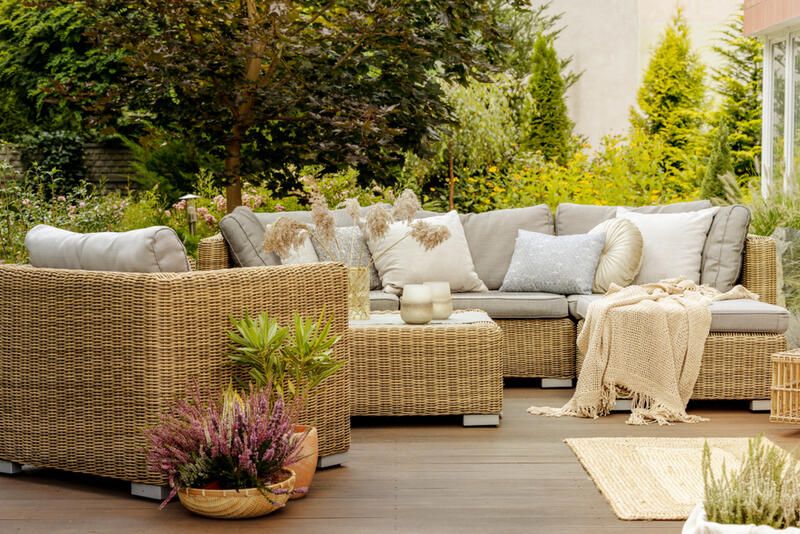 Wicker Patio Furniture Collection
Wicker is a natural material that's been used to make furniture since ancient Egypt. It's actually not as "natural" as you might think though since most wicker products are made with synthetic fibers, but it's still a great choice if you want your outdoor couch to be Eco-friendly.
Wicker couches can be made from rattan, bamboo, or cane.
Rattan is the strongest of the three materials used in wicker furniture manufacturing, which means it can support more weight without breaking down over time like cane or bamboo can.
However, rattan isn't completely resistant to decay when exposed to sunlight over time - especially if it's left outside without any sort of covering during winter months.
Bamboo can also become weak if left outdoors without protection from the elements; however, it doesn't degrade as quickly as rattan does (and it looks great in an outdoor setting).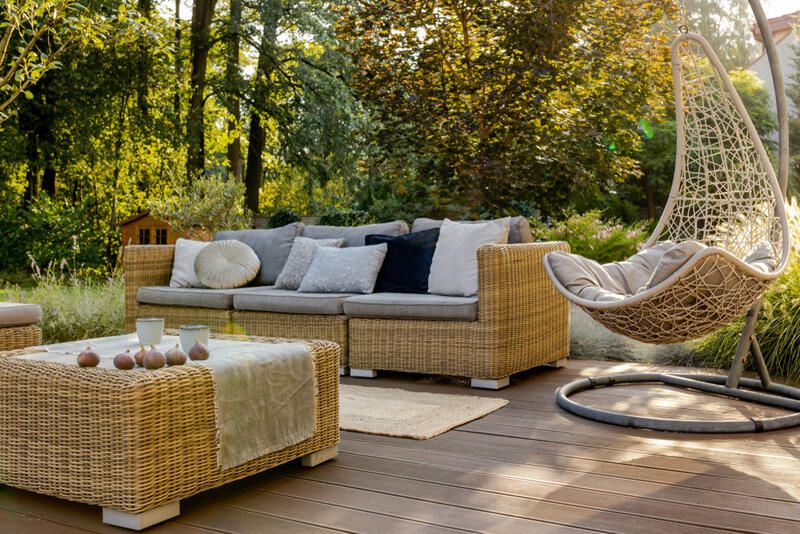 Wrought Iron Outdoor Couch
As an amateur horticulturist knows, wrought iron is a very strong and durable material. It also happens to be weatherproof, so your outdoor couch will last you for years to come.
Wrought iron furniture is available in a variety of styles and colors, so you can choose the look you want for your patio or balcony.
The cool thing about wrought iron furniture is that it's made from recycled metals that have been shaped into intricate designs.
Wrought iron patio furniture can also withstand harsh weather conditions including frost, snow, and rain without rusting or rotting away over time as other materials might do.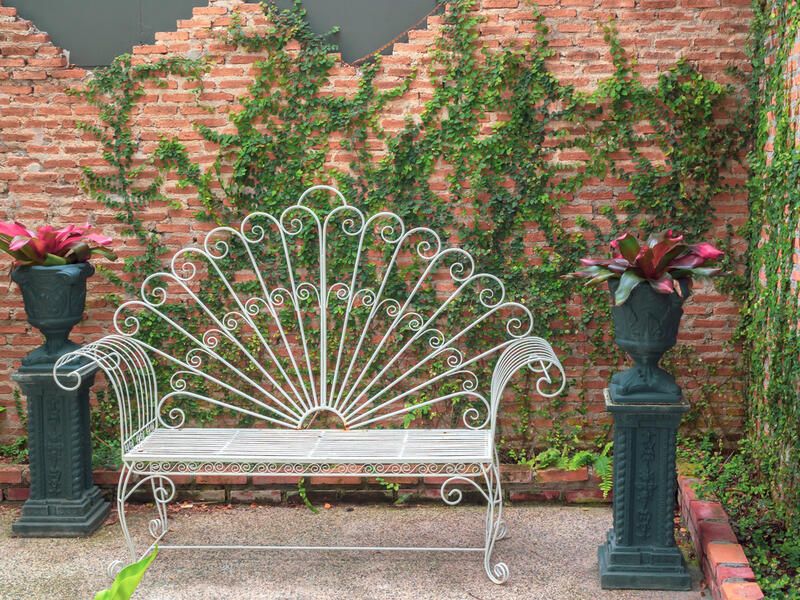 Outdoor Hanging Couch
If you have a tree, or even better, a porch that can support it, and don't mind spending the time to install it properly (which will take longer than it takes to assemble the couch), then an outdoor hanging couch is an excellent option.
The best part about hanging couches is that they're built for comfort and relaxation. They are not meant for lounging around inside but rather for relaxing outside on a nice day.
They're also great for entertaining guests because they create an inviting space for people to sit and hang out on.
One thing to keep in mind when choosing a hanging couch is that they usually come in one size only — big!
They're not very portable (unless you have a truck) and they're not designed to be easily moved around your home once they're assembled. You'll need quite a bit of space to accommodate them too.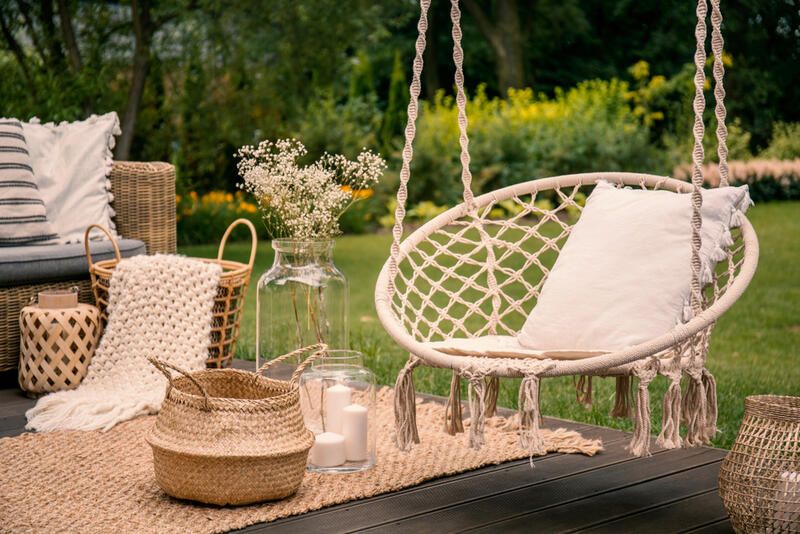 Resin Patio Couch
Resin patio couches are a durable piece of furniture that is made entirely from 100% UV-resistant resin, which makes them weatherproof and easy to clean. They're also strong enough to endure heavy use during all seasons.
A resin couch provides plenty of comfort for relaxing or entertaining guests on the patio or deck during warm weather months.
They're also great for watching sporting events on television since they don't require seat cushions to be comfortable.
If you're looking for something with more style than a traditional lounge chair but less bulk than an ottoman, then this is an excellent choice!
Galvanized Stainless Steel Furniture
Galvanized stainless steel is one of the most durable materials on the planet. It can be highly polished and resists corrosion, so it will not rust or corrode even if you leave it outside all year round.
As a result, galvanized steel furniture makes an excellent choice for outdoor use. It's especially popular in coastal areas where the salt spray can cause the regular metal to rust quickly.
Galvanized steel furniture comes in a wide variety of styles and sizes, including chairs, tables, and benches that are perfect for your patio or deck.
It's also available in different finishes from brushed stainless to powder-coated finishes so you can match your existing décor perfectly!
The brilliant thing about galvanized stainless steel furniture is that it looks great indoors or out. It can be used as outdoor patio furniture, poolside furniture, and even garden furniture.
MUSE
MUSE is a collection of modern outdoor sofas by Emu. Each piece is made from high-quality, durable materials and comes in a variety of colors and sizes.
MUSE is the perfect choice for anyone looking to add luxury to their backyard space.
Vela
Vela is considered one of the best outdoor furniture brands. As a Danish brand that specializes in high-quality products, their backyard furniture pieces are a luxury, but well worth the price.
With over 50 years of experience, Vela has perfected their craft of creating furniture that offers comfort, beauty, and durability for both indoor and outdoor spaces.
Vela's designs can be found in prestigious hotels around the globe, including The Ritz Carlton Residences LAX airport hotel and Le Méridien Istanbul Hotel.
Vela offers a wide range of styles such as modern designs with clean lines or more traditional pieces with luxuriously upholstered sections that make you feel like you're sitting on clouds whenever you sit down on them.
They also offer materials such as wicker rattan or steel frames depending on what suits your needs best; each one will make any space look stunning whether it's indoors or outdoors!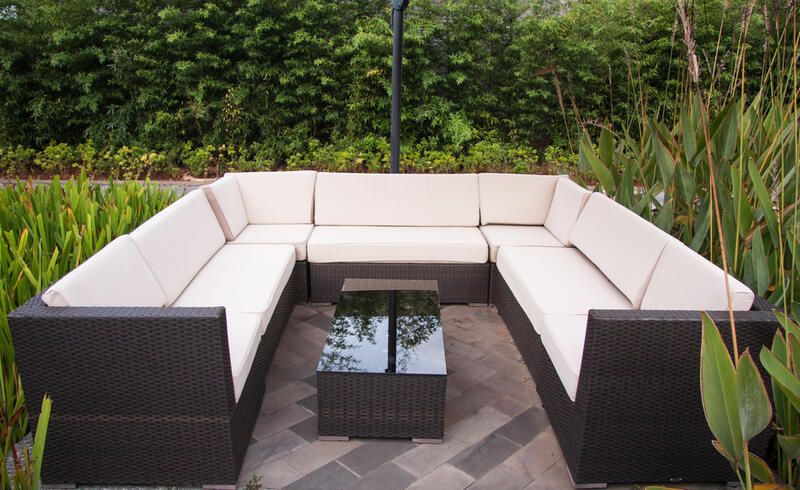 Quattro
Quattro is a furniture company that designs and manufactures high-quality outdoor furniture. The company was founded in 1971 by Luigi Anselmi, who is still the head designer today. Quattro is based in Italy and uses the best materials available.
Since its conception, Quattro has become known for its modern designs and use of high-quality materials, such as aluminum frames, wicker or rattan seating surfaces, and stainless steel hardware.
If you've ever wanted to add some luxury accents to your outdoor space but were worried about it looking too casual or cheap—Quattro's outdoor furniture collection is your answer.
Sofa by Paola Lenti
The Sofa is made of 100% polypropylene and comes in three different colors: black, anthracite and white.
The sofa itself is available in two sizes, with a 120 x 200 cm (47 x 78 inch) version that can seat up to four people and a 160 x 200 cm (63 x 78 inch) version that can seat five people comfortably.
The sofa's simple yet modern design makes it perfect for gardens or any patio area. The material used for this piece is weather-proof and UV-resistant so it will last you for years to come!
This item is handmade in Italy by expert artisans who take great care to ensure that your product arrives safely at your doorstep with no damage whatsoever.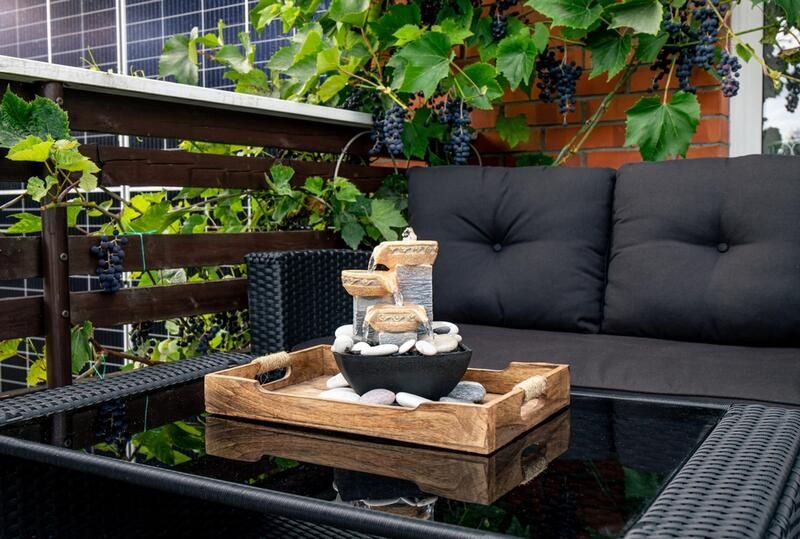 Cabana Club Sofa and Chairs by Brown Jordan
For some of the best outdoor sofas, we recommend the Brown Jordan Cabana Club Sofa collection, which is available in multiple colors, sizes, styles, materials, and finishes.
The furniture pieces come with high-quality fabrics that are easy to clean. And the outdoor sofa can be used as an outdoor couch or an outdoor chair depending on your preference.
It also comes with cushions that are waterproof and resistant to ultraviolet rays so you can use it outdoors without worrying about them getting damaged by sunlight or rainwater.
Eton Chair and Ottoman by Emu
The Emu Eton Chair and Ottoman are the ideal choice for your outdoor living space. The Emu Eton Chair and Ottoman is a modern design that will complement your outdoor space.
This set features two pieces: the Emu Eton Chair and Ottoman. They are sold separately from other pieces in the collection, which means you can purchase just these two pieces to complete your set or add them to existing sets for extra seating.
Either way, you won't be disappointed with their versatile styling and quality construction!
Vista Collection by Kingsley-Bate
One of the best things about the Vista Collection by Kingsley-Bate is that they use high-quality materials to create their products. They also have an amazing variety of styles, colors, and fabrics to choose from.
You can find some very unique items here that you won't be able to find anywhere else.
They have a gorgeous line of outdoor sofas that will make your home look like a resort destination!
Their couches are made with high-quality fabric materials such as linen and cotton which means they will last for many years without fading away or getting damaged by sunlight exposure.
If you want something more modern looking then I'd recommend checking out their Austin sectional sofa that comes in black leather with chrome accents on either side along with brushed aluminum legs underneath which give off a cool vibe when combined!
If you're looking for something more traditional looking then maybe try checking out their Montecito collection.
It was just released recently featuring various styles including chairs/ottomans/stools etc., all made using bamboo wood construction which makes them extremely durable while still maintaining a lightweight feeling when lifted into one's arms because let's face it nothing beats having dinner together as friends as well.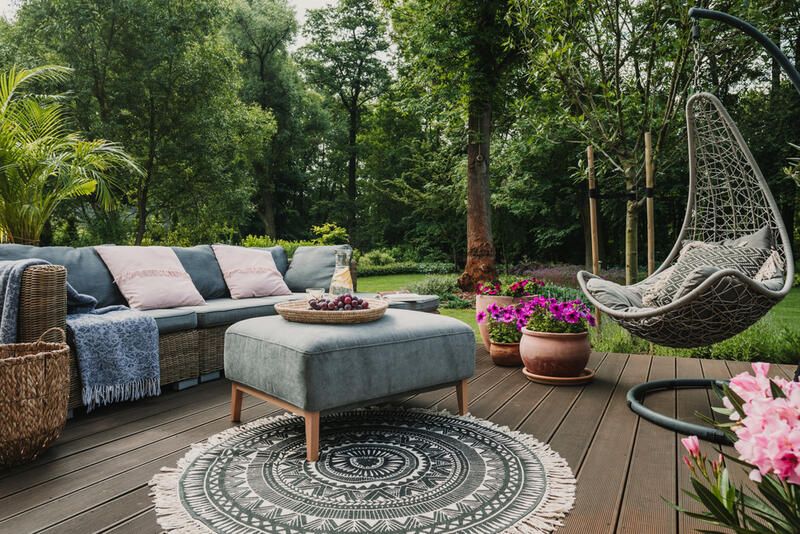 Dune Collection by South Sea Rattan
The dune collection by South Sea Rattan offers a variety of options in terms of size, style, and color.
The furniture is made from 100% natural rattan and is available in a variety of colors. The company's website states that the furniture is made in the Philippines, but does not list where its materials come from.
Dune Collection by South Sea Rattan offers both indoor and outdoor seating options for your patio or backyard space!
Opla Collection by Gloster Furniture
The Opla collection by Gloster Furniture is a modern outdoor furniture collection that's made of 100% recycled plastic.
It can be purchased in black or white and is available in different sizes to match your patio or porch. The unique design makes it easy to clean and maintain—just hose off any stains or spills!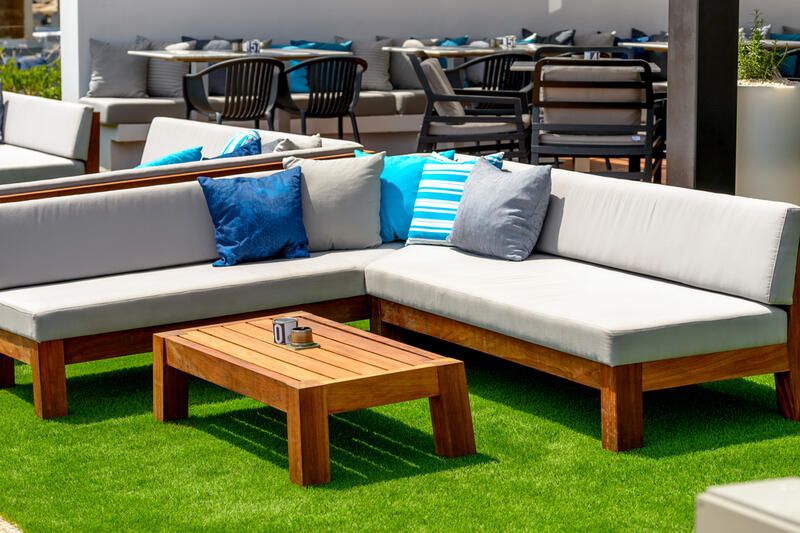 Cushions for Barcelona, Fauteuil, and Savoye Chairs Available at Cassina
The cushions are designed by Le Corbusier, Pierre Jeanneret, and Charlotte Perriand, who together shaped the modernist design movement in France.
Each cushion is made of leather and available in six different colors: navy blue, dark green/grey, yellow ochre/black/white, grey ochre/red-brown, or black.
There is also a choice between three sizes depending on your individual needs.
Modern Wicker and Rope Outdoor Sofas
An outdoor couch is different from an indoor one. For example, it should be able to withstand UV rays and other elements like rain and snow. It should also be comfortable enough for use throughout the year so that you don't have to leave your patio whenever the winter comes.
When choosing a good outdoor couch, there are several factors you need to consider:
Is it made of quality materials?

Does it look good in your house? Will it fit in with the rest of your furniture?

Will it last long enough? Can it withstand high winds or extreme temperature changes?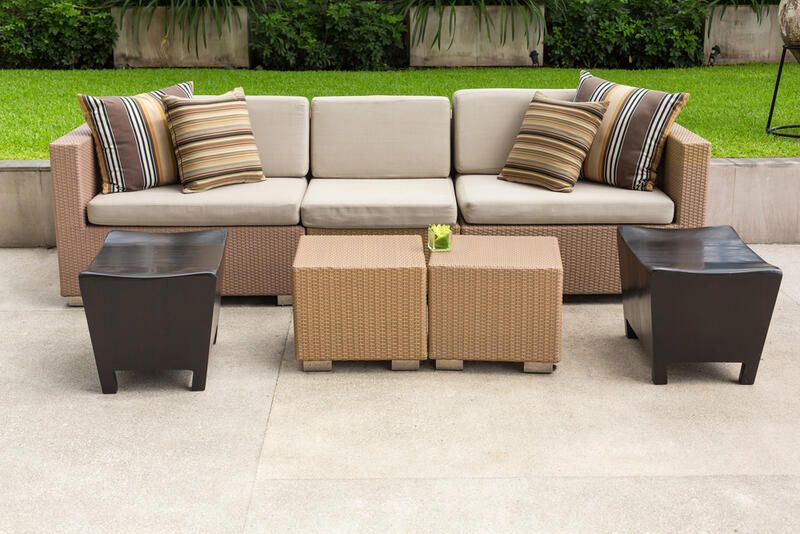 Classic & Elegant Teak Outdoor Sofas
Teak is a great choice for outdoor furniture because it is durable and long-lasting. Teak is made from the wood of the teak tree, which is a hardwood that is strong, durable, water resistant, and weather resistant.
So if you're looking to buy some high-end patio furniture with your friends and family this weekend, then check out these classic & elegant teak outdoor sofas!
Outdoor Daybeds and Double Sofas with Throw Pillows
Outdoor daybeds and double sofas with pillows allow you to relax and enjoy your outdoor living space as if it were another room of your home.
They are perfect for entertaining guests or simply relaxing in the sun. If you're looking for a way to add some extra seating to your patio or porch, then consider purchasing an outdoor sofa that can seat at least four people comfortably.
While some might prefer something more casual, others will want something more elegant such as a traditional Louis XVI-style daybed or French Provincial double sofa that includes tufted cushions.
Midcentury Modern Style Outdoor Sofa
If you are looking for the best high-end patio furniture brands to complete your luxurious patio, then this list of the top brands will help you find what you need.
Midcentury modern style outdoor sofa

Modern wicker and rope outdoor sofas

Classic & elegant teak outdoor sofas

Outdoor daybeds and double sofas with pillows.
Find The Best High-End Outdoor Furniture Brands To Complete Your Luxurious Patio.
High-end patio furniture brands are a smart choice if you want to create a trendy and elegant outdoor space.
The best high-end outdoor furniture brands will help you create the perfect area to enjoy with family and friends, but there are many options available so it can be difficult to choose which one is right for your needs.
We've taken the time to review some of the most popular high-end patio furniture brands on the market, as well as guide you through their different styles so that finding yours becomes easier than ever before!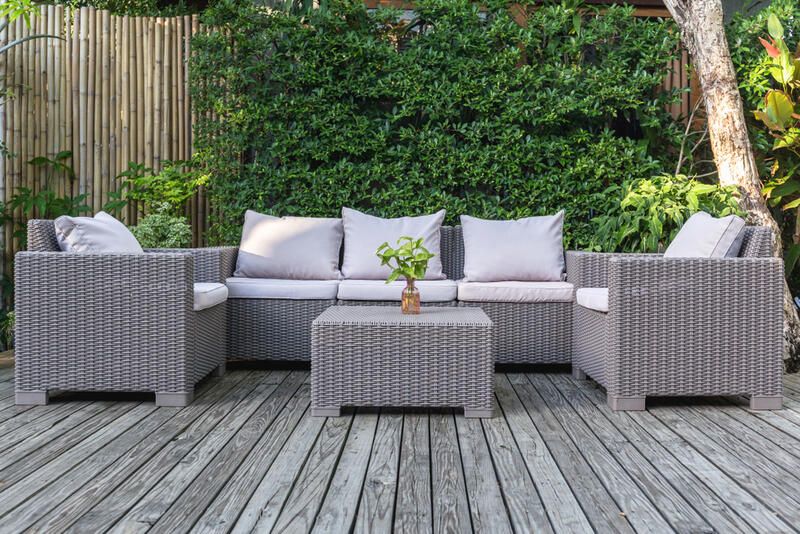 Outdoor Sofas Allow You to Relax and Enjoy Your Outdoor Living Space as If It Were Another Room of Your Home.
Outdoor sofas are comfortable and stylish, durable, and easy to clean and maintain. And they're perfect for entertaining!
Outdoor sofas come in a variety of shapes and sizes, but there are a few key features that you should look for when shopping for yours:
Comfort:

Your outdoor sofa needs to be sturdy enough to support you and your guests while still being comfortable enough to lounge on all day long.

Durability:

It's no good if your new outdoor sofa falls apart after just one season! Look for something that will last at least 5 years or more.

Easy Maintenance:

You don't want an outdoor sofa that requires extensive cleaning every time it rains (or even worse, snow). Be sure that whatever model you choose is easy to clean so that the entire process only takes a few minutes rather than hours or days.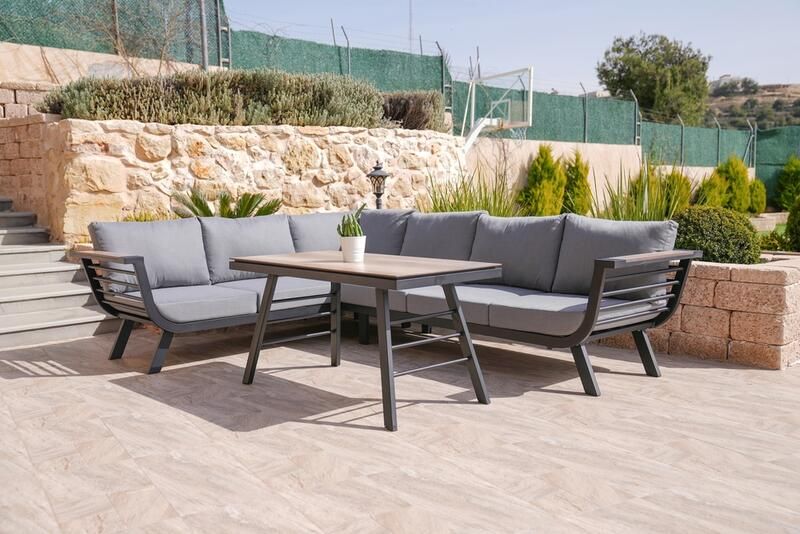 Ready to Shop For Your Amazing Outdoor Couch?
When deciding on a patio couch, there are many factors to consider.
Do you want something that will be comfortable for you and your family? What about the style of the piece? How durable should it be?
What range of prices are you looking for? Are you searching for something budget-friendly or on the luxurious side?
After all these questions have been answered, we hope this guide has helped make your choice easier by giving you some great options to choose from.
Want to do more than just purchase furniture for your yard?
If you're looking to revamp your entire patio, then don't hesitate to contact ShrubHub for the best affordable landscaping services!
ShrubHub's professional team of landscape designers will not only help you find the best outdoor furniture for your patio but will also provide the best landscape design for your backyard, regardless of the difficulties or obstacles.
For just under $300, our customers will receive ShrubHub's comprehensive package of professional design services.
These services include:
3D Landscaping Design
Door-To-Door Shipping from Our Exclusive Nursery
Recommendation for Your Location's Top Contractors
Shopping List with All the Elements Used, Be It Decoration or Vegetation
Free Phone Consultations with Your Designer
24/7 customer support
Free Insider Secrets eBook
And for a limited time, you will get a 70% promo discount on all our design services.
All you need to do is sign up on our website, shrubhub.com.
Visit our website today and get started on landscaping your dream backyard.
***
ShrubHub is a network consisting of the best landscape designers in the industry, using the latest state-of-the-art software to deliver high-quality, unique, and creative designs. We work from home, so we have no overhead. And that is how we can offer our top-tier design services at such an affordable price.