Mediterranean Garden Ideas: Inspiration for a Verdant Oasis
Published: 24/01/2023 | Updated: 03/04/2023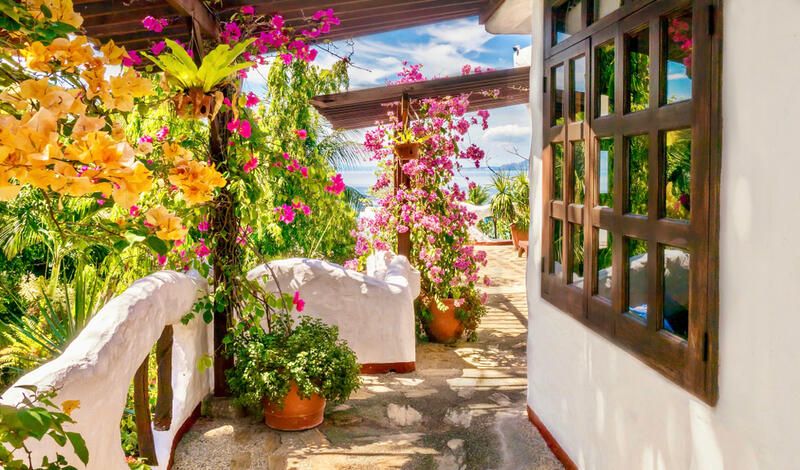 Do you remember your 6th-grade dream house essay?


Take a moment to revisit your childhood's favorite retreat. Now envision yourself standing right at this home, would it still be your long-lost fantasy or would you add some tweaks to fashion your dream house as an adult?
Your favorite abode could be a glass house where you are in harmony with nature, a cozy cottage coming straight from a whimsical storybook, a mysterious mansion with a grand entrance that adds a touch of historic charm, or a farmhouse that has a warm and rustic feel to it.
No matter how you imagine your fantasy house, nothing says dreamy like a well-manicured garden that brings warmth to your abode, adds value to your property, and introduces a whole new world to your life.
While some people fixate on bringing an exquisite indoor space to life, others pay full heed to the beauty of the outdoors (because let's be honest no one gets bored from freely enjoying the fresh air!). Just like an intriguing puzzle, your landscape design is put together piece by piece to eventually assemble your dream garden!
What better way to honor your outdoor space than by adding a Mediterranean vibe to your yard?
With strong color palettes, calming water features, natural stone walls, and an inviting outdoor seating area, a Mediterranean garden plays up your home's overall architecture, evokes the essence of nature, displays an authentic tapestry of unique colors and textures, and shows a variety of interesting forms.
We've rounded up everything you need to know about Mediterranean gardens, just skim through the following sections to prep yourself for a warmly-decorated garden.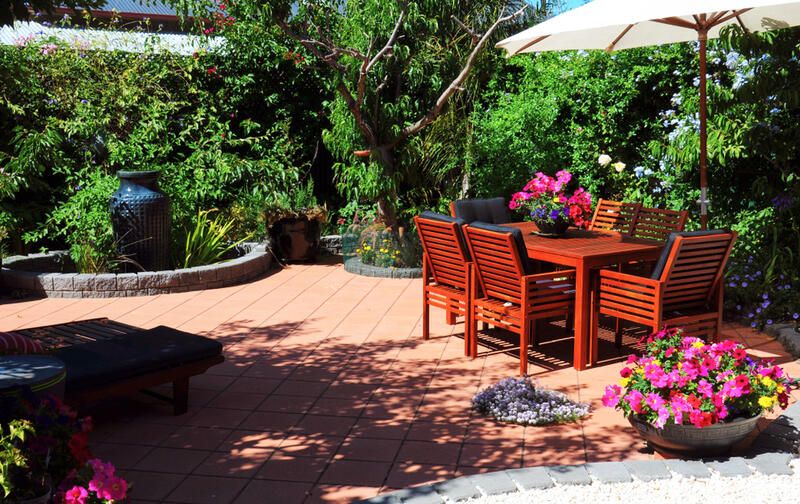 What Is a Mediterranean Garden?

When picturing a Mediterranean garden, go straight to captivating natural sceneries from Spain, Italy, and Greek. Think of rich color schemes, mind-blowing tiles, artistically-patterned rugs, and unique textures tickling your senses.
Imagine yourself stepping into a Mediterranean garden at this moment, what do you see around you? Trapped in a majestic Greek garden, you must be seeing a wide assortment of charming images, shades of azure blue instantly soothing your mind, a bunch of exotic Mediterranean plants, and decorative tiles grabbing your attention right away.
Now can you describe how you feel? Hit by a soft, gentle fragrance almost coming from the sea, warm breezes gently brushing against you, and unique textures of the freshly-clipped hedges grabbing your attention, you will most certainly know that you have been teleported to this Mediterranean beauty.
Fancy staying there forever? It's never too late to fashion your Mediterranean-style garden! Putting the following Mediterranean garden ideas together, you will eventually create a stunning, Mediterranean landscape:
Terra-cotta Planters
When thinking Mediterranean garden style, immediately picture oversized pots and potted plants. They are the essence of a Mediterranean-influenced garden.
As a famous feature that alters the entire mood of your garden, terracotta pots bring a warm color to your abode, give your Mediterranean garden plants ideal growth conditions to fully bloom and thrive, offer an environment-friendly material, and make for great focal points.
Coming in various sizes, shapes, and materials, handmade terra-cotta pots not only absorb the sun's heat but are also masterfully molded into a unique, aesthetic creation that stands in your garden as an architectural masterpiece.
Gazanias, osteospermums, and geraniums are all great choices that perfectly match a terra-cotta pot.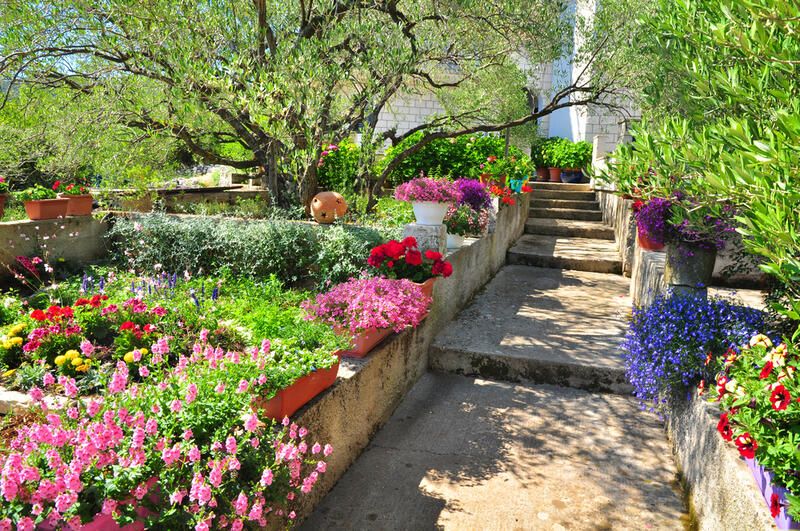 Mediterranean Plants
Many Mediterranean gardens shine bright with drought-tolerant plants and trees native to hot countries. Silvery foliage, fragrant herbs, and ornamental grasses instantly summon the Mediterranean climate.
If you are looking for the most iconic Mediterranean tree, olive trees will do the trick just fine! Adorned with abundant branches, short trunks, leathery leaves, vast crowns, and of course delicious olives, these trees not only live for thousands of years but are also drought tolerant.
Talk about making an entrance: tall and striking, Italian cypress trees embellish your garden gate with a grandiose presence that properly welcomes your guests. If you don't want a captivating view to go to waste, you can never go wrong with a cypress tree.
Citrus trees, palms and yuccas, rosemary, cotton lavender, and lemon trees are all great options to spruce up your outdoor space with a Mediterranean look.
Artistically-patterned Tiles
Having a small yard or a city balcony will not hinder you from creating your long-sought Mediterranean dream!
Instead of incorporating giant trees and architectural features that wouldn't fit in your outdoor space, go straight for the absolute definition of a Mediterranean charm: ceramic tiles.
These glazed colored tiles never fail to call the Mediterranean spirit to place, decorating your walls and patio floors with bursts of splashing colors, eye-soothing patterns, and a dramatic ambiance.
A source of inspiration for every creative worldwide, Mediterranean tiles gift your garden an antique charm and a sense of elegance. No matter if you go for the Roman style, hexagonal terracotta tiles, or Moorish arabesque tiles, you will embrace your inner art aficionado and display wow-worthy pieces of art lying around your garden!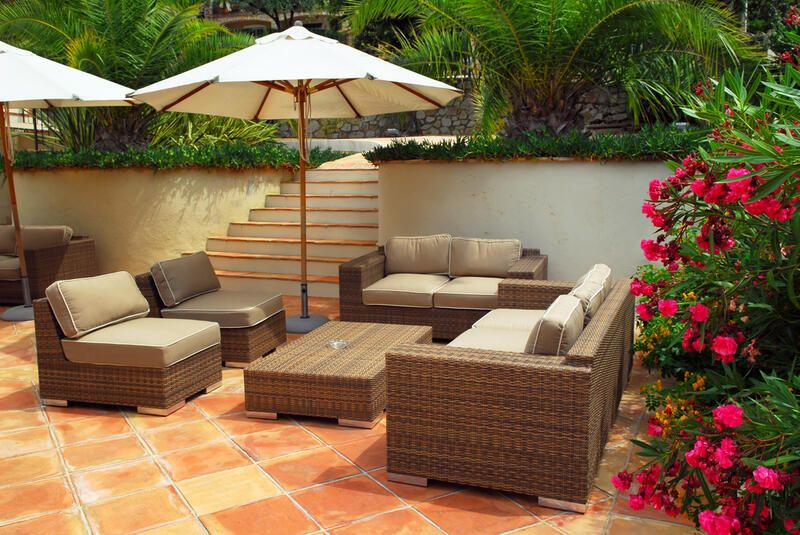 Mediterranean-inspired Rugs
As bizarre as this might sound to you, adding an outdoor, patterned rug is one of the greatest ways to lend a Mediterranean look to your garden.
Match your rug with your outdoor seating area to keep it looking as lively as it could ever be! Believe it or not, such a simple tweak as an outdoor rug gives your garden the makeover it is most certainly dying to have, renovating your space in a flash.
Whether you want to bring an accent, layer up your garden for added interest, or experiment with textures and shapes, outdoor rugs are a quick, affordable way to give your outdoor space an on-the-spot charm.
Shaded Outdoor Retreat
What is the first thought that pops into your mind when thinking of a scorching hot summer day?
Without a shadow of a doubt, it must be a shaded, worry-free seating area where you could calmly unwind and enjoy the lush greenery of your Mediterranean garden.
Throwing in climbers to your scheme creates a dreamy look above your favorite retreat. Go for a grapevine to get that dappled shade, embellished with hanging fresh grapes that you can enjoy anytime.
To smartly equip your retreat, complete the scene with stylish, comfy furniture. Al fresco dining amid the most elegant Mediterranean style brings a sense of warmth to your outdoor meals.
Besides, there are a wide variety of plants to shade your wooden pergola: the most-beloved wisteria, the strongly-fragrant climbing roses, the delightfully-scented Jasminum officinale, and the vibrant ipomoea.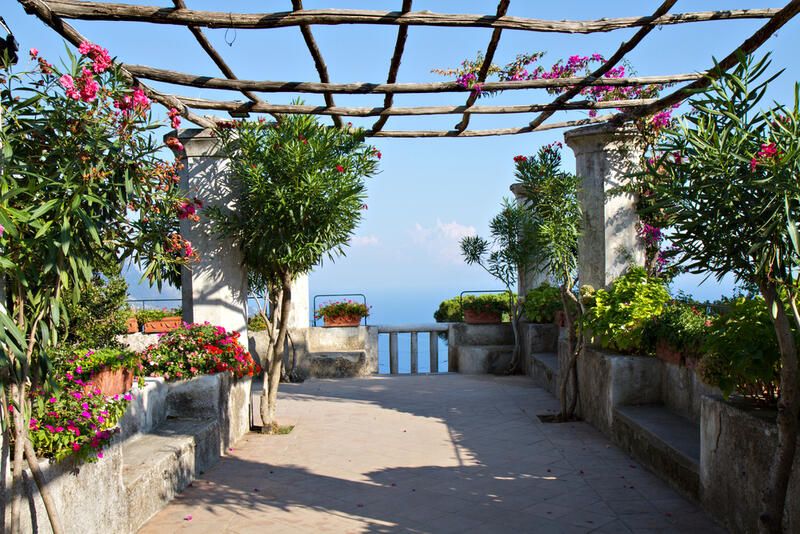 Gravel Flooring
Due to extended periods of drought, Mediterranean gardens generally keep lawns to a minimum to preserve water. As an alternative, gravel flooring swoops in to breathe space throughout the greenery.
Choosing the gravel color is of paramount importance because it ensures harmony with the garden's overall theme. To pull the Mediterranean-weathered look off, gravel is a true Mediterranean landscaping choice that complements your plants and reflects an interesting color that brightens up your garden.
Roll out a gravel pathway that smoothly paves its way in between your Mediterranean plants!
Enchanting Water Features
Nothing adds a charming dimension to your Mediterranean garden like the gleaming effect of the water features. On the hottest days of summer, we long for a gentle breeze to break off the unbearable heat of the moment.
Why not make it a refreshing, dewy breeze by installing a Mediterranean-inspired water feature? Incorporating a water feature envelops your garden with a cooling effect and poses as an architectural focal point and a charming centerpiece.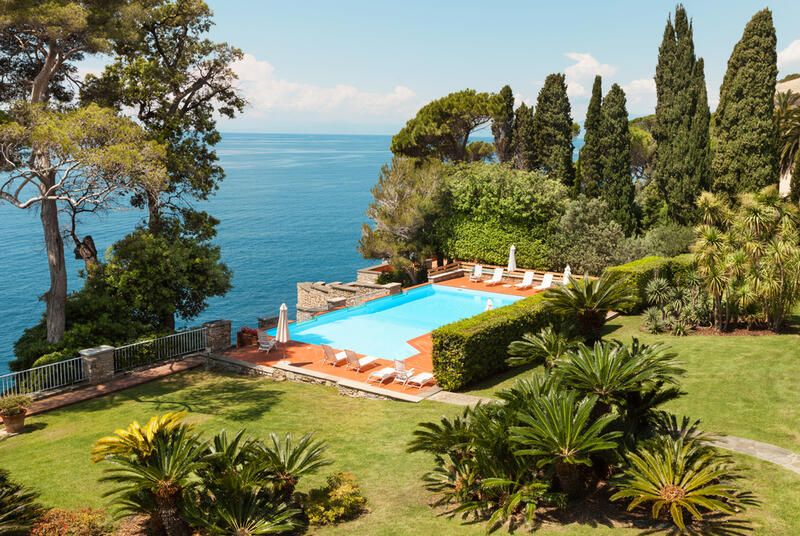 How to Make My Garden Mediterranean?
If inventive tiles, patterned rugs, oversized planters, and natural stones sound like a long-sought dream to you, then you are quite ready to own a Mediterranean garden!
For a genuine Mediterranean experience right outside your doorstep, consider studying the elements that eventually come together to fashion your dream garden.
Need a little assistance to bring your Mediterranean landscape design to life? Shrubhub's professional designers can walk you through an innovative 3D design that masterfully showcases your vision.