How to Set Up the Perfect Backyard Bar: Fun Ideas for Your Landscape
Published: 21/04/2023 | Updated: 09/09/2023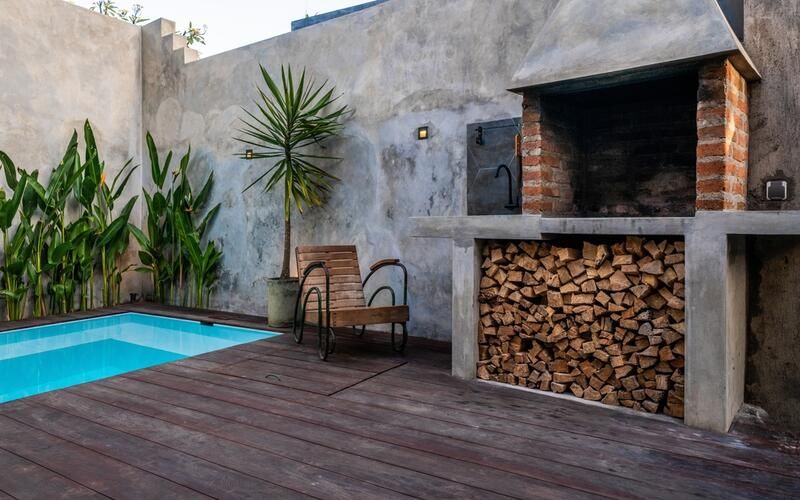 Since Covid, people have taken more of a liking to spending more time in their homes. Having a chill fun evening with family or hosting friends for an event, the backyard has become the perfect place to celebrate both small and big moments.


As a natural consequence of that, everyone wants to better accommodate their home to mirror what they enjoy most in other venues or platforms. That includes a bar!
More and more homeowners are realizing the enormous potential of setting up their outdoor bar in their backyard. For the family's fun, giving them an accommodating space to get fresh air and enjoy their time without at all leaving their home, to host the next event for their friends' group, etc.
All in all, an outside bar is an investment. And it's a very exciting one, as there are dozens of different styles and ideas to implement to customize it to your wants and needs as much as possible, to let it give you the best experience.
Here are some great ones we gathered for you!
Mediterranean Backyard Bar
There's something about the Mediterranean aesthetics and lifestyle that just opens us up for life, isn't there? It's a chill and easygoing mood that we always want to be able to access.
With light and bright colors, as well as breezy and airy spacing in the style and choosing the right bar accessories, you can achieve this mood in your outdoor bar, where you'll always be able to relax.
Combine Your Backyard Bar With a Seating Area
You can best serve and entertain your guests and give them the best experience when you combine an outdoor bar with a seating area where you all can relax, eat, chat, and laugh in the utmost comfort!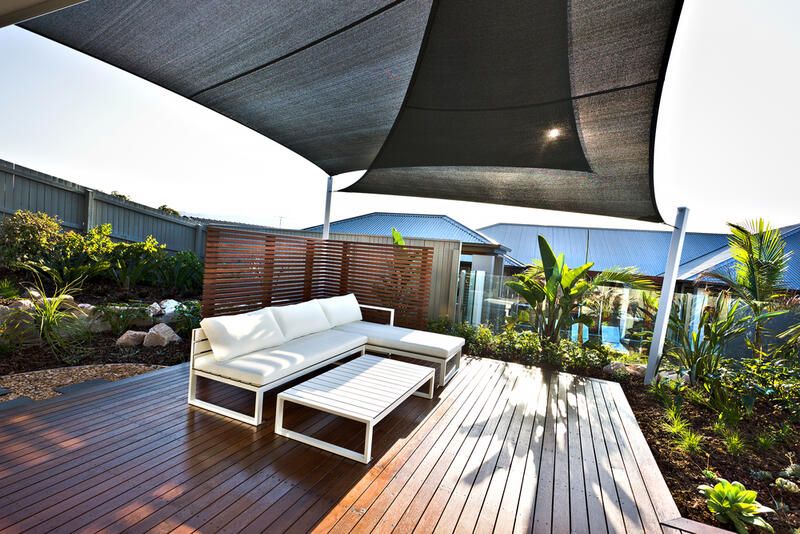 Combine Your Outdoor Bar with an Outdoor Kitchen
An outdoor kitchen and an outdoor bar combine very well together and become their own space where you can best prepare food and a cool drink while also hanging out in your backyard.
Combine it with a Pergola or Another Shading Structure
A pergola or any other shady structure can completely take your outdoor bar to another level. It'll protect your outside bar from any bad weather, whether that's too much sun or rain.
In any case, even when it's not possible or comfortable to go out for fun, you could always turn to the perfect place in your backyard where you can have fun cocktails with your family and friends, unbothered by any annoying weather!
Recycle Old Furniture For Your Backyard Bar
Repurposing old furniture and old materials from your home for your outdoor bar isn't just good on the price and environment fronts but also on the aesthetical one.
You can immensely add to the charm of your bar in your backyard by taking an old piece of furniture and dressing it up a little.
This perfect little idea can be achieved through those two examples:
Potting Benches
Your old potting benches can be shelves for the accessories and food of your bar!
The charming rustic addition will add to the fun of the perfect place in your backyard.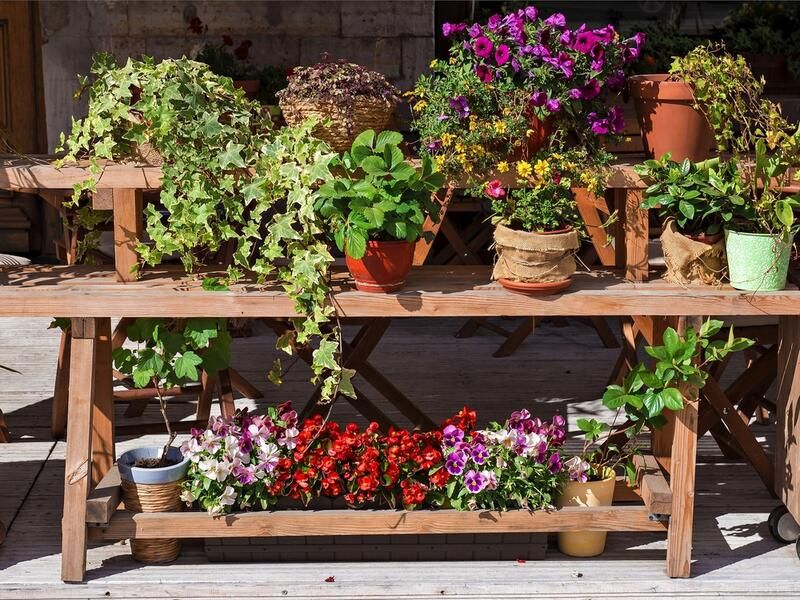 Chest Drawers
Chest drawers can be perfect additions to your backyard bar.
A chest drawer is charming, can act as a table, and is also practical to store your bar food in.
If you have some old furniture that could go through creative recycling, then seriously consider taking them out and surprising your guests at the next event!
Open Kitchen Bar
You can hit two birds with one stone if your kitchen opens up or looks out to your patio or backyard.
In that case, you can easily combine your outdoor bar with an open bar concept where your friends and family, and other guests enjoy their cocktails outside while you serve them more drinks and prepare dinner in their company.
And on the other hand, it works well on the price aspect, too, if a tight budget is something that's holding you back!
Go Rustic With Your Backyard Bar
If you love the countryside vibes, then a rustic outdoor bar would be the most charming touch to your landscape.
You can go with whatever wood you like and mix it up with minor uses of steel and metals to create this effect in your outdoor bar.
Go For A Sleek and Modern Backyard Bar
A modern, elegant outdoor bar with a sleek touch can elevate your whole landscape.
If your house is generally in a modernist, minimalist style, then this outdoor bar would be a perfect addition.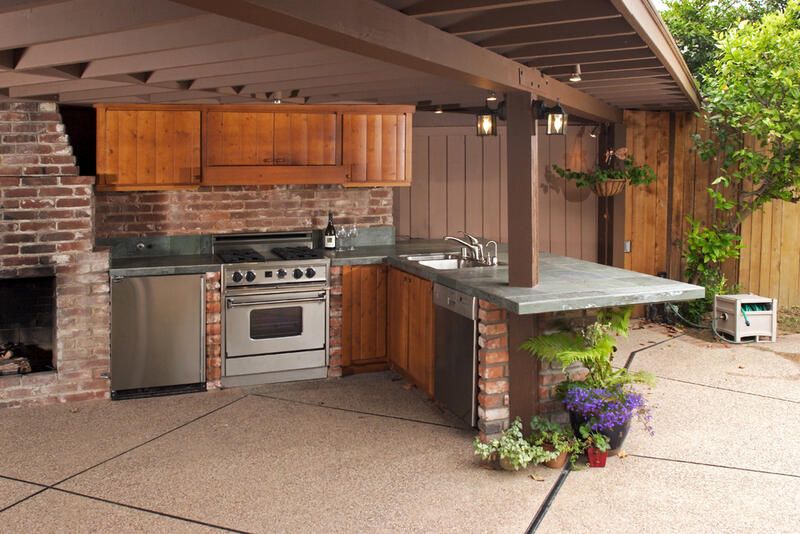 Concrete Backyard Bar
Concrete can always be an elegant, practical, and reliable material.
And when it comes to your outdoor bar, it can even be more perfect as it would add an industrialist style and theme to that space.
Add a Firepit
A fire pit as a central piece is perfect for an outdoor bar on both the aesthetical and practical levels.
It warms the area and makes the outdoor hanging out more comfortable, while also being in the perfect place to attract admiration and attention to itself.
Go For A Tiki Bar
Your outdoor bar can be your ticket to transform your outdoor space into an exotic island to awe and inspire your family and friends.
Bamboo fencing, thatch, and a tropical-style table are some of the ways you can achieve this look with your outdoor bar. You can get glasses and other cutlery to serve your cocktails to your friends to match the theme and make it even more fun.
Pool Side Backyard Bar
The only downside to combining your pool with your outdoor bar is that you'll never want to leave your home again, and the only place your friends and family will find you is in your backyard.
It's fun, it's particular, and it can take your next event or party to the next level and create an unforgettable atmosphere.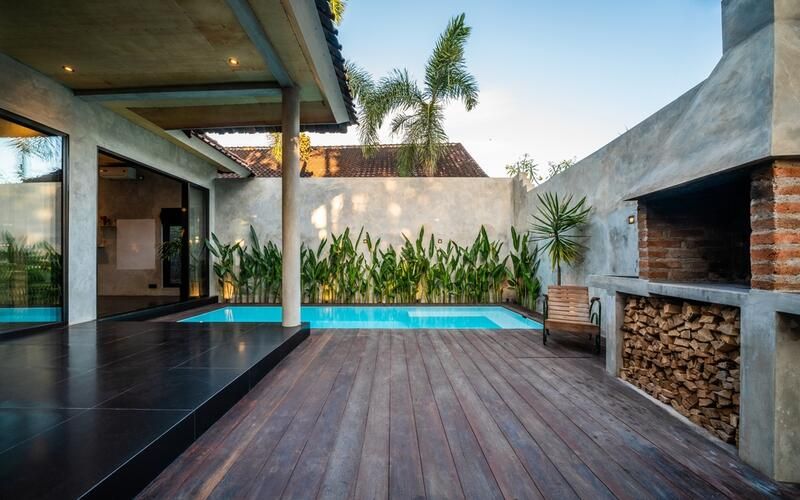 Include a TV for Sports Nights
Adding a TV screen to your outdoor bar will transform the space.
You can host the next event where you meet up with friends for cocktails during the big games season or entertain your family to watch the final episode of your favorite show while sharing a drink.
Whatever you do with it, adding a TV to your outdoor bar will highly improve the uses of that space and your ability to relax and have a good time there.
Go Bistro With Your Outdoor Bar
What's better than bistro bar stools to add a chic and elegant European touch to your outdoor space?
You'll find your family and friends both seeking your bistro-style outdoor bar as the perfect place to hang out during the long summer days.
If you still don't have a backyard bar and those ideas are tempting you, but you're still not sure because you worry the final implementation might not look good in your landscape, then have no worries.
At shrubhub.com, we offer 3D depictions of your landscape, during both nighttime and daylight, after any design so that you're fully sure this is what you want before you start.
And lucky for you, we currently offer a 70% discount on all our design services, so don't miss the chance and sign up here.