How To Grow Pumpkins 101: A Complete Step-By-Step Guide To Growing Pumpkin Varieties
Published: 08/11/2022 | Updated: 29/03/2023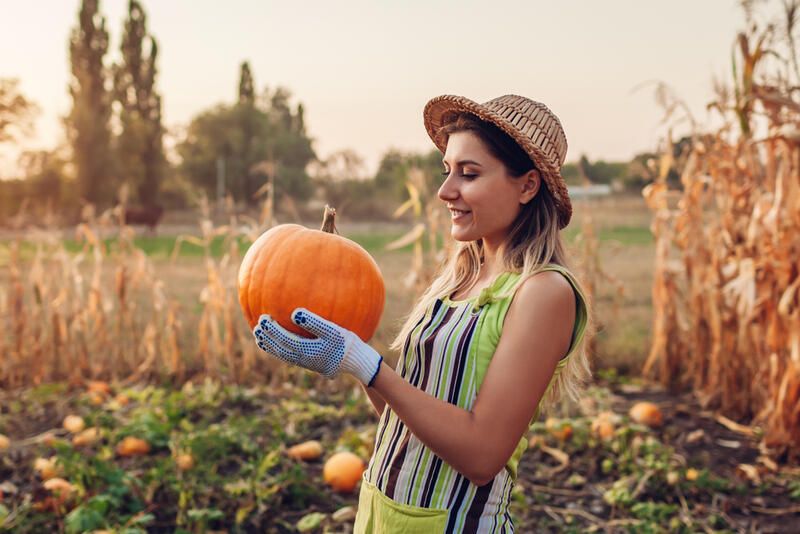 We've heard you want to grow pumpkins in your garden...


Growing pumpkins is fun, but also challenging. It might just be the most challenging vegetable crop you have ever grown.
Don't get discouraged though because challenging doesn't mean impossible. It just means that it will take you some time, a little know-how, and a lot of patience.
It also doesn't hurt if you have the right information available when you need it!
That's why ShrubHub's plant experts are here to give you all the information you need to start growing your favorite pumpkin plant. Read on to find out more about the best fall vegetable!
Varieties of Pumpkin
When it comes to pumpkins, there's a lot more than meets the eye. Pumpkin species are a lot like snowflakes: They come in all shapes, sizes, and colors. There are more than 100 different kinds of pumpkins, including miniature pumpkins, giant pumpkin varieties, sweet pumpkins, and colorful decorative pumpkins.
And just as every snowflake has its own unique shape and pattern, every pumpkin variety has its distinct characteristics.
For example, some pumpkins are best for cooking (known as pie pumpkins) like Sugar Treat, Cinderella's Carriage, and Peanut Pumpkin, while others are better for carving Jack-O'-Lantern, Big Max, Autumn Gold, and Magic Lantern.
There are also mini pumpkins that make great Halloween decorations like Jack Be Little and We-B-Little.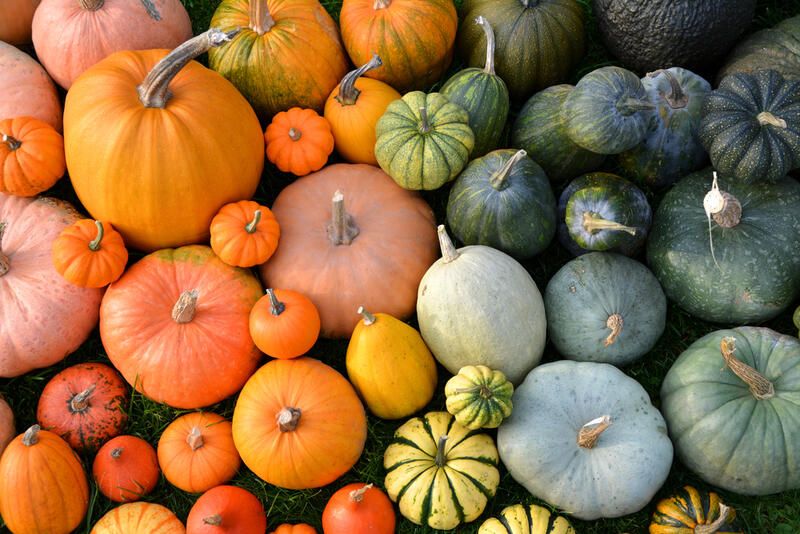 Should I grow pumpkins or squash?
The first step to deciding whether or not you want to grow pumpkin or squash is to understand the difference.
Pumpkins grow larger than most squash varieties, including winter squash, and can be used for cooking purposes (think pies), while most squashes are better suited for eating raw or in soups.
So if it seems like there's no clear answer here, that's because there isn't—you need to decide whether your priorities lie with size, ease of growing, nutritional value and taste preferences before deciding which type of plant would work best for you.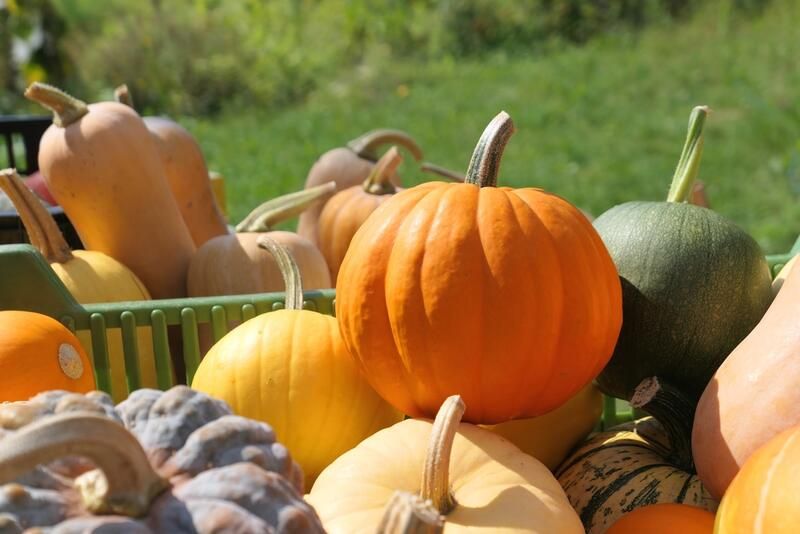 When to Plant Pumpkins
Spring is the ideal season for planting pumpkin seeds. To be more specific, it's best to plant them in early spring after the last frost when the soil has warmed up enough. That means late March or early April if you live in zones 5-6 and about a month later for those who are in zone 4.
If you live in warmer climates, you can start seeds indoors under grow lights from mid-February until mid-March; just be sure to let them harden off before transplanting them outside.
The most important thing about choosing where you'll plant your pumpkin seeds is making sure that they will receive full sun throughout their life cycle.
How to Plant Pumpkins
If you want to learn how to grow pumpkins, then there are a few things to keep in mind.
Pumpkins thrive in warm climates. They're a warm-season vegetable that needs at least 8 hours of full sun every day. If you're looking for a short growing season, plant your pumpkin seedlings indoors in late winter or early spring and transplant them outside once the soil has warmed up as we mentioned above.
If your seeds don't get enough light during their crucial juvenile stage, they won't grow properly or produce many fruits!
As with any plant that needs full sun, make sure to choose an area where the soil drains well and doesn't stay wet for too long after watering.
A raised bed is ideal for growing pumpkins because it allows the soil to drain more quickly than it would if planted in an ordinary garden plot.
If you don't have access to a raised bed or simply don't want one, then opt for sandy loam soil for your pumpkin seeds. This will allow more oxygen into their roots so your pumpkins grow fast enough before cool weather arrives!
How to Choose The Right Pumpkin Seeds
Unfortunately, it's not as easy as just planting the first seeds that come to hand. You need to pick the right pumpkin seeds for your specific climate and growing conditions.
For example, if you live in a warm region with sandy soil and plenty of suns, then you'll want something like a Pepita Pumpkin Seed or an Arapaho Squash.
These varieties are both well-suited for those conditions because they have short vines and require little space to grow. However, if you live in an arid climate where water is scarce and summers are hot with very little rainfall (like Southern California), then perhaps it would be best to try growing a Japanese Kabocha instead—it's much more drought-resistant than most pumpkins!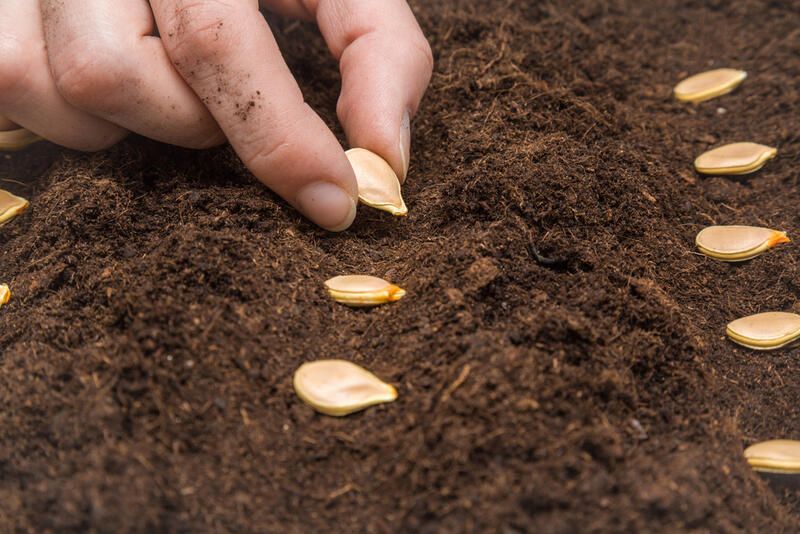 How to Grow Pumpkin Plants
Let's get down to the nitty-gritty. Growing pumpkins is a lot like growing other vegetables: you need to plant the seeds in well-drained soil, keep them moist, keep weeds away from them and give them plenty of sunlight.
To start growing pumpkins you'll want to pick out a sunny spot in your garden or backyard that has been cleared of debris, stones and trash.
If possible, avoid planting where there has been any sort of chemical application for at least four years or longer. Ideally you'll want this area to be part of your garden plan because it will be easier for you to care for them along with other plants.
However, make sure to choose some plants that grow well together with pumpkins such as squash or corn.
Once you've got your spot picked out and cleared out, add some fertilizer at least six weeks before planting time. This will provide your plants with some nutrients that will boost their growth phase.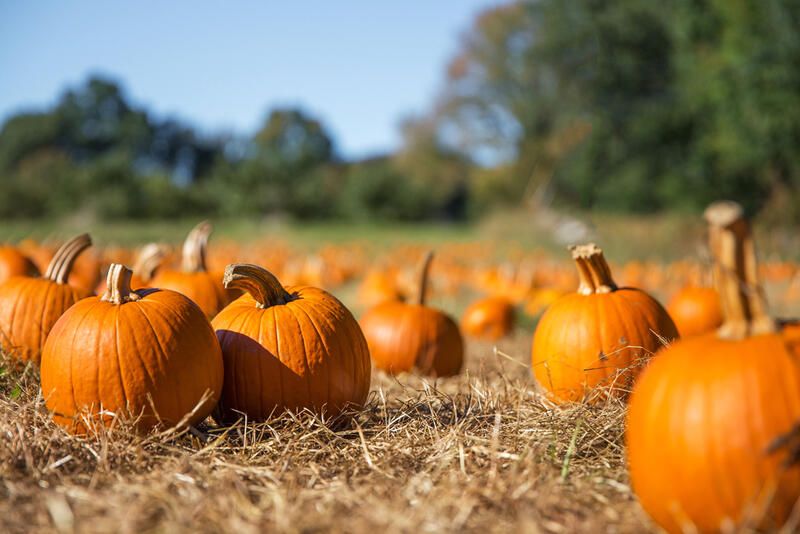 How to Care for Pumpkin Plants
A healthy pumpkin plant needs water and fertilizer, and significant pruning.
Pruning pumpkin vines will promote better fruit production at the top of your plant. And since pumpkins are spread by their fruits (not true with cucumbers), it's not uncommon to find sucker-like shoots growing wherever you put your pumpkin plants to root.
When watering pumpkins, remember they like moist soil but not waterlogged soil. The optimal moisture level should be between 50% and 75%.
Most importantly, don't overwater! This can lead to fungal diseases like downy mildew or powdery mildew which can devastate your crop if left untreated; so make sure your pumpkin patch is properly watered with regular deep soaking sessions spaced out throughout its active growing season (about 2 weeks after germination).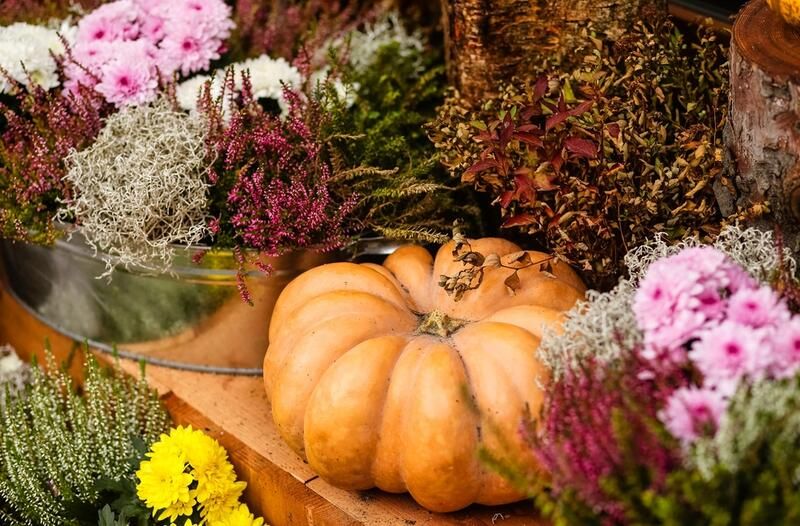 How to Grow Giant Pumpkins
Growing giant pumpkins is a lot of fun and surprisingly easy. You don't need any special equipment or tools, just some patience and good old-fashioned elbow grease.
Here are some tips for you:
Plant your seed in rich, fertile soil.

Make sure it is a sunny spot and that you have space for a bed at least 18 inches wide and 12 feet long.

Plant seeds 3 inches deep, spacing them 9-12 inches apart in rows 3-4 feet apart.

Water regularly and deeply until the seeds germinate (3-7 days).

Once long vines begin to grow, keep them evenly watered until they reach about 6 feet tall or until blossoms appear on the vines.
When the first blossoms appear on your growing vines, pinch off all the ends. This will help you to focus on the growth of the pumpkin instead. As the plants grow and mature, keep them evenly watered and fertilized regularly.
If you notice any pests or diseases, treat them immediately so they don't spread throughout your garden!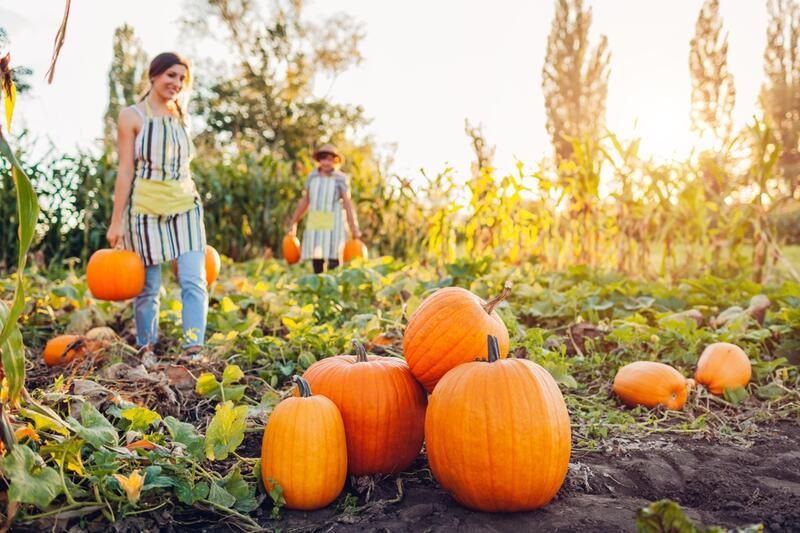 How to Propagate Pumpkins
There are five ways to propagate pumpkins:
Cutting

Division

Seedlings

Root cuttings

Air layering
Cutting is the easiest method of propagation. All you need to do is take a cutting from the vine and plant it directly into the ground. Cuttings should be about 12 inches long and contain at least one leaf node with two or three leaves on it.
If you decided to propagate using division of the plant, cut the mother pumpkin into several pieces and replant each piece into a separate pot.
You can also graft two different types of pumpkin plants together for them to produce fruits with characteristics from both plants.
If you don't want to sow seeds and wait for months before planting them out, then there is an alternative way of growing your own pumpkin patch. You can sow your pumpkin seeds directly into soil blocks or compost and then transfer them into the garden when they are about 10cm tall.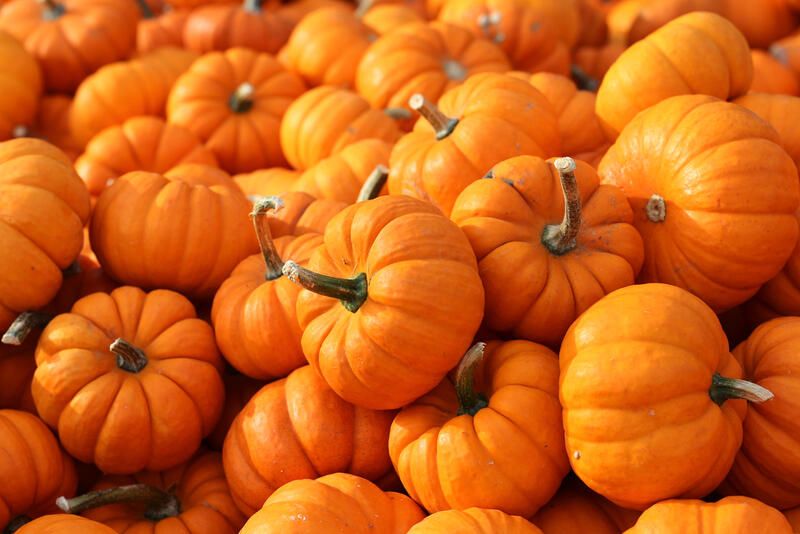 When to Harvest Pumpkins
The best time to harvest your pumpkins is when they've reached their full size. You can also harvest pumpkins when they are between 30 and 40cm in diameter. The best way to check this is by using a tape measure.
To do this, allow the vines to die back on their own (they will turn brown and shrivel), then cut off the top of the pumpkin by cutting through the stem. It's important to note that freshly harvested pumpkins will not last as long as those that are left on the vine until they've fully ripened.
Once you have harvested your pumpkins, it's time to cure them. The best way to do this is to leave them outside in a protected area and allow the sun to dry them out completely. This can take anywhere from three days up to two weeks depending on how humid it is where you live.
Pumpkin Pests and Diseases
Pumpkin pests and diseases are a bummer, but they need not be a tragedy if you know how to prevent them.
The best way to keep your pumpkin healthy is by keeping it clean. Wash your pumpkin off with water every week or so, and don't let anything harmful come into contact with it.
This includes bugs, rodents and other pests like birds who might try to eat your pumpkins.
Here are some pests to watch out for:
Squash vine borers

Squash bugs

Powdery mildew

Downy mildew

Cucumber beetles

Aphids
You should also pick up any fallen leaves from around the base of the plant; this prevents fungi from growing on them which could infect other parts of the plant when wet weather returns later in autumn.
You should also keep an eye out for any signs of disease or pests. If you see anything unusual, take a sample to your local nursery and ask them what it might be. Most pumpkin diseases are treatable with fungicides or insecticides, so if there's something wrong, don't delay!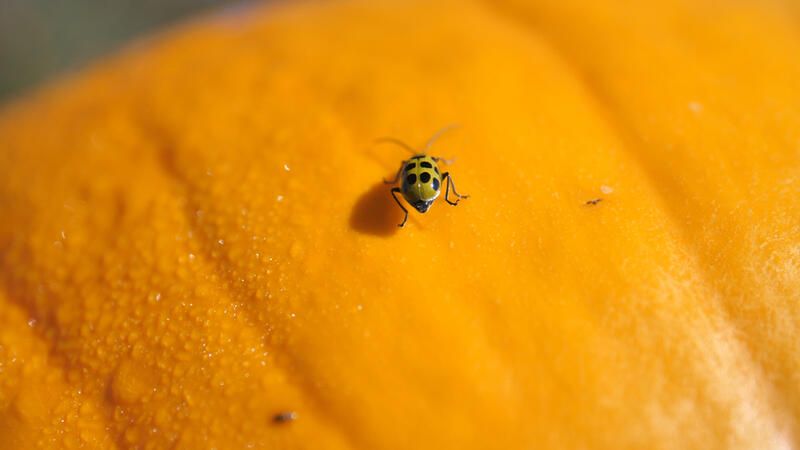 How to Store and Display Pumpkins
There are several ways to store pumpkins. You can keep them in a cool, dry place such as an unheated garage or shed. Or you can store them there on a shelf in your kitchen.
The important thing is that the temperature and humidity are both between 50 and 55 degrees F (10-12 degrees C). You'll also want to ensure that the light is dim but not completely dark.
Keeping pumpkins at home may take up space, or it may not fit with your décor plans for the season.
If this is the case, consider storing them at a local farmer's market or grocery store during autumn so that others can enjoy them too!
To Sum Up,
You can't go wrong with growing pumpkins, especially if you have a lot of space in your garden or backyard. Whether you are looking for something to eat or just want to add some color and texture to your landscaping, pumpkins are a perfect choice.
There are many different varieties of pumpkins that can be grown, and they have a wide range of uses. They are perfect for decorating your home or yard, but they can also be eaten as a snack or used in recipes.
To make sure that your pumpkins are growing properly and thriving during the season, be sure to check on them regularly and provide plenty of sunlight and water!
And as always if you're ever in doubt, contact the plant experts at ShrubHub for a free consultation, and don't forget to check out the 70% offer for yard renovations this season!