Hair-raising Outdoor Halloween Decor Ideas
Published: 20/10/2022 | Updated: 29/03/2023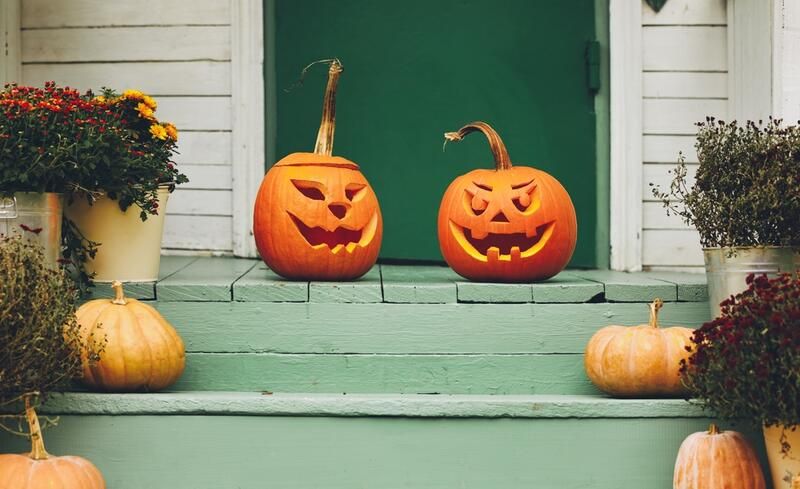 Spooky season is around the corner. At this creative time of the year, we are always on the hunt for horrifying ideas to give our neighbors the creeps whenever they pass by. It's quite as if we all have secretly agreed to make Halloween a yearly competition where we show our spooky decorations off.


As October welcomes in the long nights of the winter with its chilling vibes, it just feels right to add to the mix a haunted home as well. Imagine an unnerving scene where you might feel the most terrified, and then let your imagination run wild while turning this eerie nightmare into a living reality!

From your driveway, yard, and sidewalk to your porch and front door, decorate each corner with a frightening idea and weave a spell on your entire neighborhood.
And if you feel that giving your yard a spooky facelift is a time-consuming task, don't hesitate to turn this challenge into a family-fun project. Creating Halloween memories calls for crafting the weirdest ideas together with your family and friends (which will spare you the solo effort too).
Flushed with the fierce excitement of the holiday? Take a spin through some of our hair-raising Halloween outdoor decor ideas:
The Dead Are Here to Celebrate
Make all of the other decorations pale in comparison with this spooky outdoor Halloween graveyard. Right outside your front door, you will host a haunted space where the dead are the main theme. This is your opportunity to unleash the freaky, malicious side of yourself without feeling guilty about it.
With plywood, foam board, or even shipping boxes, create a cemetery archway entrance for a genuine appeal. "Boneyard" is also a disturbing name to add to your cemetery if you want to go for the whole ghastly scene at your Halloween party.
Nothing can be as frightening as tombstones at night! That's why it is a perfect match for your Halloween graveyard. To craft real-like tombstones that make your blood run cold, you can either use scrap wood or foam insulation sheets.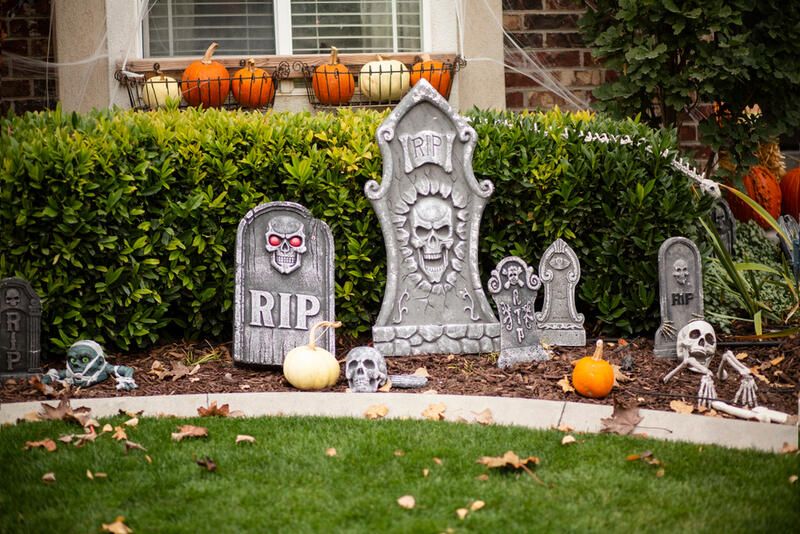 Skeletons Pleading for Help
Get a little artsy and imaginative with the help of some ghosts this year!
Instead of having a bunch of skeletons lying around your outdoor space for no apparent reason, get your home ready and design your Halloween skeleton decorations to be spine-chilling.
If a graveyard-themed Halloween is your way to go this year, then heighten the spooky vibes with some skeletons. Place a skeleton's arm right beside the tombstone as if there's a dead body pleading for help. And to make it even scarier, write on the tombstone "Buried alive".
Is steering clear of the whole graveyard theme? Then nothing beats a well-told story. In this case, the story will be brought to life, and skeletons will be your actors. For instance, a skeleton, with an open book in his hand and reading glasses on his face, can be sitting on your porch for a spooky front door setup. Take the creativity up a notch, and make the story even more interesting by naming the book "Read It and You Will Be Next".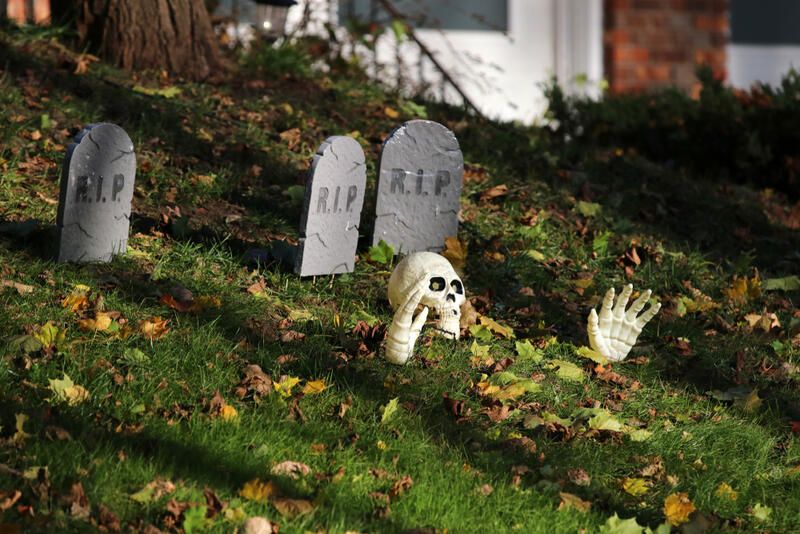 Snake Wreath
While some might spend more time thinking of their Halloween costumes, scary treats, or unnerving movies for a blast, others devote their undivided attention to creating an outdoor horrific scene!
A black wreath with slithery snakes hissing at your visitors' faces is quite the inviting welcome for Halloween. What else could make a great first impression? The black wreath gives you a charming, elegant look from afar, but the closer you move toward it, the creepier it gets.
Cost-effective yet frightful, this Halloween decoration will be your most attractive door embellishment this year. All you need is a grapevine wreath, different sizes of rubber snakes, a hot glue gun, black spray paint, and floral wire.
Weave the curled rubber snakes onto the branches. If the snakes are not holding to the wreath as required, use the hot glue gun for extra support. With black paint, spray the entire wreath for a deep gothic look. Finally, add a ribbon to easily hang the wreath on your front door.
Creepy Black Cat O'Lanterns
Across many cultures around the globe, black cats have a bewitching history. Associated with superstition, black cats were often seen as bad luck bearers. Some even believed that a black cat might be the devil in disguise.
With all their spookiness and dark history, black cats are a great Halloween decoration for your yard. Spruce up your front door with black cats and add orange led lights to have a bone-chilling glow flickering through their eyes.
You will need a large pumpkin for the body, a medium-sized one for the head, and other tiny pumpkins for the paws. The best part is that it requires almost no carving, just hollow out the eyes, add a cucumber to be the tail, and put ear-shaped black cards on top of the head. Now place a candle in the head and your cat will be brought to life!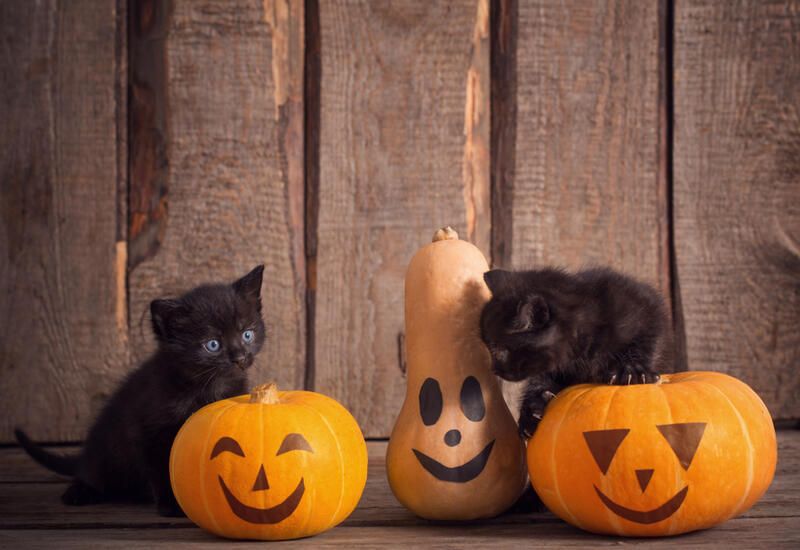 A spooky Entrance
Greet trick-or-treaters with spooktacular decorations. The entrance is the first thing that your visitors come across whenever they go into your house. To make a genuinely great Halloween impression, make your visitors jump out of their skin and let them embark on a horrific journey in your own house.
For a ghastly feel, stretch fake cobwebs on both sides of your front door, and use various-sized cardboard to seal your front door. Write "Keep Out" in red paint to finish the creepily festive look.
Fancy something on the side instead of giving your front door a frightening makeover? Place Halloween witches' leg stakes in a planter next to your door for a wicked holiday display, decorate your entrance with a variety of Halloween inflatables and some stacked pumpkins, or welcome your visitors with a couple of grim reapers flanking your front door!
An Elegant yet Eerie Halloween-themed Table
Creeped out by all these intense Halloween decorations and want to go for a more subtle idea? A Halloween-themed outdoor dining table adds an aesthetic, slightly scary feel to your abode.
In a carved-out pumpkin right in the middle of the table, show your bountiful blooms off in a beautiful centerpiece. Boasting shades of orange and yellow, autumnal flowers brighten your table up and set the mood for a warm evening.
When it comes to table runners, nothing is off-limits. You can either go for a soft, chic look with a touch of orange, or you can opt for the spooky spirit of Halloween with a crawling spider lace runner. Adorn both runners with black plates and mini pumpkin candles.
Colors that Heighten the Spooky Feel
Orange and black have been staples for Halloween for quite a long time. It's even difficult to come across such a combination of colors and not think of Halloween. While the black color represents the chilling darkness of the night, the orange welcomes in the fall season and symbolizes bonfires.
Often used to portray some supernatural character, green is also a Halloween color that most likely symbolizes the wicked spirits of witches. On the opposite side of the color wheel, purple creeps into the Halloween color mix. It has forever been associated with wealth and luxury, conjuring up a magical and mystical feel to every purple-colored object.
Red never fails to heighten the spooky feel and make a design splash in your outdoor Halloween décor. Evoking contrasting feelings of both passion and anger, red is mostly known as a symbol of blood, which offers a spectacular display for Halloween.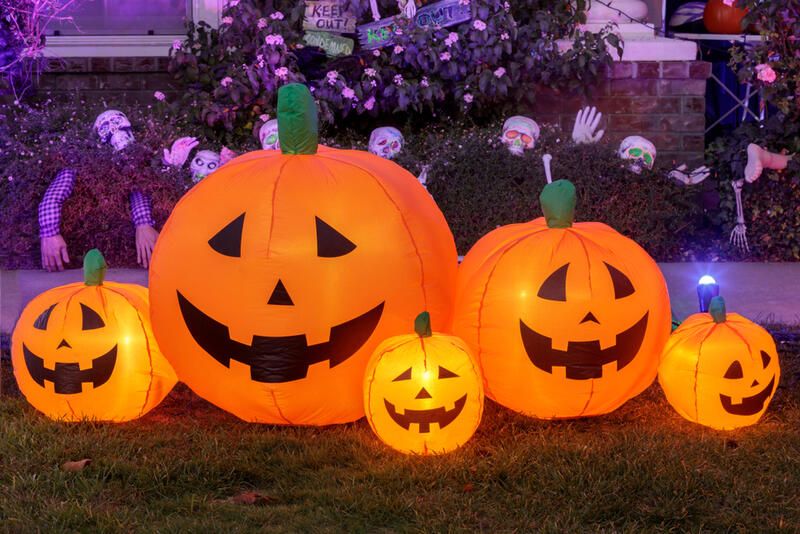 Out-of-the-box Ideas for Halloween Outdoor decorations
Streets buzzing with life, houses decorated to the teeth with festive outdoor Halloween decorations, and children knocking on your door now and then and shouting "trick or treat".
It doesn't matter which of the aforementioned ideas you get to choose for Halloween this year. What truly matters is celebrating your holiday with your loved ones and spreading joy among family, friends, and neighbors.
At Shrubhub, we help you choose the spookiest Halloween yard decorations that best suit your outdoor space and complement your personality.