Affordable and Functional Gravel Ideas for Your Yard
Published: 20/09/2022 | Updated: 29/03/2023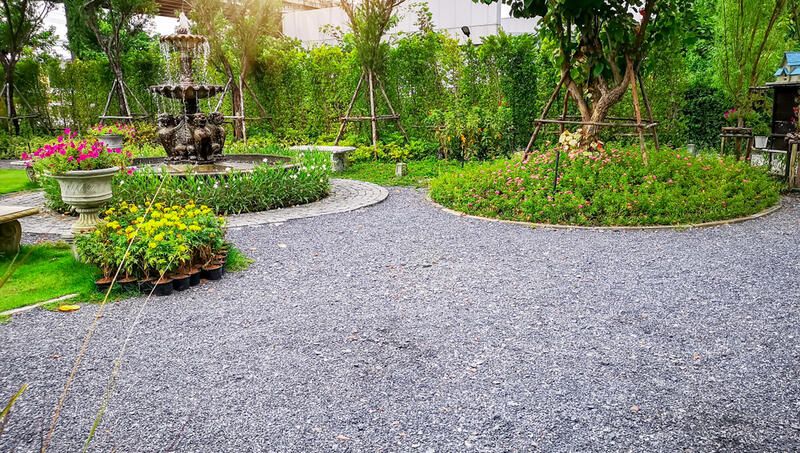 Fall is right around the corner, and for gardening enthusiasts, this means the beginning of the roughest months of the year. Maintaining a beautiful garden is difficult enough during the spring and summer, so just imagine how hard it'll be to keep your lawn looking nice and clean during the colder months.


The first material that comes to mind for any landscape design professional is gravel, which can work as an easy-to-install, inexpensive, and simple solution to this issue. After all, your yard deserves a lot more than a few patches of dirt and a weed-filled yellowish lawn, and you don't need to break the bank to achieve a more polished look.
Gravel is one of the most versatile, budget-conscious hardscape materials, it comes in many different colors and varieties, making it an excellent alternative to big slabs of stone such as pavers. It's a great choice to consider for your outdoor space if you need to pave paths, fill gaps between stepping stones, or carpet an entire patio.
Its tidy appearance, permeability, and adaptability make this natural material an elegant hardscape feature that's trendy with homeowners across the country. It goes well with practically any landscaping and outdoor furniture style, it can add structure to an otherwise plain-looking garden, and most importantly, it can be the first step towards a weed and mud-free sustainable yard.
The most popular types of gravel used by landscape design artists
You can add various types of gravel to your garden design to create a more forgiving surface for your outdoor area. What you should consider first is which type will perfectly match your property. The most common types of gravel that both landscape architects and homeowners choose are the following:
Pea gravel: small, rounded stones that come in a variety of colors. They are a great choice for filling space between flagstones, and can also be used for walkways.

Decomposed Granite: weathered pieces of granite that are generally used in gardens with rustic aesthetics to form pathways, and to add a vibrant touch around trees and plant life.

River Rocks: these rocks come in a variety of shapes and sizes, and their smooth texture makes them an ideal addition to relaxing ponds. They are also great for garden areas where they can serve as borders for shrubs and flower beds, and add drainage around garden beds.

Crushed Rocks: this type of grave is most popular for patios, walkways or driveways, garden seating areas, water features, and fire pits. Although their texture and appearance are rougher than the other types of gravel, garden design professionals can match this natural material with any aesthetic to make it look appealing and polished.
Gravel can be an appealing, budget-friendly, and low-maintenance alternative for any property. No matter your style preference, a natural stone addition can be used to better define the areas within a garden, serve as a base for garden walls, potted plants, or container gardens, and add a visually interesting element that will make a statement in your new outdoor space.
Usually, gravel is used to replace the top 4 to 8 inches of soil, making it harder for weeds to take root. You shouldn't worry about the types of plants you'll be able to grow because many species can be grown in a gravel garden, the most popular choices being hardy varieties that don't need to be watered too often.
Consider creating a drought-tolerant gravel garden to reduce weed growth and any watering burdens!
Use gravel to upgrade your outdoor spaces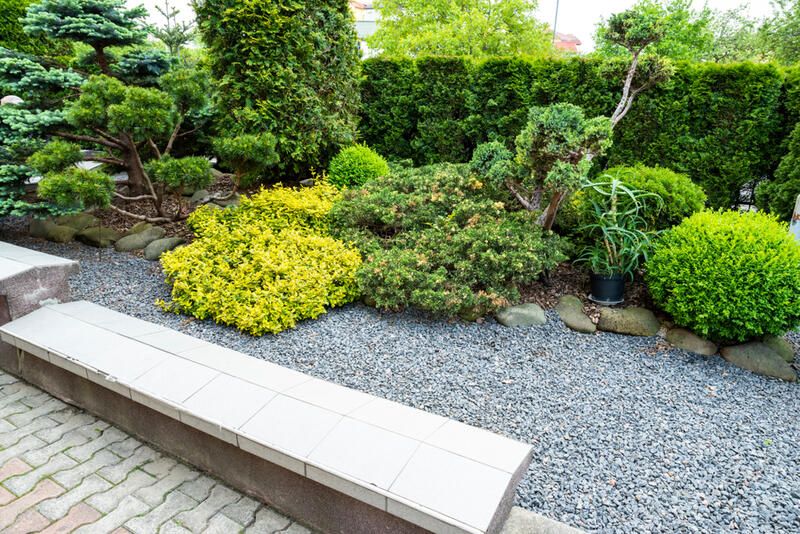 There are a few points to consider when planning for a landscape design that uses gravel as one of its more prominent materials.
If you want to create gravel paths or walkways, your main goal should be to smoothly direct people around the garden and link it with other areas of your property ensuring a smooth transition. Additionally, your chosen material's color and style should complement your property's overall aesthetic. On the other hand, you should also try and get your gravel borders right to make sure your outdoor area looks neat. The most popular choices are concrete, stone, and brick, but other creative and DIY options available range from logs to recycled roof tiles.
Some of the pros of having a gravel garden include weeds and erosion prevention, low cost and maintenance, improved drainage, and easy installation. On the contrary, the cons aren't many, the main downside is that it needs to be contained with an edging material and it can be a difficult element to work with if you have to deal with snow removal, as the shifting nature of the material will make this process ten times more annoying. To avoid disturbing the gravel too much, you'll have to shovel off most of the snow and leave behind only a thin layer that you can melt with salt, or simply let it melt under the sun.
Installation and maintenance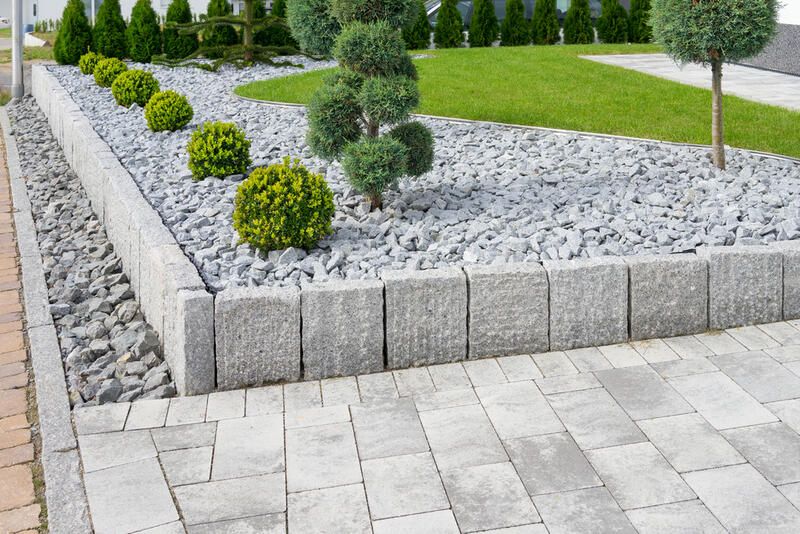 Compared to other hardscaping design materials, gravel's process of installation is relatively simple and easy. Generally, companies deliver gravel in sets of 50-pound bags that can be easily spread with a mud rake, and it usually costs about $5 per square foot including installation and a layer of base crushed stone.
The gravel garden is never watered or fed, so soil preparation and planting are key. When an area is ready for planting, submerge pots in a bucket of water for five minutes. After planting, create a slight bowl around the plant and water it in well. Use a few inches of gravel as a mulch, which not only looks beautiful but will help suppress weeds and trap moisture.
Choose a sunny area of your yard, most drought-tolerant plant life will need little to no shade to thrive.

Remove any perennial weeds before installing your gravel. For a more stable surface, you should consider adding a base of crushed stone.

Prepare the area accordingly. After removing the topsoil, you should add compost soil if you're dealing with very sandy, stony soil. On clay, you can remove topsoil and add 4 to 8 inches of gravel, but you have to make sure they don't mix.

Plant during springtime, and prioritize drought-loving plants such as Coneflower, Catmint, and Lantana.

Due to gravel's tendency to travel, contain it with an edging material such as stone, brick, or metal.
For maintenance, all you'll have to do to keep the area looking polished will be to tidy the surface with a rake and replenish the gravel every four years because it will steadily sink into the soil. Gravel gardens are never watered, so the key to a beautiful final result will be soil preparation and planting.
Unique ideas for a low-maintenance gravel garden
There are many ways for you to take advantage of this versatile material to give your lawn a visually striking makeover you'll enjoy for years to come! Your gravel garden doesn't have to look plain and boring: you can create a more dramatic look if you're mindful of your plant life choices. Drought-tolerant plants with a noticeable presence come in a variety of sizes and colors, so when you're deciding on which ones you'd like to include in your new outdoor space, explore the different alternatives and consider how tall the plant will grow, its flowering habits, and how well the foliage color palette will match the shade of gravel you chose.
Mix ornamental grasses, flower beds, and shrubs that share the same color scheme if you'd like to go for a more sober look, but don't sacrifice beautiful pops of color for the fear of an unrefined-looking yard. Colorful plants can make a bold statement and still look sophisticated if the landscape is thoughtfully curated.
Make the most out of a curated plant selection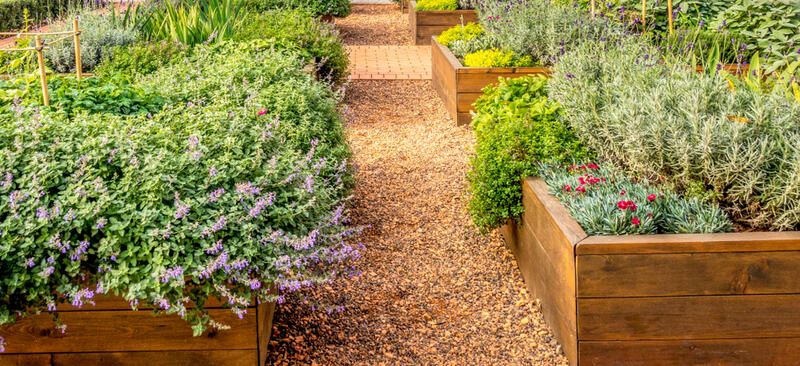 You can use gravel around raised flower beds and container gardens so that any watering runoff will seep into this permeable material to ensure a mud-free walkway. Your new gravel garden can be the focal point of your yard, showcasing your favorite plants, large and small. For this, try to keep a good visual balance by arranging your plants evenly throughout the entirety of your available space instead of concentrating a large number of plants in a tiny area. There's no need to go for a symmetrical design, but we recommend keeping height in mind by planting taller varieties toward the back of your garden to give smaller plants a chance to contribute aesthetically to your new garden.
Mix and match this versatile feature
With the simple addition of gravel, you can do anything from transforming a basic retaining wall into an eye-catching vertical gravel garden, or pairing it with larger rocks to add a contrast of textures and scales, to upgrading a monotone and dull patio with a more visually interesting and vibrant surface. The combinations are endless, and even if you thought your outdoor spaces needed a lot of work to look appealing, in reality, a little mixing and matching of landscape and hardscaping elements can do wonders if it's crafted with both visuals and functionality in mind.
Add gravel to embellish your driveway and walkways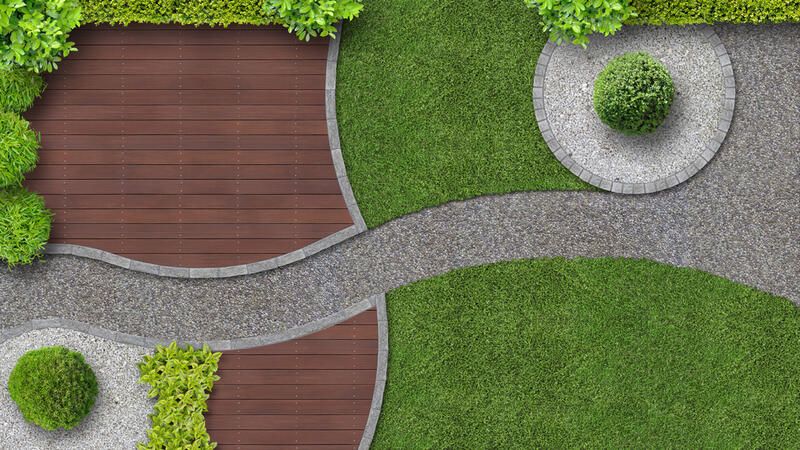 Gravel garden paths are guaranteed to enhance the aesthetics of any landscaping design, regardless of its location. Whether it be with a simple path that leads from the sidewalk to the front door of the house, or from a deck or seating area towards a focal point in the backyard or the front of the property, it's all about functionality and the design effect the homeowner wants to achieve.
To make your gravel garden more walkable through straightforward visual cues, you can use stepping stones to create a clear path that crosses your entire outdoor space for easy access to your favorite flowers, trees, and focal points. Gravel keeps your garden clean and shoe-friendly as opposed to mulch or dirt which are easily disturbed by wandering feet.
Seating areas and fire pits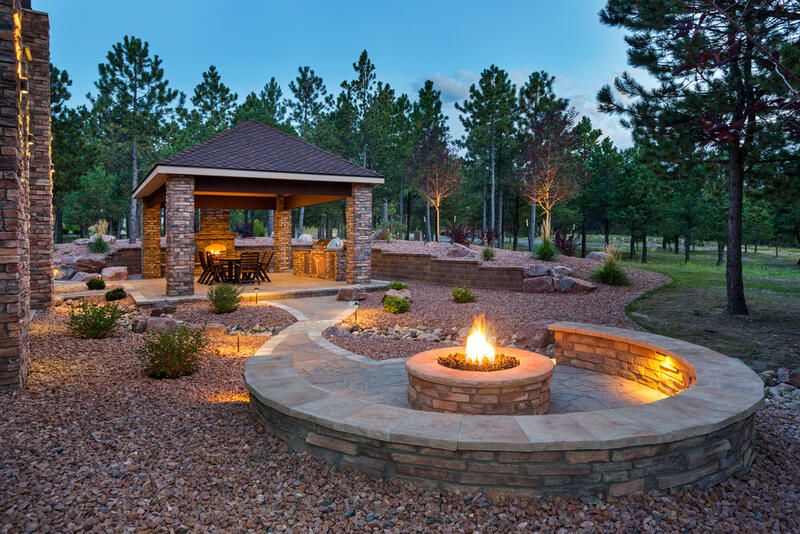 As a general rule for landscape design experts, gravel is one of the go-to materials for patio beautification, so if you've already designated gravel as a must for your new outdoor space, consider adding it to a serene seating area. To achieve the best look, first, make sure you have a decent amount of fully flat space where you can add an outdoor dining table and a few reclining chairs to create the perfect area to relax and enjoy delicious meals.
Gravel is also a great backdrop to create social spots around fire pits with comfortable seating that will make for the perfect place to gather with friends and family. In this case, gravel is a much better alternative than grass because it won't be disturbed by furniture or heavy foot traffic (which is common in areas that are frequently transited). You won't take the risk of it catching fire if an unfortunate incident causes a few sparks to land on the floor.
Start Planning Your Outdoor Makeover
From paths and walkways to patios and fire pits, gravel gardens are as functional as they are visually appealing, and they are becoming more attractive alternatives to conventional and overdone lawn yards with homeowners across the nation.
Once you're ready to update your property for a fresh new look, ShrubHub can help you get started with a tailored design that suits your needs, enhances the look of your property, and significantly increases its value.
Our entire process is done online, meaning you can start your renovation from the comfort of your home! With the guidance of an experienced Project Manager, we will bring your dream yard to life. Thanks to our latest 3D technology, you'll know exactly how everything will look from an eye-level perspective as if you were walking through your yard.
Start planning a first-class makeover with ShrubHub today!