Fun Outdoor Decoration Ideas for Christmas
Published: 28/11/2022 | Updated: 08/04/2023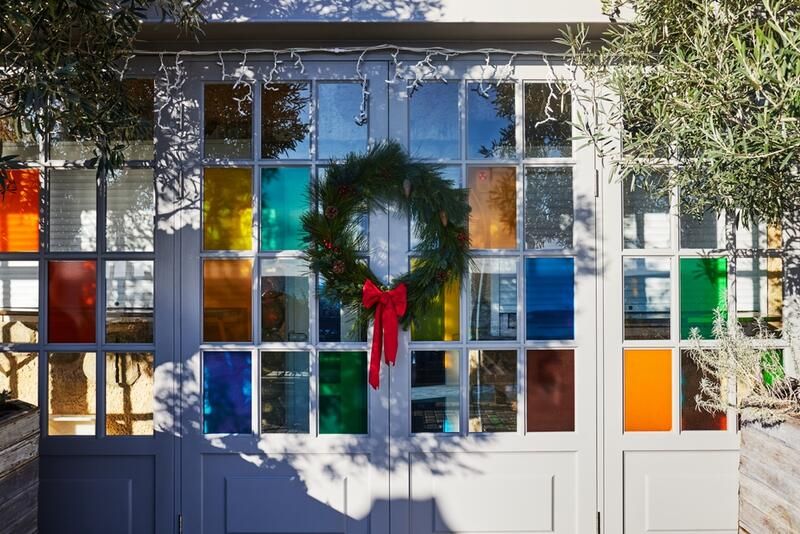 Christmas is right around the corner and we're already feeling the holiday spirit. There's only a little more than a month left and we all know that's not a lot when it comes to planning and sorting out the biggest holiday of the year.


Luckily, we're taking some trouble off your plate by offering you a bunch of exciting ideas for outdoor Christmas decorations to take your mind off at least one thing this holiday season!
You won't run out of options, but that can also be overwhelming. So let us list the best outdoor Christmas decorating ideas neatly for you to see!
Classic Outdoor Christmas Decorations
Let's start with the classics before we jump into the recent and modern ones! You can't go wrong with traditional decorations.
Even if you decide to put a spin on them, they spread the holiday spirit among your family, relatives, and neighbors.
Light Up the House
One of the most poignant steps in outdoor Christmas decor is to hang Christmas lights. Or use string lights to line up your entire house.
In that case, your house can be its very own Christmas present. Wrap up the string lights around the entrance and roof for your house to shine with the warmth and joy of Christmas lights for any passerby to feel this season!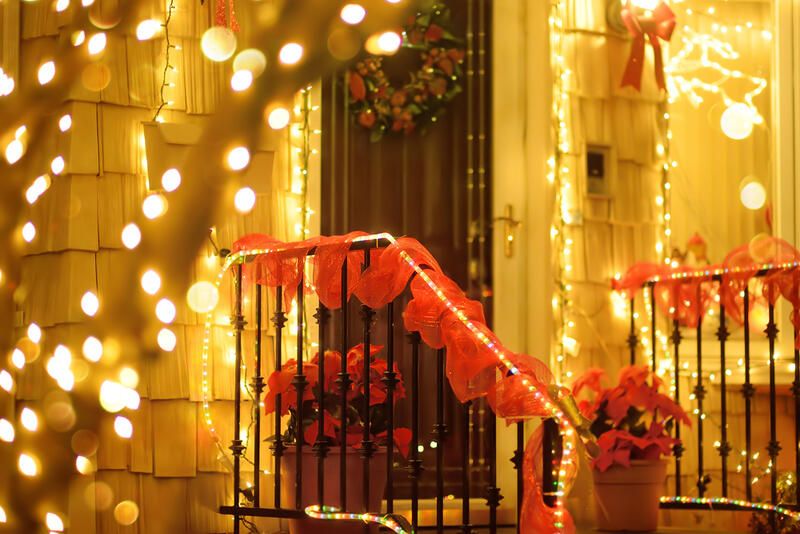 Create a Classic Color Scheme
Going with the classical theme, there are some colors we naturally associate with Christmas and the holiday season, primarily red accents with dark greens. Coordinating a color scheme can give a sense of warm harmony to your outdoor Christmas decor that highlights both the festive display and the cozy element of the winter season.
With one color palette from the traditional Christmas colors, you can creatively coordinate the front door color with the decorations on the porch without it all seeming undistinguished from each other!
Light up the Way
There is no shortage of creative ways to use light in Christmas decorations, but you shouldn't just stop at the front door and porch. Take advantage of the many other ways to use traditional Christmas lights!
You can create a path of light for your visitors and relatives to come through with lights. With candles, foliage, and tealight holders, you can line up the path leading to the entrance of your house with light.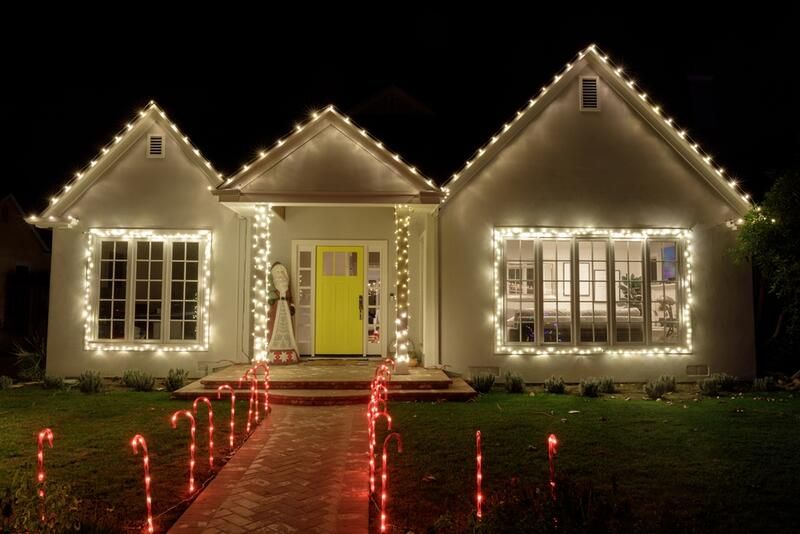 Don't Forget the Gate
There are many ways for wreathing the front door that we will get to soon. But it's important not to forget that if you have a gate to your house, you also include it in the wreath Christmas decorations.
If not a gate, you can also do it with a french. Whether a matching green wreath with your front door or a creatively light and frosty wreath with string lights, it'll be a great way for your visitors to feel the Christmas spirit of your house before even reaching the front door.
Light the Arches
Wrap Christmas lights around a garnered and drape them above your driveway and around the front door to add to the light and greenery of your outdoor Christmas decor.
Huge Candy Canes
Classical white stripes with red candy canes go hand in hand with Christmas. Fill a planter with decorative candy canes, and you can also paint the planter however you like; green, red, or white!
And you can also wrap it! Then place it on the front porch.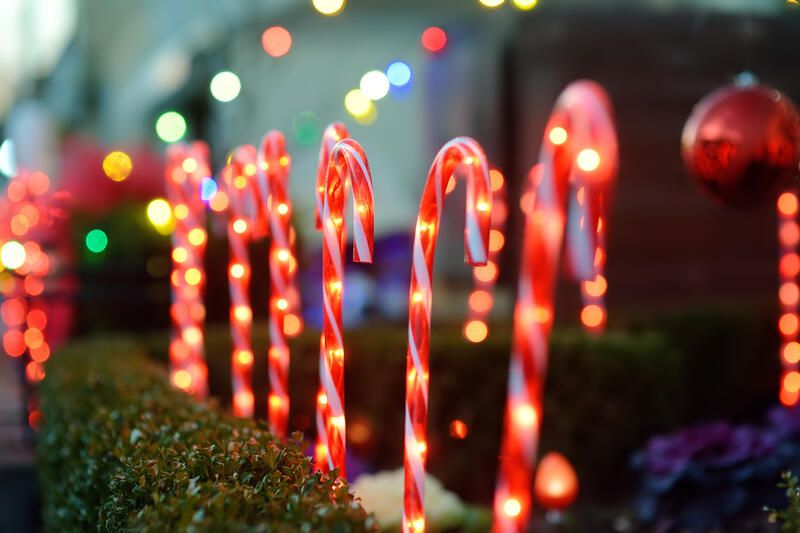 Go an Extra Step with String Lights
Line your staircase with string lights as well to add to the Christmas light scheme of your outdoor Christmas decor. Also, wrap up your porch rails with the same lights.
The lights can spread holiday cheer and spirit so don't be scared about going too far! You'll intuitively know.
Frame the Front Door with Garland
Depending on how your front door is structured, you can either have columns, pillars, or something else framing both sides of it. You can wrap garland around them on both sides to frame the door with seasonal fresh greenery.
Match it Up
If you don't want to frame your front door with string lights, you can drape the arch with garlands instead to match the frontal wreath!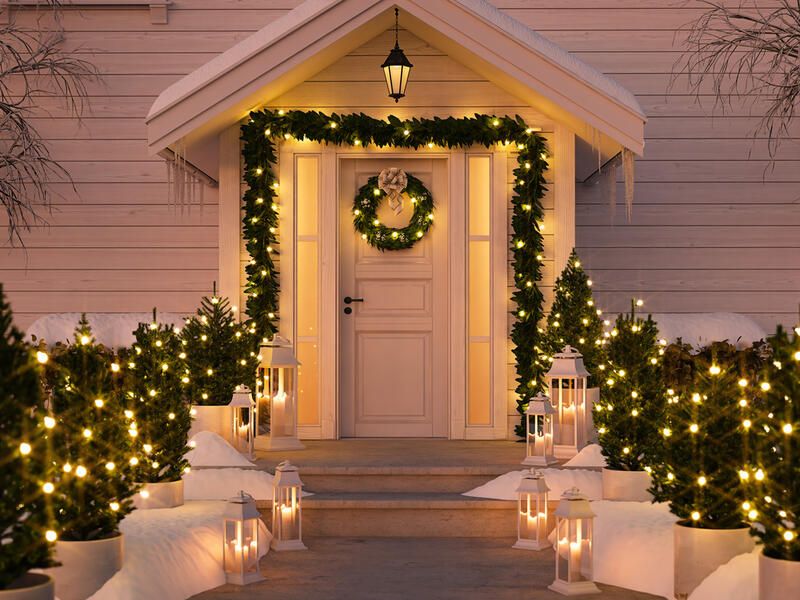 Light Above your Door
If you would like to frame your front door with garlands to match the wreath but feel hesitant about letting go of the front door lights, don't be!
You can still do that, and create a blanket of light above your front door that would also beautifully illuminate the wreathes and the garlands.
Put a Tree on your Porch
Christmas Trees aren't only for the inside of the house! Adding a Christmas tree to your front porch Christmas decorations is a sure way to get the outside of your house ready for the holidays too.
It doesn't have to be big though! It can be a medium size one, or a couple of small ones. Then decorate it with hung pine cones and ornaments.
An additional detail that will perfect the look is spreading fake gifts underneath the tree! Empty boxes wrapped beautifully will do the trick!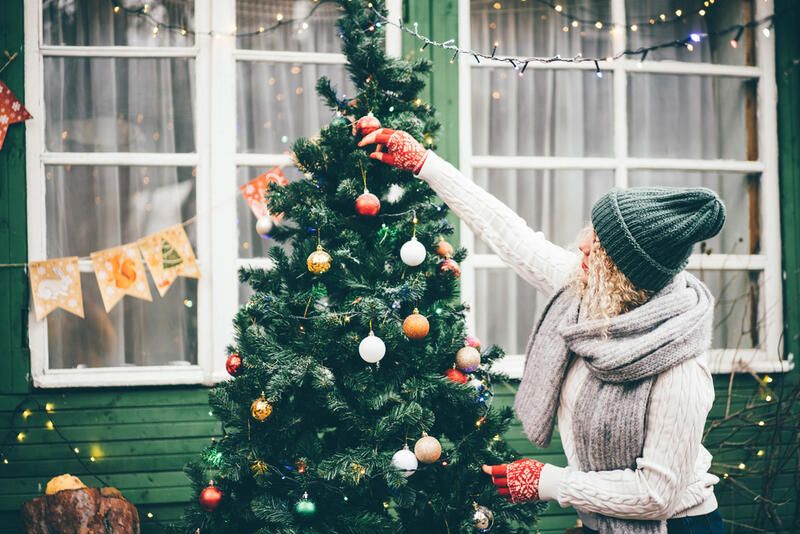 A Christmas Wheelbarrow for your Small Trees
There is something about wheelbarrows that just screams classic, no? Paint it red and green and place your tree inside with fake snow.
Fill Planters with Light
Christmas classic low orange and red lights are just some of those things your porch loves for holiday decorations.
Wrapping the planters with string lights and filling them up with twigs then wrapping them up for illumination is another great way to light your front porch!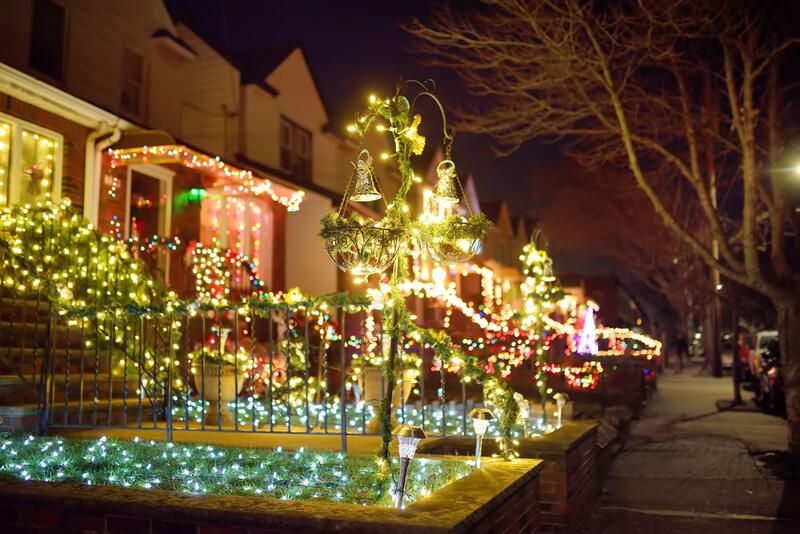 Classic Planter Display
Wrapping them and filling planters in light isn't your only option! You can create a full classical display with different sizes and shapes of planters.
Put the mini trees in the planters and spread them around your front door. For your Christmas planters, you can go with many different plants and other things, like pine cones, red twigs, juniper, wintergreen boxwood, and general Christmas ornaments.
Maybe even add a classical dark Christmas lantern in between to perfect the picture and wrap the planters in Christmas-colored ribbons.
Set up a Little Scene for a Traditional Porch Display
Making a Christmas-y corner for the holiday season of your front porch is one of the most fun ways to go around the annual task. The classic wreath and garland around the archway are already established, so it's time to complete the picture.
Hang bells and silver ornaments on the door. Then make your seating area Christmas-y. There are many ways to go around that!
Hang a traditional Christmas color woolen blanket draped on the armchair, and put a red bowl of decorative candy on the table. All by your porch Christmas tree.
Maybe also add some old mugs too! And if you have a swing, don't hesitate with going cozy and traditional with it too!
Or put some wooden chairs. And don't forget the rug!
Then to add to the old, classical, and traditional Christmas feel, fill traditionally woven baskets with the seasonal flavor and place them around the seating area.
Garlands on the Windowsills
In the same way, garlands can frame your front door, it does too with your window sills. Line up the sills with garlands made of pine cones, and for an additional trick, wrap the garlands with string lights to light up your windows!
Candle Jars for the Windowsills
If you don't want to wrap the windowsill garlands with string light but still want that warmth for your windows, then place candle jars (or some old mason jars with candles inside!) on your external window sills!
Get Creative with Fake Snow
Snow is such a major part of Christmas in the United States that sometimes we forget that it doesn't snow by Christmas (or ever) in some places in the country.
In that case, fake snow isn't just for little scenes or to drape on some planters, you can drape it over the entirety of your front porch and yard to get the most traditional Christmas look!
Turn your Front Porch into a Christmas Winterland
We've teased this with the fake snow and Christmas tree, but why tease when we can go all the way?!
Create the Christmas Winterland of your dreams by painting your front door white, and adding up on the greenery and ornaments, and window wreaths.
Wire and woven baskets with a wooden bench and plaid and woolen blankets around your tree, and draping some fake snow on the tree itself, can make up that Winterland!
Paint snowflakes and snow-covered hills on your windows, or even use plasters!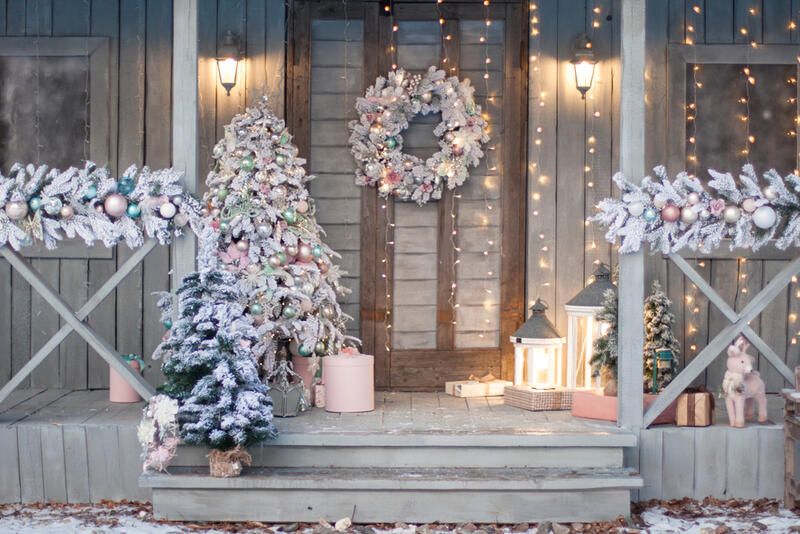 Make it Simple
All of those things we mention are classical and traditional Christmas decorations, but if it's too much for you, don't worry!
There are other options and other ways to play around and show your creativity without making a hazard for yourself if you don't want to.
After all, keeping it simple can be one of the most classical and elegant things! Just a traditional wreath on your front door, some snowflake acorns on the windows, and a tree with simple and neutrally colored Christmas ornaments can be a great look!
Modern Outdoor Christmas Decorations
If all of those options aren't for you this year, however, don't worry about it!
As great as the classical and traditional is, it's still always fun to do something a little different and put our spin on it!
Here's how you can do that with Christmas decorations.
Colorful Scheme
Traditional Christmas colors are great. But you can always ditch them if you want and go fully creative!
You can have a vibrant front porch that is also still distinctly Christmas-y for the holiday season. With spray paint and your chosen colors, the sky is the limit!
Among your options are painting the front door in a vibrant, new color, getting a wreath that's not green with neutral accents, painting wood trees each with a different color, and even getting colorful cones.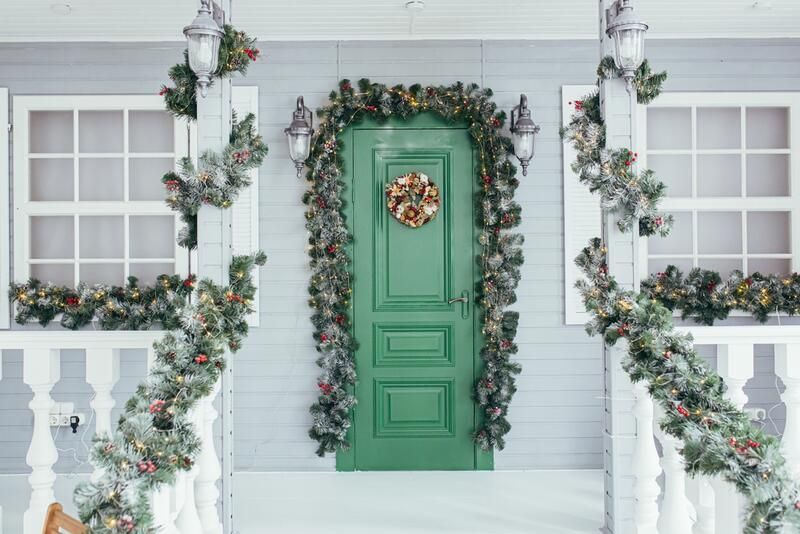 Gingerbread House Porch Decoration
Your front door is a blank canvas that offers more than just hanging for a wreath! With a little patience and creativity, you can paint your front door to resemble a gingerbread house door!
Then you can use the rest of your porch to set up a life-size gingerbread house look. Nothing screams Christmas more than this traditional candy.
And with some giant lollipops, mini gingerbread men to hang at the door with silver ornaments, and other props, your front porch and door can look like a life-size gingerbread house.
Wrap the Door in a Bow
Or your front door (and house) can be its very own Christmas gift! Get a giant festive red bow to decorate your door with instead of a wreath.
It's simple, modern, and fun. And gets the point across!
A lot of these ideas are simple enough for a DIY project for holidays, but to get the best results for anything complex, you best seek the guidance of professionals.
At Shrubhub.com, there is no shortage of professionals ready to help with anything regarding yard design! You only need to reach out.