Everything You'll Need to Decide Deck vs Patio; Pros, Cons & Everything Between
Published: 08/02/2023 | Updated: 10/09/2023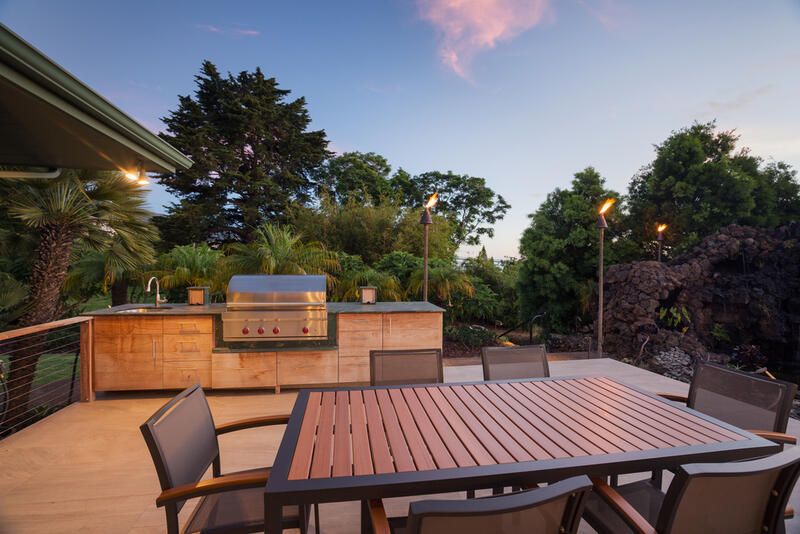 Two respectable outdoor rivals. One challenging decision: Should you get a patio or a deck?


Decks and patios are two examples of outdoor living spaces that provide a multitude of entertaining possibilities. A patio or deck can create the ideal ambiance for many joyful moments, whether you're grilling out with family and friends or just unwinding after work. If you spend money on an outdoor area, you should carefully weigh all the options.
However, you can have concerns before deciding to design an outdoor living area that suits your needs. Which is more affordable: a patio or a deck? (Hint: A deck offers a superior return on investment even if a patio is typically less expensive.) Which is simpler to construct? Which should you construct: a patio that stands alone or an attached deck? There are numerous possibilities for creating outdoor living areas, and weighing the benefits and drawbacks can be challenging. Let's get into it.
The Difference Between a Deck vs a Patio
The main distinctions between decks and patios are the way they are designed, where they are located on your property, and the materials used in their construction. There are things to think about, such as wood vs. concrete and raised vs. ground-level, even though both give you a wonderful outdoor living space. You can choose the correct one if you know the distinctions between patios and decks. You should take into account the price, location, terrain, and preferences.
There are other subcategories for each and the distinctions between decks and patios. To determine which is best for you, compare them.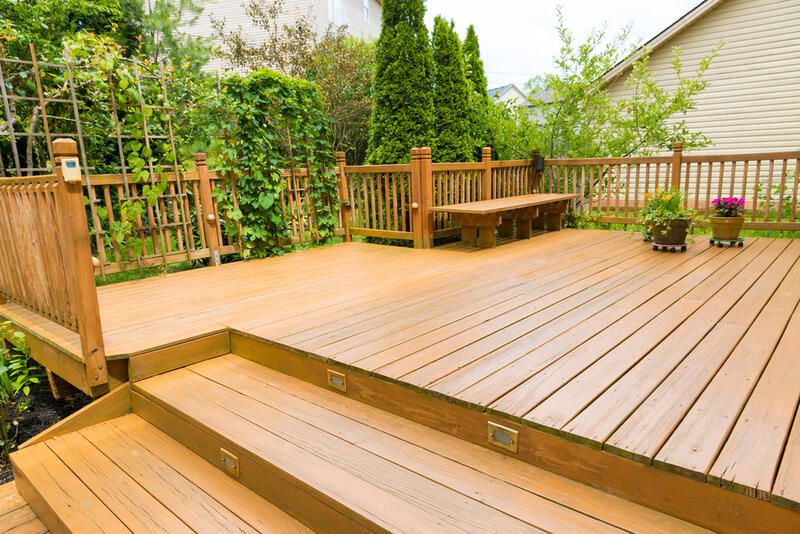 A Deck Breakdown
In addition to wood, pressure-treated timber, composite, and PVC, decks can also be composed of other materials. A deck is typically attached to the house. They can be built close to the ground and raised just by joists or placed high above the ground and reached by a staircase.
Types of Decks
Although for many people an elevated deck is what comes to mind, it is also feasible to have a deck that is at ground level. Since a patio rests directly on the ground, this form of deck differs from one since it does not.
Ground Level Decks: It is possible to have a deck at ground level, even if an elevated deck is what comes to mind for many people. This type of deck differs from a patio in that it is not immediately on the ground.

Raised Decks: Elevated decks sometimes extend from the main floor's living and eating spaces in many districts. They are perfect for elevated homes or hilly places because they perform well on sloping lots and other uneven terrains due to their elevated position.
Appearance of Decks
Because most decks are constructed using wood framing, which has numerous limits in terms of what you can do with it, decks have relatively limited design and style options. Furthermore, natural wood decking can soon lose its appeal and start to seem unkempt and old if the appropriate maintenance is not performed regularly.
A Patio Breakdown
Patios are flush-with-the-ground outdoor lounging areas that are frequently composed of concrete. (Although stone, gravel, and other materials can also be used to make a patio, concrete is thought to be the most common choice.
The level of your ground is one of the most crucial factors to take into account when deciding whether to create a patio or deck. A patio must be situated on a flat surface because patios are built into the ground. As an alternative, you might shore.
Appearance of Patios
Patios are more adaptable and have more design options than decks. They are available in a variety of shapes, and you have a lot of material possibilities, including stone, brick, tile, and concrete. To fit your tastes, you might also stain or color your patio.
A standalone patio can also be created to complement the surrounding environment. You can design your patio to use nearby features like a tree or sizable rock.
Choosing What's Right for You
The size, form, and configuration of your backyard should be considered when choosing between a deck and a patio. The choice between a patio and a deck will depend on the type of backyard you have.
Benefits of a Backyard Patio:
Backyards with patios are good for:
Have a level surface. Installing patios requires flat land. A pricey foundation will be needed for a yard with hills.

A desire for privacy. With tall plants or a privacy wall along the boundary, you may easily obscure your neighbors' views from the ground up.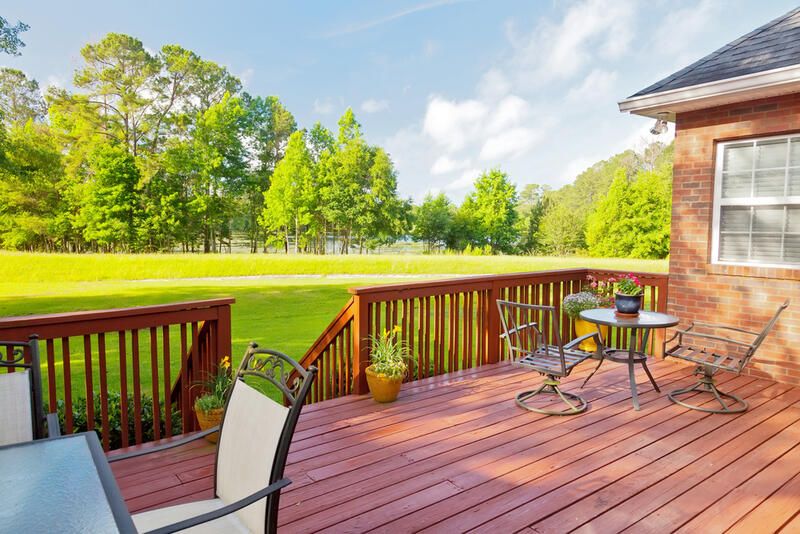 Benefits of a Backyard Deck
Decks work well in backyards that:
Take into account uneven surfaces. Four posts are often used in the installation of decks, allowing them to be leveled on uneven ground.

Have a gorgeous view. The height that decks often have above the ground makes for excellent vistas.
Decks are useful for a range of home styles and backyard sizes since they can be built separately from the house, covered, or left open.
It's time to delve a little deeper now that you know the fundamental differences between a patio and a deck, as well as which one could work best for your outdoor space.
In a Rush? Try Both Options Virtually!
Are you in a rush to build your dream home? or just simply don't want to deal with the logistics? It's time to get the professionals involved!
Using a professional design service like Shrubhub.com will give you the unique opportunity to try out a deck and a patio in your backyard using a 3D design. This allows you to consider the construction that will be needed for both. Any arrangements that will be needed need to be done to your terrain and get a visual overall look at how it would be in your backyard.
Online design services allow you to get in contact with professionals in your area, as well as let you know about permits that will be needed, arrangements, sizes, and everything you'll need to decide which one is perfect for you and your family. Get that new outdoor living space you've been dreaming of!
Online design services are usually expensive however Shrubhub.com is offering a free phone consultation and 70% off your design today so check them out!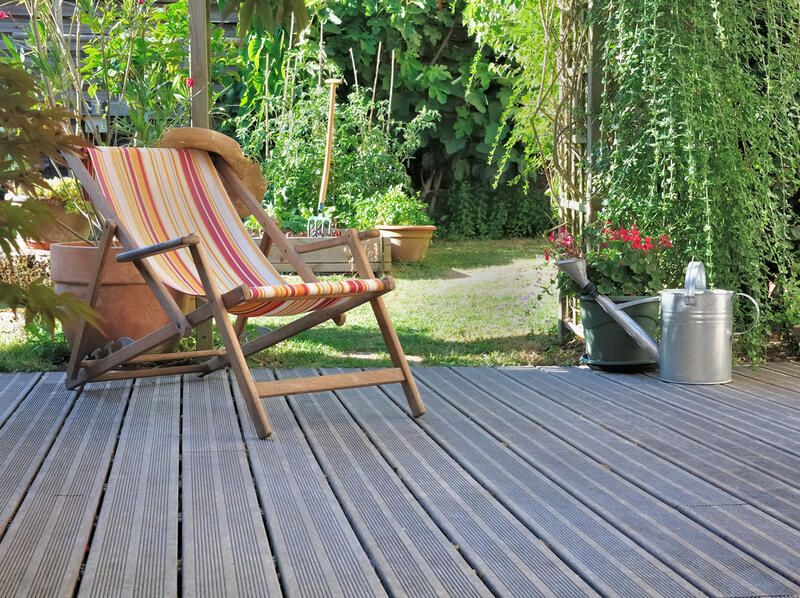 Deciding Between a Deck or Patio
The distinction between a patio and a deck goes beyond just how they are built and used. Before making your decision, you should evaluate each in terms of performance, cost-to-value, and aesthetics.
Performance
Let's start with performance. The durability and upkeep requirements of a patio and a deck determine how well they work.
Patios, Durable with Flaws:
Brick, pavers, or concrete are frequently used to construct patios since they are all incredibly long-lasting and can last for 25 years or more.
However, patios are also susceptible to several issues, such as:
Cracking - In locations with extreme weather, cracking, which frequently results from an uneven foundation, might get worse.

Concrete, conventional pavers, and brick are porous building materials that will absorb pigments from spilled liquids and even dead leaves, resulting in ugly discoloration.

Patio materials frequently retain moisture, which provides the ideal conditions for the growth of mold and mildew.
Patio Maintenance: Utilizing a pressure washer or garden hose regularly will keep your patio free of stains, mold, and mildew.
A Traditional Wood Deck
Traditionally, pressure-treated timber, an organic material that is particularly prone to moisture and weathering, has been used to construct decks. An average deck lifespan is between 10 and 15 years with regular maintenance, provided it is properly cared for.
Typical Issues with Classic Wood Decks
Moisture damage causes rot, mold, and mildew growth.

UV radiation and spilled liquids can cause fading and stains.

Fast moisture penetration and evaporation-related cracking, splintering, and warping.
Deck Maintenance. Almost annually, upkeep is required for traditional wood decks, including cleaning with harsh chemicals, sanding, staining, and sealing.
Value vs Cost
Value includes long-term costs and worth, such as for maintenance and your home's resale value, in addition to immediate expenditures and value. Learn the worth distinction between a patio and a deck to assist in making your choice.
Patios General Cost & Value
Due to cheaper material prices, it frequently costs less to build than a deck.

Due to the low maintenance requirements, maintenance costs are low.

Low return on investment: often less than 50% for resale value.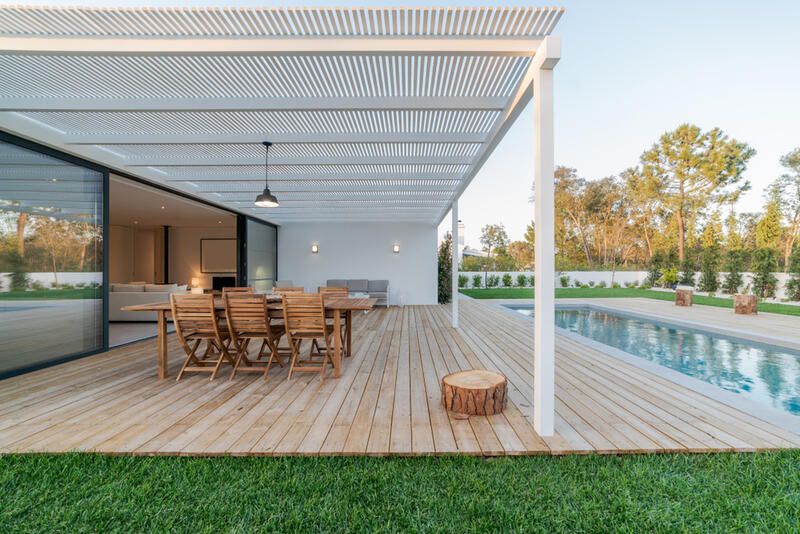 Decks General Cost & Value
The cost of construction is typically less than the cost of a deck due to lower material costs.

Reduced maintenance requirements result in low maintenance expenses.

Low return on investment: resale value is sometimes less than 50%.
Aesthetics
For your outdoor living space to appear and feel good, aesthetics are crucial. The materials used to build the deck and patio make a visual distinction.
Patios
Surprisingly adaptable, patio hardscaping materials can be poured or assembled into practically any design. However, keep in mind that a lot of stones and concrete can give your backyard a chilly, flat appearance; to fix this, you'll need to get creative (and spend a little extra).
Traditional Wood Decks
When newly erected, pressure-treated decks may have rich, authentic wood hues and textures. There's a catch, though. Inevitably, the original wood deck colors will deteriorate over time. even with regular upkeep.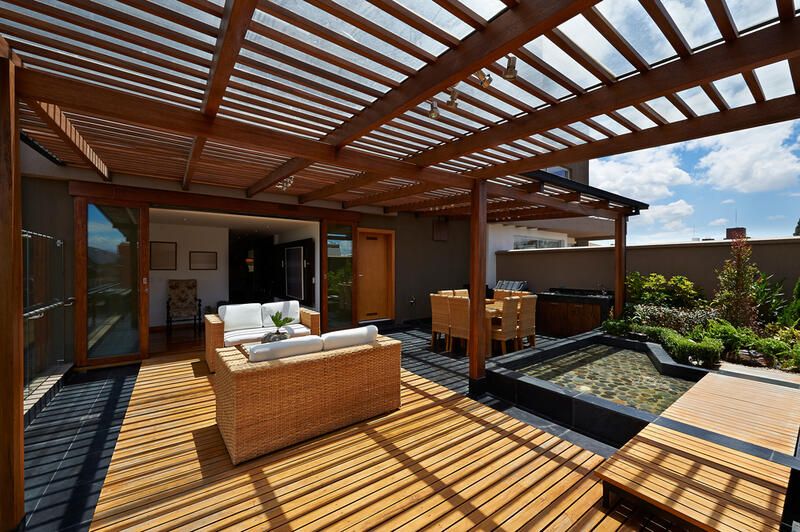 Overall Pros & Cons of Decks
Pros
Increased resale value. A wooden deck typically has a 76% return on investment, which is higher than other interior home improvements.
Works effectively on rocky terrain. Regardless of the type of land, even uneven yards, decks can be built.
Great for a view. A deck offers a better view because it can be built off the ground, which can raise the value of your house.
Easily adaptable. You can choose whatever color or tone you like for a wooden deck by painting or staining it. Even staining it to match your homes outside style is an option.
Accommodating in heat. Wooden decks naturally absorb and hold onto less heat if you live in a warmer region and your home receives a lot of sunlight.
Cons
Routine maintenance. Decks need to be power washed, stained, and sealed every few years, depending on the material.
Reduced lifespan. If not properly cared for, wood is more prone to weather damage and can eventually decay as well as fade and become discolored.
Might require permits. Before building a deck, many municipalities and localities may have distinct rules and requirements that could involve a charge and waiting period.
Expensive. While the cost varies depending on the material, decks are often more expensive, with high-end decking material costing, on average, $30 per square foot.
Weight restrictions. When designing your deck, take into account weight, especially if you plan to add a hot tub or an outdoor kitchen.
Overall Pros & Cons of Patios
Pros
Less costly. A patio flush with the ground can be installed for a lot less money than a deck. Concrete is typically the least-priced choice, costing around $5 per square foot.
Minimal maintenance. Patios don't need to be maintained frequently. Even though pavers and stone patios are incredibly durable, you are not needed to seal your patio.
Greater privacy. Patios are more private because they are lower to the ground and have more design and gardening options.
Longer lifespan. Without much maintenance, a good patio can endure more than 25 years and maintain its value.
No building permits are needed. A building permit or inspections are often not needed when installing a patio.
Cons
Not good for uneven terrain. Even ground is desirable for patios, and laying a level foundation is highly expensive.
Likely to crack. If the soil beneath the concrete was not adequately prepared, there is a higher chance that the patio would break. Extreme temperature zones are also more prone to cracking.
A slip risk. Ice can readily accumulate on a patio's surface in colder climates, increasing the risk of falling.
More wear. A patio's surface can become discolored with mud, mildew, and other natural stains like leaves since it is exposed to inclement weather. Patios need to be cleaned frequently.
More construction is needed. In regions where there is a lot of ground movement and reinforcing is required, patios may require more intensive construction and take longer to install.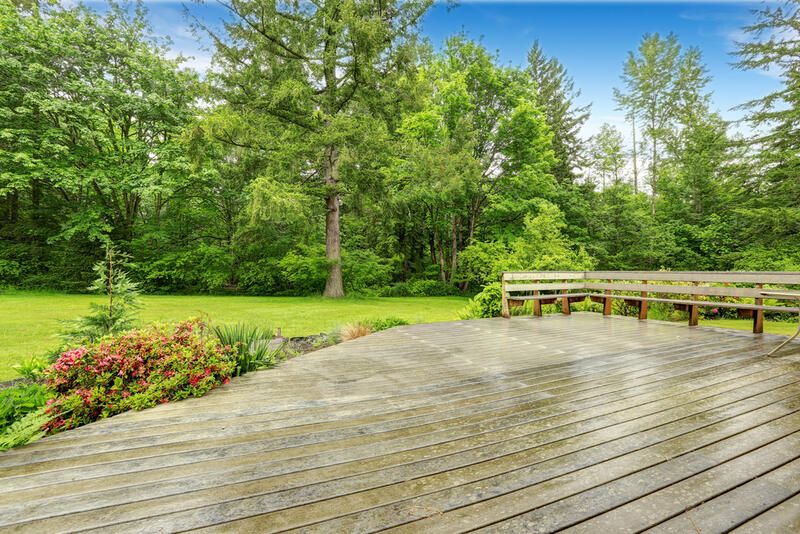 ROI for Deck vs Patio
You should compare the return on investment (ROI) for a patio vs. a deck if you anticipate selling your house shortly. Of course, the costs will be influenced by the materials you choose for the construction. For a patio, flagstone costs more than plain concrete, for instance. Flagstone, as opposed to concrete, conveys a far more premium, bespoke ambiance, which can significantly increase the curb appeal — and market resale value — of your home.
The return on investment for a deck is typically 75% more than for a patio, according to publications like Remodeling Magazine and HouseLogic. In contrast to a patio, which may cost $3,500 to construct but is only worth $1,500 when you sell, a deck that costs $9,000 to build may be worth an additional $7,500.
With a better awareness of the benefits and drawbacks of decks vs patios, you can plan for the perfect outdoor living space that you'll love as well as a possible home improvement that could pay off when it comes time to sell. Additional queries? To determine which one is best for you, contact shrubhub.com!