Elevate Your Desert Landscape Design With These Clever Tricks
Published: 24/01/2023 | Updated: 09/05/2023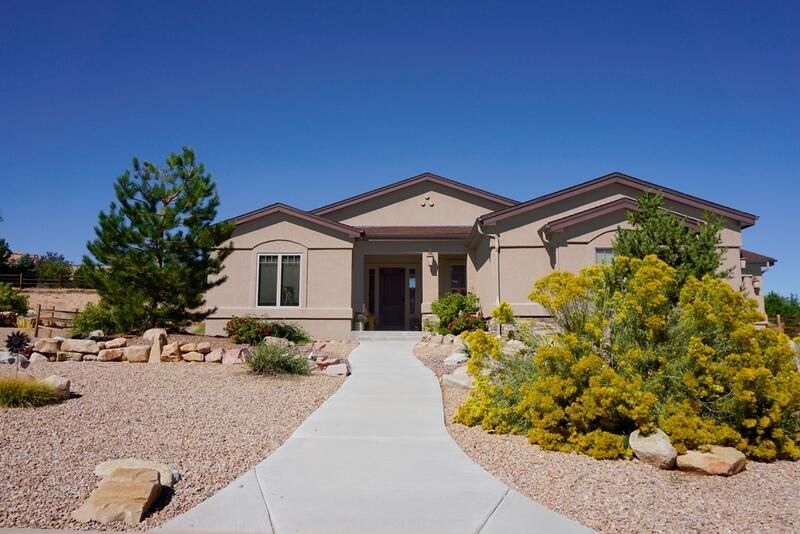 What are the first words that pop up into your mind once you hear the word "desert"? Vast, empty, colorless, lifeless, and dirt-packed?



While half the truth says that for sure there are sand and dirt, the other half insists that there are also the world's most iconic hidden havens in the desert.
Compared to their vividly green, lush peers, desert landscapes are often undervalued. Be that as it may, just like any other landscape, a desert garden is just a vast space that holds a striking beauty, where you have a chance to create an otherworldly piece of art to display to your visitors or even enjoy it all by yourself!
There's no such a thing as a one-faceted, predefined "universal beauty", it rather comes in various forms, shapes, colors, and styles. As for desert landscaping, its unique nature takes you on a visual journey to experience the serenity of your arid abode.
Featuring a variety of native plants like Organ pipe cactus, ornamental grass, desert wildflowers bursting into blooms, and an assortment of natural stones, your desert landscape design never fails to give your home a captivating curb appeal.
The more free-spirited you are, the more likely you will be attracted to this often-overlooked outlandish kind of beauty, one that defies the so-called "fixed" standards.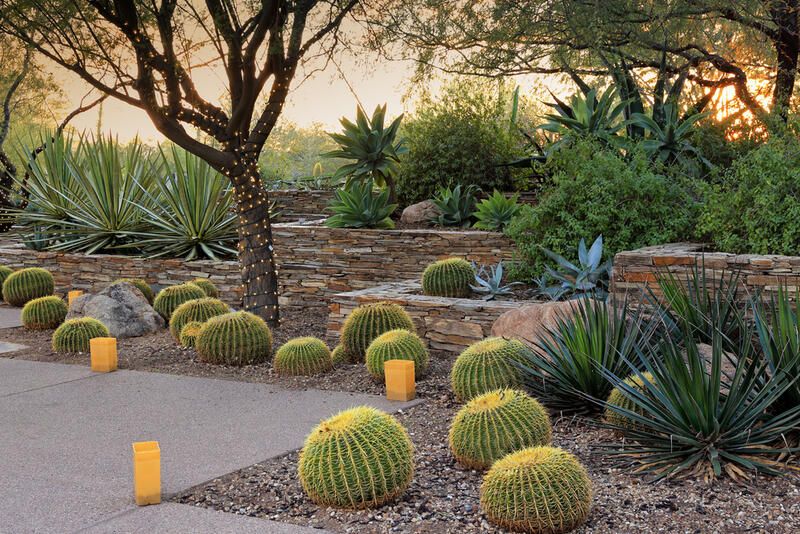 A Desert Landscape Design Is a Game-changer
Low Maintenance

In traditional gardens and as a general rule of thumb in life, reciprocation rules. In other words, you have to exert strenuous efforts in caring for your garden to finally achieve a favorable outcome and fashion your dream outdoor space.
Beauty normally comes with a hefty cost!
Selfless, a desert garden simply doesn't believe in the "give to take back in return" concept, it voluntarily thrives and blooms, showing off its natural charm.
So, if you have the blackest of thumbs and have no clue what desert gardening is all about, or even if you just don't have the time or money to spare, you can still enjoy a dreamy atmosphere with some easy-as-pie desert landscape ideas.
What's more, not only will you save up water, because most of your drought-tolerant plants are watered only once a week, but you will also use fewer fertilizers, reduce your carbon footprint, and conserve energy (as cleaning up a desert garden is simply child's play!).
Desert Plants' Health Benefits

While there are loads of stinging and poking nettles among desert plants, there are also curing ones.
To start, cypress introduces a wide range of important health benefits.
It not only helps improve respiratory issues -for those who suffer from asthma or bronchitis- and boosts hair health by strengthening it but also helps treat skin conditions and reduce inflammation.
Aside from its unearthly exotic beauty, the desert passion flower is ecologically intriguing, boasting many therapeutic benefits.
Growing a passion flower in your desert garden is nature's promise that you will always enjoy a restful sleep, shield yourself from involuntary muscle contractions, have balanced blood sugar, and remain calm with a stable mood.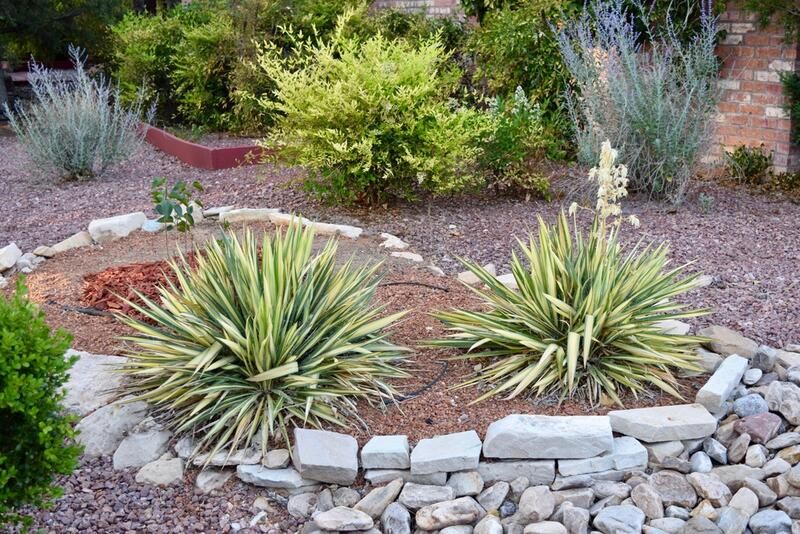 A Burst of Colors
Voicing your style, character, and views through the intricate details of your garden design simply whispers (or screams) how you perceive the world around you.
Amid the serene environment that embraces desert gardens, self-expression has never been more within reach.
Through research and guidance from professionals in the field, you get to express yourself, showcase your style, and create a heartwarming experience in your outdoor space.
And what is truly astonishing about the desert is that the overall balance of colors, shades, and hues ultimately conjures up this cohesive natural scene.
Just like a well-composed painting, a desert landscape design is made of a set of natural intricate elements. From the golden sands stretching into the boundless horizon, the earthy tones of the rocks, and a vegetable-filled garden bed to the plants' splashes of color, your desert garden becomes a unique creation with a world of possibilities!
To take your desert garden to the next level, take a spin through the following desert landscaping ideas:
Desert Gravel and Stones
Talk about adding drama and visual interest to your rock garden: a stone walkway is an extremely functional addition to your landscape design as it gives the impression that it has naturally (yet magically) grown out of the ground. It just fits so well with the earthy theme of the desert garden!
Besides, adding gravel or stone to garden beds allow rainwater to smoothly slide downwards and into the soil.
And if bold statements sound pretty much like a choice you would make; yard boulders are a great way to fill up a blank space all while blending effortlessly into the surrounding elements.
If a pop of color is your way to go, throw in some pea gravel to the mix to bring a hint of color and texture to your landscape design. Adding pea gravel to the sides of a stone walkway leaves your desert yard as pretty as a picture.
Stones, pebbles, rocks, and gravel come in various shapes, forms, colors, and sizes. It's time to use your imagination to create a sensory feast out of nature's most attractive gifts!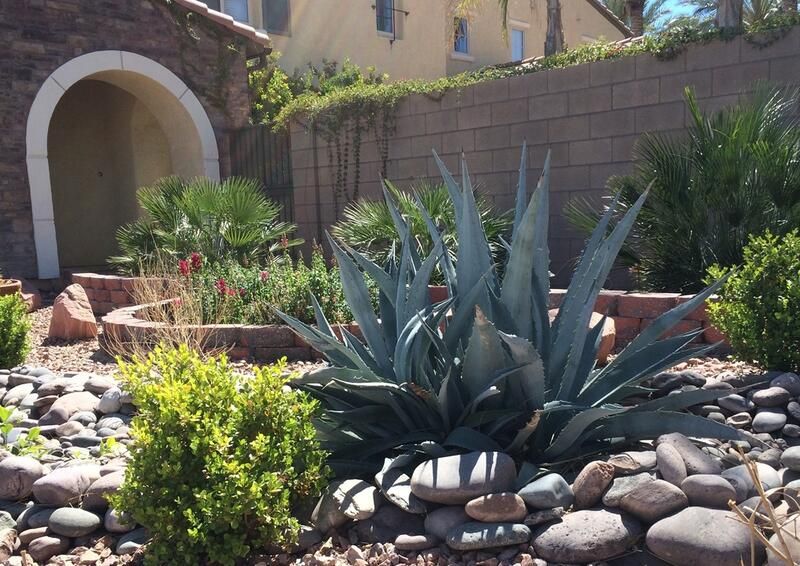 A shaded retreat
How could you take pleasure in your garden under this unbearable, scorching desert sun?
Creating a shady respite in a desert garden is key to balancing shade and sun.
With a shaded wooden pergola, you could either install a cozy seating area for dappled gatherings in the morning and a warm ambiance in the evenings or add an outdoor dining table to enjoy your meals alfresco while enveloped by the heartwarming beauty of your desert garden.
It's key to own spaces of respite in our abode to tally with our pivotal needs to slow down and unwind. Play up the architecture of your desert landscape design by turning this pergola into your getaway.
First, grow some drought-tolerant climbers such as pink trumpet vine to not only add a splash of romance and a dash of color to your haven but to encircle your pergola in style and shade your seating area. Then, make sure to choose furniture with materials that behave well in desert climates.
Wildflowers

Having a desert garden doesn't necessarily mean dressing up your entire outdoor space with muted colors, even nature's desert displays an assortment of captivating colors.
To amp up the cheerful vibes of your landscape design, select the type of plants that live happily in the desert, enduring lack of water, and handle intense heat, all while gifting your garden some of the most amazing colorful blooms.
With a color range of orange, yellow, red, pink, purple, and white, desert marigold, Californian poppies, fairy duster, and brittlebush never fail to offer your desert yard the fresh notes and glossy colors it is missing.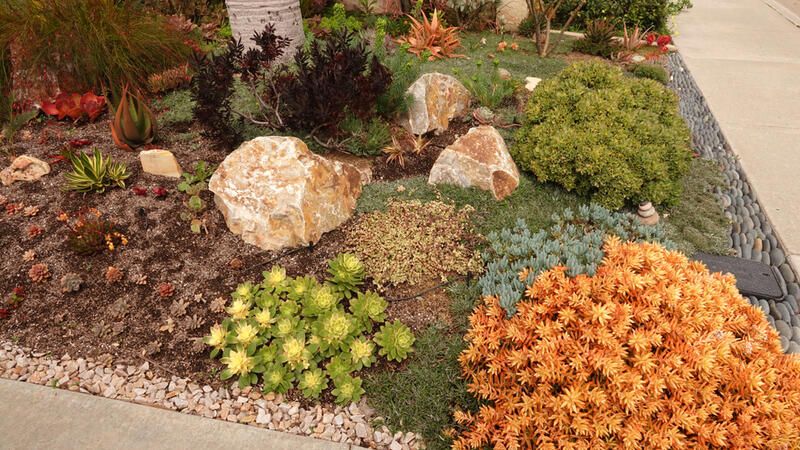 Water Feature
Nothing channels the tranquility of the desert like the soothing sounds of dripping water. Similar to nature's most appealing water creations: springs, lakes, wells, rivers, and oases; adding a water feature to your desert landscape design is a surefire way to steal the focus.
Although the concept of xeriscaping revolves around low-water landscaping, it doesn't limit you from installing a water feature in your desert garden. No matter if it's a pond, a pool, a fountain, or a hot tub, blended with wildflowers and earthly-toned shrubbery, a water feature gracefully wraps up your desert oasis.
How to Create a Desert Landscape Design?
Stunning to behold, desert landscapes boast one-of-a-kind color palettes, an immersive visual journey, and a unique environment.
Whether you are a desert dweller who would like to give their yard a wow-worthy makeover, or just a fan of nature who aspires to have a piece of the desert right in the heart of their outdoor space; feel free to contact ShrubHub's designers for a 3D desert landscape design.