Dreamy Hydrangea Landscaping Ideas
Published: 17/01/2023 | Updated: 22/05/2023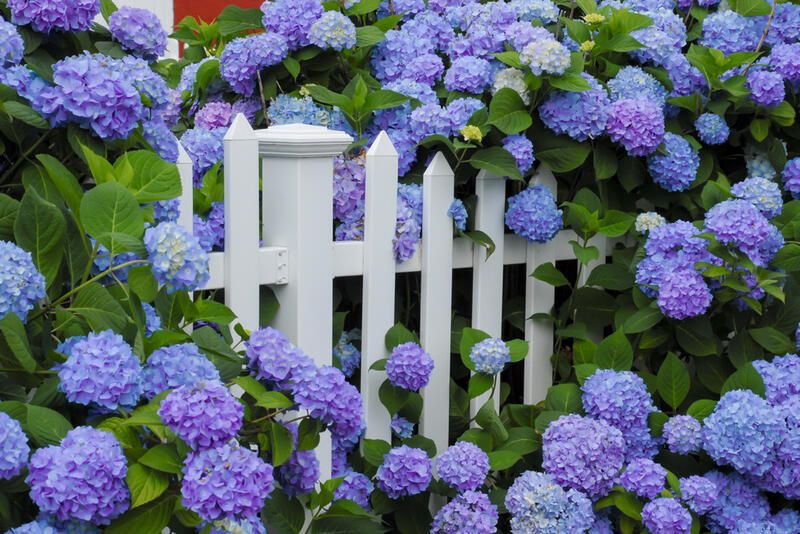 Looking for a shrub with adaptable, quick-growing, long-lasting blossoms in lovely hues? Start daydreaming about planting the beloved flower of the South, the hydrangea, in your garden. These stunning hydrangea gardens are full of ideas on how to utilize them in masses, borders, containers, and combined with appropriate plants, whether you're new to growing hydrangeas or you already have them in your landscape. To get things going, we compiled a list of our top hydrangeas along with helpful advice for growing these vibrant shrubs successfully in our gardens.


Hydrangea landscaping is a wonderful way to bring lovely color and eye-catching structure to your backyard, from lining walks to brightening garden borders.
These days, everyone wants to have a hydrangea or two in their garden because of how much we adore its stunning blooms. They have shed their somewhat dated appearance and have been reimagined as the current flower.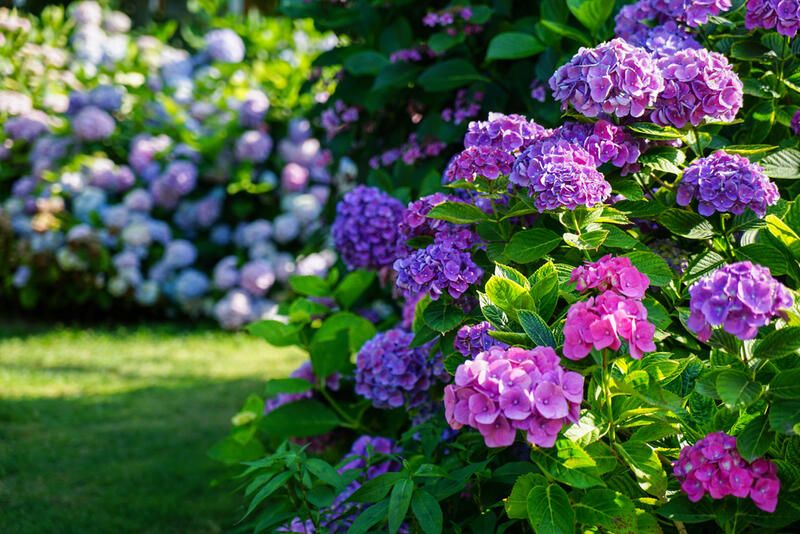 Choosing the Right Plant
When selecting the best plant for the landscape, there are numerous hydrangea traits to take into account. To begin, two key characteristics are very significant for hydrangeas: bloom durability and the capacity to draw pollinators.
Old Wood vs. New Wood
In some regions, certain hydrangeas might not bloom every year due to cold weather or bad trimming practices. Whether the buds are developed on old or new wood is the challenge.
Old wood is growth from the previous year. The previous year, typically in August, the buds for the current year's blooms were created. There will be little to no bloom the next year if these varieties are pruned or cut down in the fall.

The growth from this year is referred known as "new wood." The year before they bloom is when the buds are set on cultivars that bloom on fresh wood. In the very early spring or fall, these plants can be trimmed.

Bigleaf hydrangeas (H. macrophylla varieties) blossom on old wood and lose their flower buds in temperatures that are below the USDA hardiness zone 5. Based on a 30-year temperature average, the USDA has created hardiness zones that stretch from northern to southern Ohio. The USDA hardiness zones for Ohio span from 5b, where low temperatures are typically between -15 and -10 degrees F, to 6b, where they are typically between -5 and 0 degrees F. (USDA, 2012). Ohio regularly experiences colder temperatures than these because this map is based on a 30-year average.

Some mountain (H. serrate) and bigleaf (H. macrophylla) varieties can bloom on both old and young wood. The likelihood of successful blooms each year is increased for gardeners by investing in a plant that blooms on both old and new wood. Giving winter protection will further boost success. In this fact sheet, each species' explanation includes a summary of specifics.
Pollinators
A developing practise is to draw pollinators and give them food sources. The majority of gardeners envision hydrangeas as having huge, mophead-like blooms (see below), which are primarily sterile and lack the pollen needed to draw pollinators. However, certain hydrangea varieties feature fertile flowers that draw pollinators and produce pollen.
Both viable and infertile flowers are present in the hydrangea flower head. The gorgeous flowers have showy sepals that support the petals, making them infertile blossoms. Less noticeable blooms are usually viable and have more observable floral components. Some hydrangea cultivars have fertile flowers that are very alluring to pollinators.
Perfect Location
When choosing the ideal place for your new shrub, it's crucial to bear in mind that hydrangeas are woodland plants. Even though many varieties of hydrangeas may be grown in full sun, most thrive in partial shade, especially in the morning and afternoon sun. While too much shadow might limit flower size and foliage density, too much sun may result in a shorter bloom duration.
Hydrangeas grow well in loamy, well-draining soil. Before planting hydrangeas, which dislike wet feet, in soil that leans more toward clay, add organic matter to the soil. Steer clear of placing hydrangeas where the earth frequently becomes damp after rain.
Hydrangea Stairs
With hydrangeas on either side, who cares where the stairs lead? Coleus in contrast heightens the dramatic scene. Depending on the cultivar, hydrangeas require different amounts of light; some prefer shade, while others require full morning sun with afternoon shade. Check out these types of hydrangeas for shade lovers that prefer full shade to filtered light.
Hydrangea macrophylla

Hydrangea arborescens

Hydrangea paniculata limelight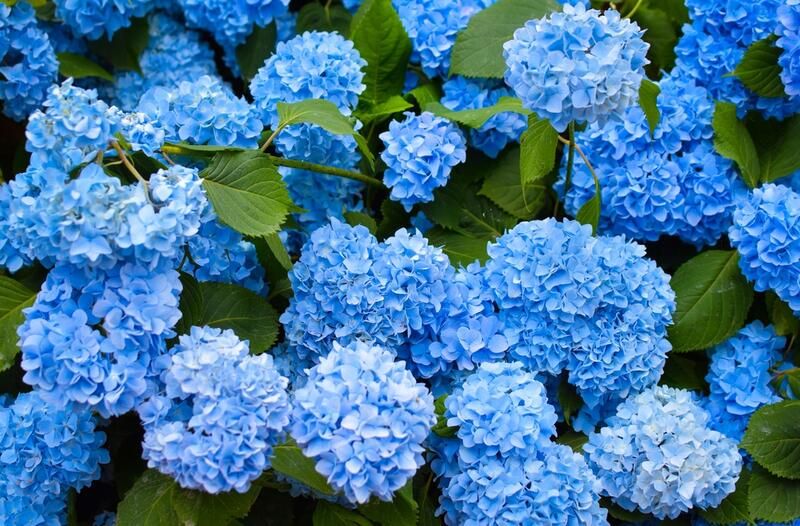 Tall Borders
Hydrangeas are ideal tall border plants since they are often huge, dense, blooming bushes. Place them in a mound against the side of your home, either under a window, against a blank wall, or even in a long, dramatic row. Brick, stone, and dark cladding can all be brightened up with white hydrangeas.
Hydrangea plants will burst through and over picket fences, and they also look great along freestanding walls or tucked into tall corners, like those next to a staircase. Hydrangeas along the road or lining a sidewalk provide a striking entrance. To enclose a space and add privacy with style and beauty, they can even be planted in a hedge.
Romantic Winding Path
The lace cap hydrangea has a charming retro vibe. Instead of the spherical, showy pompom blossoms that are typically chosen when learning how to cultivate hydrangeas, its flattened petals have frilly edges. Each bloom has dense clusters of little flowers in its center, which are encircled by larger-petalled florets.
They both have similar requirements as they grow. Lace caps prefer a place with a mix of shade and sun, as well as rich, wet soil that drains well. The ideal location would have morning sun and afternoon shade.
Especially if you let them flop over on to walks as a feature in your garden gravel ideas, lace caps are resilient plants that perform well for landscaping borders. They are available in the standard color palette to match your decor, which will lean pink or blue depending on the pH of your soil type.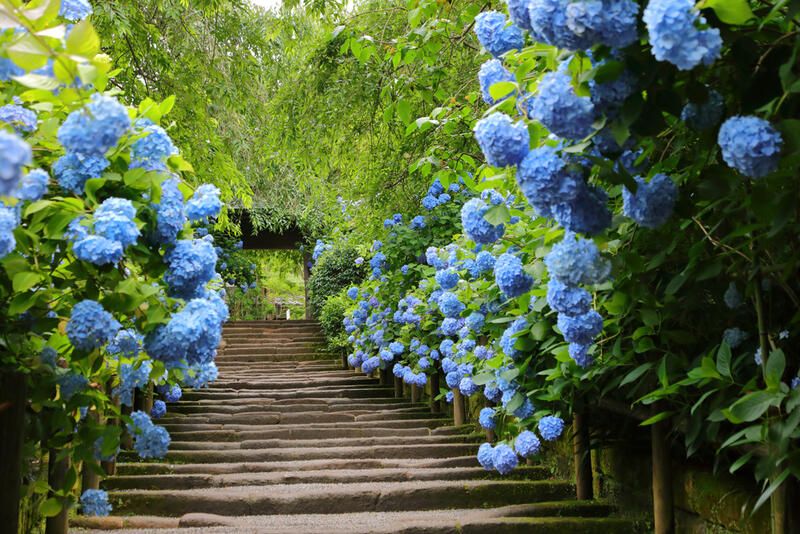 Create a Focal Point
When potted up in a big container, a hot pink hydrangea like "Elliott's Red" or "Magical Ruby Red," both of which have enormous blooms, makes an eye-catching showpiece. There are also lots of additional options whether you prefer blue, white, or even lime green.
The benefit of planting hydrangeas in pots is that they can be moved. This allows you to place one by the front door as a large and striking greeting before moving it to the patio or into a border to fill in spaces as other plants arrive and go.
Mop-headed hydrangeas do well in containers and can be grown in either partial shade or full sun. From mid-summer until mid-fall, they will also produce flower clusters that will last for a while.
Pollinator Garden Borders
When designing a pollinator garden, hydrangeas might not be the first plant that comes to mind, but some types are full of benefits for bees and butterflies. The lacecap (H. macrophylla), panicle (H. paniculata), smooth (H. arborescens), and oakleaf (H. quercifolia) hydrangea cultivars are usually the best in luring pollinators. The latter two are native to the US. The smooth hydrangea serves as a host plant for the hydrangea sphinx moth caterpillar.
We don't recommend mophead kinds because they produce huge, attractive, sterile flowers that cover the tiny, fertile florets. Here are some particular varieties of hydrangeas that are well-liked by both people and pollinators:
Snow Queen (H. quercifolia 'Snow Queen')

Invincible Lace (H. arborescens subsp. radiata)

Gatsby Pink (H. quercifolia 'JoAnn')

Little Quick Fire (H. paniculata 'SMHPLQF')

Great Star (H. paniculata 'Great Star')

Mariesii Perfecta (H. macrophylla 'Mariesii Perfecta')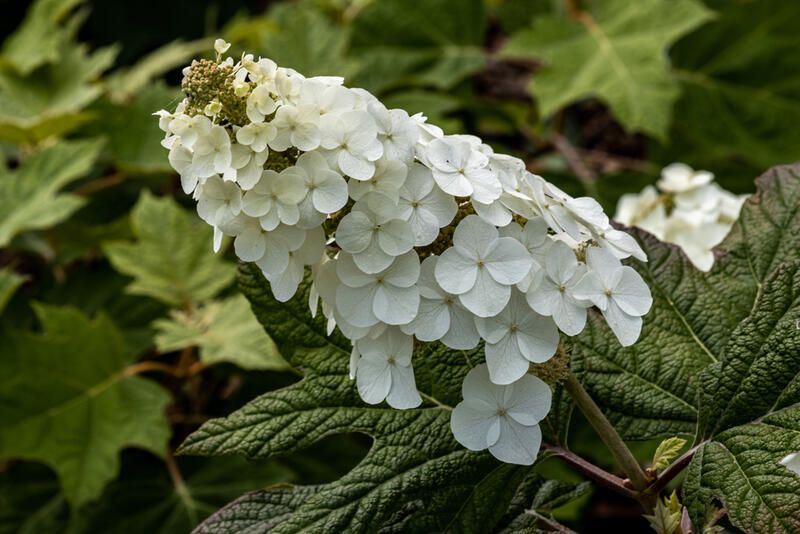 Filling Gaps
If you want a full look at your garden borders and don't want to wait, the hydrangea should be your new favorite plant. The hydrangea, which can grow up to 15 feet (4.5 meters) tall, fills up a lot of area in just one summer because of its lush leaves and enormous blooms.
Hydrangeas are thought to develop quickly; certain types can achieve maturity after growing an average of 25 inches (60 cm) during each year.
They work nicely with plants that prefer part shade, such as ferns, astilbe, penstemons, foxgloves, hostas, and the sun-loving agapanthus. Why not go with all-white flowers for a scheme that is instantly coordinated? If you prefer a more natural look for your landscaping, hydrangeas are also fantastic with grasses.
Cottage Gardens
Hydrangeas are adaptable to almost any environment, making them an excellent choice for a cottage garden. For a variety of bloom seasons, flower sizes, and flower forms, plant several cultivars. All varieties have lovely foliage, lots of blooms, and a timeless appearance that blends in well with other cottage plants. Shorter, more vibrantly colored flowers look great against taller types with white blooms.
Additionally, hydrangeas are excellent for cutting, giving both fresh and dried bouquets a dramatic air of elegance. This gives you still another excuse to play around in the garden. Even in the winter, panicle hydrangeas retain their dried flowers, providing year-round interest in the cottage garden.
Here are some of our favorites:
hydrangea quercifolia

endless summer

hydrangea macrophylla

pee gee hydrangea

hydrangea arborescens

French hydrangeas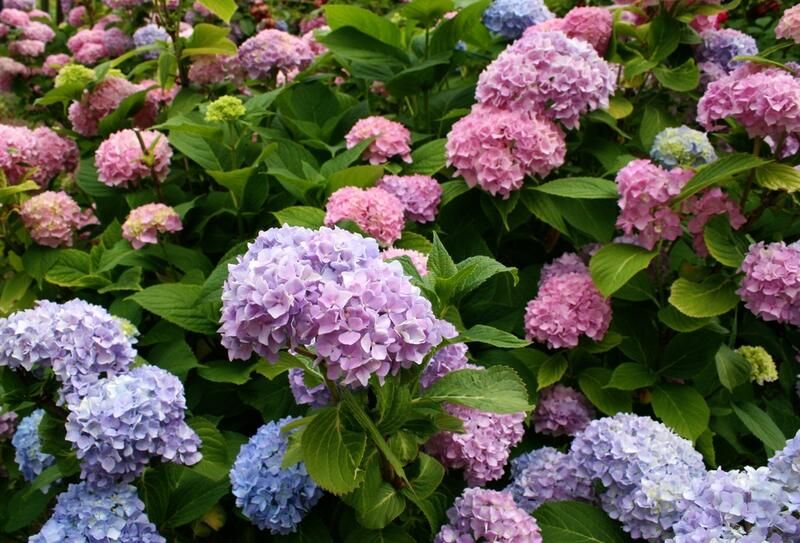 Transform Any Entrance
As part of your front porch ideas, a hydrangea in full bloom creates a beautiful welcome to your house. This plant is ideal if you want to frame your front door, give your entrance character, or improve curb appeal. It looks good in pots on the porch or as a charming accent on borders.
Any entrance is improved by hydrangeas. If you want to plant them in a container, pick one that matches the design and color of your house. It should also be big enough to stand out and be visible from the street.
Hydrangeas are excellent for blending into your landscape and will soon appear to have been there forever if you are putting them on front garden borders.
Climbing Hydrangea
To further define your limits, climbing hydrangeas grow quickly and are an easy solution to cover a wall or fence that faces north. To begin with, tie in new shoots because young plants typically require support, such as wires or trellises tied to the wall or fence, until they become established. When it comes to low maintenance, they are among the greatest climbing plants.
They thrive in both sunlight and shade, and in addition to having appealing, green leaves, they also produce lovely blooms. When it comes to hydrangea landscaping, evergreen climbing varieties like Hydrangea seemannii and Hydrangea serratifolia should be prioritized because they provide year-round interest. However, it's important to note that to survive, they do require a warm, protected location.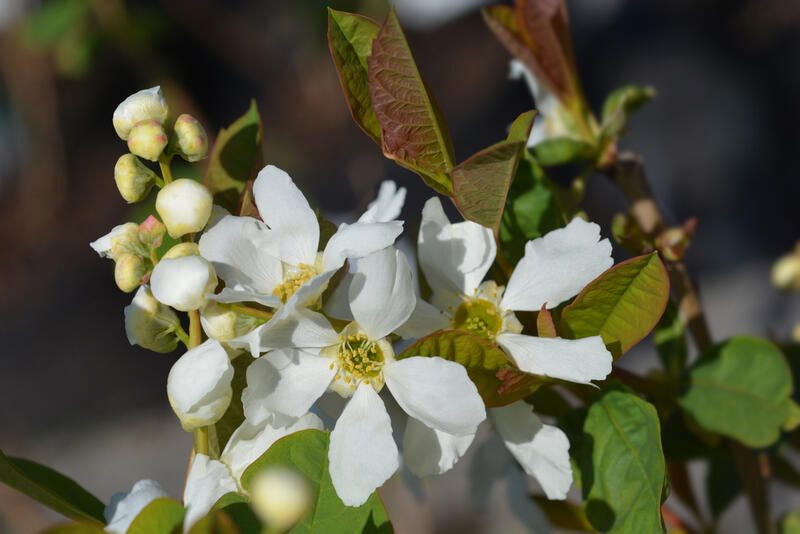 Window Boxes & Containers for Small Spaces
Given their size, hydrangeas are difficult to conceive growing in containers. But it is possible! Hydrangeas will thrive in pots if you lack the area for a large, in-ground shrub or want to adorn your patio with showy blooms. Naturally, dwarf types perform best since they will remain smaller:
Paraplu (H. macrophylla 'Paraplu')

Little Lime (H. paniculata 'Little Lime')

Pee Wee (H. quercifolia 'Pee Wee')
Depending on the cultivar, you might still require a substantial pot, but you can start by selecting one that is a few inches broader and deeper than the container the hydrangea was shipped in. Use potting soil that drains well and is nutrient-rich and make sure it has many drainage holes.
The Secret Hydrangea Garden
A wide, lush grass bordered by hydrangea shrubs in bloom is a wonderful setting for tea, croquet, or simply soaking up the sun. Many hydrangeas prefer early sun with afternoon shadow, so when deciding where to plant them, be sure to consider their light requirements. Hydrangeas can be planted in the South before the first frost in the spring or the fall, allowing them to establish their root system. Hydrangeas grow best in the fall since there is more time for root development, but April is still a wonderful time to plant them.
Cutting Garden
Although hydrangeas are a delight to enjoy outdoors, another advantage of these lovely bushes is the ability to cut your blossoms and bring them indoors. Dip the ends of your cut hydrangeas in alum powder to lengthen their life since they require a lot of moisture. Cut flowers can absorb more water with the use of alum powder, which is sold in the grocery store's spice section.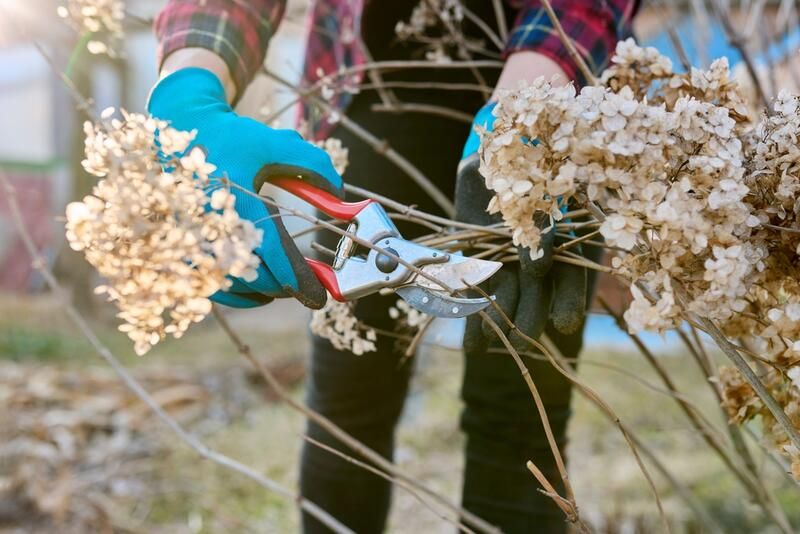 Symmetrically Planting Hydrangeas
If your garden has two levels, using the same plant to frame the steps on either side significantly enhances the appearance. One of our favorite hydrangea landscaping ideas is to make a staircase out of blooms.
Choose a variety like Hydrangea macrophylla 'Blue Danube' for gorgeous deep blue blossoms; it has magnificent, dinner plate-sized flowerheads that are 8 inches (20 cm) across and grow up to 39 inches (1 meter) in height, making it an excellent choice for garden edging ideas in a project like this.
Keep in mind that pink flowers grow in alkaline soil, whereas blue flowers are produced in acidic soil. The simplest approach to make your soil acidic and blue is to use aluminum sulfate, which you can buy at the garden center.
The Secret to a Perfect Landscape Design with Hydrangeas
What can often be a rather dull environment is entirely transformed into something that is simply so full of life and color during the summer and autumn.
There are many different types available, including classic mop heads and lace caps, exquisite shrubby species, and the priceless climbing form. They are brilliant for filling a border.
Hydrangea blossoms can be dried and have a very long shelf life, both in the garden and as cut flowers.