DIY Stepping Stones Ideas to Try In Your Yard
Published: 27/03/2023 | Updated: 09/09/2023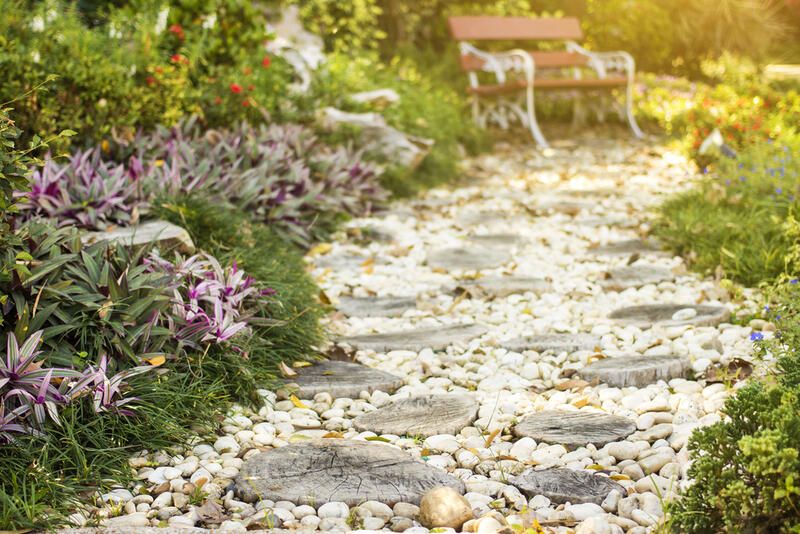 Making a path of stepping stones in your garden doesn't have to be just another boring task you have to get done. Garden stepping stones could be one of the most fun activities for you and the whole family.


DIY stepping stones could be easy, with easily acquired tools, and safe for kids to join in the making! DIY stepping stones could be mother's or father's day gifts from the kids with the help of a parent.
It's a fun, productive activity that lets you put as much of a personal touch into the styling of your landscape as you want! The sky is the limit with dIY stepping stones ideas, but here are some cool and beautiful ones to start with!
Concrete Stepping Stones
The most straightforward but still fun and functional DIY stepping stones would be concrete stepping stones.
With a concrete mix, the sky is the limit, really. You can choose the shapes you want and the thickness you prefer.
Making stepping stones with your concrete mix that you can make as well is pretty cheap in comparison to buying ready-made stepping stones or even a ready concrete mix.
The first thing you'd do in those tutorial steps we have for you is to mix the concrete. Mix the concrete until it's like a thick cake batter.
The next step is to use cooking spray to prepare the tins. Then cut the chicken wire and pour the concrete into the pie tin you used non-sticking cooking spray on.
Then put the cut chicken wire on the top layer of the concrete and then add another layer of concrete on the chicken wire.
That's it! After following those steps, you'll have your stepping stones so that you can make a garden path. How many stones you should make depends on what you need, there is no definite answer.
Afterward, you can leave your diy stepping stones as they are or use decorative elements!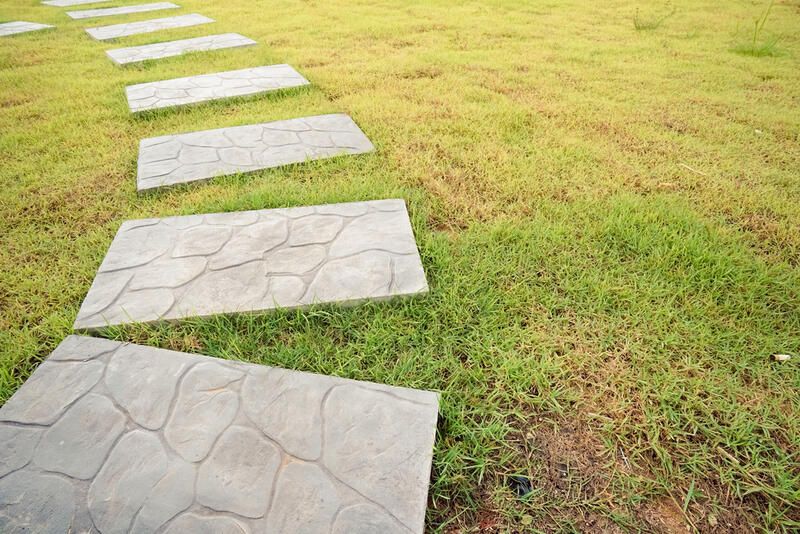 Mosaic Tiles Stepping Stones
Mosaic diy stepping stones is a great idea, one of the most fun and beautiful! It's also easy.
You only need some old mosaic tiles that you have had unused in your garage or can acquire from a dollar store or thrift store.
Like the previous one, your first step will be to mix the concrete and then pour the concrete in the same way.
After having your concrete stepping stones, additionally, you'll want to have a specific design before you start. You can ignore this step and see what you do now, but if you have something in mind, you should plan it first.
Then add a layer of mortar to each dry concrete stepping stone, and after that, start putting on your mosaic pieces!
Broken China Plates Stepping Stones
If you have some broken china plates or old ones that you don't particularly want anymore, they also make for a great idea!
You'll follow the same DIY concrete stepping stones steps and the steps from the mosaic stepping stones, except using pieces of the broken china as your main decorative element.
There are no new particular DIY stepping stone supplies for this one except the chine.
Wooden Stepping Stones
Wood stepping stones or tree stumps stepping stones would be very cool and unusual garden stepping stones that make for great DIY projects.
They are a fresh takeaway from concrete stepping stones if you want to play around with another texture and look.
The supplies you'd need for this stepping stone path can be easily found in your own or a neighbor's yard.
Then select your stumps, and remove the bark from them. You can skip over this step, but removing the work is good to avoid later on problems that arise from wood rot.
Once that is done, figure out how you'd like to set up your garden stepping stones and dig the holes for each wooden stepping stone. Half the stump should be buried underground for stability, so make sure you dig deep enough for that.
The only thing left to do is place the stumps in and surround them with dirt to fill up the holes steadily! Then you'll have your wooden stepping stones!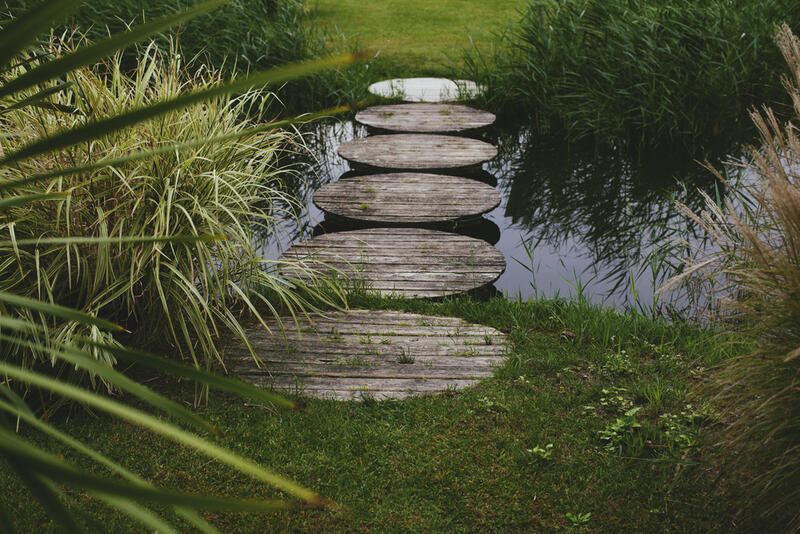 Sea Glass Stepping Stones
Sea glass is a stunning addition to any structure, most of all concrete stepping stones. If you live near a beach, you can accentuate the experience by hunting for your glass.
But it's also easily purchasable. Before making your own DIY concrete stepping stones, use white spray paint to paint one side of the glass. (The side that will be pushed into the concrete).
Leave the paint to dry and make each concrete stepping stone. Then add the glass pieces to the wet concrete. Leave the wet concrete sets to dry and that's it!
Handprint Concrete Stepping Stones
Handprint stepping stones is a great project if you want personalized stepping stones for your garden. Whether it's your kids, family members, or friends, garden stepping stones with the literal mark of your loved ones could be very special.
Leave your concrete stepping stone to dry for around 30 minutes before you make your handprint. You can add other embellishments like glass beads and/or marbles, or you can leave the handprint marks by themselves.
Painted Stepping Stones With Spray Paint
Coloring your stepping stones with spray paint after the wet concrete dries is a very simple step to DIY stepping stones that could fully transform the look of your garden stones.
You can choose one color or you can paint each concrete stepping stone differently to add a more playful element to your garden.
Hand-Painted Stepping Stones
If you like the idea of painting your garden stepping stones but want it to be a bit more creative, then hand-painting them with outdoor acrylic paint is a great idea.
If you like painting or want your kids' artistic endeavors to be more than drawings hung on the refrigerator, you can easily have your fun painting different shapes, characters, and things on each garden stepping stone.
Natural DIY Stepping Stones With Vinyl Straps
If you want natural-looking garden stepping stones that look like flat stones, you can easily do that with plastic bags.
With a concrete mix, instead of the pie tin, use vinyl straps to make your mold. Add the concrete into the mold and leave it to dry. You can also use a stone sealer to ensure it comes out exactly like you want.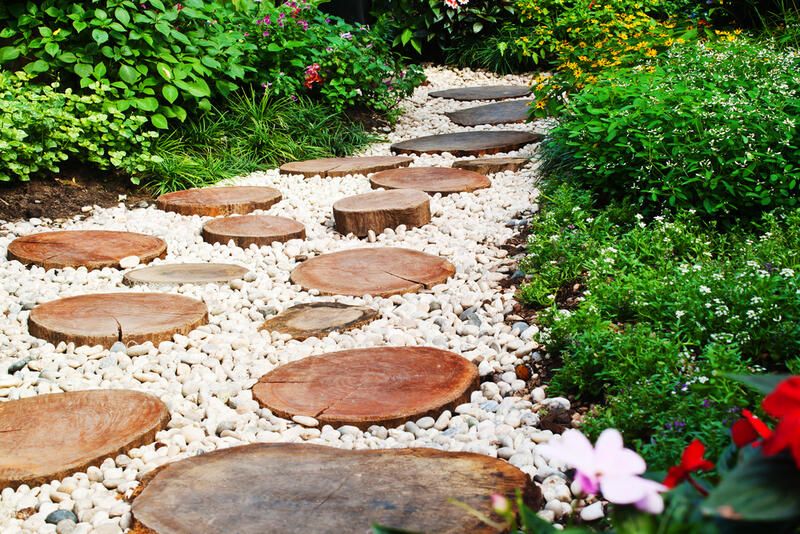 Stenciled Stepping Stones
Stencils are another way you can add color, patterns, and character to your garden stepping stones.
Use stencils to paint your desired design on your dry garden stones, and that's it!
Cobblestoned Stepping Stones
Cobblestones are generally a look that we just can't get enough of. And you can easily make your garden stones that look!
You only need a quicker stencil to imprint the pattern in your concrete. Pour the concrete into it and let the concrete dry into the shape.
DIY Stepping Stones With Marbles
Marbles add a stunning quality to stone and concrete.
Follow the same steps as with the mosaic tiles!
Stepping Stones With Floral Imprintings
This is another stunning look that can transform ordinary garden stones into something wonderful.
Pick up your favorite leaves. And follow the same steps as with the hand print garden stones, only using the leaves instead!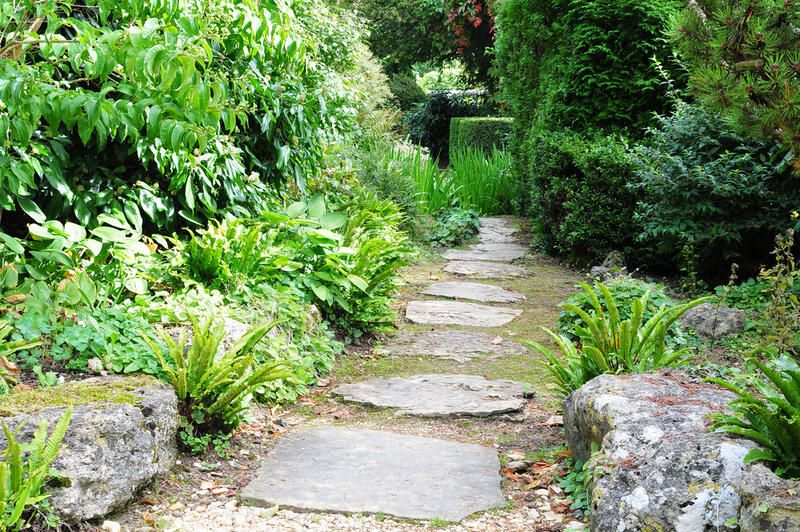 Hopscotch Stepping Stones
This is a very nice way to make your garden stones more playful and fun.
And it's easy to make too! Just imprint the numbers in your wet concrete and that's it!
Foot Print Stepping Stones
Just like with the handprint one, this could be a very special addition to your stepping stones!
Those DIY ideas are great ways to add more character to garden stones! They are relatively easy to make and pretty fun for the whole family. But they don't have to be the only new addition to your garden or landscape!
At shrubhub.com, we're currently offering a great 70% discount on all our design services, including our 3D designs. You only need to sign up here to start your new yard design with that offer now!