Covered Outdoor Kitchen Ideas
Published: 20/01/2023 | Updated: 24/05/2023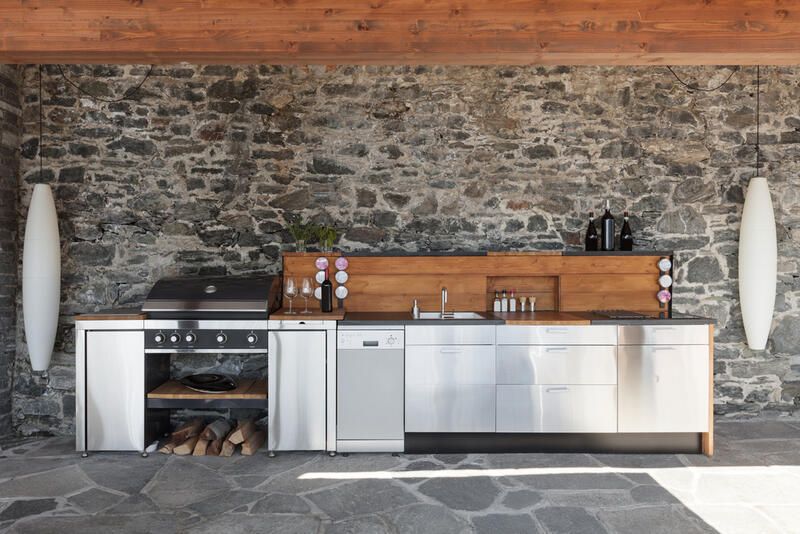 Summertime entertaining presents a challenge because you are frequently forced to prepare food for everyone while they enjoy the sunshine.


With your full prep, cooking, and serving system outdoors, an outdoor kitchen allows you to be in the moment as you have everything you need to hand to make the ideal meal.
Thanks to the global pandemic, having an outdoor living area and entertaining outside have become some of the most popular garden ideas because the open air was, and still is the safest place to be.
Not only that, but the more your home is set up for entertaining, relaxing, and living, the more you increase the value of your property. A well-designed garden is guaranteed to add significant value to your home.
And even if you want to hold onto the property, a well-designed outside space will make your yard much more enjoyable all year round.
The days of silently frying a few sausages on a freestanding BBQ are long gone. The major objectives are to create lasting memories and astound guests.
An outdoor kitchen can technically be any barbecue area with some prep space, but to get the most out of your garden, it should be a location where cooking and entertaining take center stage.
There are numerous things to think about when it comes to outdoor kitchen designs. Along with barbecues, you can generally find cabinets, work surfaces, sinks, and pizza ovens anywhere.
Just as any indoor kitchen can come with all the bells and whistles, an outdoor kitchen can be anything from a straightforward rustic design to a sophisticated outdoor area.
Regardless of the size or design that works best for your yard, the major objective of any outdoor kitchen should be to make it as simple as possible to cook outside.
And you can be as ostentatious or as straightforward as you choose, choosing a pre-made design or creating one catered to your needs.
Designate a kitchen area
If you have a more modest backyard space, fear not, there are plenty of compact outdoor kitchen designs and tools to suit any sized yard. A humble fire pit and stainless steel grill that is geared towards cooking up a tasty barbecue come Sunday can be just as chic as a full-blown outdoor kitchen.
A great option to move the kitchen outside and into the comfort of your yard is with a grill or outdoor oven. They can be used all year to make a feast regardless of the season. In reality, outdoor cooking is a popular activity everywhere in the world.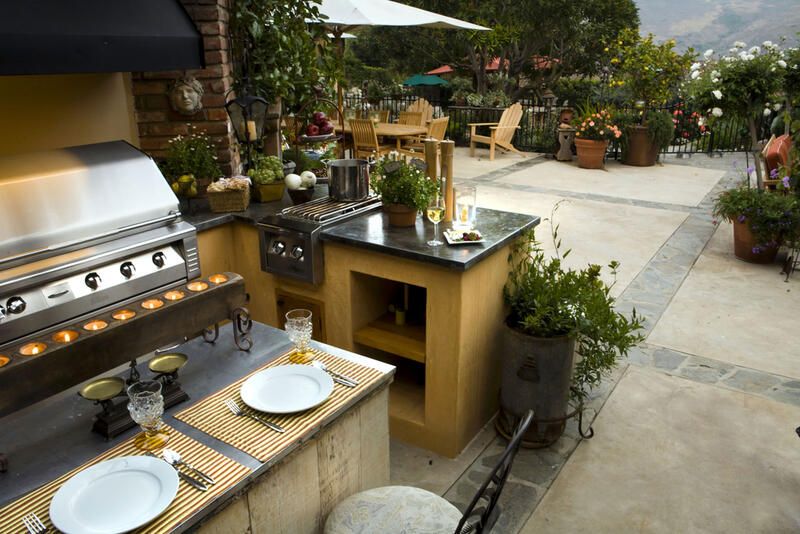 Lots of storage
Although it might periodically need to be cleaned out, include as many shelves and other storage alternatives as you think you might need.
You don't want to be rushing in and out of the house to get everything you need before you can get cooking, it's much more convenient to have everything to hand right there in the yard, but do make sure to give it a good cleaning every once in a while, spiders an outdoor cupboard as much as you do!
For the duration of your party, you can put up your BBQ equipment outdoors on open shelves, and then you can bring it inside to store it.
Include a bar
After all the cooking, cleaning, and shooing away spiders, you'll want to have a place to relax and entertain guests.
A bar area with a few stools can be a wonderful site for you and your visitors to rest with a drink as you cook up your gastronomical masterpiece. Include ledges and snacks so your guests can keep you company and unwind as you work.
Compact designs save space
Most people don't have a lot of outdoor space, so going with a slim design might save you a significant amount of square footage. Consider what you need to include before adding all the mod-cons. You'll be amazed at what you can do with just a multifunctional barbecue and sink.
You probably won't need that much workspace to get the job done and because most of the products, including condiments and glassware, will be kept indoors for the bulk of the time, you will have more cooking space than you think. You are good to go as long as there is room for a cutting board.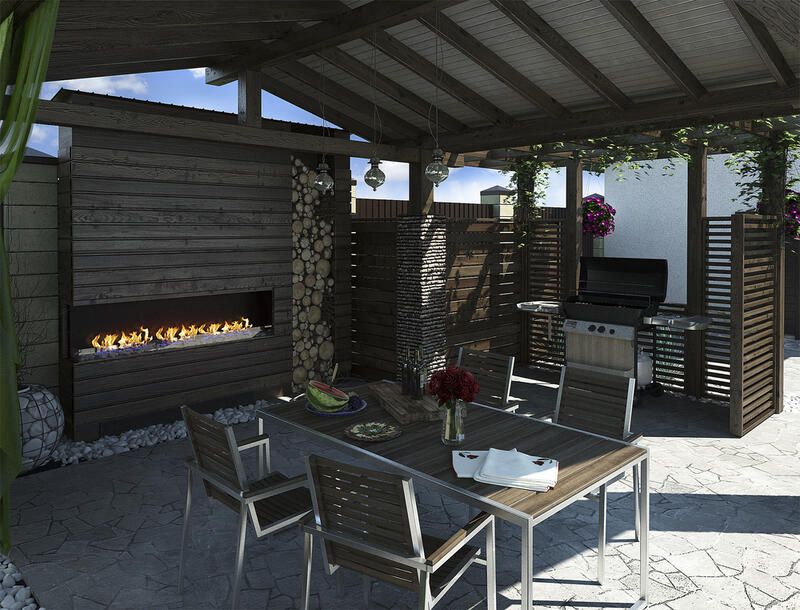 Use low-maintenance materials
Opt for materials that are easy to maintain and keep clean. One of the ways to ensure minimal upkeep is to use all-natural materials that are used to the weather like stone.
Add a canopy
There is no getting around it. Covered outdoor kitchens win when it comes to cooking successfully al fresco, particularly if you intend to use it year-round.
That means investing in a high-quality canopy. However, although it might shield you from the rain, a thick canopy will also block out the sun. Landscape designers have come up with a clever solution: the outdoor louvered roof also known as the bioclimatic canopy.
To accommodate the sun, shade, and breeze, these kinds of flexible canopies have rotating or retractable roof blades to either allow the sun to shine through or block out the wind and rain. Talk about making the most of your outdoor kitchen!
Lighting
Imagine for a moment that your best friends have come over to see your amazing new outdoor kitchen. Both the music and the menu were perfectly curated. Ice cubes and glasses clink together joyfully.
Dusk settles over your gathering as you tend to your gastronomical masterpiece, just as it reaches fine crispy brilliance, the sun is long gone and you and your guests are left poking their forks at the table in the dark. In other words, you're going to need some lighting!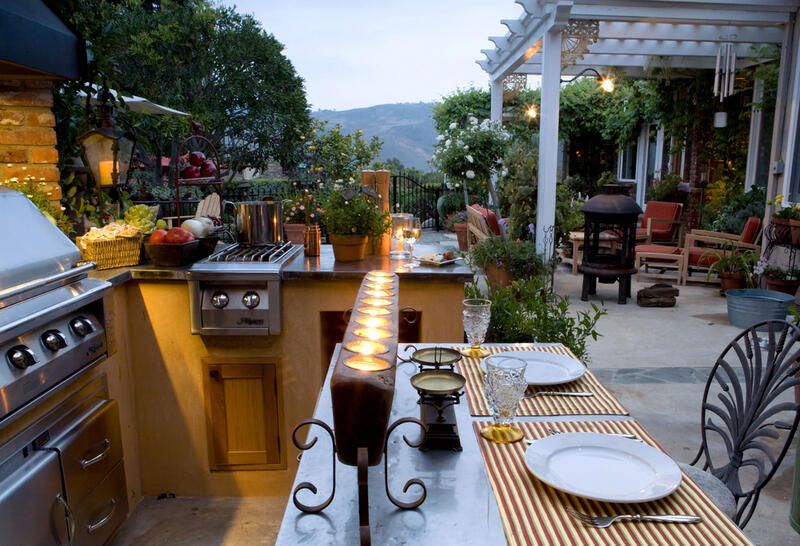 There are many kinds of lighting, here are a few to consider:
Task Lighting
For safety purposes, it is essential that you can see what you are cooking. You wouldn't chop carrots in the dark at home normally, would you? You also need to be able to see whether your sirloin steak is fully cooked or not. A task light will help with that.
Bar Lighting
LED lights look fantastic along or under countertops. You may also want to place lighting inside cabinets where general lighting can't reach.
Tread Lights
The last thing you want at a garden party is to have your guests tripping over in the dark, add some tread lighting to keep the fun going all night long, and fall free!
Fairy Lights
Depending on your budget, you can opt for very affordable fairy lights, or if you have slightly more expensive tastes, you can also go for their more upscale cousin; Cafe Bistro Lights. These lights can last up to 20 years and are a great investment if you spend a lot of time in your garden.
Everything including the kitchen sink
Can you imagine cooking without a kitchen sink? No? Well, the same goes for your outdoor kitchen! A sink is a great addition. Your kitchen will be more self-sufficient and save you time as a host from having to rush into the house every time you need to wash your hands or rinse those herbs.
You may not need to plumb a full drain for light sink use, and can just let the water drip onto the grass, just make sure water is all your pouring down the drain!
So how do you begin planning your outdoor kitchen?
Homeowners all over the world are curious about how outdoor spaces can be turned into stylish outdoor kitchens where they can invite their friends and family, particularly since in post-covid times, more people have become accustomed to hosting in the open air at home rather than going out to eat.
Planning is essential to ensure that both form and function are appropriately taken into account when attempting to turn your outdoor kitchen dreams into a reality. Our goal at ShrubHub Design Experts is to make our clients' lives easier by making the transition from a plain garden into a spectacular outdoor kitchen that will be the envy of all your guests as smoothly as possible. With this in mind, we've developed an affordable landscaping service that will enable you to experience your outdoor kitchen in all its 3D glory, before you've even installed your first outdoor countertop.
We know that you need an outdoor kitchen that suits you, your lifestyle, and your budget, so team Shrubhub is here to work with you as you select which fixed and portable outdoor kitchen fixtures would look best in your garden.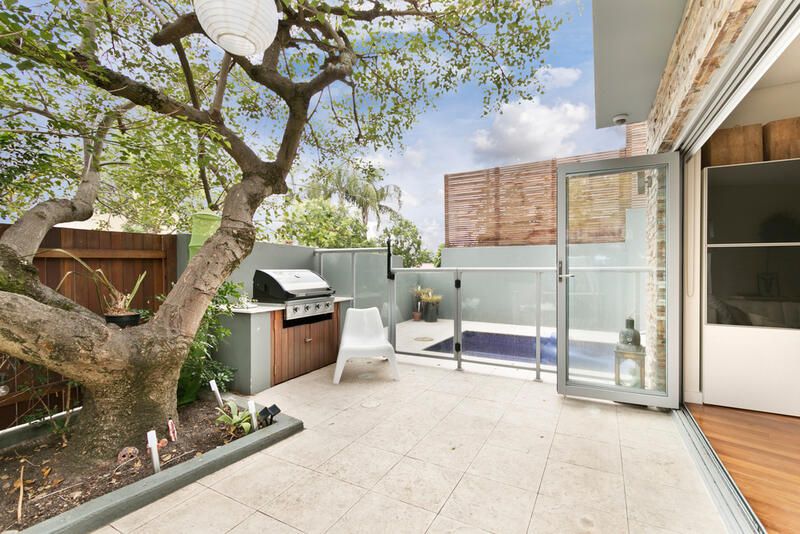 To accomplish this, our team of designers works to develop designs that can be seamlessly placed in your garden, which are easy to use and easy on the eye!
And this is all done keeping your preferences in mind. Need more storage? We'll add more cupboard space, want an open bar? We'll bring the stools and mood lighting. The process is set up so that every little detail can be perfectly tailored to you and your garden.
Having an outdoor kitchen is a wonderful way to gather friends and family around a delicious setup, you may find yourself hosting more parties than ever, and we're all for it!
And not only that, but because our team of design experts works from home, you can begin dreaming up your perfect outdoor kitchen from the comfort of your kitchen table!
ShrubHub is a network of top landscape designers. Employ cutting-edge 3D landscaping software to deliver design solutions perfectly tailored to your outdoor space. And since we work from home, we have zero overhead, so we can lower our costs to an absolute minimum! Dream come true? We think so.
Happy landscaping!