Concrete Patio Ideas: Transform Your Outdoor Space with These Trending Ideas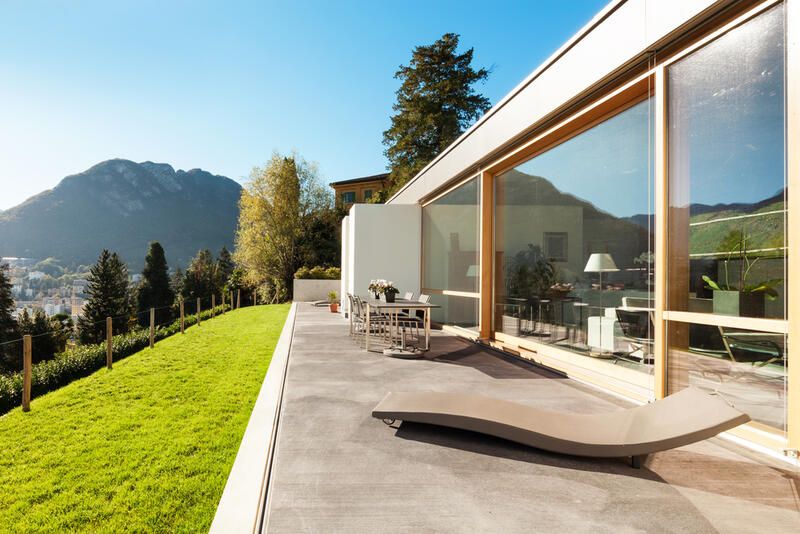 Concrete is one of the most popular materials for patio designs being affordable, easy to work with, durable, and versatile.


And it's that versatility we're going to explore in this blog post!
Trends aside, the perfect patio design is whatever you like it to be, your patio should be something you enjoy and find comfortable.
That said, we will walk you through some exciting ideas to inspire you on your patio planning journey.
The Good and Bad Sides of Concrete Patios
There's a reason why concrete is amongst the most popular patio materials used in an outdoor space.
Concrete offers a handful of features that make it super convenient for homeowners looking to design an outdoor living space.
Though concrete also happens to have a few drawbacks that you'll need to think about before planning your patio. Here are some of the good and bad sides of concrete patios.
Pros
1. Aesthetically Appealing: Concrete offers the perfect backdrop to display your furniture and explore your personal style due to its simple and subtle nature.
2. Affordable: A concrete patio cost is amongst the most affordable ones when it comes to patio materials, making it super convenient and accessible for homeowners with lower budgets or smaller spaces.
3. Design Freedom: The material is available in many colors and can be molded into any shape to provide unique designs. Moreover, stamped concrete options are available in a variety of patterns giving the illusion of other (more expensive) materials.
4. Durable: The great thing about poured concrete is that it stays intact for years without shifting like other patio paving options offering a stable surface to hang out and entertain.
Cons
Safety Issues: Concrete often becomes slippery in humid conditions making it a bit dangerous.
This issue is being solved by professionals by adding other materials to the mix before pouring to roughen up a smooth concrete patio and make it less slippery.
Repair Needs: Concrete will stay in good shape most of the time but it may crack in some climates and over time, which may need professional maintenance.
Many homeowners now prefer using concrete pavers as a solution to mitigate pressure and prevent cracking.
Concrete Patio Design Ideas
The natural looks and colors of the concrete patio style provide a blank canvas for homeowners to customize their outdoor living areas to their liking with colors and styles that seamlessly blend with their home's interior and exterior.
That's why the possibilities are endless with concrete as the foundation material, presenting a vast range of design ideas to explore and adopt. Here are a few examples to inspire you.
Corner Concrete Patio
One of the best small concrete patio ideas is planning a patio in a corner or away from your house.
This helps you to make use of spaces that would otherwise be wasted and create extra hang-out spots.
You can customize your space by adding nice furniture, a patio cover, and even planters or trellises for a nice backdrop.
Fire Pit Retreat
Fire pits make gatherings a lot more fun and prompt people to hang out and socialize, making them high-value entertainment features in any residential setup.
A concrete base offers a stable surface for your fire pit to sit on, making them safer and more enjoyable.
You can customize a concrete fire pit area and create a professional finish by adding built-in concrete benches.
Use color contrast for Interest
For some homeowners, the neutral hue of concrete may feel a bit dull.
To inject some life into your patio, consider adding a pop of color with vibrant patio furniture, a colorful outdoor carpet, or a few well-placed potted plants.
These simple additions can add a burst of color and energy to your patio space.
Create a Stone Facade
Although decorative concrete patios typically cost more than regular concrete ones, the stunning outcomes are undoubtedly worth the extra investment.
Stamped concrete patio designs offer gorgeous options that resemble limestone and other natural stone materials offering a more elegant and valuable look.
Pair Concrete Pavers With Other Materials
Pavers help distribute pressure more evenly, preventing cracks and enhancing the overall durability of your concrete patio.
But that's not all - when combined with turf or stones, concrete pavers provide an elegant contemporary look that elevates the style of any outdoor space.
Outdoor Living Rooms
Make the most of your outdoor space by creating an outdoor living room. bring the same theme and color scheme of your indoor living space outside to blur the boundaries between indoor and outdoor spaces, creating a harmonious flow.
Add a pergola, hanging lights, and comfortable furniture to your concrete patio to create the perfect outdoor living space.
If you're seeking a show-stopping feature, consider a sunken outdoor living room. This unique setup will add visual interest and make your backyard the talk of the neighborhood.
Concrete By The Water
If you're searching for an economical and resilient pool deck solution, look no further than concrete!
With colored and stamped options, you can elevate the visual appeal of your space without breaking the bank, all while customizing the shape of your pool deck to match your home's design style and color scheme.
A Minimalist Approach (Modern Concrete Patio)
Concrete's inherent earthy tones provide a perfect canvas for a contemporary and streamlined design aesthetic.
Consider going for rectangular concrete pavers, spaced evenly with pebbles or river stones interspersed, and add your minimalist furniture to create an elegant and visually appealing patio space.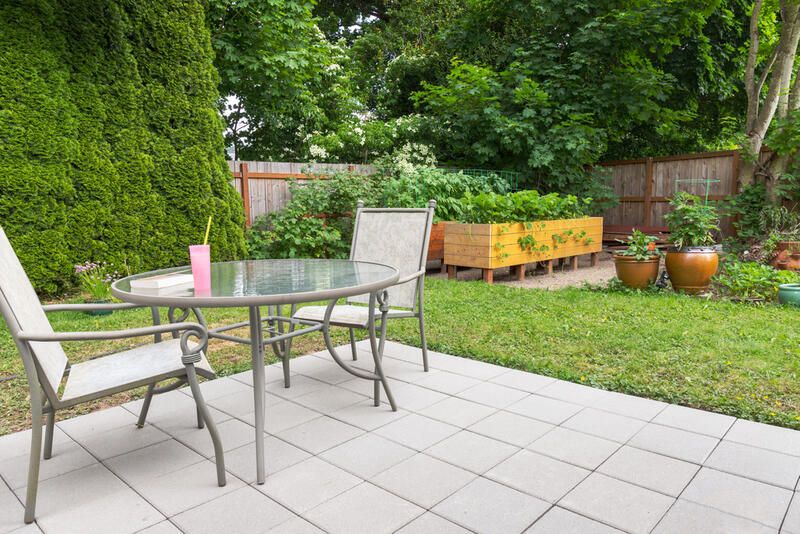 How to Maintain Concrete Patios
On average, concrete patios will not require a lot of maintenance, you'll only need to clean them and look out for thin cracking to keep them looking nice.
To clean a patio you'll only need to rinse it with water. You can occasionally scrub it using a broom and dish soap to clean stains.
After rinsing you'll only need to let it air dry for a few hours and you're done!
To refresh your patio, you might need to reseal it after a few years, but that's not a regular process you'll need to constantly worry about.
Ready to Design Your Dream Yard?
Are you researching materials and ideas to inspire your outdoor living space?
We know how overwhelming this process can be, but with Shrub Hub Landscaping, you no longer have to go through it alone and hope for the best.
Our team of experts will work with you to create a personalized and detailed plan that takes into account every aspect of your property, ensuring that your yard reaches its full potential.
We're committed to delivering top-notch service at a competitive price because we believe that everyone deserves to have their dream outdoor space.
Book your consultation today!