Brilliant Koi Pond Design Ideas for a Breath-taking Makeover
Published: 27/03/2023 | Updated: 09/09/2023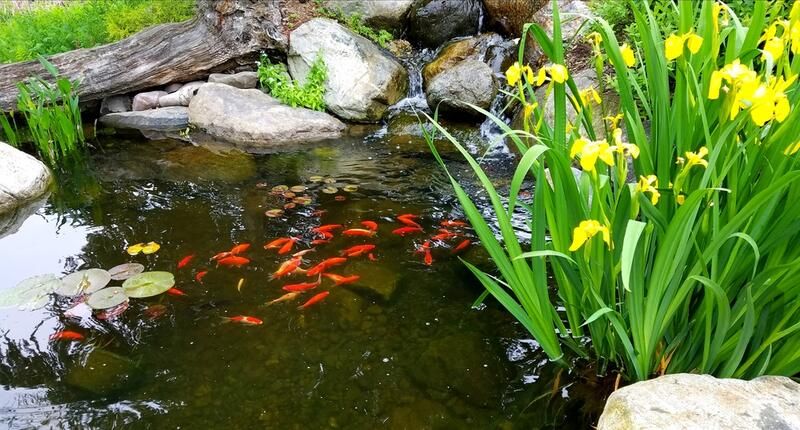 Home is your safe haven. The place where your heart belongs. Every corner tells a story of who you truly are.


In your house, love resides in the simplest of things: bringing bitter-sweet memories into existence, hanging out with lifelong friends, bursting into hysterical laughter with your loved one, and watching your kids grow day after day.
Home is the feeling we get once we step into our place: a sigh of relief, an inexplicable tranquility, an emotional connection too hard to untangle, and a sense of safety that we fail to find anywhere else!
To experience these heartwarming emotions, our spaces should be homey, comfortable, and serene. And what better way to do so than by building a koi fish backyard pond?
Giving your backyard a makeover is often a tough challenge. Not only will you feel confused as to where to start but you might be led astray by the endless design ideas you come across online.
If you are searching for effective ways to spark up your outdoor space design, a koi fish pond is your answer. Skim through the following pond design ideas till you find your inspiration:
The Waterfall Design
Stepping into a natural forest, you are instantly captivated by an overpowering sense of serenity. After all, what is more, calming than the wonders of nature amid a breathtaking forest?
A gentle breeze lightly brushes against the fresh-looking leaves, warm sun rays highlight the beauty of the colorful, exotic blooms, the sounds of the singing birds develop a stunning rhythm in the background, the pond's water form ripples with every passing fish, and a mighty waterfall is gracefully making splashes!
Who wouldn't love to have this exact scenery right in the heart of their outdoor space? Imagine taking such a charming piece of nature home, and transforming your dull yard into something magical!
Adding a water feature as the waterfall to your pond design is a great way to bring a multi-sensory experience into your backyard. Water splashing, birds hovering over this give-back-to-nature space, a few fish whirling around in the koi pond, and the natural-looking plantings — what better way to create an oasis in your backyard?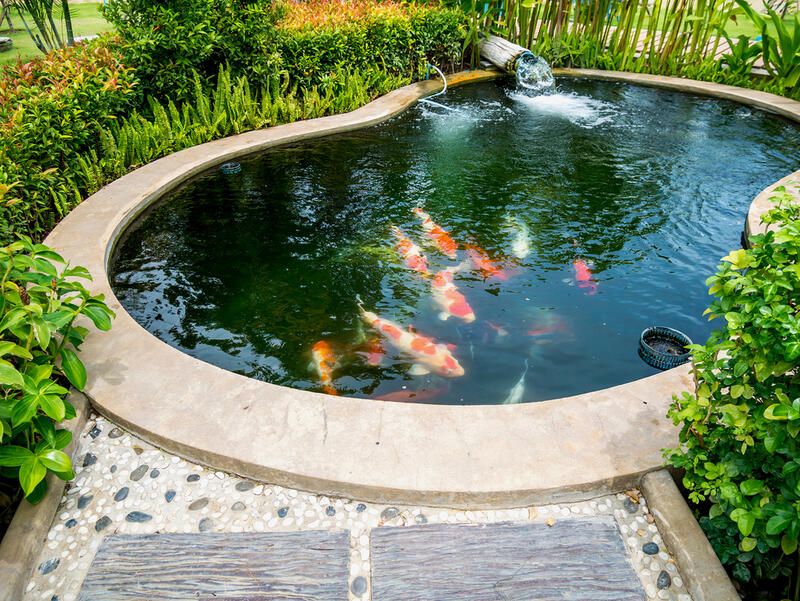 The Glass Pond
Imagine building this fabulous koi pond design — only to find out later that although the design itself is head-turning, you can't even clearly see the fish nor enjoy the whole idea of a koi pond!
Well, with this koi pond design in your backyard, you will (literally) have a window to a whole new world. Have a seat in front of this marvelous glass pond, contemplate this underwater world, and take a close look at these magnificent creatures. Soon enough, you will leave all your worries behind, relax, and get lost in their world!
The Tiny Version
Just when you thought nothing could spark up your small backyard design, the most endearing koi pond design idea came along. It's a miniature version of a woodland oasis!
Your garden's limited square footage can be utilized in the most creative way possible. By stacking natural stones all around the pond, you create a focal point that steals every visitor's attention.
The Creative Twist
Do you feel like the traditional options are too basic for your imaginative mind? Why not introduce a creative twist to your space that is not only affordable and easy to install but also out of the ordinary?
We all know the saying "necessity is the mother of invention". In this case, repurposing an old stock tank into a galvanized koi tub is a great way to add a captivating design feature to your backyard.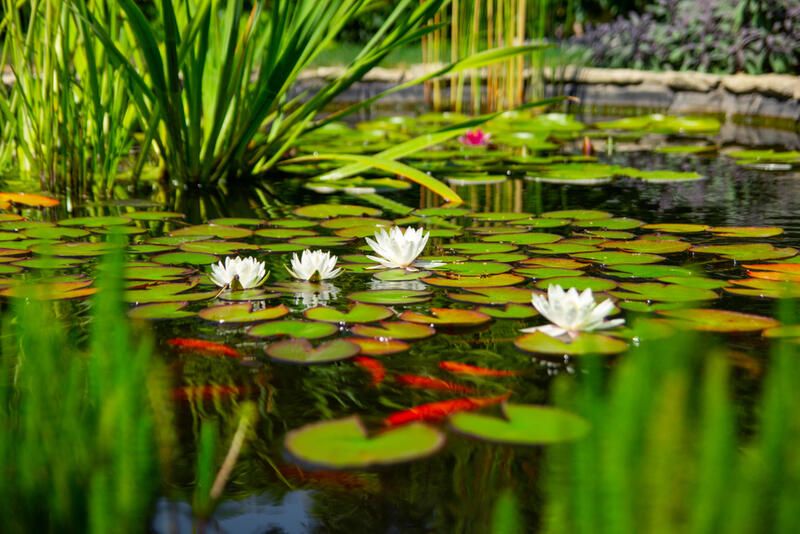 The Tranquil Seating Area
It's a well-known fact: if you are going to build a koi pond in your house, you need to make the most of this mesmerizing experience. The koi pond in itself creates a whimsical ambiance that you can't resist. To top it off, you need to create a comfortable seating area from where you could revel in the natural beauty of this pond.
No matter if you are sitting there to relax and unwind, to work on your projects amid a serene atmosphere, or to gather with your friends and family; this captivating escape fulfills all purposes.
Why Build a Koi Pond in Your Backyard?
Before diving into the reasons why you should transform your backyard into a captivating oasis, let's start by learning more about this breathtaking creation!
Evolving in 17th century Japan, these colorful koi pond fish mutated from the common, brown-colored carp. Around for hundreds of years, these beautiful fish have grown to become a symbol of Japanese culture. So, if you fancy summoning the famous serenity of the far east to your garden, don't hesitate to incorporate a few of these ornamental fish.
Serving as a large fish tank, a koi pond is designed in a variety of ways to match the overall mood of your abode. And in case you are still thinking about whether or not you should build a koi pond in your garden, here are some reasons to convince you (because let's be honest you deserve to have this show-stopping beauty in your yard):
A Symbol for Strength
There's no better mentor to teach you all about strength, perseverance, and bravery than these hardy fish. Given the fact that these fish swim upstream regardless of the consequences, the Japanese culture has forever cherished them and deemed them as lucky charms.
Aesthetically Pleasing
No one can deny this: a koi fish pond is a valuable addition to your outdoor space. Once it is finally built in your garden, nestled among the trees, it turns into a constant source of charm!
Take a closer look at the breathtaking beauty of koi fish: brightly-colored scales, jaw-dropping body patterns, a wide array of shapes and sizes, long flowing fins dancing about, breathtaking koi color combinations, and vividly green aquatic plants. What else do you need to fashion an eclectic outdoor space?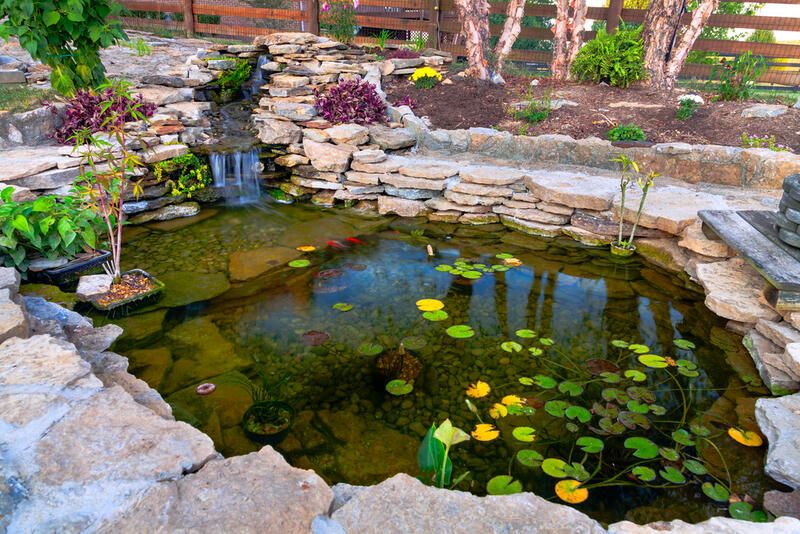 A Stress Reliever
How many times have you come back from work so eager to sit back and unwind – only to find out that you are solely greeted with a dull, uninviting backyard that leaves you bummed out even more? It's a universal fact: life is hard and everyone has the right to decompress! But how exactly can you do so if your yard is not prepared?
Having a well-groomed backyard with a Zen zone to de-stress calls for a creative design idea. Honestly speaking, you can't beat a koi pond when it comes to tranquility.
Listen intently to the serene sound of water, contemplate the mesmerizing beauty of the fish's colorful patterns, and marvel at this whole new life you've managed to create in your backyard.
Such a lovely outdoor environment has a calming effect on men, women, and even children. Before you know it, your blood pressure will drop, finally reducing your stress and anxiety levels.
Low Maintenance Design
We understand where you come from. You are searching high and low for a backyard design that has the power of transforming your garden from drab to fab. But at the same time, if it needs blood, sweat, and tears it is not the right answer for you!
Rest assured! Putting just a few points into consideration, your koi pond maintenance will be a breeze. Koi ponds require a mechanical filter, which includes a pond skimmer, to clean the pond water by getting rid of any debris or unwanted wastes. A biological filter, on the other hand, breaks down toxic chemicals and allows beneficial bacteria to grow.
Now you have an ecosystem pond that fully embraces nature!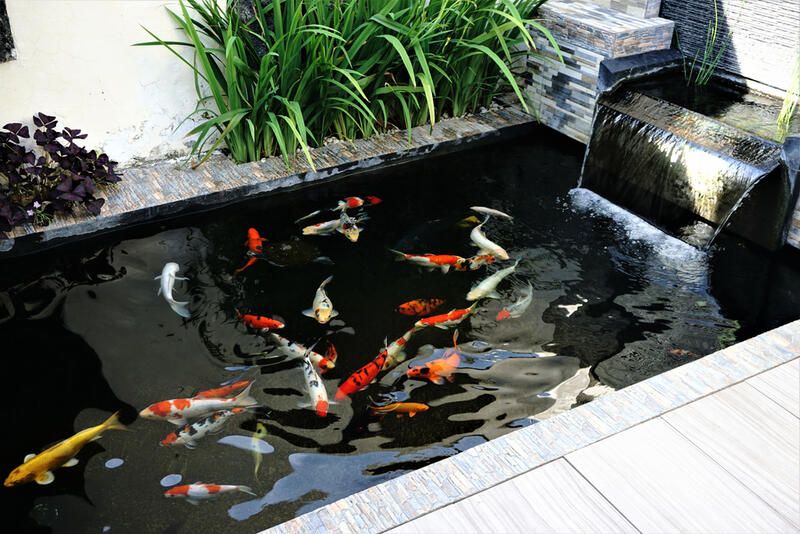 Escape the Mundane World With This Outdoor Oasis
There's no doubt that koi ponds provide a tranquil, relaxing, and peaceful environment for your outdoor space. It's like you're displaying a valuable part of nature in your home.
With a wide variety of shapes, sizes, and designs; you get to choose the style that best suits your mood.
Driven by a fierce passion for creating homey environments, ShrubHub provides its clients with one-stop landscape design services.
We, working hand in hand with nature, do not only bring dreamy escapes to life but also ensure that even the tiniest of details serve a purpose and give true meaning to your outdoor space. ShrubHub aims to enhance the livability and sustainability of your home.
Add a touch of elegance to your home with ShrubHub's most captivating koi pond designs!