Beautiful Modern Garden Ideas for 2024 Landscaping Designs
Published: 01/05/2023 | Updated: 07/09/2023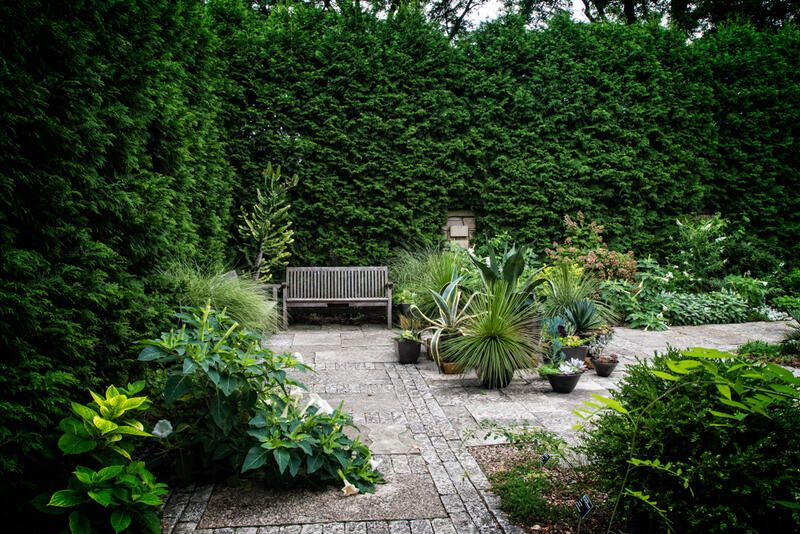 Like all other architectural movements, modern landscape design defines a need in our developing cultures. It defines what is now more valuable to us to focus on in the design and structure of our homes and outdoor spaces.


The modern landscape design is characterized by simplicity, an uncluttered look, clean lines and edges, sleek elegance, and functionality.
While traditional gardens still have their allure, if you want to revamp or add a few modern elements, we have beautiful modern garden ideas on this list.
Add Urban Hardscape Elements
Urban hardscape is understandably catching attention. It's undeniably modern- stark, bold, and simple.
In a garden room or patio, the greenery can balance the hardscape features like a stone water feature. Or wood fences, combined with more metallic features.
Outdoor Living Room
A modern garden is an outdoor space that is an extension of your home and provides the same level of comfort and functionality. So it's one of the best modern garden ideas out there.
Outdoor living rooms could come in all shapes and sizes. For them to fit the modern garden principles, get sleek modern furniture in austere colors.
Your modern outdoor furniture should be what you want and will use. From chaise lounges to hive hanging chairs.
Outdoor Kitchen
Nothing screams modern garden-like outdoor kitchens. Modern gardens get the best use out of their space.
And very few things could be more useful than a fully-equipped outdoor kitchen.
Outside kitchen spaces could also be versatile depending on your wants and needs. You can add a pizza oven, a bar, additional outdoor furniture, and/or a smart tv.
And an outdoor built-in kitchen on your patio floor would add a lot of value to your curb appeal.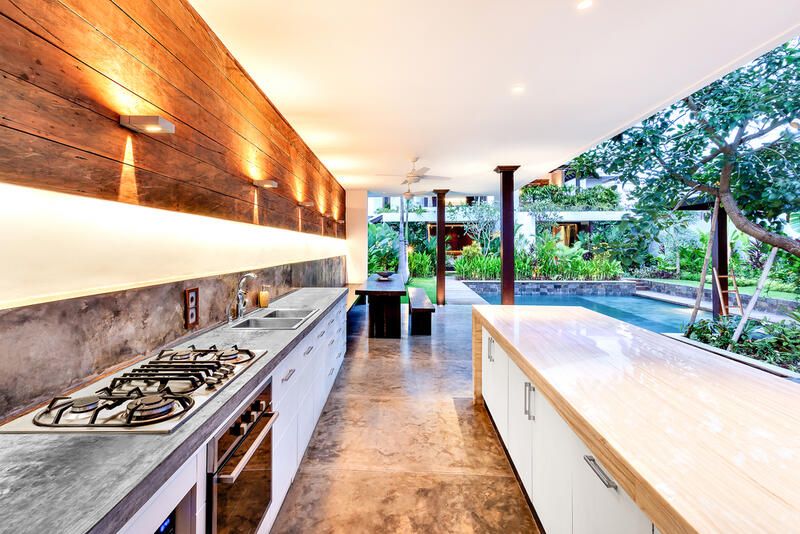 Outdoor Cinema
An outdoor cinema is a perfect way to enjoy lovely summer nights with your family and friends, outside but still in the comfort of your home.
It's simple and easy to build while adding a contemporary look to your modern landscape.
Outdoor Fireplace
Outdoor fireplaces are similar to indoor fireplaces. They are useful, simple looking, and make your outdoors more accommodating. It'd be easier to enjoy your garden all year round.
A beautiful fire pit with a stone or concrete chimney can be the focal point of your modern house landscape.
Pool and Spa
A pool and spa are good modern garden ideas for your yard landscaping if you have the space. Combined with natural materials, it's the perfect balance between nature and austerity with luxury.
A stone water feature as an addition also makes a great idea.
Native Plants
Modern landscaping ideas couldn't truly be that modern if they didn't include ecological and wildlife-conscious elements.
Native plants are perfect for contemporary gardens. They are functional for the environment as they provide nectar to pollinators, and for you, they are low maintenance.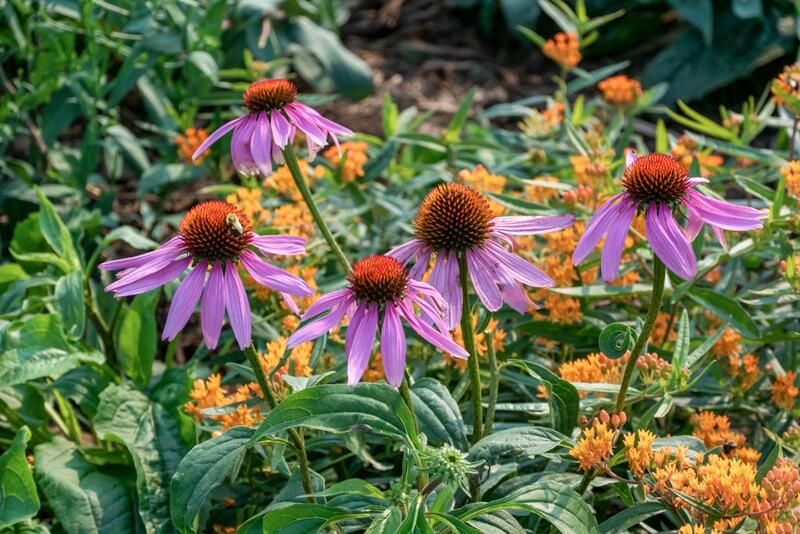 Drought-resistant Desert Garden
Desert gardens could be stunning.
And they are a perfect idea for modern designs especially if you live in an area where water is becoming scarce.
Symmetrical Garden
This is one thing modern gardens can have in common with Classical Gardens.
Symmetrically and cleanly placed trees and plants with straight lines is a perfect modern garden design as it's uncluttered, sharp, and directs your areas around the form of the garden.
Add a Vibrant Color
A great landscape design idea is to add one accentuated and vibrant color to break the sleek neutrality and elegance enough to be interesting without being disruptive.
A modern garden doesn't mean that it can't be fun!
Small Urban Garden
If you have a small garden, one of the best modern garden ideas for you would be a small urban garden look.
Urban gardening means growing and cultivating your food. A charming vegetable garden. You'd have a perfect and productive small urban garden with a couple of raised beds and fun accessories.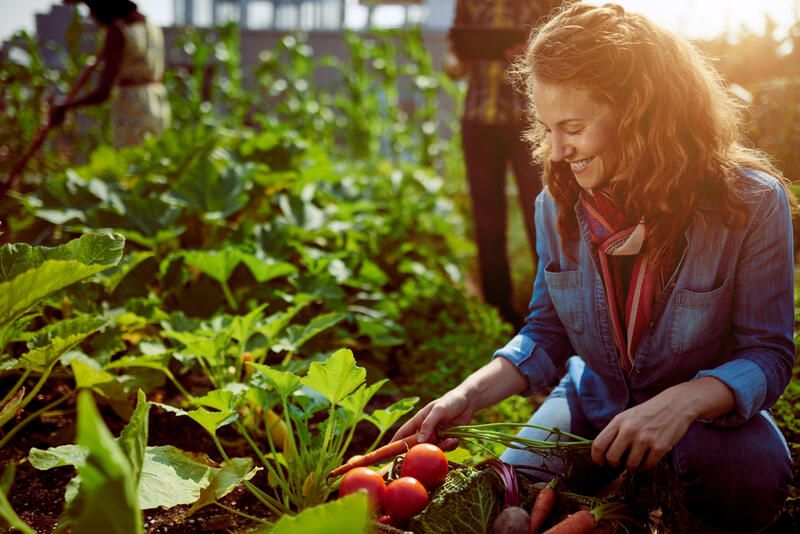 Light with Festoon Lights
Festoon lights, also known as cafe lights, would be a lovely vintage feature of your modern garden's dining or seating area.
Go for Vintage Modern Garden
Speaking of vintage, one of the nicest modern garden ideas is to embrace your love for the old and incorporate it elegantly into a modern garden structure.
Going vintage is one of our liked modern garden ideas!
You can easily achieve it with vintage water features or other antiques that can be in your patio area or even incorporated into your outside furniture.
Sleek Design with Neutral Colors
One of the most "classic" modern garden design ideas is to go full neutral, contemporary look.
Nude colors, brown, black, and white with natural elements are the perfect way to go at it.
Create a Link between the Indoors and Outdoors
The perfect way to add modernity to your garden is to create a flow between the indoors and outdoors.
Continuity and linkage add the feel of more open space. And makes your garden another room of your house.
Revamping for modern front yard landscaping is a brave but rewarding move. And at shrubhub.com we're determined to make it the most convenient and most productive revamp you've ever had. We design your entire yard for under $300. Sign up here and you'll get contacted by one of our designers!