Balcony Design Ideas: Tips to Keep in Mind for a Dramatic Transformation
Published: 24/01/2023 | Updated: 04/05/2023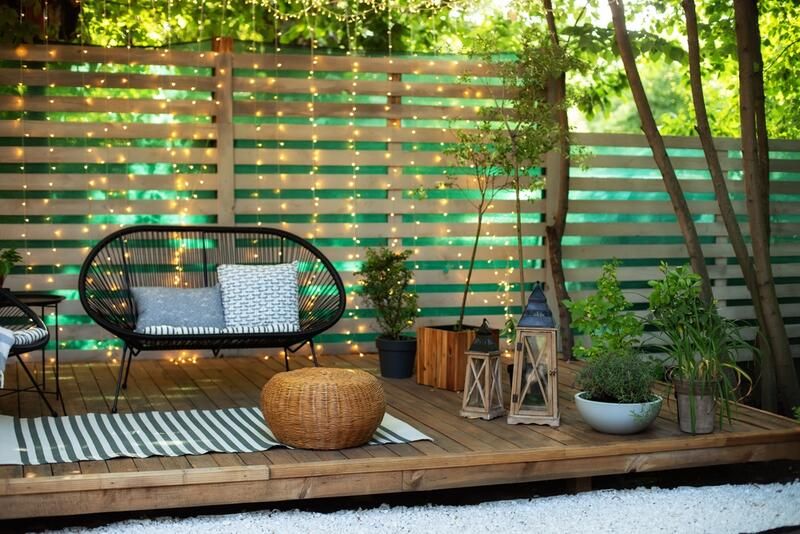 Picture yourself on a fascinating ship (the posh kind you see in movies). Now imagine it without a sailor, wandering in the ocean, with no destination ahead. It definitely looks beautiful, and the engine works just fine, but you will certainly drift away and end up God knows where.


Similar to this ship, a charming balcony that boasts a one-in-a-million view but you can't enjoy it -because it is impractical and poorly designed- is not so charming after all.
Although some might say that there's no such thing as the perfect design, any outdoor area should be perfect enough for those who live in it, perfect enough for them to take pleasure in its beauty and call it home!
Making the Most Out of Your Balcony
When living in the city, we fail to remember what it's like to be connected to nature, to get a whiff of the captivating aromas of its blooms, to brush our fingers against textural plants, and to listen to the melodies of nature. We simply give in to the bustling life of the city, uniting our souls with concrete and skyscrapers instead.
If you are lucky enough to own any outdoor space in the city, make sure you get the most out of it. Once you have your apartment balcony, regardless if it's a huge terrace overlooking a river or a small balcony with a dreadful view, you can still design a glamorous personal space.
"It's just a tiny balcony, it can never be as beautiful and fulfilling as a backyard", said nearly every balcony owner.
On the contrary, this small outdoor space is not only a great spot for socializing, an opportunity to breathe in the fresh air, and a restful interlude to lose yourself in nature but also an extension to your indoor space, and surprisingly a chance to make your apartment more attractive.
To give the pragmatic side of your balcony décor a boost, skim through the following large or small balcony ideas to assist you in refurbishing your balcony: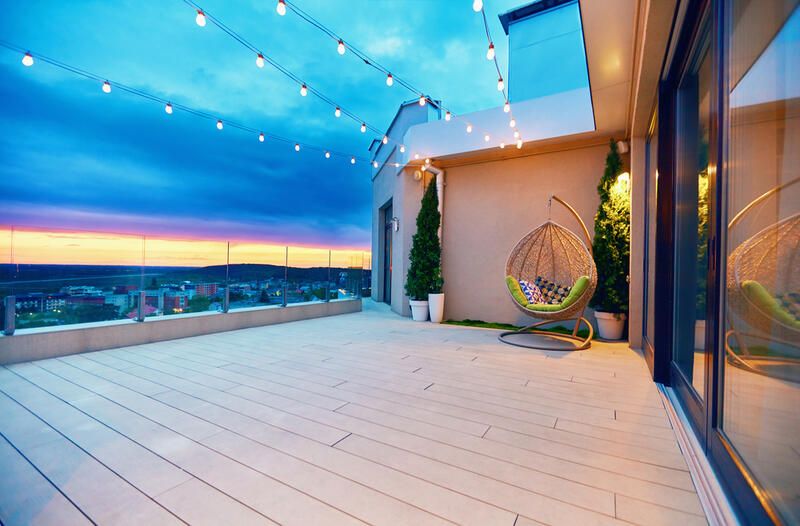 Bring Your Balcony Railing to Life

How many times have you stepped into your balcony, glanced at the railing, and thought: "why do balcony railings have to be so boring!"?
Luckily, there is a way to add some pizzazz to your abode while also getting rid of the dreary look of those railings.
Railing planters take your balcony from absolutely boring to vividly charming. Whether you fancy chilling indoors, just enjoying the view from the comfort of your couch, or find it amusing to unwind in the fresh air, railing planters make the luxury of having a balcony garden possible.
With a wild riot of colors that greet you whenever you step into your balcony, railing planters not only bring nature up to your eye level and save up floor space for you to enjoy installing a decent set of furniture but also block out the neighbor's curious glances with tall plants and protect you from the not-so-appealing views.
Light Up Your Balcony for a Whimsical Feel

Who wouldn't love to dine outdoors on a stylish balcony, one that is adorned with colorful blooms, cozy furniture, and inviting accessories?
There's one thing that sets the mood like nothing else: lighting. To add a note of cheerfulness to your abode, cast a whimsical glow all over your balcony to make sure that your guests are greeted with a warm setting.
String Lights
If you would like to add aesthetic value to your balcony's railing, consider wrapping small fairy lights around it for a spectacular display at night.
However, in case your railing is already spruced up with some planters, you can go for lighting up your balcony walls. With the help of a beautifully-patterned trellis, you can attach some LED string lights to it for an outdoor wonderland right at your doorstep!
Outdoor Lanterns
Designed to throw flares in artsy patterns, outdoor lanterns turn your balcony from a flat, dreary outdoor space to a magical spot where you gladly invite your family and friends.
If a stylish decorative touch is missing from your balcony, you can never go wrong with some outdoor lanterns for a stunning evening glow.
No matter if you opt for a hanging lantern, a floor lantern, or a candle lantern, each of these never fails to light up your evening life in a unique way.
Create an Outdoor Reading Nook
Living in the city doesn't mean you have to forsake the tranquility of being surrounded by nature. Even if you have the tiniest balcony, you can still create an unbeatable Zen zone.
To start, place a patterned rug on your balcony's floor, throw in some cushions and pillows to fashion your comfortable seating area, and finally add blankets for extra coziness.
To spice things up a little, bring a tiny coffee table to the scene and embellish your balcony railing with window boxes.
Fortunate enough to own a large balcony? Go nuts with some comfy outdoor furniture!
Maximizing your balcony's square footage calls for growing a lush vertical garden that teleports you right in the middle of nature's most captivating blooms.
Right next to this garden, you get to install a corner bench, a hanging chair, or a swing as your favorite retreat, a relaxing spot where you read yourself off to a fantasy land.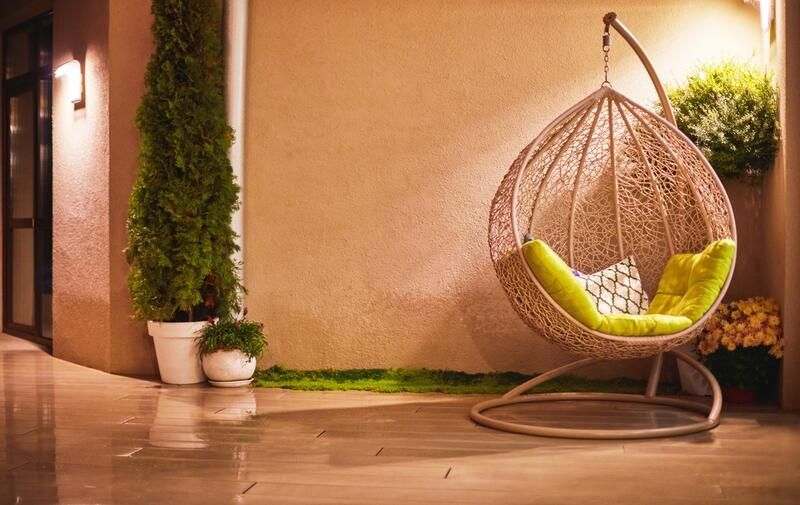 Say Yes to a Vertical Garden
Imagine stepping into your colorless balcony, sitting on a chair, and staring right at your balcony's empty wall. There's no doubt you will feel heavy-hearted a while later.
After a long hectic day in the city, your mind and body are both in desperate need of greenery, any manifestation of nature will be quite appreciated!
Now picture this blah wall coming to life, branches and leaves growing out of it and into the most enchanting blooms.
Before you know it, your balcony will no longer be the same old space, it is now stealing the show from the other properties. This living wall is now a stunning-to-behold verdant oasis.
Beyond the certain beauty that a vertical garden brings to your balcony, it also has a pragmatic appeal to it. From herbs, vegetables, greens, and fruits, your vertical garden is a safe home for your favorite meals.
It's not news that there are countless benefits to growing a vertical garden in your outdoor space, be it the fact that it improves air quality, cuts the cost of energy, reduces noise levels by acting as a sound barrier, and improves your mood whenever you feel down.
Choose a Bold Color Scheme
The joys of having artistically-patterned cushions on your balcony go beyond just dressing up your outdoor space with a touch of glamor.
Aside from adding pops of color, a soft touch, and heaps of style, cushions are an embodiment of comfort and a great addition to your balcony furniture.
For a rather refreshing and more dominating vibe, opt for splashes of baby blue. An energetic white and blue rug, Azul blue cushions, and white lanterns are all baby blue décor pieces that go along smoothly with the balcony's natural blossoms.
However, if your motto is "freedom lies in being bold", then don't hesitate to liven up your balcony with pops of pink! A bright pink scheme (complemented with rose-themed floral hanging baskets) is an eclectic balcony decor idea that gives your balcony a permanent fresh look.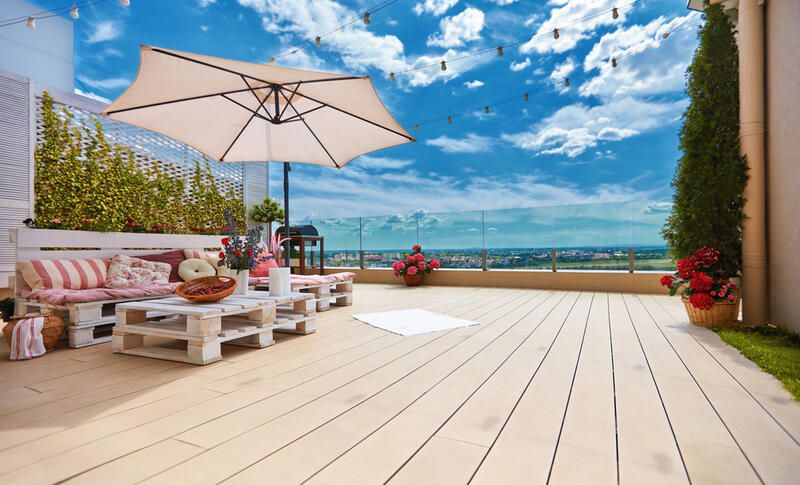 It's Never Too Late
Why do you have to settle for a mediocre, uninspiring balcony design? Why not take pleasure in your own outdoor space and do it in style?
For most people, living in the city doesn't necessarily mean having an outdoor space. So, if you are among the lucky ones who now own a piece of the outdoors, make sure you turn it into the closest place to your heart.
And if you ever need any help fashioning your dream balcony, ShrubHub is here to make it true!