Above-Ground Pool Ideas on a Budget That Will Keep You Cool This Summer
Published: 23/03/2023 | Updated: 05/06/2023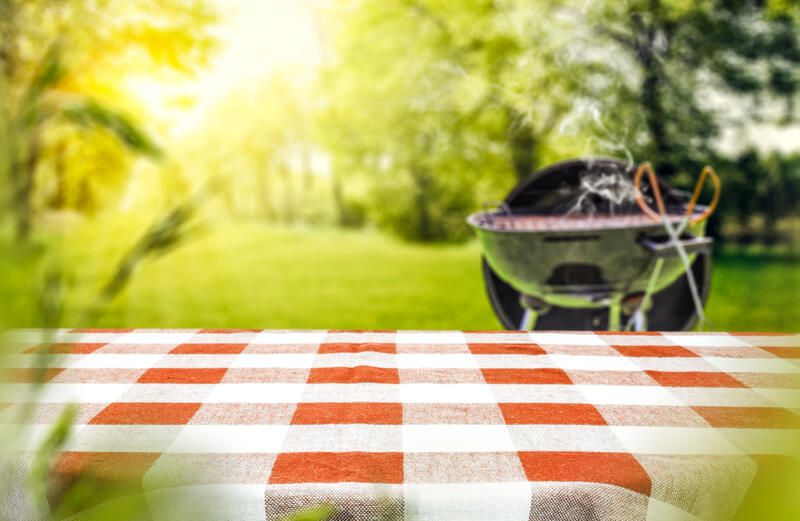 Do you need cost-effective pool designs to keep your family entertained this summer? You've come to the right place! Here are some of the most cost-effective above-ground pool ideas. Whatever your taste or budget, there is something here for you. Let's consider the following ideas to start planning for a fun, affordable summer.


Buy an Inflatable Pool
An inflatable pool is the most popular and affordable option for above-ground swimming pools. Inflatable pools come in various sizes and can accommodate adults and children. They are easy to put up, don't weigh much, and don't usually need tools or a permanent installation. In addition, they are generally much cheaper than other in-ground pools. To make your inflatable above-ground swimming pool even more affordable, you can use a pool cover to prevent evaporation and help keep your pool clean. You can also find inflatable pool accessories like loungers and slides to give your pool a fun, family-friendly atmosphere.
The inflatable pool comes in different styles and shapes, such as rectangular shape or rounded shape.
Try Brickwood
At first, sight, adding brickwork to the exterior of an above-ground pool might seem like a lot of effort, but with the correct equipment, it's pretty straightforward and affordable.
Use mismatched bricks to construct your facade to save money, or use brick adhesives to simplify the job.
Get a Backyard Kiddie Pool
A kiddie pool is a way to go if you're looking for an above-ground plunge pool option on a budget. These smaller pools are often very affordable and provide plenty of fun for the whole family. You can set up a ground pool deck for kids and enjoy splashing around in the cool water during the summer heat. Just fill it with fresh water every few days and clean it thoroughly if it gets too dirty.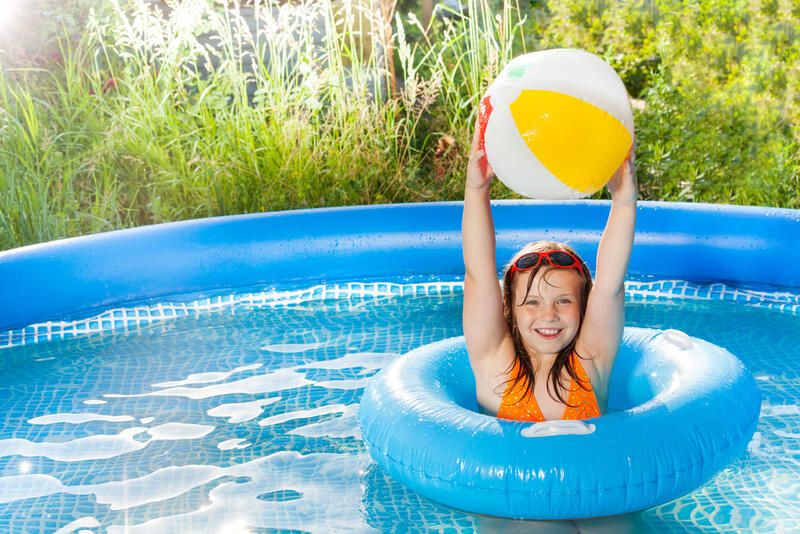 Fill Up a Wading Pool with Ice Water
With some ice and water, you can create a great wading pool in your backyard. Think about filling an above-ground wading pool with ice water if you have a smaller above-ground pool. With this method, you can create a beautiful and functional pool space in your outdoor area without making any permanent changes or going over budget. In addition, a traditional pool design doesn't restrict you with its limitation so you can cool down from the hot weather. The summer months are a great time to move it around and use it for other fun activities in your outdoor space.
Set Up a Splash Pad
Splash pads are an inexpensive way to keep cool during the hottest months. For a cheap and cheerful option, installing a splash pad will transform your traditional backyard pool into an exquisite landscape design for entertaining family and friends on hot days. Even if you have limited funds, you can set up a splash pad in a snap and give your pool the extra personality it needs to get the party going. All you need is plastic, PVC pipes, and a water pump. You can even get creative and add fun features, such as a rain shower or a fountain! With this interactive water-themed structure, your little one will have hours of fun this summer. All it takes are a few items from your local hardware store, and you've got yourself a great outdoor space for your family to have fun in.
Add Fencing
Believe us when we say that the fencing looks nice, but they don't have to be expensive. If you're determined to take on a DIY project, think about getting all of your inspiration from online landscape designers or Pinterest.
Her above-ground pool design also has a decked area and a stylish pool cover to keep the water safe. You can even take it a step further by erecting fencing around the perimeter. You can save a lot of money and time by doing it yourself. especially if your neighborhood handyman has a busy schedule.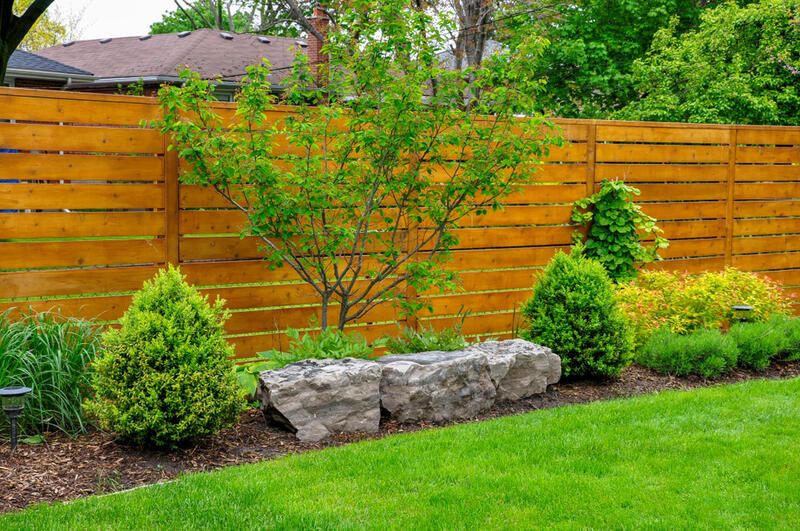 Install A Recycled Stock Tank Pool
If you are looking for an above-ground pool option that is both budget-friendly and aesthetically pleasing, look no further than a recycled stock tank pool. These are becoming increasingly popular among homeowners due to their simple design, making them easy to install and maintain. Not to mention, the style of these pools can add a unique touch to any backyard.
A stock tank pool is typically made from a large, galvanized steel tank to store livestock water. To build one, you'll need to purchase the tank, a cover, and possibly a filter system, depending on your desired level of sanitation. You'll also need to set up a surround for the pool, either with stones or wood slats. Once that's complete, fill it with water and enjoy! This makes it great for those who don't have the time or budget to install an in-ground swimming pool.
The great thing about this type of above-ground pool is that you can customize it to fit the style of your home or garden. You can paint the tank or decorate it with outdoor fabric if you want to add a bit of color or pattern. You can also choose to harmonize your pool surroundings with a simple deck, creating an inviting area for you and your family to relax and soak up the sun.
So, consider building a stock tank pool if you're looking for an affordable way to cool off this summer without sacrificing your exterior house style. With just a few simple steps, you'll have a raised pool that is stylish, budget-friendly, and perfectly matches your home decor.
Upgrade Your Surroundings
Your above-ground pool, stock tank or not, may instantly go from boring to tropical with some well-placed vegetation and pots. Whether your pool is part of a built-in deck or sits alone, adding planters or landscaping the area around it will give it a much more permanent and upscale appearance.
Additionally, you might modify your standard stock tank pools by using a DIY above-ground pool design. By cutting and adhering bamboo to the exterior of your swimming pool, you can give it a tiki feel. Just keep in mind to cover your bamboo sticks with water-resistant gloss or paint to prevent mold growth.
Decor the Edges with Plants
Don't you simply want to jump in when you see pools surrounded by lush greenery? If the side of your above-ground pool is exposed, but you prefer a simple appearance and aren't all that interested in DIY, add green landscaping edging to the perimeter of your splash zone.
There is very little gardening and maintenance required for this straightforward hack. Use simple flower box planters around the perimeter of your pool, plant a variety of water-friendly plants, or, if the terrain permits, level off the pool's edge and cover it with landscaping pebbles.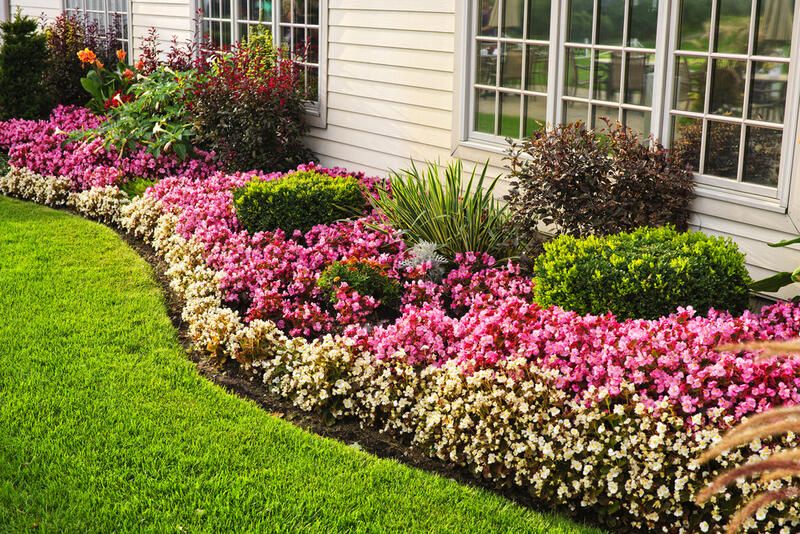 Add Lighting
One of the finest methods to give your above-ground pool a fashionable makeover? merely add lighting.
All outdoor spaces benefit greatly from the best solar illumination. You can get a charming string of Edison bulbs for well under $100, but the result will astound you. Additionally, strategically placing lighting will increase the amount of time you spend in your pool by making late-night dips much more tempting.
Try a Pergola or Canopy
The addition of a canopy over your pool, similar to draping lights along the edge, can not only improve its visual appeal but also provide you with additional opportunities to use it. A straightforward canopy can help block the glaring afternoon sun, providing the ideal setting for a swim without having to worry as much about the sun's damaging rays.
Common FAQ's
What Material is The Best Use for Above ground Pools?
After choosing the size and style of your above-ground pool—which can range from 12- to 30 feet in diameter—you should think about the material it is constructed of because it will affect how the room looks, how long the pool will last, and how much it will cost.
Most above-ground swimming pools are built of steel, resin, or aluminum. Nevertheless, some people may combine all three. Although steel is the most cost-effective material, it can rust over time. The priciest and most rust-resistant material is aluminum, with resin coming in between.
How to Make My Above-Ground Pool Attractive?
Nice decking that is specially made to surround it, according to many landscape designers, will significantly affect both function and style. If money and room permits, a stone or brick wall veneer added to the pool's exterior will also greatly improve its appearance. Additionally, it will present a chance to incorporate lighting or built-in planters, which can assist in more closely reflecting the design of your house and its surroundings. While well-planned landscaping with ornamental plantings and privacy can undoubtedly make your pool more appealing as well. Around swimming pools, I adore ornamental grasses and hydrangeas since they maintain their beauty for much of the season and require little maintenance. To keep pool maintenance simple, this is crucial!
Additionally, since stairs are required to access above-ground pools, there is a chance to experiment with varied leveling and turn the stairs into a distinctive element in and of themselves. The addition of a small lounge area or a place for a cafe table and chairs, if money and room permit, can transform your pool area into a genuinely unique attraction in your backyard.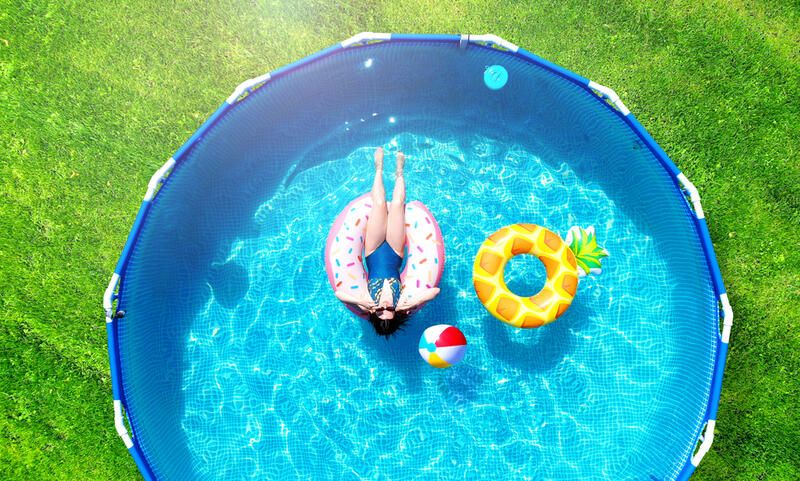 Do I Need to Contact a Professional?
When it comes to elevating a yard, getting a professional opinion is always a plus, however, it's not impossible without one. What can seem a bit impossible is deciding between a plethora of options and not knowing how to proceed, in this case, using an online design program created by professionals like Shrubhub.com is a fantastic idea. Shrubhub.com is great for keeping things within budget limitations and allows you to try out your options visually in 3D before committing.
Worth checking out, they have a 70% offer at the moment along with a free phone consultation so you can all the questions your heart desires!
What Can I Surround My Above-Ground Pool With?
One of the greatest things to surround an above-ground pool with is tall plantings, which are also the most affordable way to incorporate one into your yard. These plantings should be about the same height as the pool. A large deck with inviting lounge chairs and seats enhances the functionality of a pool area. Don't forget to add some shade by using a sail or umbrella! And colorful potted plants.
A tiered stone patio, unique stonework encircling the pool, and veneering the edges will offer an opulent sense if you're thinking of hardscaping your splash zone. This can comprise illumination, seating areas, vegetation, and water features. Don't forget about privacy, particularly if you have an above-ground pool because ordinary backyard fences might not be tall enough to obscure views from nearby properties. Junipers, arborvitae, and cryptomerias are excellent privacy plantings because they add height and evergreen color without taking up a lot of room. A built-in bar top with seating is another method to make use of the height of an above-ground pool. This is particularly useful for entertaining and will transform your place into a resort.