6 Pallet Garden Furniture Ideas to Spruce Up Your Yard
Published: 23/03/2023 | Updated: 24/04/2023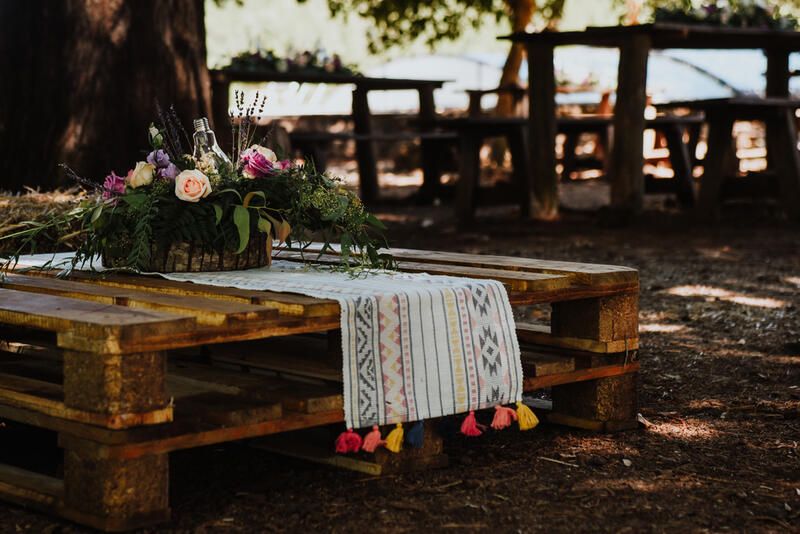 Are you looking for some creative and budget-friendly ways to spruce up your yard? Look no further than pallet furniture ideas! Whether you're looking for seating, storage, or accent pieces, there are a variety of pallet furniture ideas to choose from that can completely transform your yard into a fully functional outdoor seating area for all the enjoy!


When it comes to furniture, pallet garden furniture is one of the best budget-friendly alternatives that allow you to add a unique touch to your garden or outdoor space. Pallet garden furniture is a great option for adding a rustic, natural charm to any yard.
Here are some of our favorite DIY pallet ideas for how to incorporate pallet garden furniture into your outdoor design.
1. Create a relaxing sitting area with pallets as the base for cushions.
2. Use wooden pallets as the basis for a DIY pallet outdoor sofa.
3. Build an outdoor dining table using wooden pallets as the frame with a glass top.
4. Transform pallets into a bench or couch and enjoy a book in your garden oasis.
5. Stack several wooden pallets to create an eye-catching centerpiece for your garden.
From outdoor wooden pallet seating options to planters, these DIY furniture ideas are both creative and functional, not to mention an extremely fun family activity to partake in!
1) Pallet Wood Tables
Pallet wood can be used to make DIY outdoor tables that will give your backyard a unique and personalized look. With a few simple tools and some imagination, you can create a one-of-a-kind table perfect for your space.
One way to use wood to make an outdoor table is by taking two or more pallets, placing them side by side, and then attaching them with screws. This will create a stable base for the table that is great for outdoor use. You can then attach a piece of plywood on top of the pallets to form the table's surface. The plywood is stained or sealed for added protection and you can even paint it.
Another great way to use pallets is to make a wooden tabletop. Start by taking a few pallets and placing them on their sides. Then take a few pieces of plywood and attach them to the top of the pallets with screws or nails.
Finally, add some legs or an X-shaped frame to make the table more secure. This type of tabletop is perfect for dining al fresco or hosting an outdoor gathering.
Finally, if you want an even simpler wooden table, all you need is one large pallet and some legs. Simply attach the legs to the bottom of the pallet and you're done! This style is perfect for a patio or small garden, you can also add wheels to help you move it around your garden space.
When it comes to finding the best types of pallet wood, look for ones that have been used in shipping and packaging and have not been treated with chemicals.
You can find these at most lumber yards or home improvement stores. If you're looking to buy a ready-made outdoor wooden pallet table, they are available online and in many stores.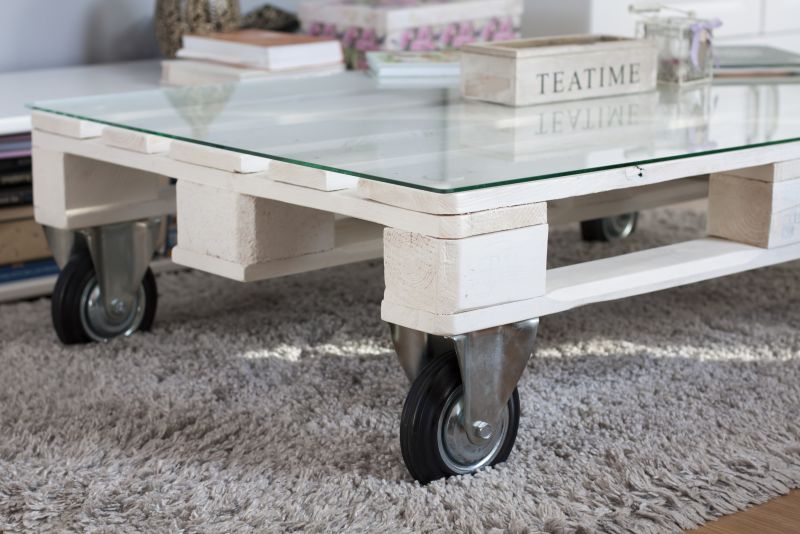 2) Wood Pallets Used For Benches
Creating a DIY pallet bench for your outdoor space is a great way to add a touch of charm and rustic elegance. Wood pallets are surprisingly sturdy and durable, making them the perfect material for DIY furniture projects. Whether you're looking to make a large seating area or just a single bench, wooden pallets are a great choice.
When selecting wood for a DIY pallet bench, you want to find one that is strong, durable, and has a nice aesthetic. Choose pallets made from oak, maple, walnut, or pine as they are known for their strength and stability. You can also find ready-made wooden pallet benches online or in stores that specialize in garden furniture.
Decorating your pallet bench is where you can let your creative side shine! Add cushions, blankets, and pillows to create an inviting atmosphere. Hang some flower baskets, light strings, or lanterns around the area for added ambiance. To make the area even more inviting, consider adding a matching table and chairs with a patterned rug to complete the look.
The best place to add your DIY pallet bench depends on the size and style of your yard. If you have a large space, you could use it as the focal point in your garden. If your yard is smaller, use the bench to section off part of your yard as its seating area. This could be tucked away in the corner or along a wall to provide some privacy.
Whether you want to create your DIY pallet furniture or buy ready-made pieces, pallet wooden benches are an excellent addition to any outdoor space. With the right materials and a little creativity, you can create a beautiful and cozy seating area that you and your family will love.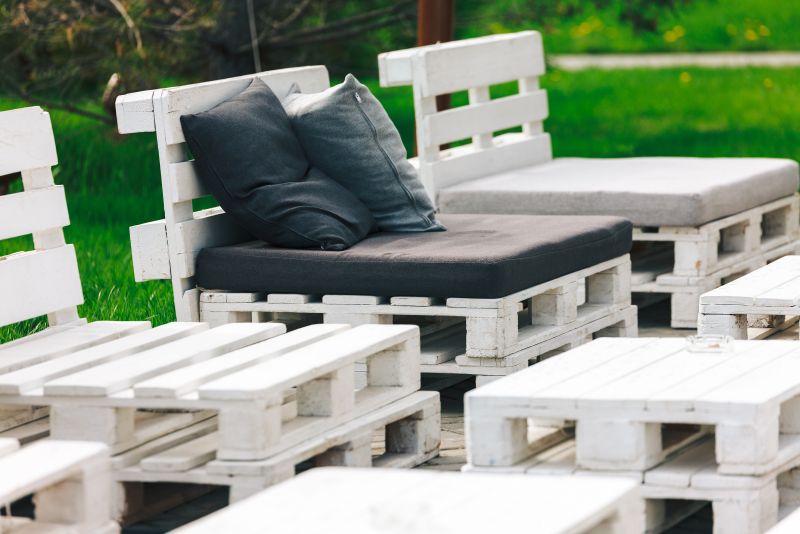 3) DIY Outdoor Seating alternatives using Wooden Pallets
Another way to spruce up your outdoor space on a budget is by getting creative with wooden pallets to make alternative and unique furniture options. From sun loungers to Adirondack chairs and even deckchairs and a DIY outdoor pallet sofa, you can use wooden pallets to make just about any type of outdoor patio furniture.
If you're looking for a sun lounger, you can simply stack free pallets together side by side, add a large cushion or small mattress and you have yourself a comfortable place to relax in the sun. This is perfect for a warm afternoon when you need a relaxing outdoor lounge in your yard. Add wheels to your pallet lounger so it can be moved around different parts of your yard easily. Caster wheels are effortless to attach and can be found at your local hardware store or online!
Alternatively, for more of a statement piece, why not create an Adirondack chair with wooden pallets? All you need is a saw, some glue, a few screws, and a few pallets to get started. The Adirondack chair style gives off a classic and timeless look, perfect for any backyard.
If you'd prefer something more portable, a wooden pallet chair is a perfect option. All you need to do is lay down two pallets back-to-back and add some fabric or cushions to the top. This design is great for those looking to move their patio seating around the yard easily.
Finally, if you're looking to impress your guests, why not build a full sofa using pallet furniture ideas? Building a DIY outdoor pallet couch may take a bit of practice and elbow grease but once complete it will be a beautiful addition to your outdoor space.
To create a cozy sofa from wooden pallets, just stack three pallets on top of each other, add some legs, and don't forget to add pillows for extra comfort and style! You can even make your sofa an L shape to seat more people which will allow you to invite more guests over to enjoy your outdoor space.
Spruce up your outdoor furniture items with accessories like a patio umbrella for sun protection and some string lights to make hosting outdoor parties more impressive. You can even add wheels to some of your outdoor DIY furniture so they can be stored easily during the harsh winters to avoid damage.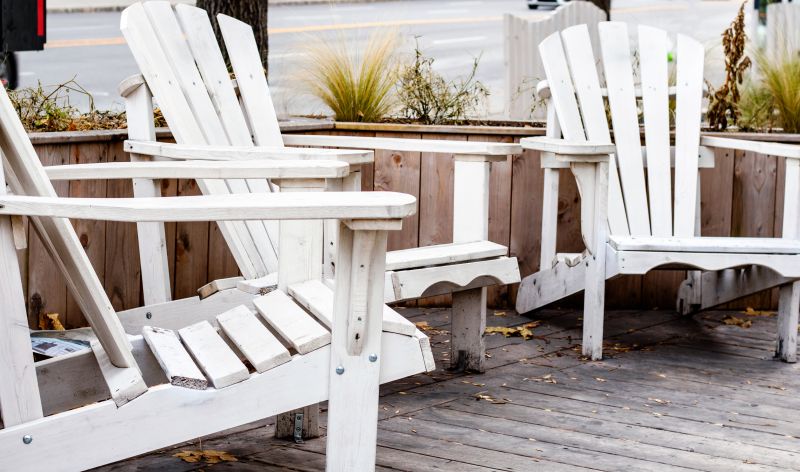 4) Coffee table
Your outdoor sitting area would of course not be complete without a coffee table as a centerpiece to enjoy your afternoon tea or a quick snack with loved ones. Take your time to pick out the right type of wood, and add decorative touches to create a beautiful and unique coffee table that adds character to your outdoor space.
Creating a coffee table out of wooden pallets is a great way to give your yard a unique and rustic feel. Not only is it a great project to tackle yourself, but it is also a cost-effective way to get a stylish and sturdy coffee table.
Depending on the number of pallets you use you can make a large table or a small table. You can use just three pallets as the base of your table if you are looking to make a smaller one.
When picking out the wood pallets you need to build your coffee table, make sure you look for ones that are in good condition and are made of wood. Good quality wood will help your coffee table last longer and look better in the long run and you can even add a glass table top.
Avoid using pallets that may have been treated with chemicals or have been sitting outside for a long time, as this can reduce the quality of the wood.
Once you have chosen your pallet wood, you can start piecing together the table. To make sure your table is strong and stable, make sure you use screws and nails to secure the pallets together. If needed, you can also use some additional boards or planks to add extra support to the table.
Once the coffee table is built, you can start styling it with other pieces of furniture or accessories to create a complete look, you can also paint your coffee pallet table.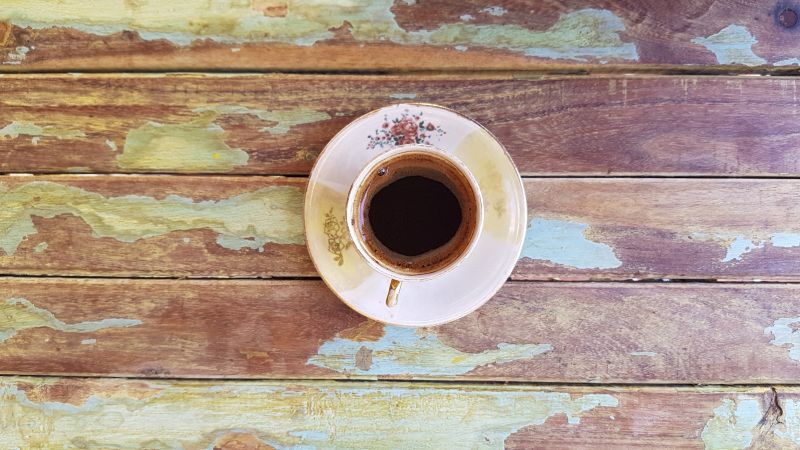 5) Fruit, vegetable, and herb planter
Pallet wood is a great material for creating unique and creative planters that are perfect for growing fruits, vegetables, and herbs in your garden. With a little bit of effort and creativity, you can easily assemble a wooden pallet planter and add some life to your outdoor space.
For starters, you'll want to make sure you have the right type of wood. Look for a pallet made of untreated pine or fir, as these woods are more durable and better suited for planters. You can also look for pallets with boards that are cut at an angle so they can fit together easily and form a strong base.
To assemble the planter, begin by placing the pallet boards across two rows of other boards to form the base. Then, drill some holes into the top row of boards and line them with landscape fabric to keep the soil from leaking out. Fill the planter with soil and place your plants in their designated spots. Make sure to water regularly and apply fertilizer when needed.
With your pallet planter assembled, it's time to start thinking about what you'd like to grow. For fruit and vegetables, consider planting tomatoes, cucumbers, strawberries, carrots, and other vegetables that thrive in containers. When it comes to herbs, think about planting basil, rosemary, chives, parsley, and oregano. The possibilities are endless!
By investing in a wooden pallet planter, you can add a unique touch to your garden area while also growing your delicious produce. With this simple DIY project, you can create an attractive planter that will look great and add plenty of function to your outdoor space.
You can also build a pallet gardening table to store your gardening tool next to your vegetable and herb planter to make tending to them easier and more convenient.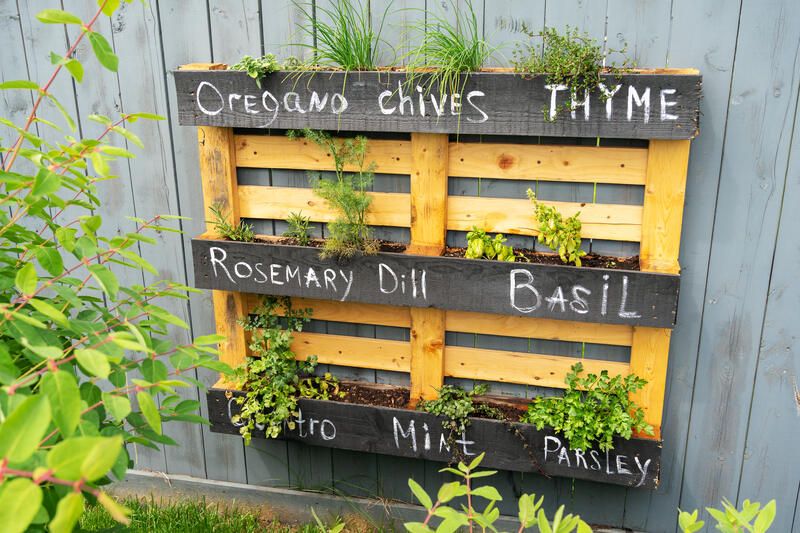 6) Vertical planter
Vertical planters are a great way to fill up empty wall spaces in your yard. They create a vibrant and eye-catching look for any outdoor space. Building your vertical planter from pallet wood is an easy and inexpensive way to add a creative touch to your garden.
To make a vertical planter from pallet wood, start by measuring the wall you'd like to cover. Cut two identical pieces of pallet wood to fit the dimensions of your wall and secure them together using screws.
For the next step, use a drill to make evenly spaced holes along the top of the pallet wood for adding plants. Once you have the desired number of holes, add potting soil and plants of your choice. You can go with traditional climbing plants like ivy or honeysuckle, or even herbs like rosemary or sage. The combination of colors and textures will bring life to your wall while creating a unique display.
Adding vertical planters made from wooden pallets is a great way to give your garden a rustic charm. You'll be able to enjoy a beautiful wall of plants while also saving money by repurposing pallet wood.
With just a few simple tools and some imagination, you can create stunning outdoor areas with pallet wood.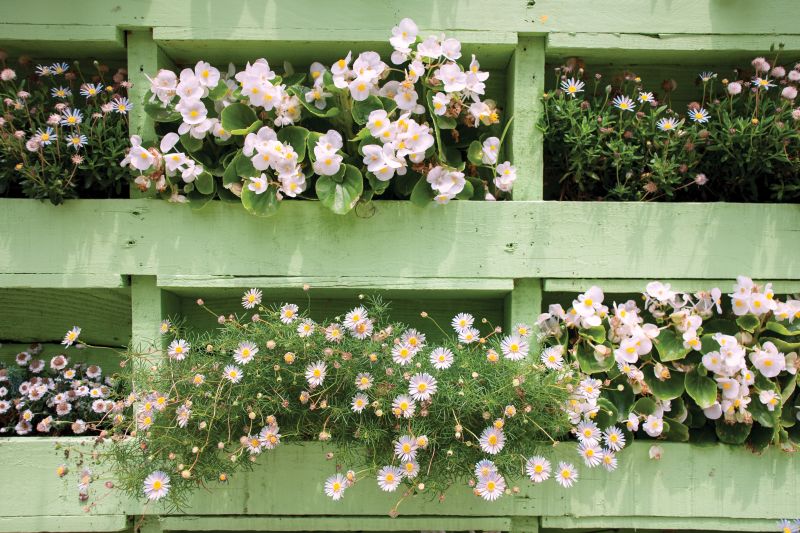 Where else can we learn about budget-friendly outdoor pallet furniture ideas?
When it comes to designing and maintaining your garden or outdoor areas, ShrubHub is the perfect online service to help you discover endless ways to spruce up your yard with whatever budget you set as well as guide you through DIY projects.
With experts all over the country who specialize in many areas such as what plants to use for your garden and what furniture to use for your outdoor seating, you can rest assured that you'll find the perfect design for your space!
ShrubHub is a great resource for discovering more ideas and inspiration for budget-friendly outdoor furniture and other great garden design options. Whether you're looking for ideas on how to improve your existing outdoor space or just starting, ShrubHub is the place to turn for all of your garden needs.
Sign up for our service for just under $300 and design the perfect yard today!