6 Must-try Townhouse Backyard Ideas for a Charming Retreat
Published: 10/02/2023 | Updated: 06/06/2023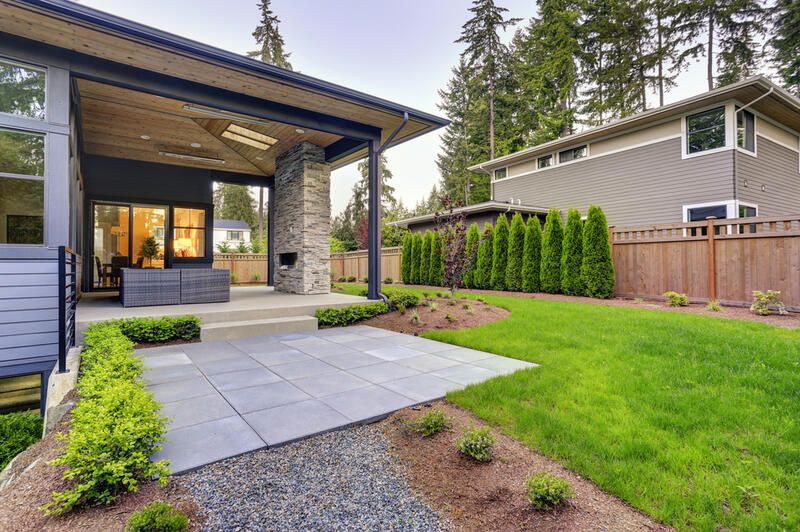 As a happy medium between standalone homes and condos, townhouses offer their owners the best of both worlds.


More often than not, when purchasing a new home, people tend to visualize their future lives either in detached family homes or apartments. It's like a townhouse never actually crosses their minds.
Even though some people believe that townhouses are but two houses mashed together, owning a townhouse brings its owners a set of significant advantages.
From their low purchasing cost, low-to-zero maintenance needs, and privacy to their security, amenities, good location, and strong rent potential; townhouses are a fusion of convenience and affordability.
While a townhouse boasts great benefits, its backyard is usually space-limited. Nonetheless, finding exceptional ways to make the most out of your outdoor space turns townhouse backyards into functional spaces.
Owning a small townhouse backyard never means it's eligible for an outdoor storage room. Because functionality isn't about the size of your townhouse backyard, outdoor small spaces can still boost your curb appeal, offer you a dreamy escape to unwind, become a favorite spot for you and your friends, and function even better than a huge outdoor space.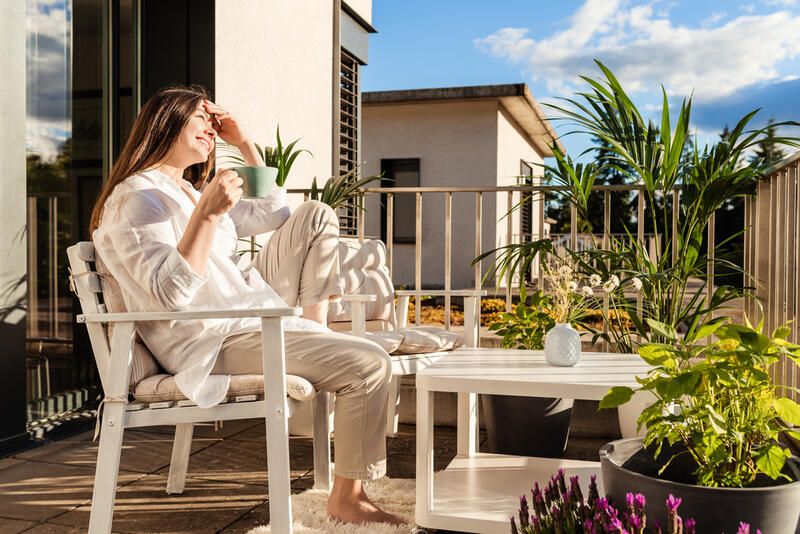 To create a masterpiece and breathe life into this space, extend the livable space of your home by designing a small backyard that becomes the reason you go outside every day.
There are loads of townhouse backyard ideas out there to draw inspiration from. We've rounded up some beyond-beautiful backyard landscaping designs to bridge the gap between functionality and style.
A Lush Garden Area
This is the part where it gets personal!
Your goals, visions, and family's future needs are key to choosing the design of your townhouse garden. No matter which garden style you go for, the aim is to bring nature home.
Looking for a fresh, clean look that never goes out of style or shape? Lawns are one of the best gardening ideas to freshen up your outdoor space with a lively green touch.
To pair lush garden landscaping with sleek modern design, you need to create a stark contrast in your garden:
To start, line your backyard with garden beds, lush textural greenery, and some of your favorite small trees. Then, grow a vertical garden to transform your wooden fence into a living wall. Finally, install stone tiles and minimalist furniture in the center for a small backyard patio.
In case you have a green thumb and gardening is what nurtures your soul, revamp your small space by designing a forest-like hideaway:
A fresh lawn stretches out the entire landscape, a backdrop of thick green shrubs and trees that double as a green screen for privacy, some captivating colorful blooms, ornamental grass, and simple wooden furniture to wrap the forest scene up - this is how you fashion your verdant escape!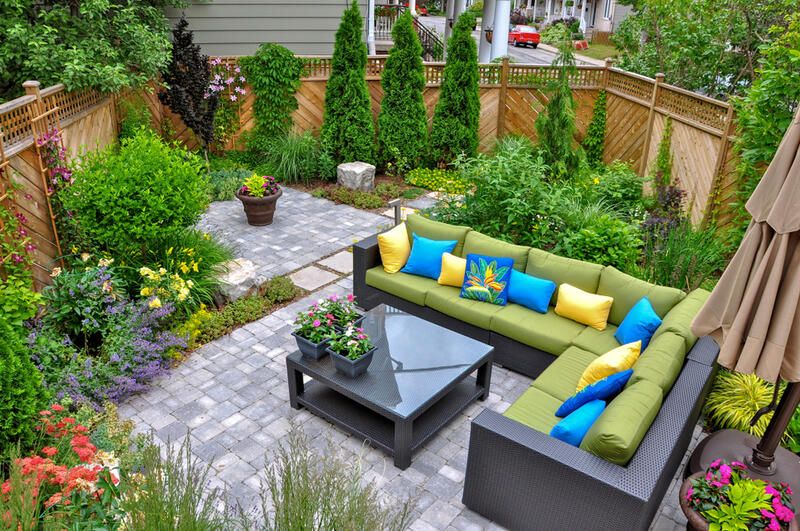 An Outdoor Kitchen: The Compact Version
Too often we build this unrealistic dream in our minds – only to be brought back to reality by stepping into our tiny backyards. However, having a small space doesn't mean you have to give your dream up, it rather means you need to explore the most creative version of yourself!
The outdoor kitchen is designed to be compact yet utterly functional in a limited space like a townhouse backyard.
A grill or a cooking area, an outdoor refrigerator, a sink, and a small prep counter are all you need for a space-efficient outdoor kitchen.
Are you an entertainer who fancies holding family and friends gatherings all the time?
Now you can envision yourself in your townhouse backyard grilling up mouthwatering food for a barbecue party, and everyone is enjoying this jolly ambiance.
A Play Area for Your Little Ones
Nothing makes the challenging task of lessening screen time and encouraging your kids to bond with nature easier than creating a backyard play area for them.
It's no secret that children are not wired to stay still, it's just not in their nature. They're meant to roam freely, run, jump, and of course create an absolute mess.
These outdoor sensory experiences allow your little ones to physically, mentally, and emotionally develop. And when it comes to opting for a play area, creativity is key.
There are endless innovative ways to engage your kids, all you have to do is pick the ones that suit their personality and tickle their fancy.
You can hang up an outdoor chalkboard so your kids can voice their ideas and sharpen their artistic skills, install a tent or build a small treehouse to awaken their curiosity and spark up their sense of independence, create an imaginative world with toys to feed their creativity or add a swing set and a slide for a mini park experience in the heart of your backyard.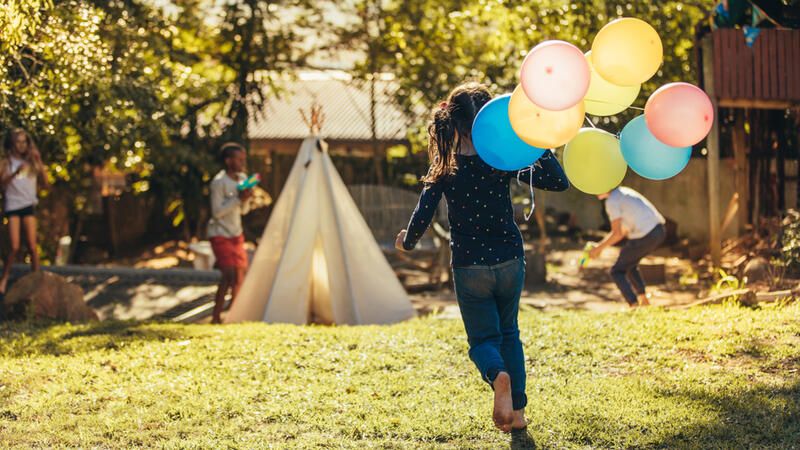 A Glow That Goes a Long Way
Imagine polishing your townhouse backyard, ultimately fashioning a hugged-by-nature, awe-inspiring getaway that never fails to steal the attention of any passerby! Sounds dreamy, right?

But what is the point of building this captivating retreat if it will only be seen and appreciated by day?
Why not design a comprehensive lighting plan that rescues your beautiful backyard from the grips of darkness and display it as an invaluable jewel that stands out from the other mediocre yards of the neighborhood?

Just like adding icing to the cake to allow a hint of sweetness and to show off a mouthwatering look, illuminating your yard extends your living space after the sun goes down, spots out the beauty of your landscape, boosts curb appeal and improves safety and security.
A Boho Style Backyard
Free-spirited, multi-cultured, and beautifully artistic; the bohemian outdoor décor emphasizes organic elements and nature.
Think bold, head-turning pops of colors that give your space an eclectic feel, extra cozy furniture that add a homey vibe, lush greenery that embraces the entire space, and a blend of textures that strikes an interesting architectural contrast.
If serene, nature-inspired, comfy, and convenient sound appealing to you, then it's time to spruce up your townhouse with a boho backyard. Imagine the most comfortable living room you have ever been in, and then place it outdoors in the heart of greenery and fresh air.
Cozy bohemian backyard ideas are endless:
You can roll out a boho-patterned rug to add to the texture and warmth of the space, throw a chunky knit blanket over your sofa along with some patterned cushions for maximum comfort, envelop your seating area with lace curtains, and hang up a birdcage light fixture.
For a twist on the ordinary, you can opt for a macrame hammock, a sectional with stacked pallets, a hanging swing chair, a floor mattress, or built-in wooden seating.
And to finally pull off a lush sanctuary, grow boho plants like spider plants, succulents, yucca, pothos, bamboos, or maybe an ornamental grass such as pampas grass.
A Gravel Patio
Gravel patios never fail to offer you more functional spaces. It's as if they unlock another dimension for you to further enjoy your outdoor space!
Compared to other hardscaping materials, a gravel patio is cost-effective, easy to install, maintenance-free, customizable, and attractively natural.
You can adorn your backyard's border with encircling greenery to maximize the natural effect, install rustic flagstone walls to separate the gravel patio from the flower beds, add a fire pit for warm late-night gatherings and a soft, intimate glow once the sun goes down, and wrap this cohesive composition up with a couple of Adirondack wooden chairs.
What is truly amusing about gravel is that it suits an assortment of styles, be it European-inspired, Mediterranean, desert-like, Asian, or many others.
It's Time to Have Your Verdant Sanctuary
Owning a townhouse with a small yard is frustrating in only one scenario: not knowing what to do with this empty yard or how to maximize the space to make the most out of it!
While you might have come across tons of townhouse backyard ideas to inspire your design, your mind is somehow flooded with options, and you are not certain which design complements your outdoor space.
Having an outdoor space -large or small- to call yours means you are a fortunate person who is just in need of expert guidance and a dash of creativity to turn this backyard into a charming hideout.
This is when professional designers come in handy!
Home to creativity, innovation, and resourcefulness, ShrubHub stands out as the world's fastest-growing online design company.
With over 20 years of experience in the landscaping & e-commerce industry, ShrubHub is powered by an exceptional team of talented designers and leading-edge technology to make sure that homeowners receive world-class designs.
Your small townhouse backyard demands only one thing to become your huge, favorite retreat: professional creativity.
ShrubHub's skillful designers master singling out the hidden gems of outdoor spaces, finally creating an innovative, customized 3D design that gets the most out of your space and expertly portrays your vision.
Aren't you a little curious about how your yard can turn out to be?