4 Outdoor Winter Party Ideas: Tips for a Frosty Blast
Published: 20/12/2022 | Updated: 24/04/2023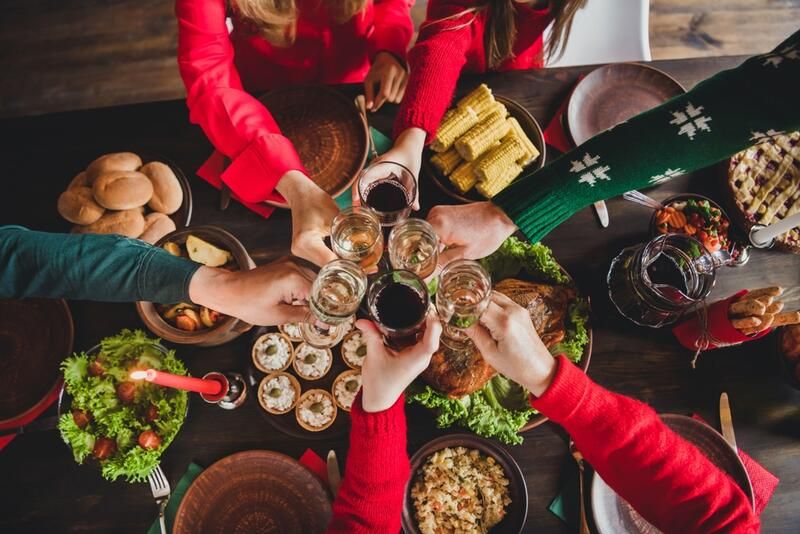 Of all the parts of your home, it's your outdoor space that should be the cherry on top of the cake. Think of it like this: your garden is the treat that you enjoy by the end of a long, vexing day at work, a haven where you bid all your worries farewell, an inviting setting that gladly embraces the gatherings of your family and friends, and a secure outdoor space for your kids to have a blast.


Sitting on your indoor couch staring out your window, you must be wondering how this dreary piece of land could be transformed into a cheerful, inviting space that hosts top-drawer parties. Without a shadow of a doubt, you have the best intentions in heart for your yard. However, you are clueless about what to do next!
Even if there are thousands of ideas shooting right at your face, you are not quite sure how each one fits into the whole scene.

What better way to enjoy the beauty of your yard than by sprucing it all up for a winter-themed outdoor party?
If you are now thinking: "Winter has nothing to do with parties, we traditionally forget about our yard for some time till we can take pleasure in our summer gatherings again", reconsider!
While summer parties mainly revolve around soaking up the sun, preparing homemade fruit slushies, serving up granitas, freezing fruit cubes, and cooling your guests off over and over (till you run out of ice); winter parties focus on one thing: warmth.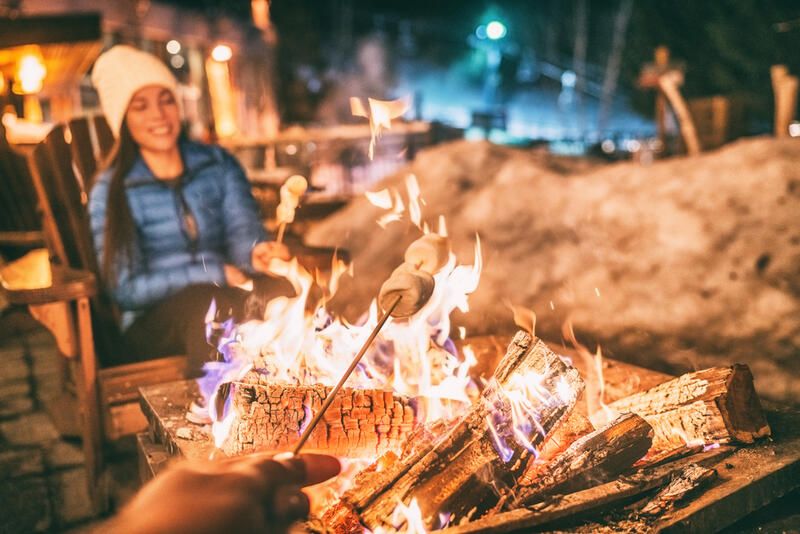 During winter months' cold weather, warm outdoor parties are one of the greatest ways to bring a blend of hospitality and creativity into the scene. To help you throw an amazing winter event, we have rounded up some of our favorite outdoor winter party ideas to inspire your next creation:
Host a Fire Pit Party
Feeling like indoor winter parties are not as satisfying as you wish them to be? Have a whale of time outdoors by creating a cozy atmosphere around your firepit.
Picture inviting your friends and family over for a firepit S'mores party. There you are picking up sticks from the garden for the marshmallows and snuggling up around the firepit to pour your hearts and minds out (because what better way to jazz up a firepit party than by going down memory lane!).
To spend a cozy evening outdoors with your guests right under the glimmering stars and the irresistibly ambient glow of the roaring fire, you need to make sure they are not freezing! This alfresco lounge space can be a rather inviting one when equipped with comfortable furniture, cushions, blankets, and of course hot chocolate.
If you are looking for ways to relax with your nearest and dearest ones, there's nothing more effective than the dancing flames. That wonderful warm glow simply casts a soothing spell all over your abode, creating the very moments that make our lives dearly unique.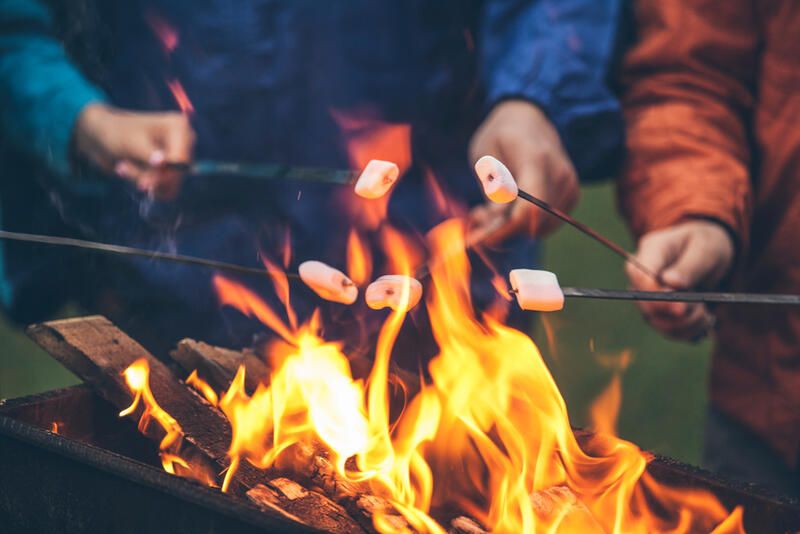 Entertain Your Guests
Have you ever refrained from hosting an outdoor winter party because you were disheartened by the thought that there is nothing much to do out there?

A winter party favors dynamic activities to keep your guests warm, engaged, and thrilled all at once! And what better way to channel the full-of-fun vibes than by playing a scavenger hunt?
The most exciting thing about this game is that you can be as creative as you can ever be, capturing your brightest ideas and bringing them to life to wow your guests.
When in doubt, go for a pine cone hunt. Divide your guests into teams, challenging them to find the most striking pine cone within a certain time limit. To jazz the game up a little, spring for awarding prizes to those who will bring the weirdest-looking pine cone.
If it's about time and snow is falling, you can call yourself lucky because you can send your guests on a snowball scavenger hunt. Before they arrive at your place, you might need to spend some time crafting snowy treasures. With food coloring and several snowballs, you can create a variety of colored snowball treasures and hide them separately at your party space. To make things even more interesting, assign a prize for each color! (It's a bonus for you as a party host because the faster they run the warmer they will get.)
Never underestimate the power of running around hunting for treasures, it is surefire proof that your guests will feel warm throughout the whole party and has long been a fun outdoor activity that never fails to keep your winter party entertaining.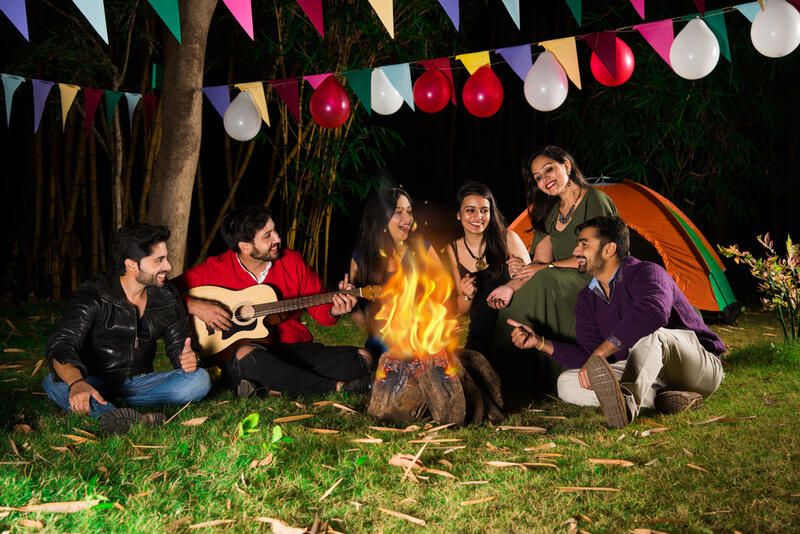 Throw a BBQ Night
Don't you wish to be thrown back to the partying days and nights of summer?
If you are reading this while being snuggled up indoors all covered up in a warm blanket, this might be hard to believe. But just like it's the middle of July, you can revel in the beauty of winter and invite your friends and family over for a fun party outdoors.
Still not convinced why? Everyone yearns for human connection in winter because most probably we become less friendly while hibernating indoors. Even more, nothing beats the sense of despair that shrouds the winter vibes each year like the festive ambiance of an outdoor winter BBQ party!
Put an end to the indoor dreary winter nights because grilling deserves to be enjoyed all year round. Explore the following BBQ and grilling ideas to serve hot food for your hungry, probably now-freezing guests:
Spicy Honey Chicken Kebabs: If you are looking forward to sparing yourself the hustle of washing the dishes when your guests leave, a meal on a stick is your way to go. The appetizing combination of sweet and sour gives your barbecued chicken a tasty twist.
Maple Glazed Bacon: Ever covered carrots with bacon? It's honestly about time to get your glazing session started and try out these wrapped roasted carrots. For another take on the sweet and sour path, glaze your bacon-wrapped carrots with maple syrup and barbecue them for a tasty, heartwarming combo.
The Forever-wanted Hot Dogs: It's not just the kids that constantly ask for hot dogs, adults crave them too! Whether you go for the traditional hot dog sandwiches or elevate your dogs a notch with some fun ideas like taco dogs, hot dogs with pineapple salsa, or grilled cheese dogs; they can never fail you or your beloved guests.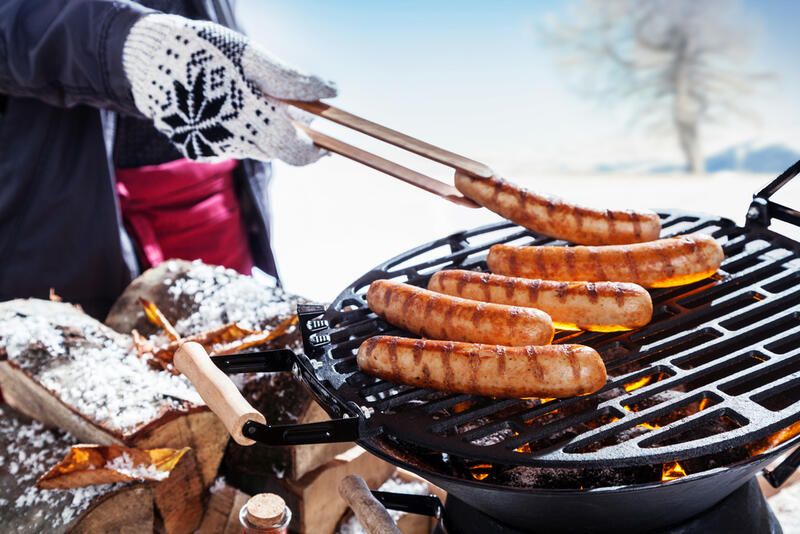 Prepare Outdoor Winter Snacks
Your snow-kissed yard is a sign that you should take your party outside this year! One question surfaces each time we think of an outdoor winter party: What tasty hot food and drinks would keep my guests warm throughout the party?
Easy-to-eat, ridiculously delicious, and comforting; finger food is not only fun to eat but also a great-yet-filling snack if you want to steer clear of a formal dinner. Hamburger sliders, pretzel sticks, mozzarella sticks, cheese balls, bacon bites, and chicken sticks are some of our finger food ideas that could be served with an assortment of dips.
For an extra sense of warmth, serve drinks in a fun way like a self-serve hot chocolate bar, prepped with piping hot chocolate and lip-smacking garnishes.
Fresh homemade apple ciders, boiled oranges, pumpkin spice lattes, white hot chocolate, peppermint hot chocolate, and white spiced coffee are all great options to throw in a splash of freshness to your winter party.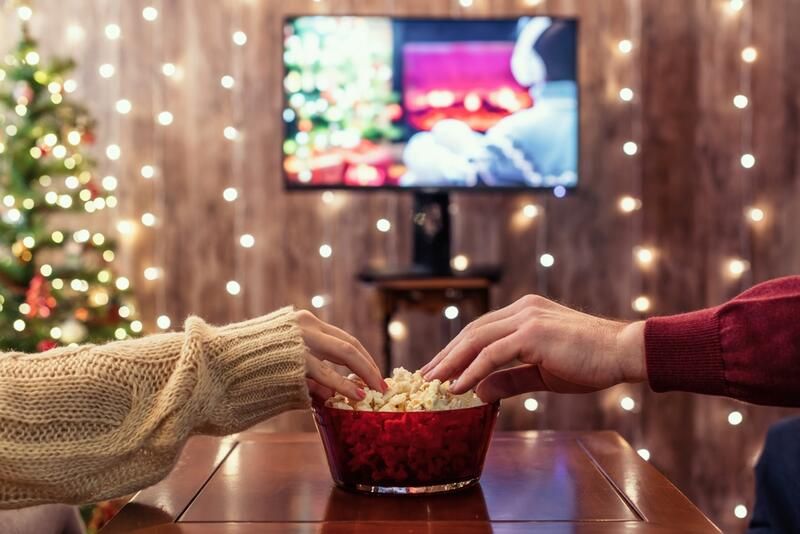 How to Prepare Your Yard for an Outdoor Winter Party?
When thinking of winter parties, people automatically go straight to hosting their gatherings indoors. Throwing your party outdoors in winter can be like a magical fairytale bejeweled with snowflakes and twirling flames.
Instead of limiting your festive atmosphere to indoor activities, explore what your yard has to offer! Celebrating under the twinkling stars calls for a detailed plan to make sure that your guests are having a blast.
Driven by a team of talented designers who are always eager to offer support to their clients, ShrubHub is here to help you. No matter if it's a uniquely themed party or a humble family gather-up, there's always a wide variety of festive design ideas that suit your jolly goals.