2024's Easy Garden Ideas to Transform Your Yard Landscaping
Published: 01/05/2023 | Updated: 07/09/2023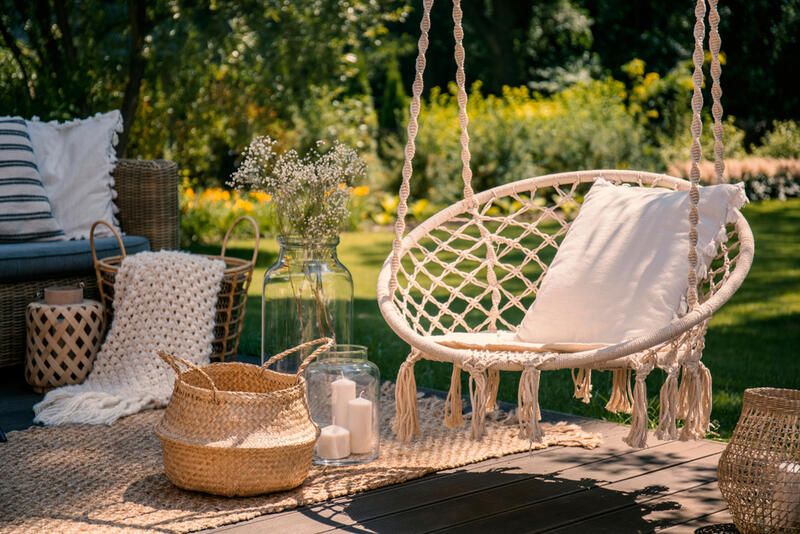 We all want to make the most of the outdoors because it is such a precious resource. Making the most of your space will be made possible by our easy garden ideas, which will make it simpler for you to plan, plant, and decorate.


Regardless of whether you have a large lawn or a little patio, whether you are limited on time, money, gardening space, or education, these garden ideas can help you create an atmosphere you love.
There are several ways to instantly improve your garden without hiring specialists for hard landscaping, which may also help you save money on garden landscaping. We've included our top summertime picks, practical advice, and do-it-yourself garden design suggestions to liven up your place. We also have a ton of simple patio ideas to think about, like rearranging furniture for your patio space and a different look. Could the bench or the table and chairs be moved? Plant a lot of fragrant flowerpots and herb gardens all around the seating area.
Consider applying a new coat of paint to your summerhouse or shed for a quick facelift. Consider color blocking to give your landscape some contemporary flair. Fences can also benefit from a revamp. As an alternative, consider installing eco-friendly bamboo or reed screening in front of fences to change the appearance.
Easy Garden Ideas
This guide will go over all the important methods for improving your outdoor garden with these do-it-yourself gardening tips. From a raised garden with bedding plants to a terra cotta fountain, from a homemade garden box to a clay garden, from a DIY herb garden to a stacked garden, from a strawberry tower garden design to fairy garden ideas, and much more! This guide has all you need!
Either you want to improve the appearance of your backyard, or you want to renovate your garden area. Change is always welcome to observe. Each of the above DIY garden projects and ideas comes with all the ingredients and tools you'll need. All you need to do is pick the DIY garden project that best meets your needs in terms of comfort, space, and spending power. Start it now and enjoy yourself!
Build a Raised Garden Bed
Are you looking to grow a vegetable at your house that won't taste chemicals? But due to your small home, you do not have a garden. For successful planting and fresh veggies, you can now create a little vegetable garden in your backyard.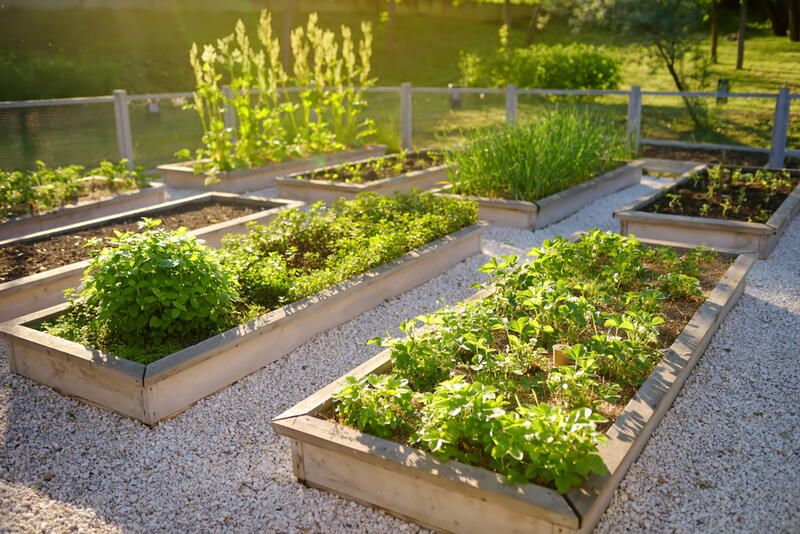 Decorate Chairs & Tables
Even with a cover, if you have to leave your furniture outside during the winter, it may appear a little neglected come spring. A clever and simple budget garden idea is to give them a new coat of paint.
Go outside and paint! It provides a low-cost method of updating outdoor items including garden furniture, fencing, planters, sheds, and even walls. Even when the flowers aren't blooming, your home garden will still stand out by using bold colors. Alternately, create smart, minimalist-chic outdoor settings by using cool-toned pinks and neutrals.
Repurpose Old Wood for Cute Shelves
Create vibrant wall cubbies to showcase flowering plants or other garden art and trinkets. It's an elegant yet inexpensive method to spice up your space, especially if you're seeking vertical garden ideas.
Old wooden fruit crates can be used to create little shelves, or you can choose to use more durable wooden wine crates to produce a larger version. Crates should be painted in vibrant, weatherproof paint all over before being attached to an outside wall or the side of a garden shed with wooden battens.
Make attractive displays by arranging individual cubbies at staggered intervals or by joining two or three cubbies to form a pigeon-hole-style shelf unit.
Terracotta Fountain
Are you looking for the ideal fountain to install in your yard for a wonderfully fresh and natural outdoor look? Can you make something at home if you couldn't locate the one you wanted in the market? of course! Terra cotta planters, plastic pump tubes, water pipes, circular saws, drills, and hammers may all be used to create the ideal custom fountain for your outdoor space.
Create Seasonal Decorative Elements
You can plant pots to create styled exhibits outside in addition to indoors. Plant some seasonal flowers in containers; for spring, you can choose from hyacinths, daffodils, and tulips. Cosmos, sweetpeas, and snapdragons are just a few of the summertime flowers.
Think about your containers and select some unique items like a vintage vase, an old washtub, or an old colander. They'll look wonderful filled with color.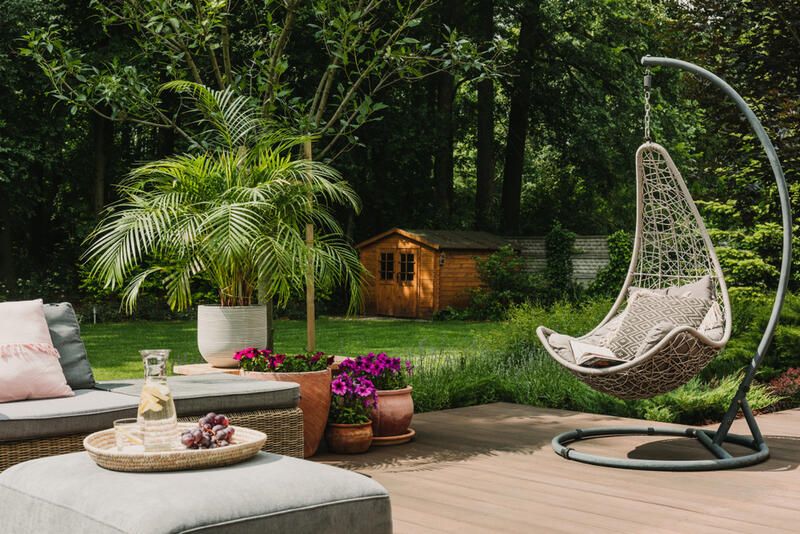 Create Mini Planters
Make fun small planters for herbs or floral plants out of old glass jam jars and containers rather than throwing them away. If you have any leftover acrylic spray paint, use it. You can also use old paint tester pots, although you might need to cover the jars with clear varnish to give them a more durable look.
After the paint has dried completely and the lettering has been added, each jar should have a wrap of garden twine tied in a bow to complete it.
It's a nice idea for a yard display, or present them as gifts with a name or initial to visiting family and friends. Fill them with free plants if you want to save even more money; our guide's cheap garden ideas reveal where to look for them.
Clay Garden Markers
Are you wondering if you may use a spare raised bed kit that you have laying around for planting? Add some plants and organic potting soil to the kit to complete it. The last step is to add clay so that your plants may be precisely imprinted into the clay. Bake clay, an oven, parchment paper, a baking sheet, a dinner knife, and alphabet stamps should all be assembled.
Upgrade Lighting
A well-lit garden will set the scene when the sun sets and aid not only enable you to walk securely but to also create a cozy feeling. Garden lighting ideas are crucial, just like with our interiors.
If you want flexibility depending on the time of day and the ambiance you want to create, try adding layers of light. For mixing cocktails and making other drinks, wall lights will give useful illumination, while pendant lights will maintain the lighting gently to create a lovely ambiance.
Depending on your preferred style, you can then use more ornamental candles, lanterns, and string lights to further enhance these lighting. Always be sure to choose outdoor lighting that is of high quality and works with LED bulbs. These are the ideal sustainable option because they are both energy-efficient and have extraordinarily long lives.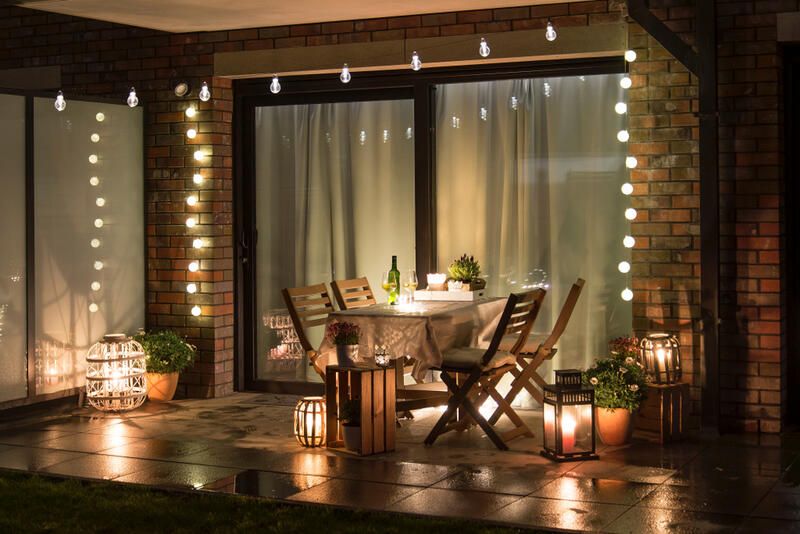 Garden Box
In the summer, do you enjoy planting vegetables? We are aware that veggies grown at home are the best. Now, create a DIY wood garden box and plant as many veggies as you like in it. All you require is a power drill, wood boards, plywood, cedar boards, nails, pocket screws, hammers, and vegetable seeds.
Try Stepping Stones
Making a meandering route out of stepping stones through the garden will add interest. They are understated and useful, making them a fantastic substitute for straight paths and a low-maintenance, low-cost way to enhance your landscape.
If you want to add texture, think about using limestone, sandstone, or slate. If you use contrasting gravel, the effect will be both fashionable and rustic.
Terracotta Candle Holders
By creating fragrant candle holders to scatter around a patio, you may prevent mosquitoes and other insects from becoming a nuisance during the hot evenings outside.
It's easy: just place three fragrant candles within a couple of terracotta pots that have been filled with sand. Choose three standard-sized dinner candles or seven or more slim tapers as an alternative because odd numbers are visually more pleasing than even ones.
Use citronella, lemon balm, or lavender-scented candles to deter pests and leave them burning for a few hours. Make sure that the candles are out of reach of children and animals. Why not also encircle the area with some of our best insect-repelling plants?
DIY Vertical Garden: Herb Edition
Many dangerous disorders can be treated with the help of herbs. Growing some of your essential herbs at home is always preferable to buying them from the store. You get next-level refreshments from natural, fresh herbs. The DIY vertical garden is the greatest option because they don't take up much room. Build wood boards with clamps, pocket hole screws, finish nails, etc.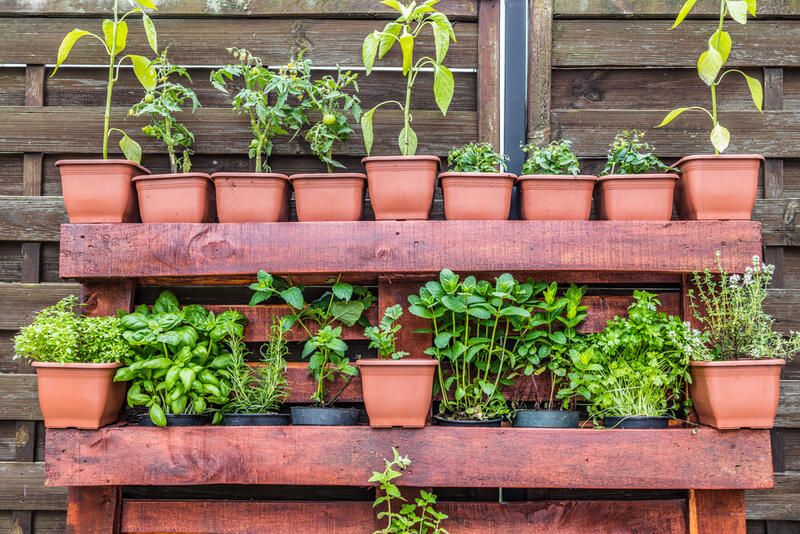 Stone Planter Boxes
By placing some new plants nearby in a stone planter box, you may give your backyard a wonderful garden appearance. The preparation for this job could take some time, but the finished product will be excellent. It's also simple and affordable. Bricks, plants, seeds, clay, stone, water to mix the sand, a hammer, cedar boards, clamps, and cement are the only materials required.
Outdoor Fire Place
The design of outdoor fireplaces has changed over the past several years, and if you enjoy a little coolness after the sun sets, they make a chic accent. You can choose a moveable design or one that is built in.
They are an improvement over regular fire pits since the chiminea form eliminates sparks and focuses heat upward and away from the user. This makes them a safer option for families than traditional fire pits.
Oversized Planters
When it comes to larger sizes, purchasing tubs and pots for your various container gardens and gardening ideas might be extremely expensive. Therefore, if you're looking for a less expensive option, consider making custom-sized planters in an industrial style.
Simply wrap a length of corrugated steel purchased from a builders' merchant or DIY store into a huge circle, then fasten it with roofing bolts into pre-drilled holes. To prevent any sharp edges, make sure that all ends are tucked inside.
They are ideal for tiny trees or bushes or use a few seeds of your favorite flowers to create something unique.
Garden Bench
Do you enjoy flower cultivation a lot? Do you also want to get a new flower bench for your yard, where you may display your favorite blooms while also encouraging the growth of fresh ones? This is the ideal strategy for you. Easy instructions will help you create a beautiful DIY flower seat at home. Boards of wood, a circular saw, a measuring tape, nails, clay, plants, clamps, and cedar boards are all that is required.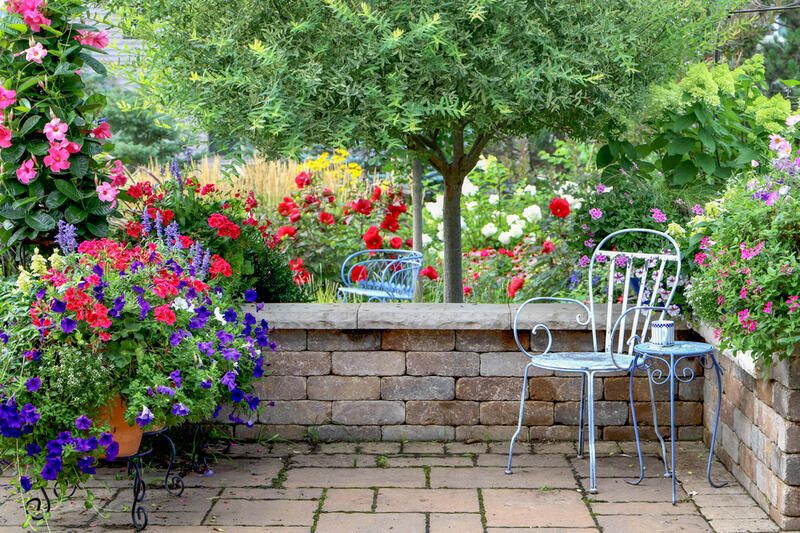 Solar Lights
When compared to battery-powered garden lights, solar lights have the advantage of requiring no maintenance while providing attractive ambient illumination and minimizing environmental impact.
There are many fashionable styles to pick from, but we especially enjoy the paper lantern-like designs that are available on Amazon and go well with rustic settings. They can also add a splash of color.
Upcycled Hanging Baskets
Are you looking for a low-cost backyard tip to spruce up your outdoor dining arrangement? Make a simple, happy hanging centerpiece to place above the table.
Create the structure for each hanger using a pair of old bicycle wheels. Simply remove the tires, paint them with a bright color, and suspend them from a beam above using a strong hook. To attach a trio of hanging plants to each wheel, simply string them there and use S-hooks to hold them in place. Make your miniature planters by suspending painted tin cans from a garden rope.
Fill pots with vibrant, in-season blossoms to complete the look.
DIY Garden Fence
Are you sick of pests visiting your garden and destroying your plants? Are you having trouble keeping pests out of your growing area but are curious about other options? The best option for you is to build a garden fence yourself with a little cash and some work. A pitch axe, cedar planks, a hole digger, T-posts, level, and cedar 4x4 posts should all be put together.
Pop Up Pergola
pergola concepts Increase your living space, create zones, and provide shade. They're also a great place for entertaining; all you have to do is pick a style that complements your room.
Consider the pergola's intended usage when choosing a style and material because this will affect how it will be used. A decorative wood frame, for example, will have a more historic feel (and will require more upkeep), whereas a 100% aluminum frame will have a contemporary finish and be more durable, low-maintenance, rust-proof, and ideal for use year-round.
Aluminum will also endure a lot longer than wood, which has the drawback of dripping sap onto nearby furniture and ruining it once it gets wet. The wood will change practically immediately after it is placed, whereas the powder-coated aluminum will never deteriorate and appear the same forever.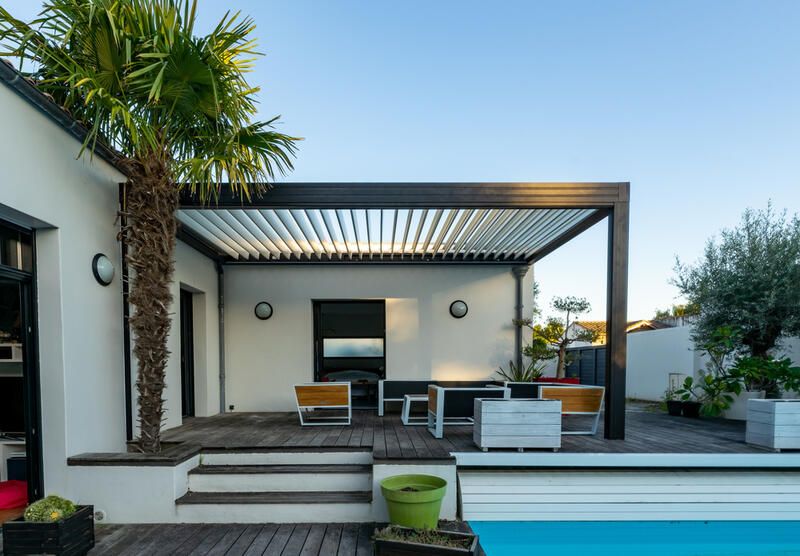 Create Guides with Garden Signs
This vintage-style signpost is simple to create with salvaged wood and is a fantastic addition to your upcoming garden party or just a fun way to prettify your plot. Alternatively, if you're looking for pallet garden ideas, this is a great way to make use of any extra wood.
The holding post will be a single, lengthy, robust piece of wood that you will need to begin with. Create the pointer arrows by cutting tips at one end of little pieces of wood with a handsaw or jigsaw. Choose your words, and then use waterproof garden paint to write them on each arrow.
Using a hammer and nails, attach the arrows to the long post, then firmly put the signage into a hard planter or flower bed.
Build a Fairy Garden
Do you adore the fairytale character's characters and frequently watch them? Do you want your gardens to be identical? of course! Imagine embarking on a brand-new quest to create your ideal fairytale garden at home. Yes, you can complete this incredibly fun and creative craft. Clay, favorite miniature plants, playthings from fairy tales, water, a drill, clamps, and a pitch ax are all you need.
Fairy Lights
Over your outdoor seating area, create a shimmering canopy of decorative lights. It will create a beautiful scene and also provide ambient light.
Create a magical fairy light canopy to expand your living area so you can spend nights in the garden as dusk falls. Attaching the lights to pergola posts and wooden beams, daisy-chain many sets of fairy lights together, and then string them back and forth, up above the decking. For a hassle-free setup that will offer your garden a quick yet effective refresh throughout the summer, secure in place with cable ties.
Spruce Up Your Shed
With a little paint and a sunny afternoon, you can transform the garden shed into a chic WFH retreat where you can retreat during the summer.
Pale, light-reflecting paint colors will help to open up the room and make it feel bigger and brighter. Once the soft, off-white paint has dried, add a wide band of contrasting colors halfway around the walls to create a neutral backdrop. A cheerful yellow gives this room a cozy, holiday-inspired feel.
To complement the façade, stick to subtle tones of sage green, light blue, or pastel gray. You'll soon have a shed full of dreams.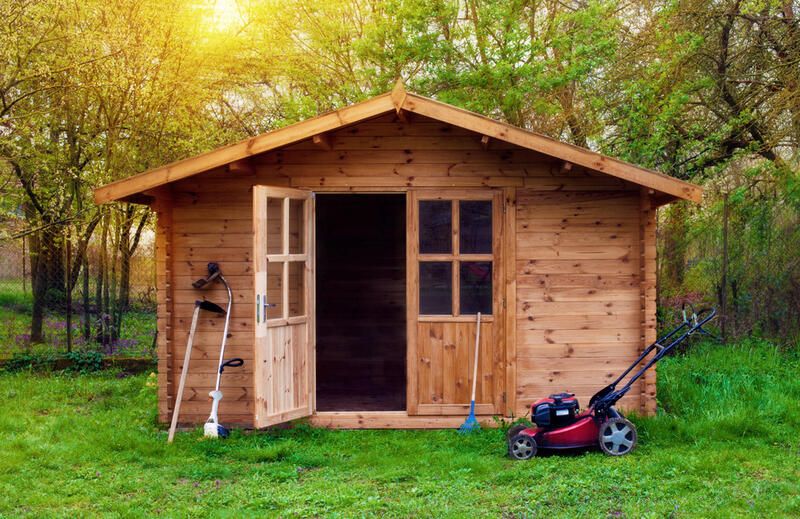 Utilize Every Inch
Looking for creative ideas to maximize your outdoor space and lengthen the lighter evenings? Even if the weather threatens to ruin your dinner, you can use a little imagination to turn your greenhouse into the ideal location for some outdoor entertainment.
Use rich cushions and blankets to add a sense of texture and warmth to your dining table, along with botanical linens and fresh flowers from the yard. Use exquisite edible flowers as a garnish to amaze your guests, or infuse your favorite gin with locally cultivated flavors like basil and cucumber or rosemary and ginger.
Stacked Garden
Do you want to grow some fresh herbs at home? Are you wondering if you can cultivate your plants in the limited outdoor space you have? You may cultivate herbs and create a beautiful addition to your outside space by creating a stack herb garden at home. Put together flower pots, planters, and a set of white garden t-labels.
Add a Folding Bar
Outdoor bars are great, but not everyone has enough room for an additional room. Instead, construct a creative pull-down bar from a few pallets and some chains to turn a small space into your own personal entertainment area.
For beverages and barbecues, they are kept close by thanks to the outdoor herb planter above.
Build a Garden Display Wall
Create a showcase area for plants and garden décor to brighten your outdoor terrace or patio ideas. Use straightforward wooden brackets and shelves, and give them a weatherproof finish by treating them with wood preserver or colorful garden paint.
For a more haphazard presentation, set up multiple tiny shelves at different heights or one longline shelf to fill the full wall space. Choose a variety of outdoor pots, lanterns, and plants, and arrange them along the shelf in small groups of items of all heights and sizes.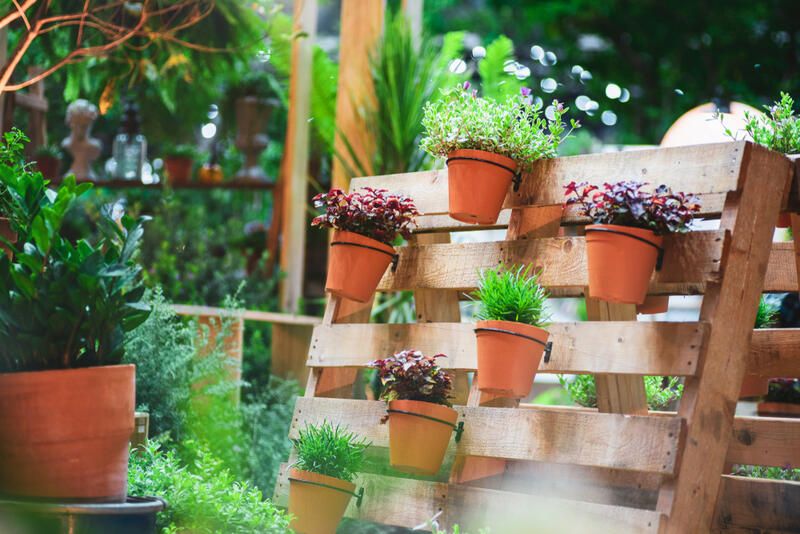 Establish Seating Zones
By zoning your garden, you'll increase the sense of space there and give each person their natural retreat. The garden can feel more organized and be utilized to its fullest potential by being divided into various regions, each serving a particular purpose.
Many people believe that garden areas are developed through construction alterations. While it's true that pots, walls, screens, and hedges serve to define your spaces, strategically placed seating also accomplishes so.
Make each seating location feel distinct from the others to provide a variety of seating areas in a single area. For instance, a dining table and chairs, a hammock or hanging seat for lounging, and casual seating spaces separated by an outside mat.
Pallet Garden Trellis
Have you ever fallen in love with a little trellis found in a planter box? Why not construct one at your house? Get a 5-gallon planter bucket and some pallet wood to build the garden trellis of your dreams. It's not that difficult. All you need is a pallet, safety goggles, a table saw, a reciprocating saw, nails, and screws, along with a few other readily available components.
Build a Living Wall
Fix a few vertical panels to the side of a shed or dull brickwork to brighten it up. You may either let it blend in with the other colors in the room or paint it a bold color to stand out. To make a living or outdoor wall, on a budget, add strong hooks to bucket planters and fill them with herbs or trailing plants.
Additionally, plants are simple to change with the seasons so there is always attractive foliage.
Add a Statement Color
No matter what color the paint is, a fresh coat can transform a drab room. And it's a cheap update to do as you only need to buy some paint and brushes.
Why not choose a striking color to make a statement feature wall this season? This vivid blue can give a room an immediately trendy air.
Decorating the exterior of your home is a great way to bring creative personality to the outdoor space while also weatherproofing and protecting your home. We enjoy updating an outdoor space with color in a novel or surprising way. With a little color, even the smallest outside area may become a haven for escape and refuge at the end of the day.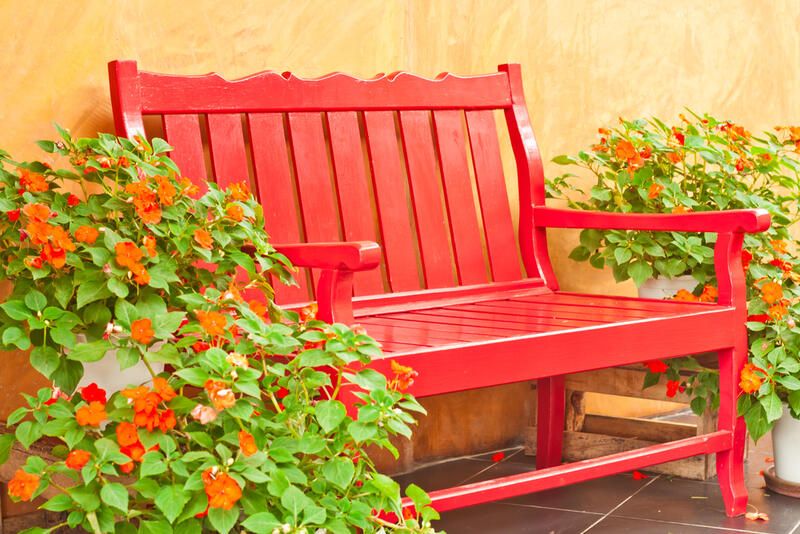 Tower Garden of Strawberries
It is now simple to construct a strawberry planter with a built-in reservoir. In actuality, it's very simple! The strawberry tower is a fantastic vertical strawberry planter that saves space and is a perfect choice for tiny gardens. Purchase a Milwaukee 1.25" hole saw, a power drill, a 1-liter plastic bottle, and a 5-gallon plastic planter pot from the market.
Build Benches
For good reason, raised beds are currently all the rage. They look wonderful and are quite useful for various planting techniques. You might be overlooking a trick, though. Create built-in sitting by attaching benches to the sides of the beds. Add cushions and blankets as an accessory to go with or against your planting.
Use Wallpaper as a Table Runner
For family get-togethers or summer outdoor parties, try this free garden idea. Simply drape a colorful paper runner made from a scrap of wallpaper over a worn-out outdoor table to dress it up instead of purchasing disposable tablecloths or linen ones.
No need to be concerned about spills or stains; simply cut a length off as needed, and after the meal is finished, dispose of it.
Hanging Indoor Garden
If you don't have enough outdoor area to grow plants, no worries. Here, we have the best homemade hanging planter design for you! Create the ideal indoor hanging garden, then cultivate as many plants as you like. It wouldn't take up any room, and you wouldn't have to rearrange your furniture. Nails, rope, thick thread, hammers, plants, and wood planks should be put together.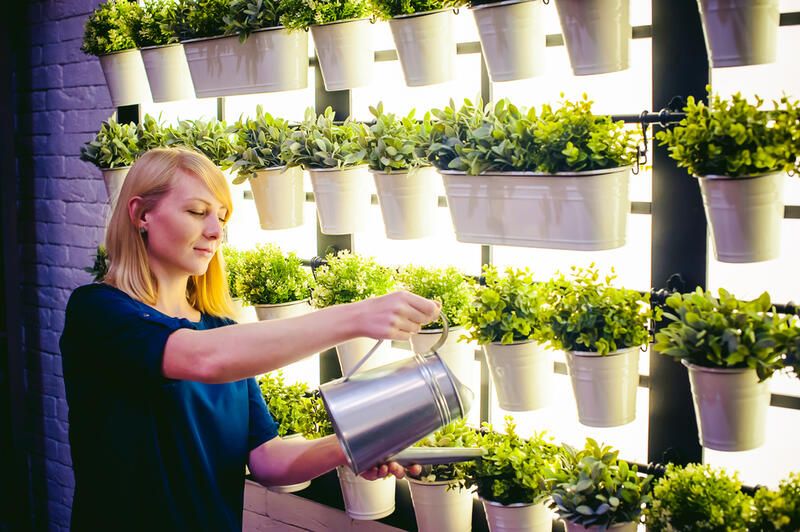 Outdoor Blackboard
Create a deck area with a large blackboard and a covered sandpit for outdoor play by sacrificing a portion of a raised bed. The kids will be entertained for hours by it, allowing you to unwind while keeping an eye on them.
To hang toys, attach a peg rail to the underside of the lid.
How to Make My Garden Look Good on a Budget?
Maintaining order in your garden will significantly improve it. As for unused paint cans, old garden tools, or other resources to help you start developing, ask your friends and relatives.
Just like spending money, gardening time can have a significant influence. Your pots, beds, and borders will be cleaned up by simply turning the soil, trimming back any old deadwood, and weeding, giving you a fresh start for the new growing season.
Local seed exchanges are a fantastic method to experiment with growing new species of plants, fruits, and vegetables. Typically, if you visit your neighborhood allotment, you'll discover a "seed library" where individuals leave any extra seeds for use by others. Another fantastic resource for finding nearby gardeners who might have seeds or seedlings to trade or give away is Facebook.
We're big fans of recycling and upcycling; a fresh coat of paint can completely change the look of an old garden bench or a garden shed. You may refresh and completely change the look and feel of your garden by experimenting with new colors and design elements. For instance, painting fence panels black will give them an urban and contemporary edge, while painting them a soft sage green would give them a rural cottage appearance.
Low Maintenance Garden Ideas
There is no such thing as a garden that requires no maintenance because weeds will grow and some maintenance will be necessary, but you may create a landscape that requires little maintenance. It would be ideal if it were just paved and had no lawn, similar to a backyard, but it could also be a blank canvas if you wanted to add some color and enjoy it.
If you have a border or two, think about using low-maintenance plants like lavender, geraniums, and wildflowers. Hanging baskets also require minimal maintenance.