10 Bohemian Garden Ideas For A Yard Full of Life
Published: 24/01/2023 | Updated: 21/04/2023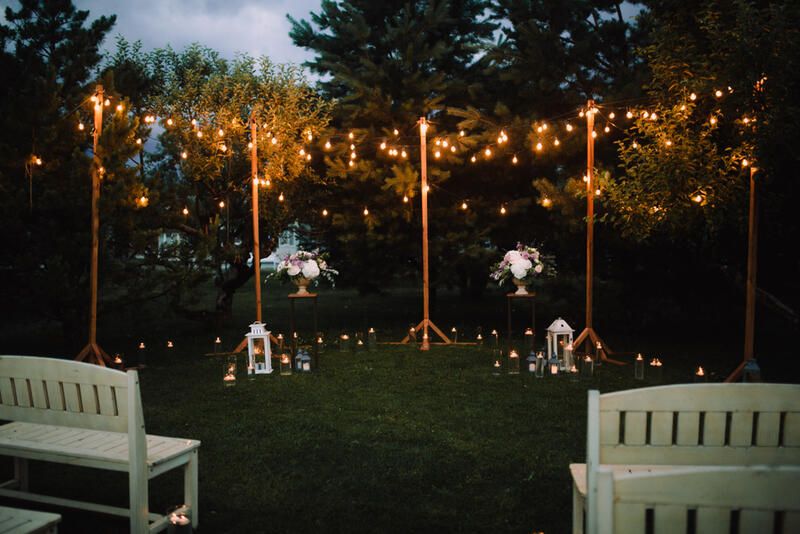 When you think of the Bohemian style, you might be reminded of a wild and untamed garden.


The Bohemian style is all about embracing nature and finding joy in simple, natural things.
With just a few simple tweaks to your outdoor space, it's easy to create a Boho-inspired garden full of life and energy.
1. A Fire Source
Having a fire pit, a fireplace, or any other fire source is the perfect way to make your Bohemian garden come alive.
By using the warmth of the fire, you can add another layer of character to your outdoor space.
Not only does it create a warm, romantic atmosphere, but it also adds a sense of comfort and coziness that will bring friends and family together in style.
2. Hanging Lanterns
Hanging lanterns are another great way to create a boho-style garden. They can be made from a variety of materials, and you can make them yourself or buy them ready-made.
In a bohemian-themed garden, you would want to hang the lantern from trees, posts, or fences to enhance the garden's boho charm.
Here are some things to consider when hanging these beautiful pieces:
You want the lantern to appear as large as possible so that it's not dwarfed by its surroundings.

Choose a material that complements your overall design aesthetic.

Consider the intensity of light that your lanterns emit to create playful aesthetics.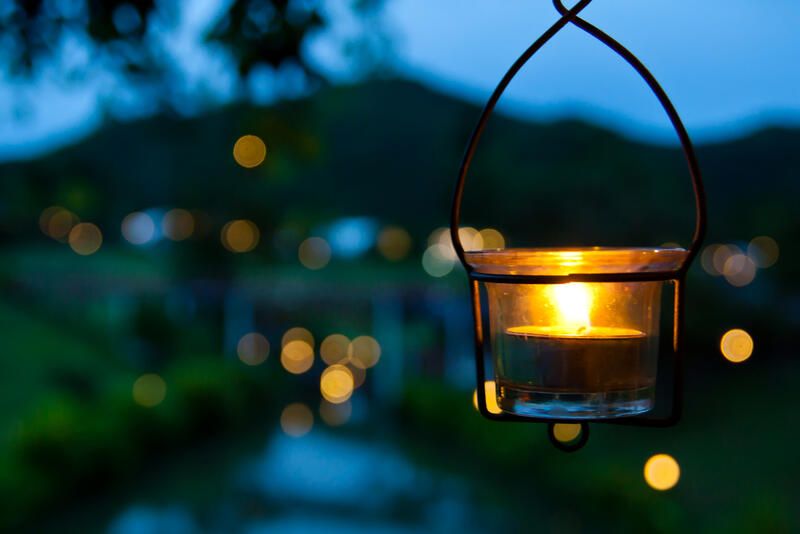 3. Natural Materials
Connecting with nature is the most important aspect of a bohemian garden. You want your outdoor patio to include some elements of nature.
You can do that by using natives that are from the same region as your home, garden, or country.
Wood, bamboo, stone, and metal are all easy to combine with other items in an eclectic garden style.
For example, you can use a wooden sculpture as a focal point or use furniture made of bamboo. There are many imaginative ways to incorporate these types of elements into your design!
4. Bohemian Style Relaxed Seating
Relaxation is essential in a bohemian garden, so make sure you have plenty of comfortable seating in your lounge area.
You would want to include some cane furniture and vibrant seats. Low-backed chairs are also ideal for this style of garden. They can be arranged in groups or scattered about the space, allowing guests to sit wherever they like.
If you have an al fresco dining area, consider using colorful upholstered chairs with arms and cushions on the seats. This will allow your guests to relax more comfortably while enjoying the outdoors.
Lounges are also great for relaxing – think wicker hammocks and swings among other options such as wooden benches with backs or rattan chairs with cushions.
If you want to keep things simple then add extra pillows and throws so your friends can get comfy on their chosen seats!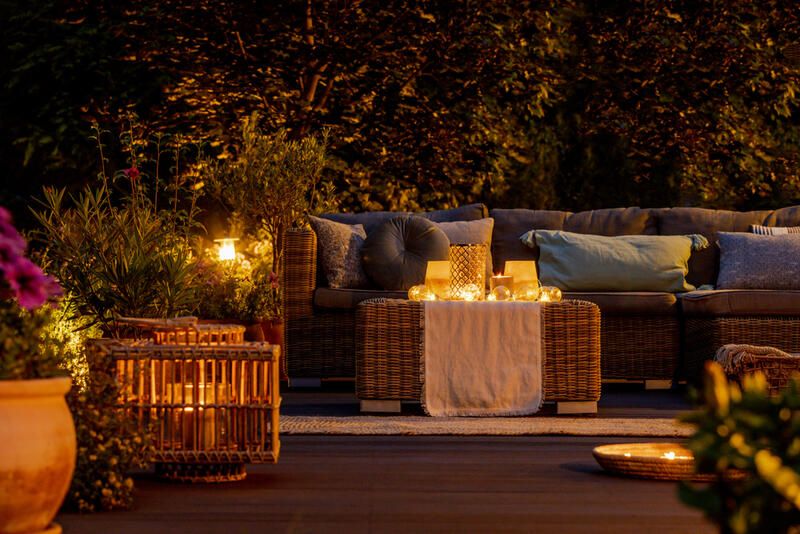 5. Exotic Patterns
Patterns can be a great way to add interest to your garden, particularly if you're looking for something with a bit more life than plain old green grass
Patterns in your garden can come in the form of rugs, cushions, and throws that are laid out on the furniture, or they can be incorporated into potted plants and trees.
You could even use contrasting colors in the form of pillows on chairs or hammocks hung up between trees!
When building a bohemian garden, keep in mind that the warmer the hues, the more boho vibes your garden will exude.
6. Potted Plants
You might have seen tons of boho garden design ideas everywhere around the internet, but there's nothing that screams boho and nature more than potted plants!
Here are some tips to help you create an interesting and dynamic composition:
Use a variety of plants. A good rule of thumb is to have at least three different types of plants per container.

Use a variety of sizes. Think large, medium, and small—or tall, wide, and short—to prevent everything from looking too uniform (think of a perfectly imperfect mixture!).

Use a variety of textures. Different textures make for beautiful arrangements, whether it's glossy leaves against matte bamboo stalks or smooth petals against fuzzy cottony ferns!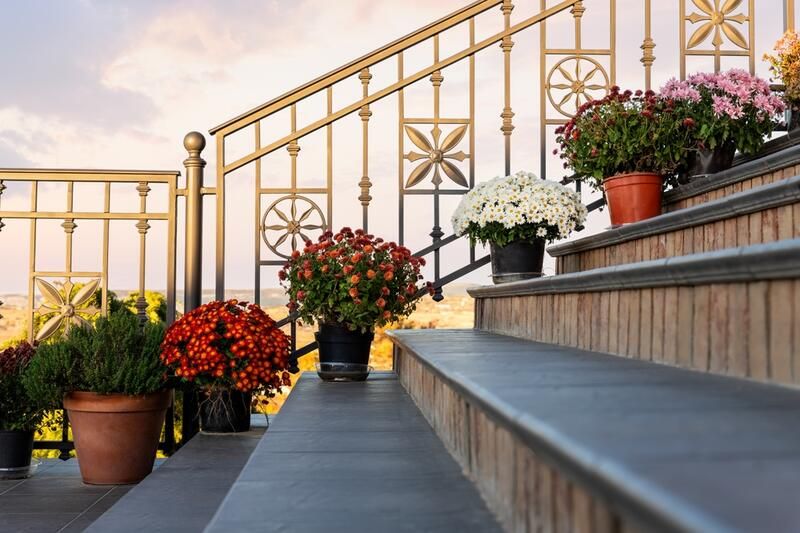 7. String lights
String lights are a great way to add ambiance to any garden, not just a bohemian garden.
They can be used to light up paths and walkways, they can also be used to light up trees and shrubs. You may want to add a dimmer switch so that you can control the mood of the area by adjusting the brightness of these string lights.
And the best part about string lights is that they come in various bright colors, giving your garden a vibrant look.
8. A Cozy Firepit
A fire pit is a great way to create a focal point in your bohemian garden.
As we mentioned before, fire is an essential element of the boho style. You want your garden to feel warm and cozy, but also lively and full of color. A fire pit would help you create just that!
It can also be used for cooking, warming up, or just sitting around the fire. And it doesn't have to be expensive because you can make your own fire pit using bricks, stones, or rocks rather than concrete.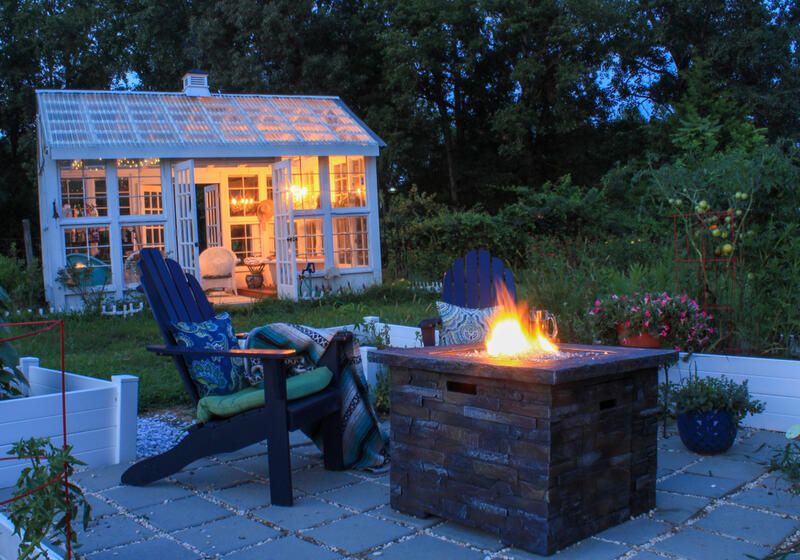 9. Antique Pieces
Antique pieces are another great way to create that exotic boho vibe.
Antique furniture is usually in need of some restoration work but this adds character and charm back into your garden.
Some pieces may need a coat of paint while others will only require new cushions - it all depends on how much you want to spend on each piece as well as how much time you want to put into making it ready for use again!
Once restored these items can become focal points within your decorating scheme or they can be added onto existing furniture such as tables or chairs in order to add extra seating space.
10. Boho Lamps
Boho lamps are a popular choice for creating a relaxing atmosphere and a laid-back look. They come in lots of different styles, so you can choose one that suits your décor or theme.
If you're looking for something really unusual, try a Moroccan lamp or cane lantern.
By lighting your outdoor space with these lamps, you can enhance the boho feel of your garden and light up the night.
You can even hang them from trees in your garden, hang them from the ceiling or place them on tables.
Finally,
I hope this article has inspired you to create your own Bohemian garden and given you some guidance on where to start
You don't have to be a professional designer or spend a lot of money on your garden furniture. With these ideas, you can turn any outdoor space into an oasis that feels like home.
As long as you are able to convey the beauty of the bohemian style through colors, patterns, accessories, and plants, you can proudly say that you've succeeded in creating your own bohemian garden.
And if you ever feel like you need help creating your own bohemian oasis, contact ShrubHub's experts and you'll be able to enjoy the beauty of your outdoor space in no time!
Finally, don't forget to check the holiday 70% discounts on landscaping services!