Trendy Backyard Shed Ideas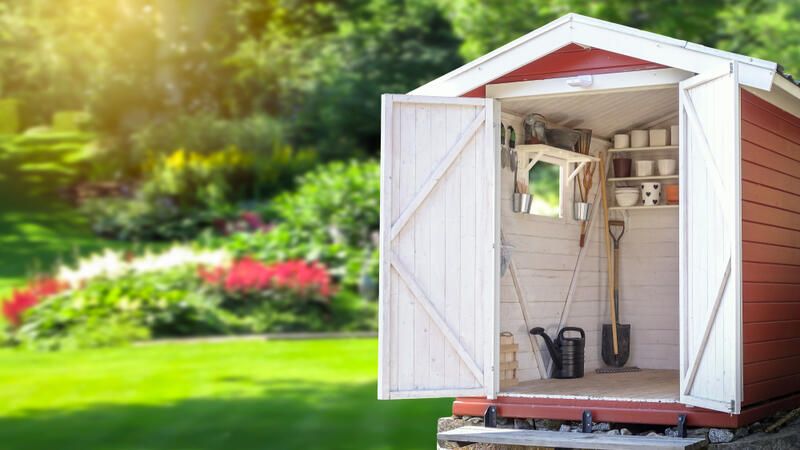 Today, sheds are more likely to be simple and modern, especially if you design a trendy garden shed that looks like a cozy greenhouse shed.


In this article, Shrubhub will show you how to use modern techniques to transform your traditional garden shed into a welcoming living space.
How to Design Unique Sheds with multiple functions?
If you want to design your sheds in an attractive way, you should consider the following factors:
The backyard shed can be used for a variety of purposes, including:
The guest room, kids' playhouse, and basic storage shed can do it all, as can the modern shed.
Consider the efficiency of your garden shed space
Any garden shed, whether big or small backyards, can be transformed into a functional space by using untapped corners in your backyard shed.
Consider cost-effective elements when designing your garden sheds
If you want to add a simple but decorative touch to your shed designs, use only a few small decorations, like bells and whistles, which won't cost you much and will make your garden shed design looks better.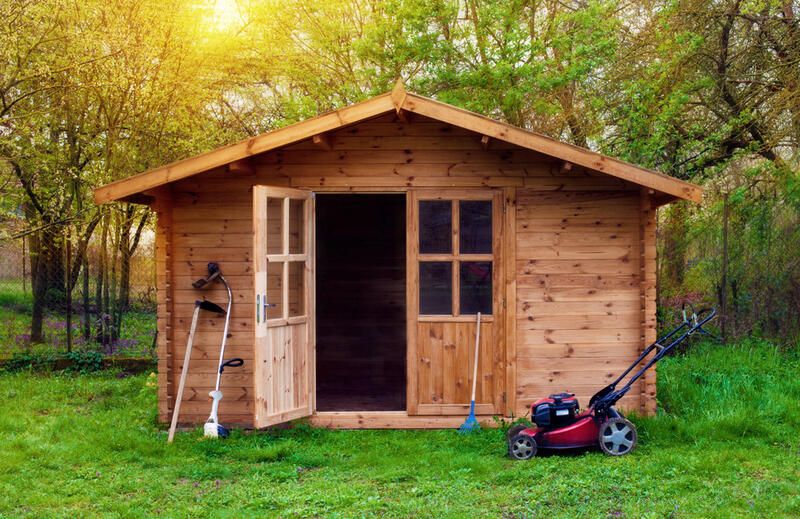 Modern backyard shed ideas
Because many items cannot fit on the roof, that's why most of us use storage sheds.
You're left with a versatile structure when you step back from the stereotypical use of storage sheds for lawn tools.
The storage shed is ideal for storing items that would otherwise clutter your home, such as junk drawers, old things, boxes, and so on.
Make the most of your rustic garden shed
Every backyard gardener can get the most out of a simple shed, especially one with plenty of room to store their gardening tools properly.
Vertically store large items like rakes or wheelbarrows using wall hooks.
As a result, the confined floor space remains clear and clutter-free.
All you need is a potting bench and a green thumb to turn your shed into a greenhouse or potting shed.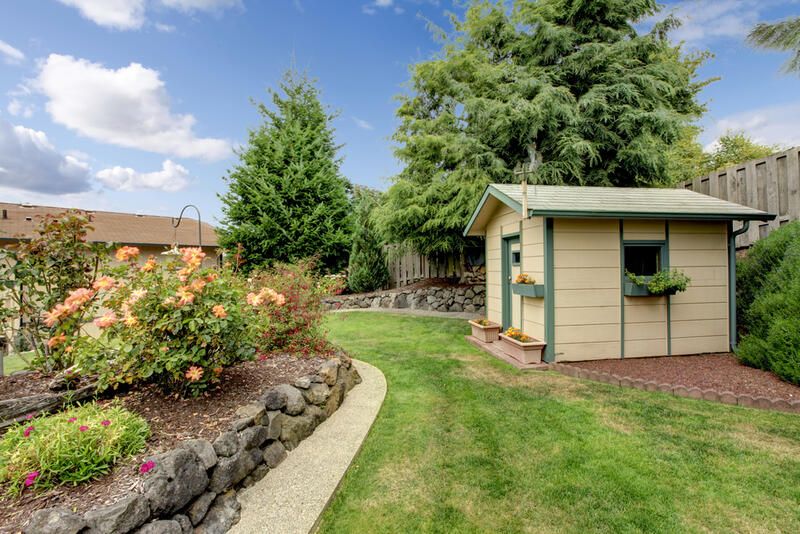 Use your shed for bike storage
Biking is a fun and effective sport, but it can be hard to store bikes, especially if you live in a tiny house that needs more space for building a storage shed or if your garden shed is too small to accommodate your bikes.
The same applies to your garage. If you leave your bikes in front of your garage door, they could be damaged or stolen if you don't keep an eye on them.
Although a small shed with bike racks can keep bikes out of the weather neatly and efficiently, preventing a Marie Kondo-style disaster of bikes all over the garage floor, that's why wall-mounted bike racks are ideal, as they reduce the shed's footprint, making it suitable for many side yards.
If it's difficult to get your bike in and out of your storage shed, you'll be discouraged from using it.
Choose wide, easy-to-open shed doors, such as double doors, and consider your comfort level when choosing elevated vs. ground-level bike racks.
Consider building a weathered wood shed
In the past few years, wood siding has become a more popular way to make your garden shed or backyard shed look nice and cozy.
Firewood sheds are ideal for storing wood indoors, where it can stay dry and ready to use in a fire pit or stove, so you can use a shed to stay campfire ready, particularly during winter months.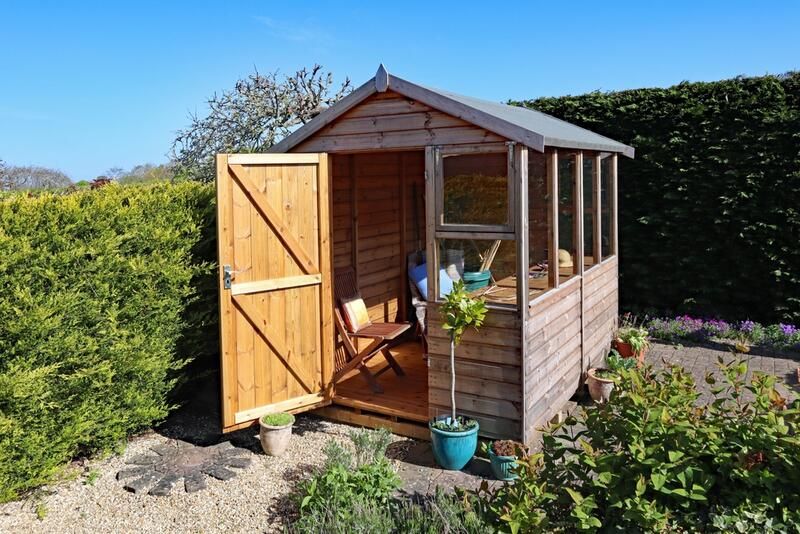 Create your own space
Your personal space should be comfortable and cozy, so you must include comfortable seating and practical windows that allow natural light and fresh air into your room during the day.
Also, a small porch outside the door can contrast the cozier interior spaces.
Turn your shed into a kids' playhouse
Children love playhouses and do best when combined with other outdoor learning and play spaces, like sensory gardens and natural playscapes.
Children tend to be on the small side, so modest playhouses may be built for relatively little money and squeezed into even small backyards.
Don't worry about filling them full of built-in elements; at the same time, a permanent seat is good. Please seek to build an open interior area that can easily accommodate a rotating cast of toys and furniture as kids age and their tastes vary.
Dutch doors and window boxes are great additions to your garden shed if you want to make it look even better.
The ideal playhouses for parents can be used not only just a place for children to play but also to keep toys and games out of the way. Low-storage cubbies and shelves from Montessori fit nicely under benches.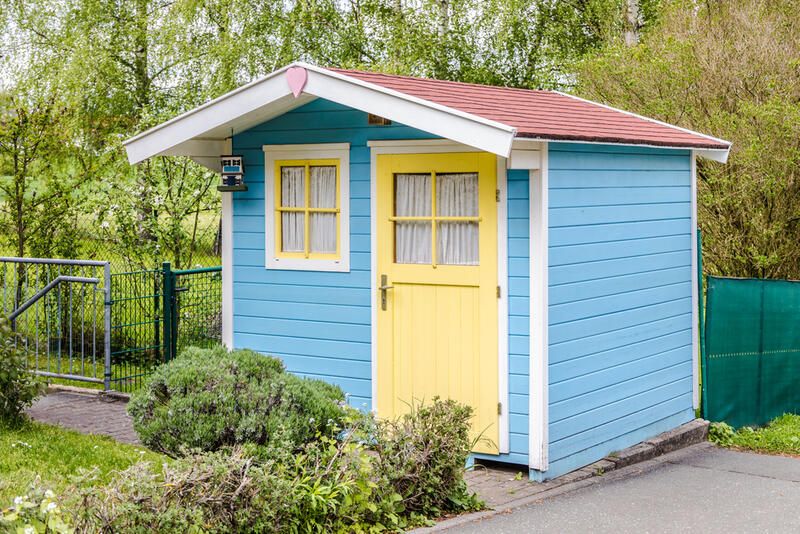 Invest in a comfortable living space
When it comes to living spaces, we should emphasize the importance of investing in this area, which allows you to get the most out of your garden shed, even if it is a small shed.
If you're building your sheds carefully and taking care of details like your conventional home, you can get an accessible, comfy, and private place for your guests to enjoy staying.
A custom-built mini bar and bathroom facilities must be included to accommodate long-term residency, which incurs additional costs and is subject to Stricker regulation.
However, in areas where housing is scarce, converting sheds into dwelling units accompanied by raised garden beds can be an excellent way to meet people's housing needs while also providing higher revenue to homeowners willing to manage rental units.
Utilize storage sheds
Storage sheds are excellent for removing clutter from your home by simply storing it there.
If you want to use your storage sheds, you should ensure they are well protected from the weather and that the things you want to store can handle the weather.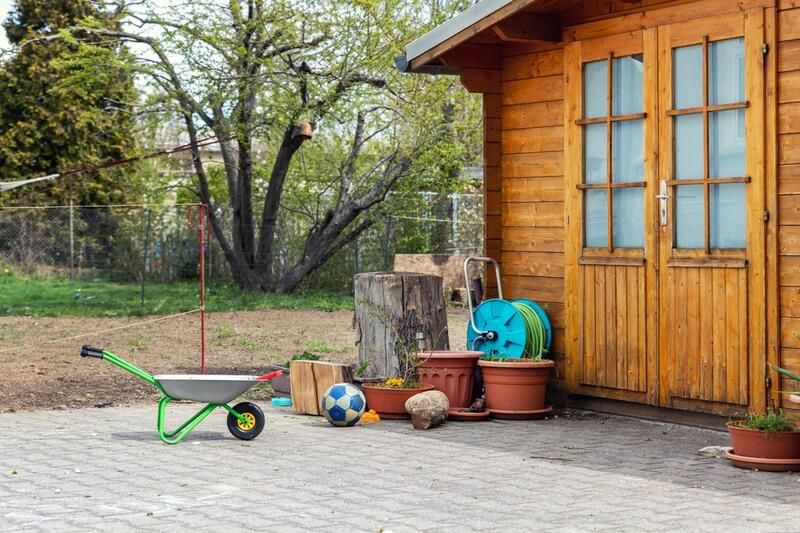 Embrace a farmhouse style in your garden shed
Straight, white lines. Warm, blonde oak floor fixtures, black accents, tons of wood, lush greenery, and inviting textures.
There will be no reversal of the current fad for "modern farmhouse" styles. Make your garden shed a masterpiece inspired by Joanna Gaines.
You can show off your taste for the trendy combination of rustic and modern design in your garden shed by doing one of these things:
Install a stone or shiplap façade on the garden sheds.
Make your garden shed look fresh and new by painting it a soothing white color.
Light up the garden shed's façade with a pair of vintage farmhouse lanterns.
Door paint should be a trendy neutral color, such as black, grey, or red.
A black or dark gray roof is preferable if you seek a garden shed.
You will need to decorate the inside of your storage shed.
If you intend to make it your ultimate modern-rustic garden shed,
Wood accents, black hardware stores, and basic leather or upholstered furniture are all things to keep in mind when visualizing this style.
Also, an antique light fixture or rustic coffee table will help warm up your modern shed. Adding a bit of fabric, such as a chunky knit blanket in a soft blush or neutral taupe, can also help bring harmony to the entry door.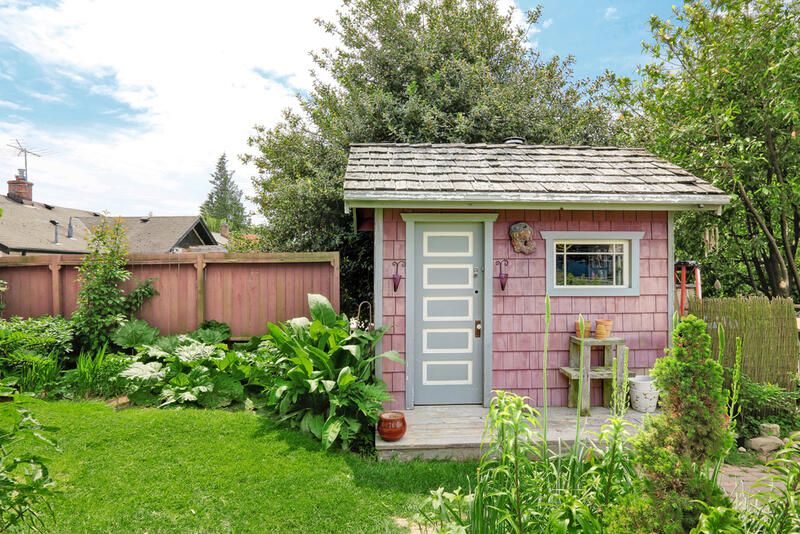 Decorate your garden shed with rattan furniture and décor to give it a bohemian air
Whether you prefer neutrals or bold colors, these unique bohemian garden shed ideas will perfectly fit your garden shed style and will not cost you too much.
The famous Bohemian style is easily recognized by its signature elements, such as rattan, fringe, leather, Moroccan rugs, poofs, and other one-of-a-kind textiles and accessories.
Take, for example, the modern farmhouse trend, which allows you to combine vintage, modern style, and clean lines.
Some unique bohemian decoration ideas to match your garden shed's style
Choose a neutral, bohemian color like blush pink, muted turquoise, or mustard yellow for your garden shed.
Use Moroccan-inspired paving stones, terra cotta tiles, or patterned tiles as accents.
Set up a macramé hammock, a rattan recliner, or a fringed swing in front of your garden shed.
These are only some external garden shed design ideas to get you started.
If you don't use the garden shed for its original purpose, you can change how the inside looks.
Incorporate lattice and vintage elements into your potting shed
The retro look of your garden shed will surely inspire you, whether you use it to store garden tools and outdoor furniture or turn it into a place to relax.
Your potting shed's curb appeal can be improved by including vintage design elements like lattice or antique shop finds.
Lattice installation is affordable, whether you paint it white or leave it in its natural color, giving a soft charm to your garden shed.
Consider using vintage-style wall décor to complement the design style of your garden shed.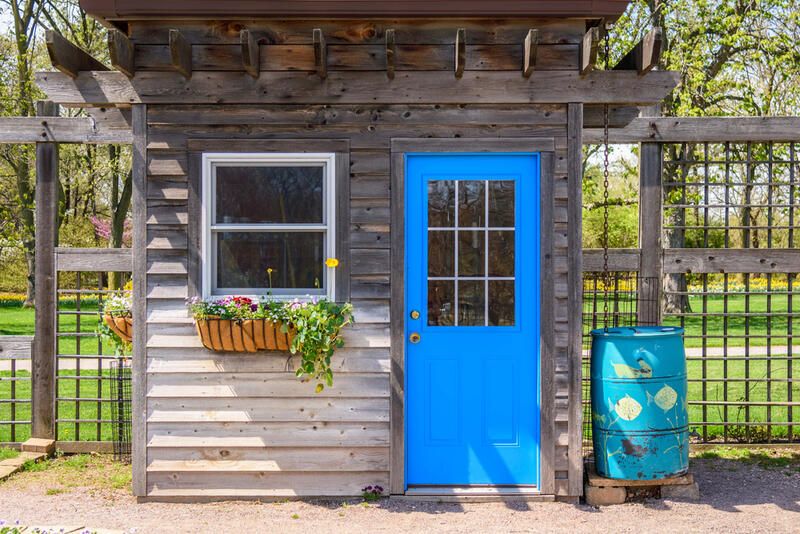 Make it simple!
To create a simple garden shed with a few elements, use salvaged materials such as broken paving stones and salvaged bricks. You can also repaint your old door in a classic and simple color.
You can also finish off the look of your shed by adding terra cotta pots or terra cotta tiles as decorative elements.
If you still have questions about backyard shed ideas, contact the Shrubhub team or go to www.shrubhub.com to learn more about how to effectively use your favorite backyard shed ideas to get your dream garden shed with only a few clicks!