Top Tips For Designing The Perfect Modern Yard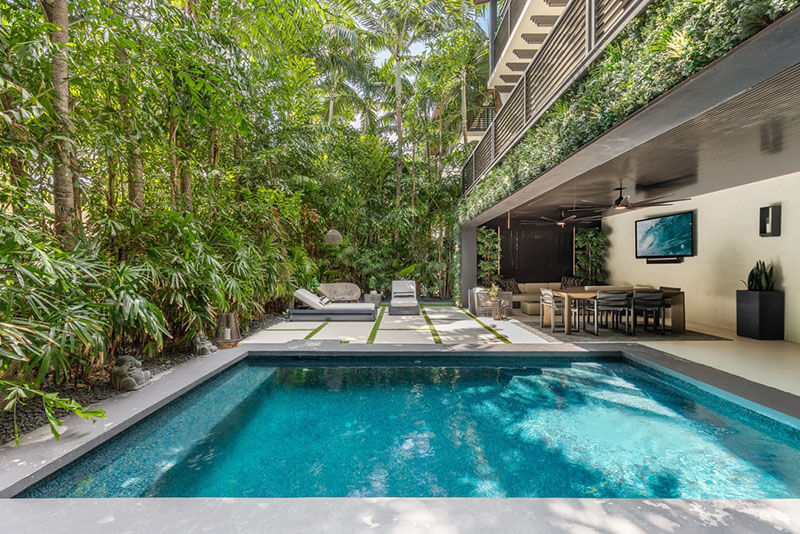 A Yard is the heart and essence of your home, when choosing the right design for it you need to think about how you and your loved ones will be able to enjoy this space. All our fondest childhood memories take place in our yards, from family barbeques to pool parties, even small intimate weddings. When you build your yard, you are building the heart of your home where all your greatest family memories will take place.


If you have been wanting to design the perfect modern yard but don't know where to begin, you have come to the right place! From marble firepits to wooden patios, this guide will provide you with a variety of options that will inspire the picture-perfect design for your modern yard! Whether you have a very small space to work with or a large yard, there are plenty of creative and stylish ideas for you to work with that will provide you with your own modern sanctuary and a place for you and your loved ones to enjoy!
Be Strategic About Your Hardscaping
The key to the perfect modern yard is hardscaping! For those of you who are unfamiliar with hardscaping, it is simply when you swap out living elements for non-living ones in your yard. Hardscaping is a crucial element to add to your yard, it is what turns it from a garden to a haven for the whole family to enjoy and make long-lasting memories. Here are a few modern yard hardscaping design options that will transform your yard.
Pro-Tip #1 — Build An Outdoor Kitchen And Dining Area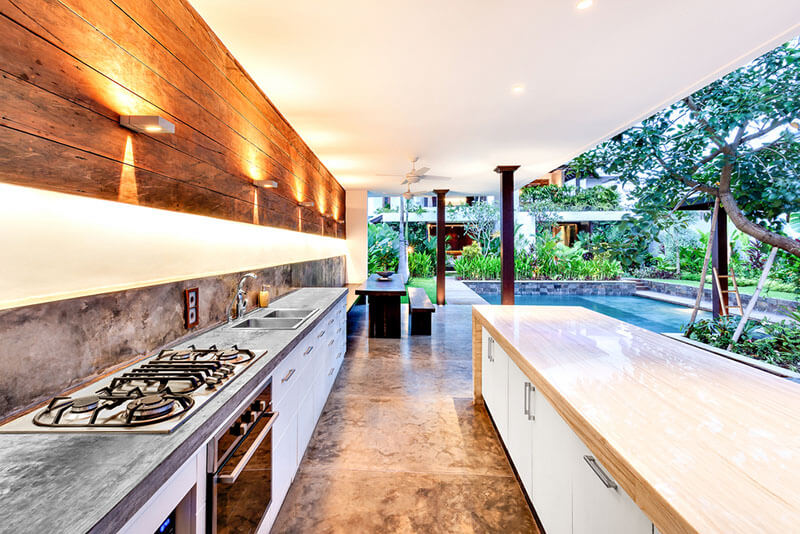 Remember the sense of warmth and happiness you felt as a kid when you get a whiff of the smell of hotdogs and ribs on the grill? The smoke in the air, the smell of smokey barbeque, the chatter and laughter of loved ones.
These are all memories you could recreate in your own yard!
Outdoor kitchens are not only extremely useful for family barbeques and dinner parties with loved ones, but they are also the staple of any modern yard. For a modern outdoor kitchen opt for a minimalistic design, focus on neutral colors that will compliment your yard, and use tile and marbling for your counters and the flooring surrounding your outdoor kitchen. With an outdoor kitchen, you get to play around with not only aesthetics but also with the features you would like to add. You can add an oven or electric cooker, a fridge or minifridge depending on the space available, a large grill and you can even take it a step further with your own outdoor minibar. Don't forget to compliment your outdoor kitchen with an outdoor dining area for you and your whole family to enjoy, stick to tiles and marbling for your seated area that are cohesive with your kitchen design to ensure that modern edge.
For a touch of green, you can surround your outdoor kitchen and seating area with planted raised beds, using tiling options that match the rest of the area. Plant the raised beds with shrubs or small trees that fruit or bloom for a beautiful touch of texture and color.
Pro-Tip #2 – Choose Your Flooring Wisely
Another critical element that can make or break your modern yard is flooring. There are a variety of flooring options to choose from that can bring your entire yard together and leave it looking elegant and stylish.
Wooden flooring is becoming increasingly popular, especially when building decks or patios. With wooden flooring, you can match the aesthetic using wooden chairs and tables covered with lightly colored pillows to give that modern beachy effect.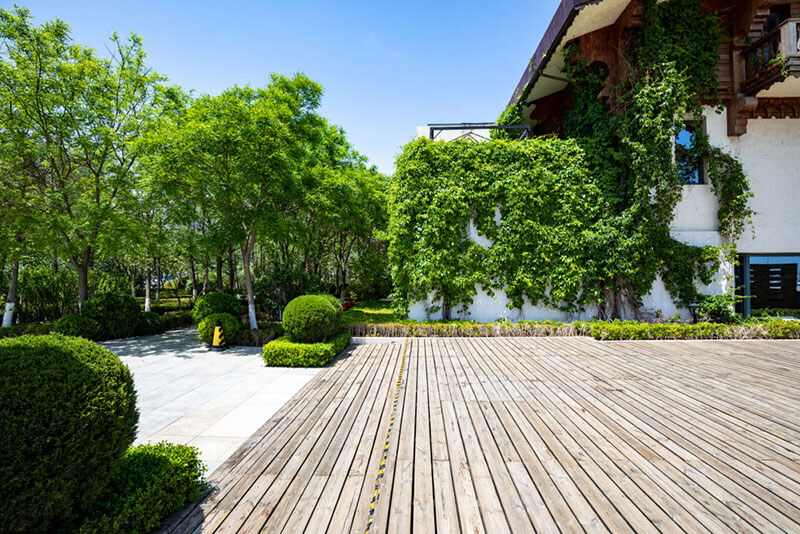 If you live in colder states or states that are prone to rain and storms, wooden floors may be a bit of a hassle as they do not survive water damage. Not to worry though, there is an alternative to natural wood that will still give you the desired effect, just use wood replica pavers. The benefit of wood replica pavers is that they still give the desired warm beachy aesthetic of wooden flooring but without the hassle of water damage.
You can use porcelain or marble tile flooring. An emerging modern outdoor design trend is using tiling that is commonly found indoors, outside! These options are not only very stylish, but they are also extremely practical and durable as they can withstand even the harshest of weather conditions, from extreme heat to rainy seasons to extreme cold! There are a variety of colors and styles to choose from but to achieve the ultimate modern look stick to neutral light colors, light grey, white or beige.
For an even cheaper option, you can always stick to good old, stained concrete! This option is not only among the cheapest, but it is also extremely durable and easy to clean. You can even play around with the texture of your stained concrete by opting for smooth flat surfaces or stamped textures surfaces.
You can even use natural stone for pathways and around planted areas to add depth and style!
Pro-tip #3 – Build A Fire Pit And Surrounding Seating Area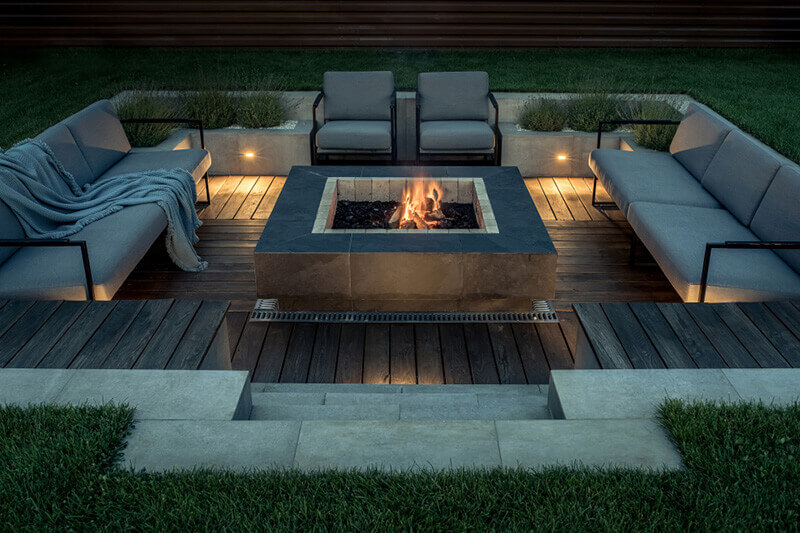 Fire pits are a great addition to your yard. Not only are they extremely cozy on a cold winter night but they are also a great source of entertainment and make for a great bonding activity with loved ones. You and your whole family will be able to enjoy roasting marshmallows and making smores around your fire whilst telling ghost stories and singing your favorite songs. All in the comfort of your own yard!
Pro-Tip #4 Invest In A Good Patio
Patios are not only a great way to enjoy a cup of afternoon tea with loved ones in the comfort of your yard, but they are also a great investment. Realtors are always estimating the values of homes at higher rates when they have their own built-in patios. For a modern patio, you may use the flooring options listed above just remember to add furniture that compliments the flooring and adds a small, sophisticated pop of color! You can even add technology to your patio! Invest in a good speaker system for listening to music, or hosting outdoor parties, or you can even invest in an outdoor theater for outdoor entertainment the whole family can enjoy!
Pro-Tip #5 Add Water Features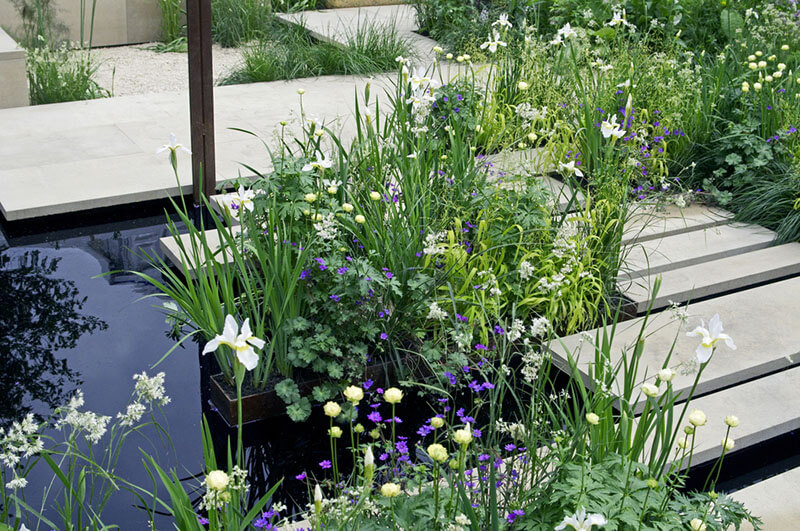 Water features are a great element to add to your yard big or small! For larger yards, you can opt for large swimming pools but even if you have limited space there are still pool options for you! You could build a small plunge pool in the corner of your yard surrounded by rockscaping features to add depth, or you could opt for a narrow pool which gives the effect of a longer and larger pool without actually taking up that much space! You could also add a jacuzzi or an above-ground pool if your yard is too small for a pool.
Another great water feature to add is a small fishpond, this will add a touch of color and sophistication to your yard, especially if you select the fish breed you use. I would suggest a colorful option like the Japanese Koi Fish. You can also add bird baths and fountains for an elegant flair!
Pro-Tip #6 Don't Forget About Accent Lighting
Lighting is a very fun and creative way to add a flare to your modern yard. You can add hanging string lights around seated areas, dangling light fixtures from walls and trees, spot lighting in certain areas of your yard to light up your garden, and even add path lighting to light up pathways to different areas in your yard.
What's Next?
For more information on modern landscaping design, just visit www.Shrubhub.com and sign up! If you hurry now, you can catch our summer offer and receive designs starting from just $100!