Top 7 Reasons You Need Gravel For Your Yard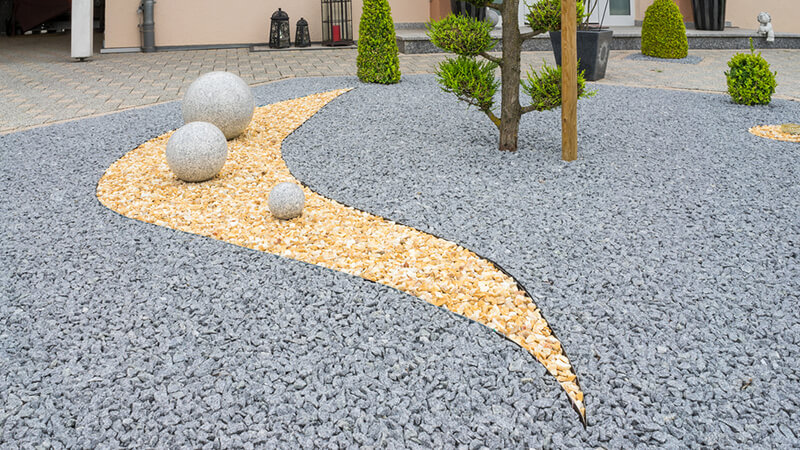 If you are looking for a low-budget, durable, and hassle-free way to spruce up your yard, gravel is the perfect option for you. Gravel may seem like an odd choice at first due to it being mostly considered as a construction tool, however, it can be extremely versatile, and if used correctly can look extremely beautiful in your yard.


Nowadays it has become increasingly important to look for sustainable alternatives to keep our conservation efforts going while keeping our gardens beautiful and vibrant, and there are many different types of gravel that can blend into any surrounding landscape, turning it from a plain or boring space to a modern and sleek-looking paradise.
Gravel can essentially be made out of any crushed stones, which means it can come in a variety of shapes, colors, or textures, and can be used in a number of ways to elevate your yard. There are plenty of landscaping designs that revolve around gravel ideas which is why our design experts at ShrubHub have compiled a list of the top 7 reasons you need gravel in your yard today!
Xeriscaping
One of the most beneficial ways to use your gravel is xeriscaping, which can act as a great grass alternative. If you are unfamiliar with the term, it is when gravel is used alongside plants that are drought-tolerant to create a low-maintenance landscaping design that requires very little irrigation.
You can turn your yard into a classic desert-like scene using cacti, ornamental grass, and succulents. You only need a few plants for this method, all you need to do is space them out and decorate the top of your soil with gravel, you can use white gravel for a sleek Mediterranean-inspired design, or you can mix larger and smaller stones and place them strategically across your yard to give a rustic desert-like aesthetic.
You can also use plants that are native to your area and grow naturally in your region. For example, if you are residing in Los Angeles you can use Beardtongue Flowers for this option. Planting a native garden is another great way to xeriscape, especially for those of you living in hotter states. Plants that grow locally in your areas are adapted to require very little water to survive. Whether you use drought-friendly plants, opt for native planting, or even combine both together, xeriscaping can be of extreme benefit to you.
Xeriscaping using gravel is not only beneficial due to its very appealing and contemporary aesthetic, but it is also extremely beneficial for you and the environment. By opting for this method, you are conserving water and reducing the need to irrigate your drought-tolerant plants which greatly cuts down on your water bills and is eco-friendly as water is not wasted or overused. As a bonus, gravel also maintains moisture in the soil, meaning you will only need to water your plants every few weeks.
Use Gravel As Inorganic Mulch
So, what exactly is Mulch and why do you need it in your garden TODAY?
Simply put, mulch can be any organic or inorganic material that is spread out over the surface of your soil to retain its moisture. As mentioned above, using gravel is a great way to keep your soil's moisture levels preserved as well as giving your yard a stylish and edgy aesthetic.
It's important to be relatively strategic about the way you spread out gravel on the top of your soil as piling it on and making your layer too thick may cause your soil to become too dense. Add a light layer of gravel on the top of your soil for a clean and modern way to show off your vibrant plants. The point earlier focuses on how gravel can be used with drought-tolerant plants, however, it can also be used with traditional plants as well.
The idea is that the gravel traps water in your soil and prevents evaporation which allows you to conserve water by needing to water your plants on a more irregular basis. Another very important benefit of using gravel as mulch is that it can contribute to the overall health of your soil by eliminating the growth of weeds.
Use Gravel For Fire-Resistant Landscaping
Unfortunately, for those of us who live in regions affected by wildfires like the folks up in Northern California, it's important for us to make sure our yards are as fire-resistant as possible to protect our homes from potential incoming threats.
Gravel and stone can be used as fuel breaks and defensible spaces to defend your home against potential wildfires. This method can be done as simply as a gravel walkway or a rock garden surrounding your house incorporated with fire-resistant plants like the Yucca tree and the Lemonade Berry Shrub.
Use Gravel To Elevate Your Outdoor Seating
Gravel is a great way to add texture to your outdoor seating areas whilst also considerably improving their design is by using gravel to decorate your surrounding flooring.
This method Is increasing in popularity when designing contemporary yards as it creates a clean-cut and stylish aesthetic that ties together your outdoor seating area. Due to its versatility and availability in many sizes, shapes and colors can get as creative as you want with gravel!
You can use it as a focal point surrounding your outdoor firepit to add a more rustic finish to the overall look of your firepit seating area, this also provides a safe space for sparks to land on without worrying about sparks catching on flammable materials.
You can also use a mixture of warm-colored gravel and concrete slabs for a Modern Mediterranean-inspired patio, all you need Is a pathway made of concrete slabs, and separate each slab using gravel to add texture and style. This works perfectly for an outdoor patio with a small dining area and kitchen or bar as well as a large built-in outdoor couch.
There are a number of ways to style your patio using gravel, for more ways to decorate your patio just visit ShrubHub and our experts will provide you with a variety of designs to draw inspiration from.
Pathways And Garden Edging
One element that can really tie the design of your yard together is a pathway. Gravel pathways are very easy to implement in your garden and provide aesthetic appeal.
The way you lay out your gravel pathway has the power to transform your garden and make it the envy of all your neighbors! The simplicity of a gravel pathway surrounded by beautiful shrubs and rocks can truly make an impactful effect on the design of your yard without having to invest too much time and money!
The appearance of your path depends on a variety of things, the color, and texture of the gravel you use, as well as the layout of the path. Will it be curved or straight, and what plants do you plan on planting around your stone walkway? Flowers, shrubs, succulents, or even short trees? You can mix gravel with small stones or large rocks for a cottagecore forest aesthetic and add archways with dangling vines to tie the design together.
Another great way to use gravel to elevate your garden is by using it for edging, this is a technique that gives your garden a very put-together aesthetic.
For those of you who are unfamiliar with garden edging it is when gravel is used strategically to outline certain areas in your garden, for example, if you want to draw attention to a certain part of your garden with unique plants you can surround this area with gravel to highlight these plants and make them the main focal point of your yard whilst leaving your garden looking very tidy and put together, this method also works when setting path boundaries.
Around Water Features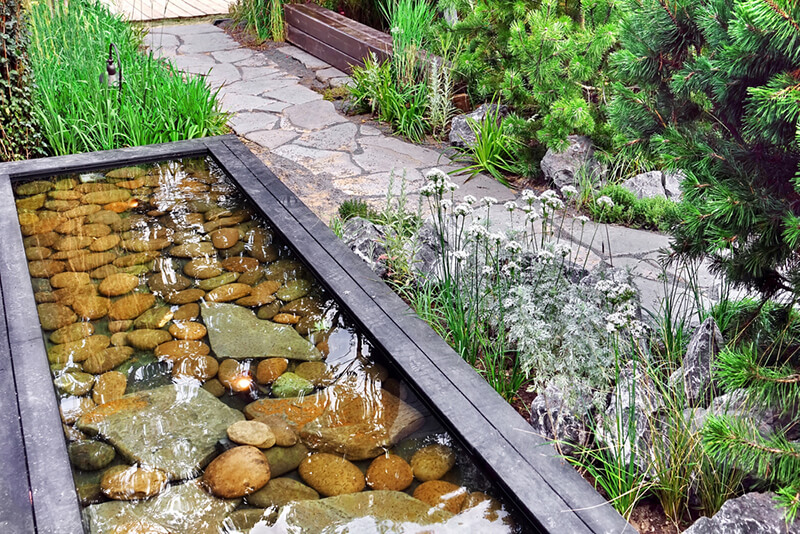 This option might be the most fun to design using gravel! From fishponds to waterfalls and even bird baths. There are so many ways you can use gravel to style water features that add a beautiful centerpiece to your garden.
Combine natural stone with gravel to add texture and color when building your water features to make your yard feel like a Zen Oasis. You can even add Koi Fish or Goldfish to your pond for an even more beautiful natural pop of color!
Driveways
Driveways are perhaps the most obvious choice for a driveway if you live in a state that's heavily affected by rainfall or frost, replace your asphalt driveway with a gravel one in order to ensure that the rainwater or melting snow is easily drained, unlike with asphalt your gravel driveway won't crack over time.
Gravel not only has a good grip on your car tires but it can also look extremely attractive depending on the color and texture of the gravel used. Gravel driveways are cheaper to build, easier to maintain, and give your home a very rustic curb appeal so why not swap out outdated techniques for ones that are cheaper, more efficient, and even more attractive?
Want More Yard Design Ideas or Gravel Tips?
As we may have already mentioned, our ShrubHub experts have years of experience in landscaping and are very well versed in the use of gravel in landscaping.
This is why they can easily help you decide on the best way to use gravel for your yard! Whether it's building a pretty fish pond or making sure your Northern California yard is fire-resistant at ShrubHub we can provide you with the most suitable options for you! If you hurry now, you can still catch our limited summer offer, it's already August and summer is coming to an end so catch it whilst you still can and get both your front and back yard designed for under $300.