Easy DIY Yard Upgrades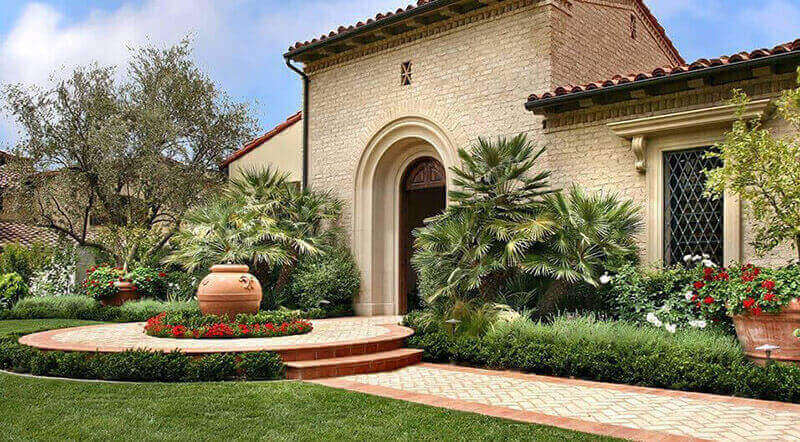 If you're on the fence and can't decide if you want to upgrade your yard, you're not alone. Depending on the current condition of your yard, an overall update could be costly and time-consuming. If you have kids that frequented the backyard for years but are all grown up and have flown the coup, your desire to make some radical changes might be slim to none. If no one's using it, why bother?


But, just for the heck of it, let's say you do want to do a bit of a yard makeover. While you should first consider your needs and wants as well as your family's, be sure to also consider the future. As in: Will this add to my home's value when I go to sell it? Because, aside from making your home look more inviting, upgrading your yard has a pretty major hidden benefit: increased property value.
There's a common theme that stands out across a variety of research on the ROI of home renovations: Landscaping adds significant value to your home. The more time and attention you put into your home's landscaping, the more value buyers attach to your home—anywhere from roughly 5% to 12% more, depending on where you live.
Unlike other home improvement projects, landscaping can provide a 100%-200% return on your investment and has been known to increase a home's overall value by as much as 15 percent and even higher depending on how competitive the current market is and where you live.
A study conducted at Virginia Tech concluded:
"Survey results showed that relatively large landscape expenditures significantly increase perceived home value and will result in a higher selling price than homes with a minimal landscape. Design sophistication and plant size were the landscape factors that most affected value. The resulting increase in the 'curb appeal' of the property may also help differentiate a home in a subdivision where house styles are similar and thereby attract potential buyers into a home. This advantage is especially important in a competitive housing market."
Landscaping and real estate experts agree that how your home looks on the outside builds buyer anticipation for what's inside. "Like dating, love at first sight can also happen if your landscaping is properly done," says Justin Critchfield, a single-family home expert real estate agent in Salt Lake City, Utah.
And when you really think about the dating metaphor Critchfield gives above, it does feel familiar. You look at a hundred houses, which gets exhausting. Some homes are perfect for you... but someone else meets it first, and there goes that option. You make your best offer, but that offer just isn't good enough (and you're better off anyway!). And then sometimes, you pass right by a home because it looks tired and unwelcoming.
More often than you'd think, a home's curb appeal is what's throwing buyers off. If you're driving around a neighborhood with several homes for sale but you only have time to see a few, you're less likely to choose the no shrubbery, no color, a beat-up walkway, and a dead lawn as one of your options. One HomeLight survey revealed that 94% of top agents said a great curb appeal equals money in your bank account at closing. Even at the most basic level of care, average lawn maintenance such as mowing, applying fertilizer, and weed control, can recover an estimated 267% of the cost of upkeep at the time of sale.
Forty-seven percent of members of the National Associated of REALTORS have suggested sellers complete a landscape upgrade before attempting to sell, and 19 percent said the project most recently helped cinch a deal for them, resulting in a closed sale.
Below are just two of the several examples NAR gave of just how beneficial upgrading your yard can be:
The first was a project where the seller installed a front walkway of natural flagstone— three feet wide and 30 feet long. The seller added two stone planters six feet long and two feet wide, installed five flowering shrubs, and one deciduous 15-foot-tall tree. Seller also added mulch with landscaping bark.
Cost Recovery:
Landscape Professionals' cost estimate: $4,750
REALTORS®' estimated cost recovered: $5,000
Percent of value recovered from the project: 105%
Here's an Insider Tip, though. If you're still taking the first steps in your yard project, start with our favorite online landscape design company.
ShrubHub offers professional yard designs in any style for under $100. It's a pretty bare bones deal, but their price is unbeatable and it's perfect for anyone even THINKING about a yard renovation.
You'll get a yard design, product legend, and professional guidance from their experts. Check them out here:
Easy DIY Upgrades
1. Cut and edge your grass
If you have a mower and edger, you can handle this yourself. If not, the average cost of mowing a lawn ranges from about $30 to $80 per visit, depending on square footage, with extra fees for edging.
2. Apply fresh mulch
Mulch helps soil retain moisture, reduces weeds, and makes a landscape look fresh.
3. Don't neglect the backyard
Your front yard is one of the main reasons you got that buyer through the door. Don't let them run off when they see your yard hasn't been touched since 2014.
You can spruce up the garden with easy to maintain plants (such as native plants) and flowers, and you can add some hardscaping such as a new stone walkway and a fountain. Even with a small yard, you can create a feeling of ample green space by using plants of various sizes that will ensure the landscaping doesn't appear flat.
4. Refresh your patio
You can power-wash the patio and any seating to rid your yard of any dirt and cobwebs. Roughly 90% of HomeLight's top real estate agents recommend homeowners remove dirt, grime, and cobwebs from the front entrance alone to ramp up curb appeal before selling.
5. Keep Maintenance Low
Buyers may be concerned they don't have much of a green thumb or worry about the cost of upkeep. A low-maintenance landscape can be a matter of adding a bit of hardscaping (non-living features such as a walkway, patio, or retaining wall), and some softscaping (plants, flowers, trees, etc.) that are native to the area and don't require much water or maintenance to thrive.
There shouldn't be any more doubt that landscaping increases the value of your home. Not only will you get more for your investment when it's time to sell, but you'll also get to enjoy the psychological and emotional benefits while you're still living there.