The Best 10 Flowers to Plant in Spring to Brighten up Your Backyard
Published: 24/04/2023 | Updated: 09/09/2023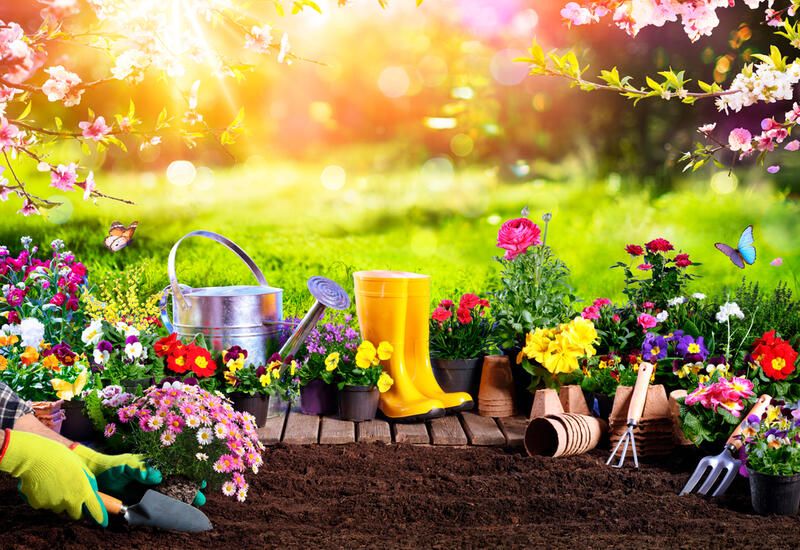 Curled up on your warm couch while holding your morning coffee, you glance through the window at your outdoor space to see a white blanket of snow swallowing up every feature of your backyard.


You, bored of this deafening quietness, decide to take a stroll around your now-frozen garden while daydreaming about the colorful spring bloomers. This is when you see it! A tiny crocus is fighting its way back to the surface, proudly boasting a purple charm that is further adorned with a magical touch of orange. Now this is a definite sign spring is around the corner.
The vibrancy of the blooms, the delicacy of the petals, the beaming rays of the sun putting the tiniest of details on display, and the flowering plants sharing an irresistible blend of fragility and strength— all these images join forces to create such a stunning scenery right in the heart of your backyard. But hold on! Don't let spring fever get the best of you just yet. First, knowledge!
Tips for Planting Spring Flowers
No matter if you are going to pep your walls with early spring bloomers through pocket planters, add some texture with window boxes, create a striking display with hanging baskets, or go for a full-color garden bed, you have to pave the way for a captivating spring flower garden:
Start by preparing your canvas for an eye-catching work of art by removing any winter debris. (and trust us there will be a lot of debris for you to clear up as winter fancies taking its toll on everyone's garden).

Ready the soil for a new round of planting by adding compost, sprinkling organic fertilizers, and removing garden pests.

Select your favorite mix of annual and perennial flowers, and order spring-flowering bulbs and seeds now.

Opt for early spring bloomers to embellish your outdoor space with pops of color as early as possible.
Plus, if you are currently in search of effective ways to elevate your backyard's poor design, you might need to consider planting the best early spring flowers to brighten up the overall mood of your outdoor space and welcome the allure of spring as early as possible! Here are some of ShrubHub's favorite 10 flowers to plant in spring:
#1 Hydrangeas
With myriads of tiny petals coming together to create this charming flowering shrub, hydrangea adorns your garden with globe-shaped flowers. This shrub, boasting showy blooms, comes in a wide range of colors: endless captivating shades of blue and pink, white, green, red, and maroon.
To add a level of old-fashioned charm, class, and elegance to your yard, plant hydrangeas in full sun to partial shade to expand their flower output.

#2 Bloodroots
Nothing transforms the dullness of your currently-empty piece of land into an inspiring piece of art quite like Bloodroots!
Spirited by the angelic mood of its white blooms, your yard will make you instantly smile and feel at peace once you step into it. Delicate white petals gently unfurl, fine dark veins creep their way over the petals to further beautify them, and stamens shimmer shades of yellow and orange in the center for a captivating final touch.
Bloodroots not only bring an ethereal glow to the scene but they are known to treat various ailments as they fight skin cancer, promote oral health, relieve constipation, promote cardiovascular health, and cure respiratory conditions.
#3 Dahlias
What if your backyard has been feeling drab all winter long and you would so eagerly want to add a note of cheerfulness to give this space the glow it most certainly needs? Dahlia is your answer!
Popular for their diversity of blooms, sizes, and colors, dahlias can independently serve as a focal point in your backyard, proudly stealing your visitor's attention.
With full sun exposure, well-drained soil, and plenty of water, your dahlias will put on a spectacular display!
#4 Summer Lillies
This exotic-looking, star-shaped flower has forever been a gardener's favorite. And how can it not be? Its peculiar-looking yet delicate petals, the wild riot of vibrant colors, irresistible fragrance, and lengthy, swaying stamens evoke feelings of delight, pleasure, and elegance throughout your outdoor space.
To embellish your garden with radiant stars all summer long and give your space a dramatic effect, plant lilies in full sun and give them some room to shine!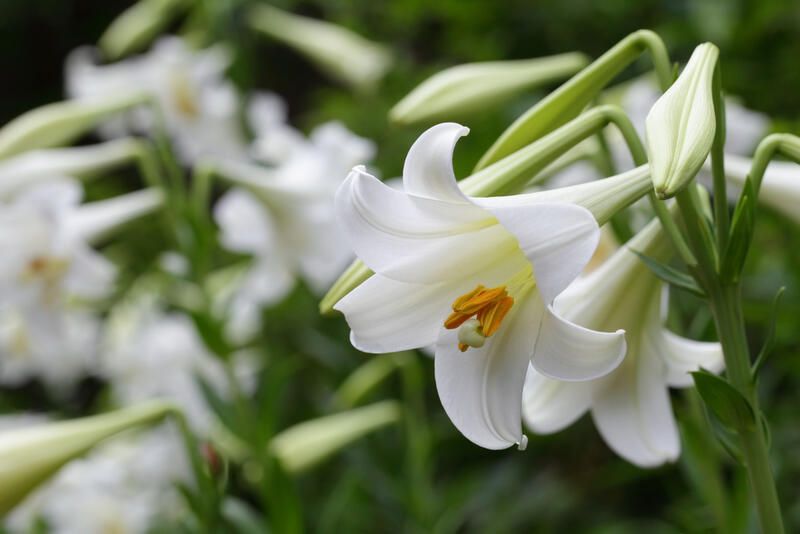 #5 Bluebells
Who wouldn't fancy a yard charming enough as if it has just come straight out of a fairytale?
Blanketing your outdoor space with breathtaking deep blue-violet drops, bluebells are trumpet-shaped perennial herbs that start blooming mid to late spring.
Boasting bell-shaped blooms drooping to the side and creamy white pollen, this flower perfectly matures in partially shaded areas in sandy soil.
#6 Sweat Pea
Imagine traveling back in time to the 17th century in the islands of the Mediterranean!
By catching a whiff of these vintage sweet pea flowers, you will be instantly thrown into a classic garden where you could marvel at its vibrant colors and exquisite fragrance.
If you think the word "pea" indicates that this plant is edible, perish the thought because sweet pea is toxic to both humans and pets!
#7 Flowering Stock
Do you have any clue how to bring timeless attributes to your newly-designed home? Well, add a touch of historic charm with stock flowers!
Adorned with fragrant, showy blossoms, stock flowers bring your garden a whole new world to life. Growing stocks resembles having a wide range of colorful bouquets scattered all over your outdoor space.
From pink and apricot to purple, blue, and white colors, this half-hardy annual enjoys full sun exposure and likes rich, well-drained soil.

#8 Hellebores
Flowers of hellebore flaunt one delicate petal gently cupping the other to finally form clusters of nodding blossoms that are further accentuated with greenish-yellow stamens.
Blooms late winter to early spring and come in shades of green, white, pink, plum, or blackish purple, hellebores are fragrant attractive flowers with leathery evergreen leaves. To grow hellebore in its most favorable environment, plant it in partial shade areas in well-draining soil.
#9 Pansies
When taking a closer look at pansies, you will notice some mind-blowing details: heart-shaped petals overlapping to create bizarre-looking flowers that bear a resemblance to upturned faces.
Showing off an assortment of bright, spellbinding colors and intricate patterns, pansies are just the right way to add some pizzazz to your abode.
Imagine creating a stark contrast by planting bright yellow flowers alongside shades of purple. This is simply a piece of art on display!
#10 Bleeding Hearts
Simply put, the bleeding-heart flower is the epitome of nature's drawing power!
No one can ever come across such a sensational creation without pausing to marvel at its beyond-belief beauty: a heart-shaped flower is somehow broken in half, dropping a white petal. Just like a broken heart bleeding through the cracks, this flower is a symbol of unrequited love.
Plant this perennial in partial shade and well-drained soil to make a design splash and envelope your outdoor space with a heartwarming romantic mood.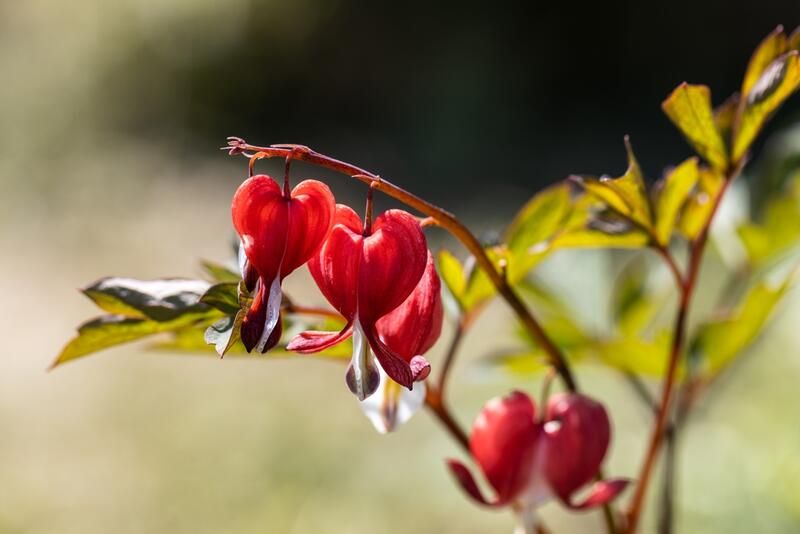 Own a Verdant Oasis With a Click of a Button
As the weather starts to warm up and spring unfolds, it's about time to consider giving your backyard the glow-up it deserves to prepare it for the growing season. And what better way to brighten up your yard than by planting some of the most beautiful blossoms out there?
Come summer, you will finally get a thrill out of your garden's captivating blooms and sweet fragrances.
But what if you order the seeds and haphazardly plant them in the empty spots — only to find out later (when all the flowers are mature) that your yard, although adorned with beautiful blooms that were supposed to turn it into a verdant oasis, is, in fact, a complete mess! Nothing seems orderly or in place. This is when ShrubHub comes in handy.
Fueled by a deep desire to create mind-soothing environments, our team fashions 3D designs that mindfully divide your yard into sections, carefully striking a balance between aesthetics and functionality.
Experience what it's like to live in a perfectly-designed outdoor space where every single element feels at home! Contact our team now!