Outdoor Couches: The Best High End Patio Furniture You'll Never Want To Leave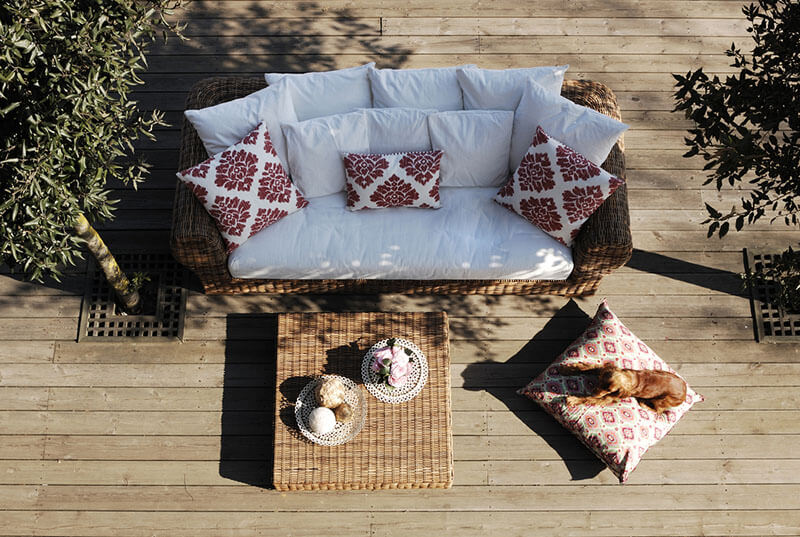 There's no better feeling than relaxing under a beautiful starry sky in the evening on a soft comfortable couch. If you're a person who values comfort and quality time, which I'm guessing you're, then outdoor couches are an essential piece of patio furniture to have.


Outdoor couches come in all sorts of shapes and sizes. They add both comfort and functionality to your yard or patio and create an outdoor lounge area for you and your loved ones. There's no wonder why many people would rather go for an outdoor couch than any other patio furniture.
In this article, we'll explore the different types of outdoor couches available in the market and why you should consider renovating your patio with some of them.
Outdoor Couch With Canopy
Did you know that nowadays they make outdoor couches with canopies? These couches are the best of both worlds: a couch that will protect you from the sun and rain, but also has a detachable cover that can be moved to other locations when needed.
It's made from UV resistant material and waterproof fabric so it'll last even if exposed to the different elements. The canopy also protects you from the sun and keeps you cool in the summer.
And when it rains, you don't have to worry about getting caught in bad weather because they're covered by a canopy. Just take off the cover and keep on enjoying your time outdoors!
Wicker Outdoor Couch
Wicker is a natural material that's been used to make furniture since ancient Egypt. It's actually not as "natural" as you might think though, since most wicker products are made with synthetic fibers, but it's still a great choice if you want your outdoor couch to be eco-friendly.
Wicker couches can be made from rattan, bamboo or cane. Rattan is the strongest of the three materials used in wicker furniture manufacturing, which means it can support more weight without breaking down over time like cane or bamboo can.
However, rattan isn't completely resistant to decay when exposed to sunlight over time - especially if it's left outside without any sort of covering during winter months. Bamboo can also become weak if left outdoors without protection from the elements; however, it doesn't degrade as quickly as rattan does (and it looks great in an outdoor setting).
Wrought Iron Outdoor Couch
As any amateur horticulturist knows, wrought iron is a very strong and durable material. It also happens to be weatherproof, so your outdoor couch will last you for years to come.
Wrought iron furniture is available in a variety of styles and colors, so you can choose the look you want for your patio or balcony. The cool thing about wrought iron furniture is that it's made from recycled metals that have been shaped into intricate designs.
Wrought iron patio furniture can also withstand harsh weather conditions including frost, snow and rain without rusting or rotting away over time like other materials might do.
Outdoor Hanging Couch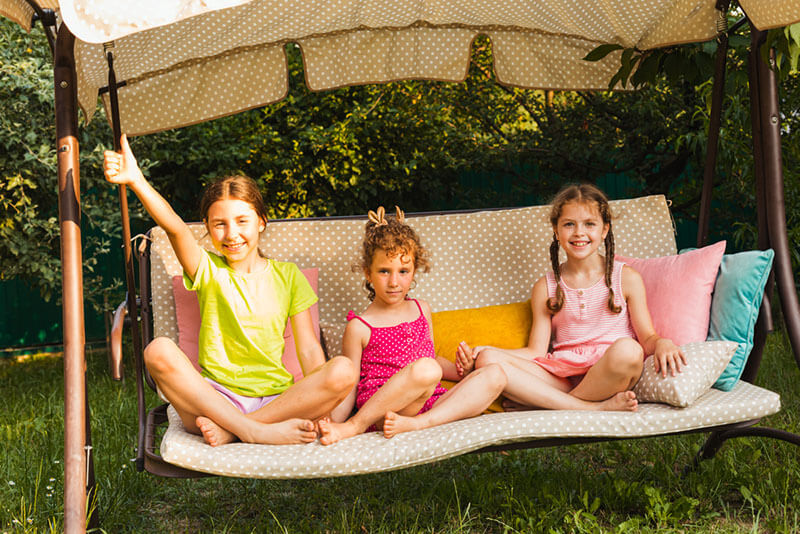 If you have a tree, or even better, a porch that can support it, and don't mind spending the time to install it properly (which will take longer than it takes to assemble the couch), then an outdoor hanging couch is an excellent option.
The best part about hanging couches is that they're built for comfort and relaxation. They are not meant for lounging around inside but rather for relaxing outside on a nice day. They're also great for entertaining guests because they create an inviting space for people to sit and hang out on.
One thing to keep in mind when choosing a hanging couch is that they usually come in one size only — big! They're not very portable (unless you have a truck) and they're not designed to be easily moved around your home once they're assembled. You'll need quite a bit of space to accommodate them too.
Resin Patio Couch
Resin patio couches are a durable piece of furniture that is made entirely from 100% UV-resistant resin, which makes it weatherproof and easy to clean. They're also strong enough to endure heavy use during all seasons.
A resin couch provides plenty of comfort for relaxing or entertaining guests on the patio or deck during warm weather months. They're also great for watching sporting events on television since they don't require cushions to be comfortable.
If you're looking for something with more style than a traditional lounge chair but less bulk than an ottoman, then this is an excellent choice!
Galvanized Stainless Steel Furniture
Galvanized stainless steel is one of the most durable materials on the planet. It can be highly polished and resists corrosion, so it will not rust or corrode even if you leave it outside all year round.
As a result, galvanized steel furniture makes an excellent choice for outdoor use. It's especially popular in coastal areas where salt spray can cause regular metal to rust quickly.
Galvanized steel furniture comes in a wide variety of styles and sizes, including chairs, tables and benches that are perfect for your patio or deck. It's also available in different finishes from brushed stainless to powder coated finishes so you can match your existing decor perfectly!
The brilliant thing about galvanized stainless steel furniture is that it looks great indoors or out. It can be used as outdoor patio furniture, poolside furniture, and even garden furniture.
Conclusion
When deciding on a patio couch, there are many factors to consider. Do you want something that will be comfortable for you and your family? What about the style of the piece? How durable should it be?
After all these questions have been answered, we hope this guide has helped make your choice easier by giving you some great options to choose from. And if you're looking to revamp your entire patio, then don't hesitate to contact Shrubhub for the best affordable landscaping services!