Make Your Yard Feel Like Art With These Creative Yard Designs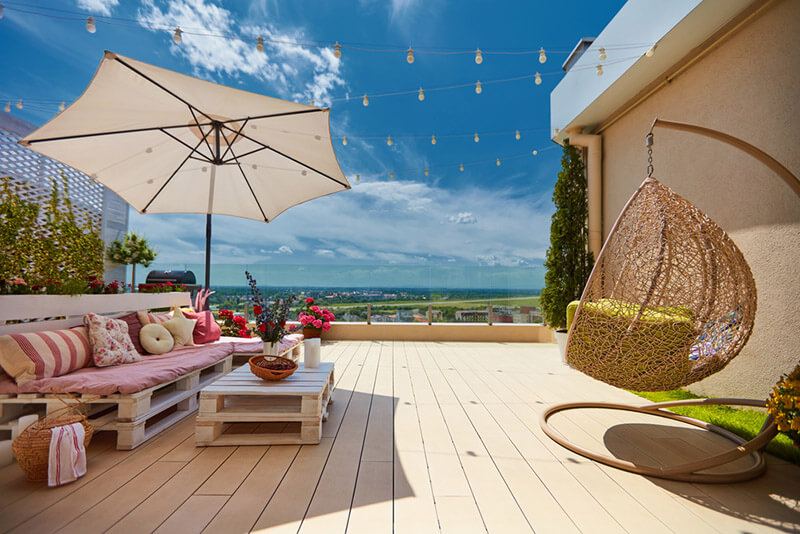 Who doesn't love a good art project? But what if this art project was renovating your entire yard? With this guide, we can show you two beautiful and extremely popular yard aesthetics that require arts and crafts elements that you can use to turn your plain yard into a breathtaking colorful wonderland! When deciding on an artistic way to design your yard there are a variety of design styles you can choose from. Here are a few of our favorite artistic yard design styles that can transform your boring, plain yard into something out of a fairytale!


1. Fairytale Woods Garden Décor
For those of us who grew up loving fairytales and the magic behind them, this yard design style is for you! Ever wanted to relive your favorite childhood memories and Imagine walking down a rocky pathway surrounded by tall trees with beautiful windchimes and fairy lights dangling from them, you come across a wooden swing hanging from one of the trees, the handles of the swing are covered in vines sprouting gorgeous, colorful flowers, and you walk towards the swing, take a seat, and bask in the gorgeous sun.
Sounds like a childhood dream, doesn't it? Well, we can make that dream a reality all you need to do is follow these top tips and you can feel like a fairytale princess in the comfort of your own home!
Pro-Tip #1 – Decorate your trees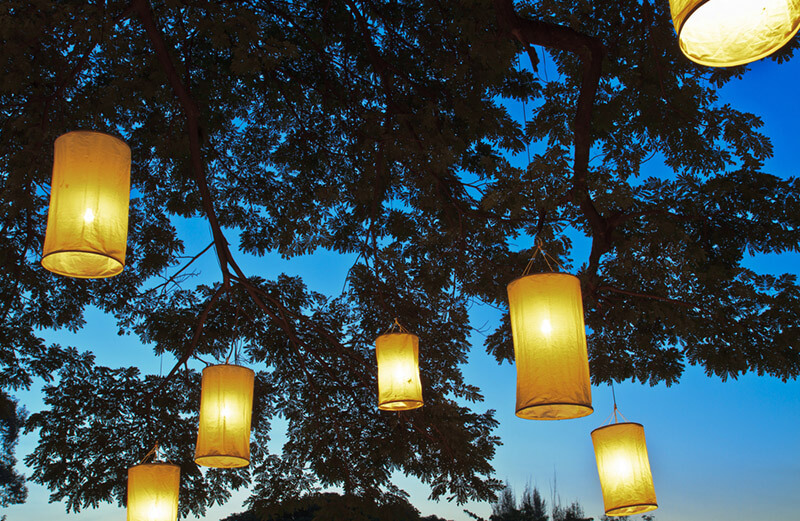 It wouldn't be a fairytale forest if it didn't include fairy lights! Don't be afraid to decorate your tree branches, whether by dangling intricate ornaments that give it a mysterious and magical ambiance or by hanging light fixtures or lanterns that light up your garden beautifully and romantically at night, or even by decorating your tree trunks by wrapping fairy lights around them or carving out faces on your trunks to give the illusion that the tree is alive like in a fairytale. Get creative and make your own ornaments using recycled materials or polymer clay! You can even decorate your tree stubs with DIY mini woodland creatures and magical creatures like small fairies and gnomes using polymer clay!
Trees are a main focal point for your garden and have the capacity to transform your yard from a plain field to an enchanted forest, which is why using them as decorative elements is crucial to achieving this design style!
Pro-Tip #2 – Dress Up Garden Entrances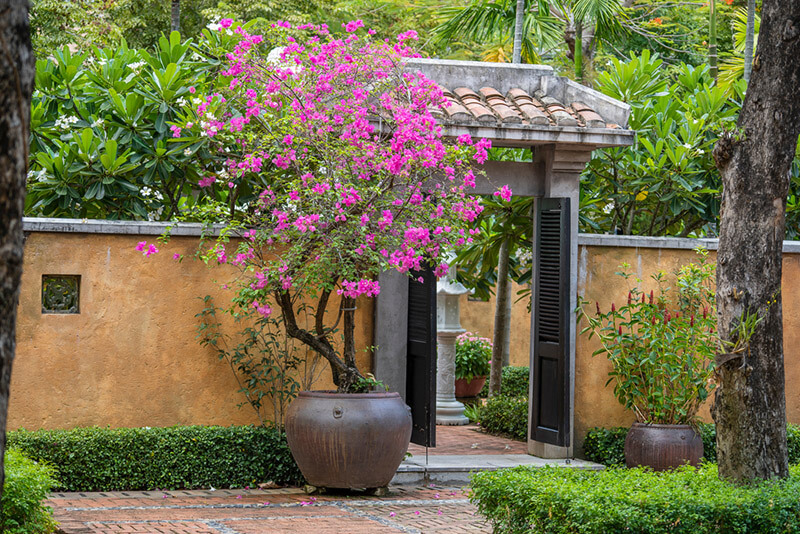 Another important element that can help you transform your yard into a fairytale garden is by dressing up your garden entrances with vines. Iron gates draped in vines that separate parts of your garden give off the illusion of secret passageways that lead you on an adventurous journey into an enchanted forest. With this creative décor element, you can use both hardscaping features and live plants to bring your fairytale vision to life! You can grow beautiful blooming wisteria vines across an arbor or draped across the side of a pergola, you can grow vines down the side of your house or down steps leading to different areas of your garden for a woodsy cottagecore aesthetic.
Pro-Tip #3 – Add Mystical Water Features
A fairytale forest is never complete without water features, whether beautifully carved bird baths to attract those beautiful woodland creatures or a large rocky pond full of colorful fish like the Japanese Koi, water features can make or break this design style!
Pro-Tip #4 – Repurpose Old Furniture
To achieve the cottagecore aesthetic don't be afraid to repurpose old furniture that you may find yourself wanting to toss out! Not only is this a very fun crafty activity to partake in with your loved ones but you will also be saving yourself a lot of money by repurposing something you already own rather than having to buy new patio furniture. You can try recovering old dining chairs with outdoor paint or revamping seat cushions using fabric you may find lying around the house, you can even crochet your own poofs for extra seating or leg rests!
#2 Turn Your Yard Into A Boho Paradise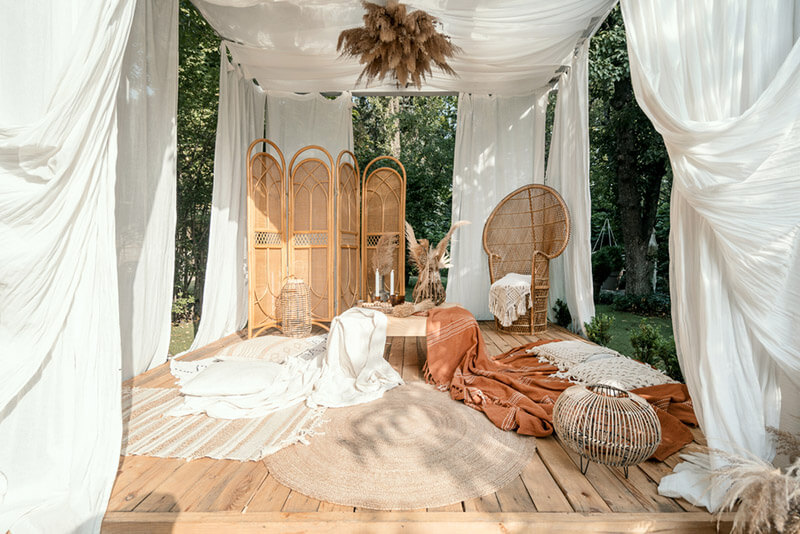 The best part about boho is you get to DIY fun and creative yard designs which is not only a great way to save money but it is also a way to make sure that you bring your vision to life because no one knows what you want better than you do!
With a boho yard, you can get as colorful and as crafty as you want in fact the more colorful the better!
#1 Choose Colorful Outdoor Furniture
Do not shy away from colors, in fact, this style calls for the mixing and matching of plenty of colors! My advice would be to choose a specific color pallet and stick to it. You can go for a mixture of orange, pink, and yellow shades for a more summery boho glow or blues, purples, and greens for a more hippie-free-spirited vibe! You can tie-dye furniture covers in the specific color pattern you chose and decorate with solid-colored pillows and poofs. You can use curtains and drapes to make separate units in your yard that give a more rustic desert aesthetic. You can ditch chairs and tables altogether and opt for a Moroccan-style seating plan with pillows or poofs used for seating. You can add a hammock to your seated area for a more relaxing option as well as patio swings.
#2 Wooden floors, Wooden Pergola, Wooden furniture, Wooden Everything!
Wood is very important for the boho aesthetic. From bamboo chairs to wooden patios or decks your boho yard would not be complete without a touch of wood! You can add hanging wooden swings to your patio as well as wooden chairs decorated with brightly colored pillows to contrast the brown from the wood. You can use recycled wooden crates and boxes to DIY small chairs and tables. The boho aesthetic usually calls for lighter shaded woods so I would suggest staying away from darker ones. To brighten up your wooden patio or seated area, add a series of string lights, at night they will look mesmerizing.
#3 Be a DIY Queen/King
My favorite element of the boho aesthetic is how crafty and artistic you can get, from making your own colorful hanging ornaments to decorating boring plain planters with this option the sky is the limit. Here are a few of my favorite ways to spruce up your yard using an artistic boho aesthetic:
- Make Your Own Hanging Ornaments
Ornaments are a very fun decorative element to play around with! Next time you go to the beach pick up some seashells, drill small holes in them and string them together using twine, you can also glue them onto other ornaments for a beachy boho vibe. You can recycle glass bottles to make hanging lanterns by placing battery-operated string lights inside them, wrapping the nozzle of the bottle in rope or twine, and hanging them across a pergola or even on low-hanging tree branches, glass bottles also make for beautiful centerpieces for your patio table. You can even DIY your own wind chimes using upcycled materials you can find lying around your homes, such as, silver spoons, old keys, tin cans, and even twigs you can gather from your garden.
- DIY Planters
There are plenty of elements and everyday objects lying around our homes that we can turn into planters, we can use coconut shells to make eco-friendly hanging planters that look beautiful draped across a boho patio, and you can upcycle pallets to make vertical gardens that you can place up against any walls, you can even go as far as upcycling old tea sets to make beautiful planters out of teacups and teapots. Succulents look marvelous in upcycled teapots and can be used as beautiful centerpieces for your patio or outdoor dining table. For some of your planters, you may not even need to add living plants, use dried plants as an alternative as not only are they the epitome of a boho aesthetic but they also require zero care. The best dried plant options to use are, pampas grass which is fluffy and full by nature and looks extremely elegant in an upcycled vase, wine bottle or mason jar, bunny tail grass, palm spear fans, cotton flower stems, and dried wheat.
The best part is you can mix these together and make your own dried plant bouquet which will elevate any space in your yard and give it a chic boho aesthetic.
- Decorating Plain Store-bought Planters
If you can't find the exact shape of a planter, you're looking for using the DIY options listed above maybe opt for a store-bought one that you can upcycle and decorate yourself! There are thousands of ways to decorate plain planters, you can paint them in bright colors with intricate designs, you can decorate them in elaborate designs and patterns using polymer clay then paint over them, you can even glue rocks, stones, and seashells onto them. With this option, you can let your imagination run wild and turn it into a fun family bonding activity where the best-decorated planter gets a prize!
- Succulents Galore!
Nothing screams boho like succulents or cacti, they are drought-tolerant, easy to care for, and thrive on neglect which is why they are perfect for your boho garden. You can plant a beautiful succulent garden surrounded by rockscaping elements and artistic sculptures that you can make yourself. You can plant succulents in your DIY planters and hang them around your garden or place them strategically down a stair path. Succulents are versatile and very appealing to the eye and the best part is they are extremely low-maintenance and don't require watering often which will help you cut down on your water bills!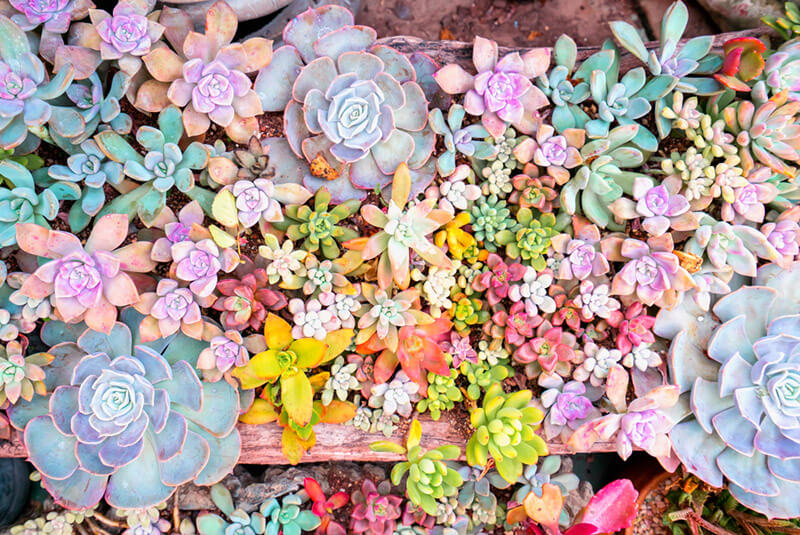 What Next?
Yard designing no longer has to be plain and clean-cut, nowadays we each have our own aesthetic and can decorate our yards however we like, we can use fun DIY yard ideas or even weird yard designs the sky is the limit! At ShrubHub we can help you design the most creative yard ideas that are perfectly suited to your own, personal aesthetic. For a limited summer offer, you can get designs for as low as $100! Don't miss out and check ShrubHub.com NOW!