Top 10 Drought Tolerant Plants for Your Home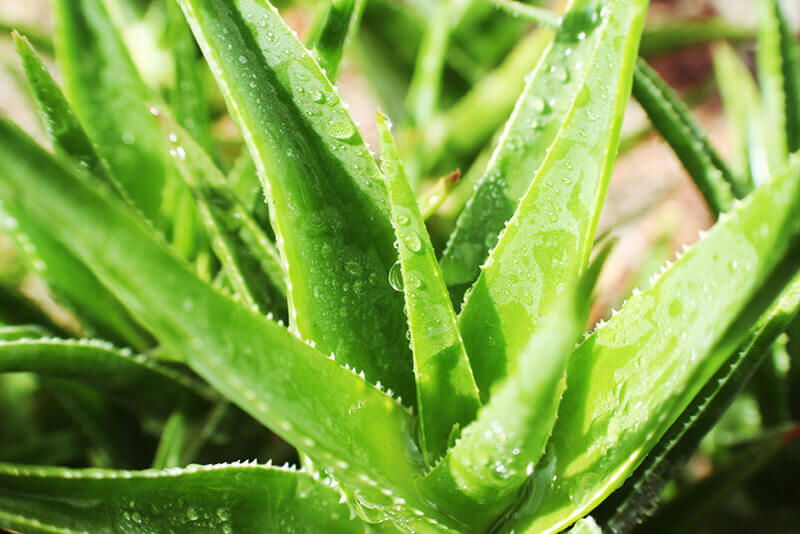 Whether you live in a hot, arid, and dry environment, or reside in a community with water restrictions, or just enjoy the appearance of a desert landscape, there are wonderful options for drought-friendly plants.


For people who lead a busy lifestyle, drought-tolerant shrubs are ideal since you may not always get around to watering and caring for your living greenery. They are also a good fit for individuals who believe they have a "brown thumb," and lack of skill or desire to give constant attention to growing plants.
Countless trees, shrubs, vines, and flowers that thrive and look great without needing constant attention or rainfall are available to beautify your yard.
Top 10 Drought-Tolerant Plants for Your Home
Here are ten drought-friendly plants that can survive dry conditions while adding color and texture to your garden.
1. Bougainvillea
Grown as either a vine or shrub, Bougainvillea is one of the most popular drought-tolerant plants. It can immediately give your yard or patio an exotic Mediterranean flavor with very little effort.
In fact, care instructions for bougainvillea say to avoid frequent watering. Too much water will promote a weak and shallow root system and prevent the rich colors of this plant from coming out.
If you decide to grow your bougainvillea in a pot, make sure drainage holes are unobstructed, and be sure toss out that water dish because bougainvillea do not like wet feet! Experts warn not to allow bougainvillea to sit in water since it may stop blooming altogether.
You'll enjoy a serene ambiance just by adding bougainvillea to your outside spaces. It will conjure up images of the plant climbing up stucco walls in a romantic Mediterranean courtyard.
2. Aloe Vera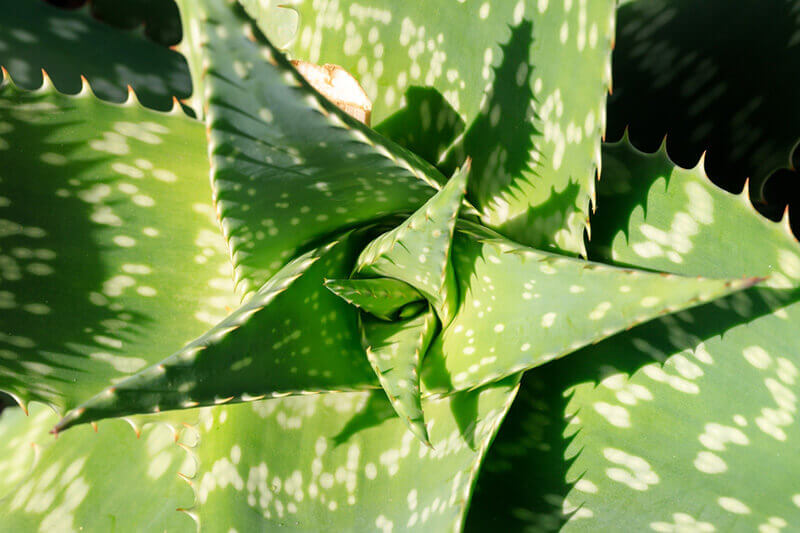 Many people are familiar with the Aloe Vera plant for health benefits. Its popularity is clear by the $600 million worth of aloe vera products sold. This easy-to-care-for plant contains various vitamins and nutrients beneficial to health.
There are hundreds of species of aloe, many of which are flowering succulents that grow and thrive in hot, dry climates. During the summer months, most aloe plants only require watering every other week. And during the winter, the combination of cooler temperatures and rainfall usually provides enough water for them to survive without any type of watering on your part.
Avoid the temptation to overwater this drought-friendly plant. Aloe vera will shrivel and rot if it's sitting in soggy soil. If you have a potted aloe plant, it is important to allow the soil to completely dry out in between waterings. For busy homeowners, it is a relief to learn that with just a little care, they can have a healthy and gorgeous looking plant.
3. Bayberry
If you've got a tough landscaping situation, the drought-friendly Bayberry shrub might just be the solution since it can tolerate almost any soil, including clay and sand. Beach lovers along the shores of the Northeastern United States are especially familiar with this drought-tolerant shrub.
Bayberry grows in very dry ground, even sand dunes, and has a good tolerance for salty soil. As an added bonus, this plant has a wonderful aroma that releases a pleasing fragrance into the air when its berries are squeezed.
4. Lavender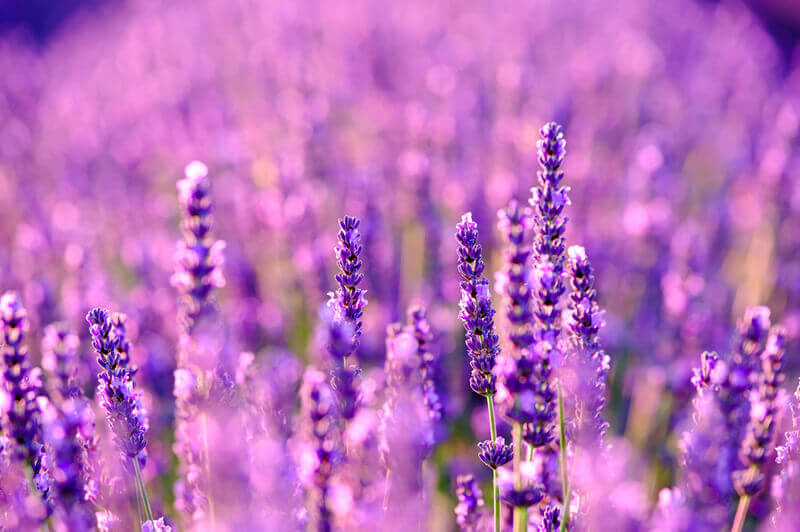 Don't think that drought-resistant plants are plain and unattractive. Its calming aroma and stunning spikes of bluish-purple flowers that bloom throughout the growing season has made lavender a favorite of landscapers and homeowners for generations.
With the ability to exist on very little water, this sun-loving and easy to grow plant is often found naturally in dry, sandy soil. Lavender has it all; it is a drought-tolerant plant that looks beautiful, smells amazing, and is as tough as nails. Lavender can be a lazy gardener's best friend since the plant hates having wet soggy roots and does not require any fertilizer.
5. Blue Mist Shrub
This plant offers a care-free option for almost any garden setting. Often referred to as "Bluebeard," it is a low-maintenance shrub that adapts well in many climates without much watering. The prized feature of this perennial is the blue to purple blooms that flower in late summer and all the way until the first heavy winter frost.
If you are constantly on the go and find giving attention to your landscaping troublesome, Blue Mist can become a good friend since it is never needy and is content to grow on its own, even if you pretty much forget about it.
6. Coneflower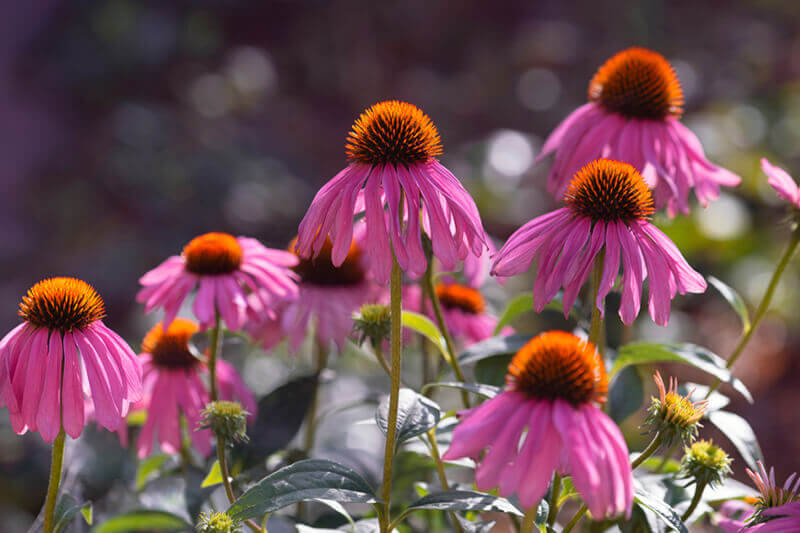 Coneflower needs little upkeep, is drought-tolerant, and thrives in almost any soil with adequate drainage. These trouble-free plants provide vibrant blooms that will make your garden pop. Also known as Echinacea and applauded for benefits to our immune system, Coneflower is very tolerant of poor soil conditions. They draw butterflies, bees, and birds into the garden, adding life to outdoor spaces. The purple cornflower is the most popular with its perennial blooms that produce tons of blossoms that hold up well and look extravagant in bouquets.
7. Geraniums
Truly hardy and considered to be a long-living, Geraniums are a gorgeous flowering plant that can thrive for decades. Geraniums are traditional favorites for window boxes since most varieties are tolerant of heat and drought and will not require much attention. Once established, they can go for long stretches without watering, but it's best to give them a little liquid during the growing season if you've gone a couple of weeks without rainfall. Landscape professionals advise that both potted and in-ground geraniums should be watered only when the top of the soil is dry to the touch.
8. Kangaroo Paw
You guessed it. This plant is native to Australia and is properly named as their stems are topped with velvety, fuzzy flowers that emerge in fan-like rows resembling kangaroo paws, making them a delight to children of all ages. This unique plant is happy to grow naturally in dry, sandy areas. The Kangaroo Paw can survive prolonged dry spells thanks to the sap that's stored in their roots. The flower colors range from vibrant reds to lemon yellows and are beautiful when used in flower arrangements proving that drought-resistant greenery does not have to be boring.
9. Yarrow
These easy-care, long-lasting flowers are some of the simplest perennials to grow and are a good choice for beginners. All it needs is full sun and well-drained soil.
Every gardener will appreciate that this ornamental plant thrives and is happiest in average to poor soil and is drought tolerant once established. They make outdoor spaces come alive by attracting butterflies to their nectar-rich flowers. There's a type of Yarrow for every garden and there are many varieties, so it is a good idea to consult an experienced landscaper to select the best species for your region.
10. Artichoke
The same artichoke that you eat is actually a low-maintenance, drought-tolerant plant. Many people are surprised to find out that the prickly, yet tasty vegetable can also make an outstanding drought-tolerant addition to the landscape. Artichoke only needs light watering after it's established. Just make sure you grow the plant in well-draining soil, and shelter it from strong winds. It just goes to show you that it is easy to grow vegetables right in your own backyard, no matter what climate you live in.
Happy Gardening!
Planting drought-tolerant plants is a great idea if you live in areas with little rainfall. Greenery that requires little water is also a smart decision for those of us who want our homes to include living plants, but just don't want to commit to the on-going caring and maintenance of pots and gardens. Drought-friendly plants will help lower your water bill! And since they require less work, it will make your gardening experience simple and stress-free. No matter where you live, being water-wise is the smart way to garden.
This article offers suggestions and have shrubs, plants, and flowers that are less thirsty, resilient, and can survive in tough environmental conditions. But making choices on landscaping ideas can be overwhelming.
When it is time to decide on the best plants and design for your outdoor spaces, it is always helpful to contact a professional and get advice. They can provide experience on where and what to plant to make sure your garden grows strong and healthy.
Choose the Best
You deserve a yard and a home you can enjoy and be proud to show off. ShrubHub.com, a leading online landscape service, brings inspiration, convenience, and expertise for designing your outdoor spaces at an unexpected affordable price. They are specialists in customizing plants, shrubs, and flowers to fit your every need.
ShrubHub's complete service gives you access to their exclusive nursery, a detailed personalized shopping list, door-to-door shipping, and guarantees your satisfaction. ShrubHub will be by your side every step of the way.
Stop worrying about your yard and start loving it. Let ShrubHub help you create your dream outdoor space.