DIY Home Garden Ideas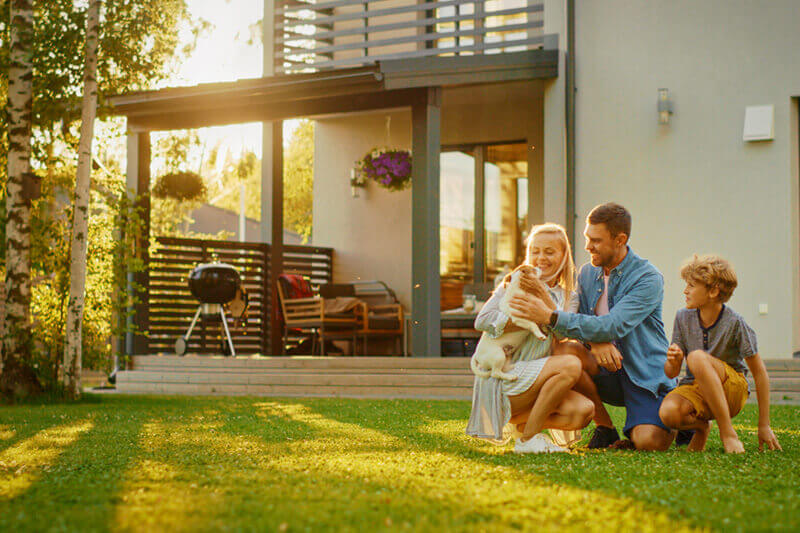 This short article will show you how you can bring your dream yard to life and keep it vibrant 365 days a year.
Whether traditional landscape design services are too expensive, or you just like to get your hands dirty, DIY yard landscaping has never been easier.


There are plenty of reasons to renovate your yard; from simple landscaping like garden planning, to a full backyard makeover, to adding a up to 20% to your home's property value. Whatever your reason is, this article will cover DIY backyard ideas, general yard design, and how you can get a professional 3D design so you can finish the job yourself.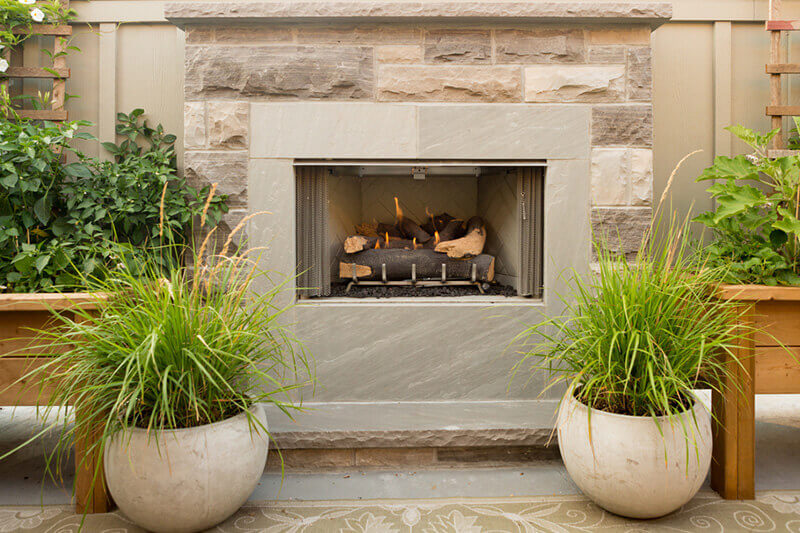 An outdoor fire pit and benches makes this pageable patio, designed by ShrubHub, a simple & classy hang out spot.
DIY Patio Ideas: Add some valuable square footage to your home with these simple and affordable do it yourself hardscaping ideas. A paved patio, while detailed, is an easy way to create a gorgeous outdoor living space perfect for parties or late nights with the family. Add stone accents for a cozy feel.
Want to save even more? Think about building a gravel patio. These typically have a nice word trim and are filled with low-maintenance gravel. It's the perfect mix of low-cost and high reward. Best of all, this DIY backyard project can be built in just one day.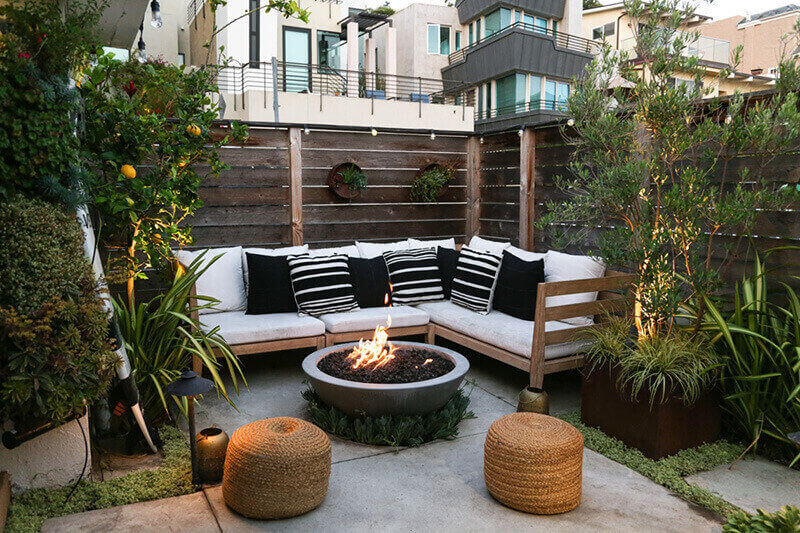 Small yards need love to you. This ShrubHub DIY yard design blends modern with rustic to create a cozy, intimate gathering spot.
There's No Place Like Home: Your yard is an extension of your home, so it's important to make it feel like home. When planning your backyard makeover, be sure to include all of your goals (whether that's a simple raised garden bed, or a complete overhaul of your deck decoration).
After that, we suggest adding some welcoming and comforting seating spaces your friends and family will love. Some do-it-yourself ideas include: cinderblock & reclaimed wood benches, homemade crochet hammocks with a DIY crafter's hammock stand, and maybe some cafe lights to tie the whole seating area together.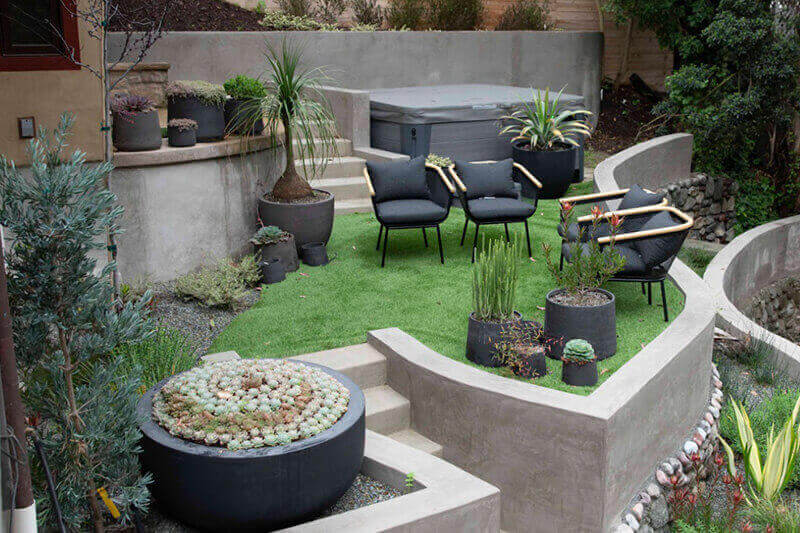 Even difficult terrain can conquered by any DIY-er with the right design.
DIY Home Garden Ideas: With produce prices soaring once again, the home garden is becoming increasingly popular. Not only can it save you money at the grocery store, but it can also be healthier and more convenient (not to mention rewarding and sustainable)! When you're garden planning, keep these DIY greenhouse and DIY garden ideas in mind:
- Sweet peas are visually stunning, aromatic, and a delicious addition to any edible backyard.
- Similarly, lemon thyme is a low-maintenance drought-resistant plant that smells like fresh lemon and can be used in poultry, vegetable and seafood dishes.
- Looking for a raised garden DIY project? We recommend researching a "Lasagna Soil" technique that's affordable for you. This simply includes using layers of different materials in your raised garden bed. (Typically consisting of mulch, tree branches, traditional soil, grass clippings, organic compost, etc).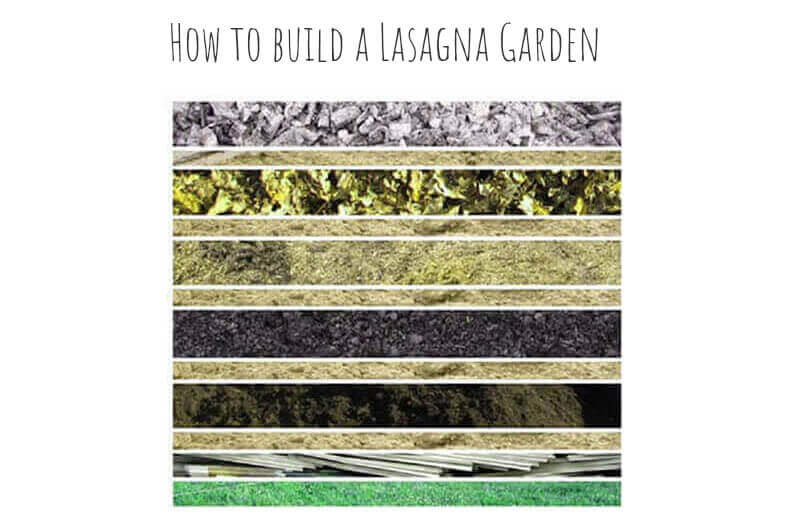 DIY raised planter beds in ShrubHub designs not only create room for your growing garden, they're an incredibly easy and affordable large or small yard project.
Keep Your Climate in Mind: The great thing about ShrubHub designs, is that they are hyper local even though they're a national company. This is critical for any DIY yard design project, as they can help you find the plants, trees, and grass that are right for your exact climate.
1) Choose Native Flora: Native plants, trees and grass are already acclimated to your region's temperature and rainfall. Not only that, they can attract and sustain local wildlife and keep your town's biome happy and healthy.
2) Consider Grass Alternatives: Ground cover alternatives like moss, clover and even lemon thyme have a number of incredible benefits, other than looking good all year round.
3) DIY Rain Gardens: If your land is like most, you probably have some areas where rainwater tends to pool after a heavy rainfall. This is a perfect place to plant and care for a natural rain garden, helping conserve water while growing fresh and natural produce.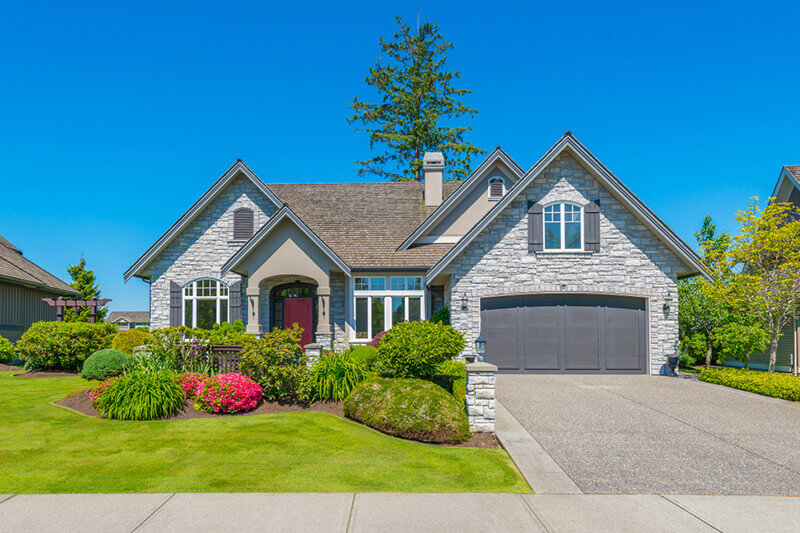 Don't forget your front yard; simple DIY landscaping ideas can add untold curb appeal and drive your property value up even further. ShrubHub offers designs for back, front and side yards, or a package of all three for under $300.
Get That Curb Appeal: While only a select few will have the pleasure of enjoying your newly built backyard, why not show the whole neighborhood your DIY landscaping chops. A border of eco-friendly mulch can add a dramatic look and help keep your plants and trees healthy and vibrant. Additionally, a nice stone ledge can add some depth and dimension.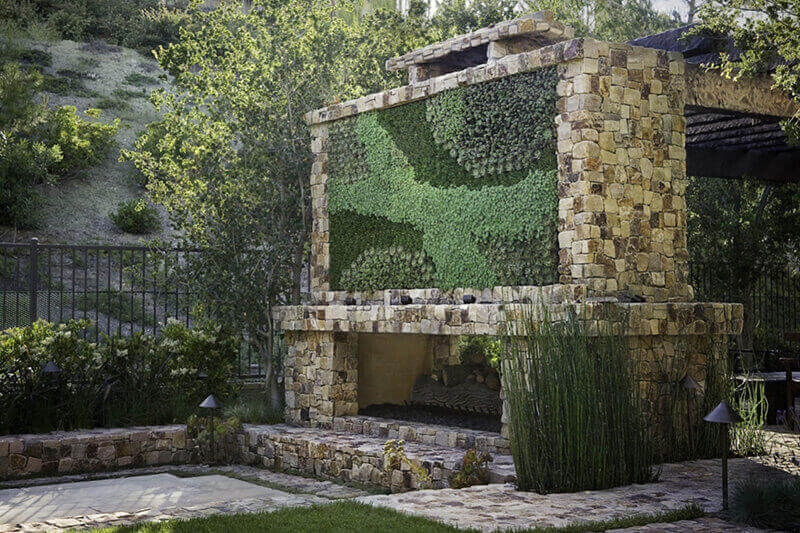 Whatever your style is, ShrubHub can help you create the design you need to build your new yard yourself.
Have Fun With It: Make sure to bookmark any and all do it yourself yard ideas you come across so you can reference them at any time. Don't be afraid of a landscaping idea just because it looks to crazy or too detailed. Part of the fun of a DIY yard makeover is learning something new while you build something that is completely, uniquely you. If that's a vertical wall garden, so be it. If it's a halo-lit plunge pool with an inflatable pineapple inner tube, even better.
Make your DIY yard completely and utterly you.
If you'd like help with your initial design, visit ShrubHub.com to see how our award-winning service can help you master your DIY yard makeover!