6 Tips For Creating The Ultimate Outdoor Kitchen
Creating the ultimate outdoor kitchen is a dream for many homeowners, and you can make it happen. The key is to start with a clear vision of what you want from your space and then create it piece by piece.


This guide will walk you through all the steps involved in planning your outdoor cooking area and give you some tips on how to make it as attractive as possible.
Plan Your Ideal Outdoor Kitchen
To create the perfect outdoor cooking space, you need to ask yourself two questions:
1. How much yard space do I have?
2. How big do I want my outdoor kitchen to be?
How much yard space you have is going to determine the shape and size of your outdoor kitchen. It'll also give you an idea of which kitchen equipment to add and which ones to avoid.
If you're one of the blessed homeowners, who have a large yard, then congratulations! You don't really have to think hard about what to include because your options now are much more varied.
In addition to having more options such as adding stoves or grills, having a large outdoor space also means that creating an outdoor cooking area won't require any major changes to your existing space. Instead, you can simply pick out some outdoor countertops and cabinets that match your yard design and place them in a strategic manner.
Tips For Small Spaces
The real challenge comes when you don't have enough outdoor space, or a small yard because now you'd have to plan your kitchen accordingly and get creative.
Here are some tips to get you started:
If you have a small space right in front of your house, you can expand with a covered structure. When you do so, be aware of window placements, or you might end up doing more work than needed.
If your aim behind creating an outdoor kitchen is to be able to grill all seasons. Then, you can simply waterproof your deck or create a small sheltered area anywhere near your house's door.
When planning your outdoor kitchen, always remember that thinking outside the box would get you unexpected and pleasing results.
If you want to merge your outdoor kitchen design with a unique and beautiful living space, while also sticking to a strict budget, then you might want to give our landscaping services a go.
Here at Shrubhub, it's our mission to help you create the best outdoor space possible at an affordable price.
Choose Your Cooking Area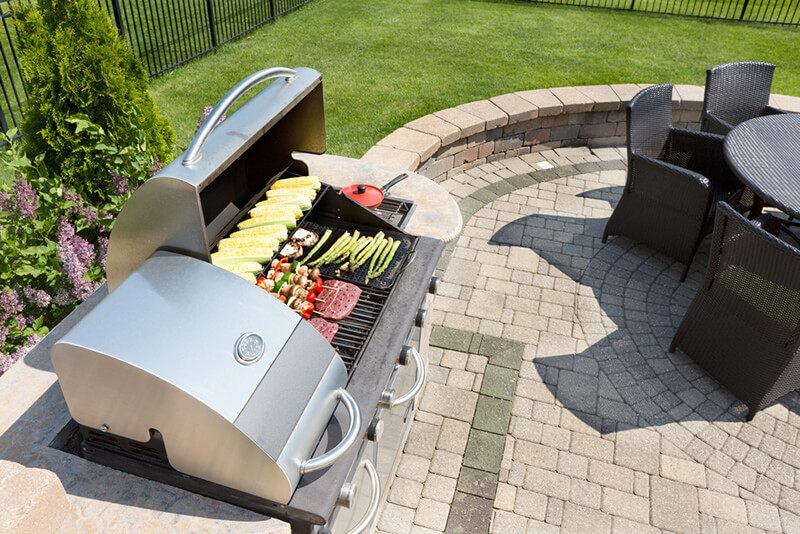 Once you've chosen your ideal location, it's time to consider what type of cooking area you want.
From outdoor bars and a fireplace to a grill and outdoor ovens, the sky's the limit. However, considering the limited space that many people have, most people are going to seek out a fire pit and a grill.
There are a few things to do to save up as much space as you want, while still getting a fireplace, a grill, and all the kitchen equipment you want.
Firstly, avoid large-sized grills and instead install a built-in charcoal grill or any small sized grills. We have done a whole article about that. You can check it out over here!
Another pro tip is if you're thinking of adding a fireplace to your outdoor kitchen, you carefully place it either near the grill and far away from all the other kitchen equipment and walls.
Make sure that there are no power lines near your fireplace. You don't want sparks flying into any kind of wires or cables!
One more thing that will save you time and space is implementing a small ice-cooler for drinks.
Prepare the Workspace & Seating Area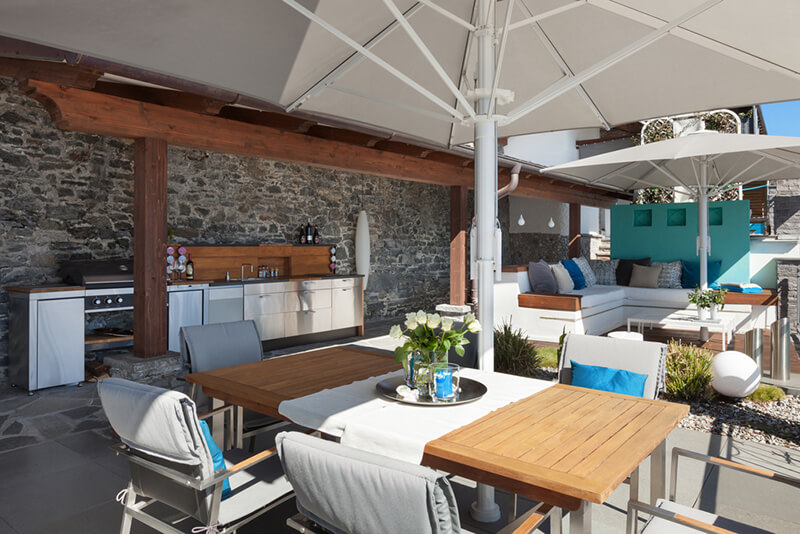 Now that you know the basics of outdoor kitchen design and have an idea of where you want your kitchen to be, it's time to start creating! Before you begin, there are a few things to consider.
First and foremost, make sure the area around your outdoor kitchen is level. If it isn't already level, adjust it accordingly so that your sink and grill will drain properly. You don't want water leaking all over your deck or patio!
In order for a functional outdoor kitchen to work its magic on family barbecues and get-togethers alike, make sure there is plenty of room for everything involved in its operation. This includes not only how much space is needed for cooking but also where people will sit.
Any space, no matter small or large, can work as an outdoor living space if planned properly. By expanding part of your deck or patio, you can add a small bar or a small kitchen table.
Select Your Seating Area
Selecting the right seating area is crucial to creating a well-rounded outdoor kitchen. Whether you're building it yourself or hiring a contractor, there are several factors you should consider when selecting your seating options:
Comfort: This may seem like a no-brainer, but you don't want to have uncomfortable chairs or stools next to the grill.
Safety: Your outdoor kitchen should be built with safety in mind at all times; if there are sharp knives inside or hot barbecue grills nearby, make sure that they're placed safely and away from the seating area.
Set Up the Countertops and Cabinets
You're going to want to set your countertops and cabinets up so that they are easy to clean. This is important because you will be eating outside, and food will get everywhere. The last thing anyone wants is the hassle of cleaning up a mess when they should be relaxing in their backyard oasis.
Luckily, there are plenty of materials that meet these requirements. Here are some suggestions:
You can get granite countertops. They are durable and scratch-resistant and will last you for a lifetime.
Another great material to consider is stainless steel. Stainless steel cabinets can withstand the elements and will look great on any outdoor kitchen design.
Another useful countertop material is cork. Cork is lightweight, waterproof and heat proof, and easy to maintain.
If you're unsure about which material works best with your yard design, then you can always consult the experts at Shrubhub!
Select The Right Bar to Complement Your Kitchen
The outdoor bar is the centerpiece of your outdoor kitchen. It's where you gather with friends and family to enjoy your delicious grilled meals.
There are many factors to consider when building an outdoor kitchen, but the most important is selecting the right bar.
To create the perfect bar, make sure it fits in with your yard and outdoor kitchen design. Choosing a bar that fits the style of your home is essential if you want to get the most out of your new outdoor kitchen.
For example, if you have a modern home with clean lines, then a sleek black bar will look perfect. However, if your home has more traditional or rustic features, then you might want to consider something more classic like wood or metal instead.
Depending on how much space is available in your yard or patio, there are different types of bars that work best for certain areas.
If you want something large enough for entertaining large groups of people, then consider buying an island-style bar with plenty of seating around it.
However, if you just need something small enough for two people at most times but still want it to be comfortable, then semi-open outdoor kitchen bars are a much preferable option.
Install Good Lighting
The outdoor kitchen is the ultimate man cave, but unless you're willing to spend most of your time in the dark, you'll need some lighting.
There are many options for lighting your outdoor kitchen and patio space. You can choose from lamps or ceiling lights, and there are even solar-powered options that don't require any wiring or electricity.
Your cooking space should be well lit at night, so you can enjoy grilling with friends and family into the evening hours without straining your eyes.
There are many styles of lights to choose from, including:
Pendant lights and hanging fixtures that hang above dining tables and bar height counters.
If you're looking for something more dramatic or artistic, try chandeliers that hang from trees or overhangs above bar tops.
You can even install string lights along walkways or around trees for a romantic effect at night.
With these options in mind, ensure that the lighting is directed toward all areas of your new backyard oasis: cooking surface, seating area, bar area, and overall space.
You could install track lights above your countertop or under cabinet lights along the perimeter of your countertop. That will allow each area to receive equal attention from its own dedicated source of illumination.
What's Next?
If you want to create the ultimate outdoor kitchen, you need to have a plan. It can be fun to dream about how it will look and what kind of appliances you'll use, but there are some things that are important to consider before you get started.
For example:
How many people will be using your outdoor kitchen? Will it be just for family and friends, or do you want something big enough for entertaining large groups?
Do you have space for an outdoor kitchen in your yard? If not, perhaps an island would work better for your needs. Or maybe there's room under cover on your patio or porch area!
Once you know what size works best, think about what style would fit into your home's existing design aesthetic (or contrast nicely with other elements).
Now that you know how to create the ultimate outdoor kitchen, it's time to get into action and create the outdoor space of your dreams!
Check out Shrubhub's affordable landscaping design services and let the experts create the perfect yard for you and your family!