Building A Pool Adds Home Value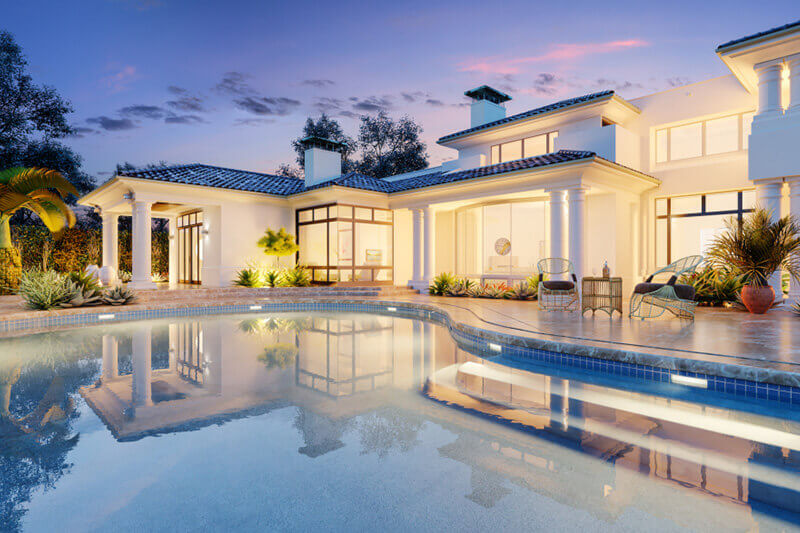 What does your dream yard look like? If there's a pool somewhere in that fantasy, you're not alone. According to the National Association of Realtors, a whopping 92% of homeowners say they have a greater desire to be home after building their pool, and 83% have a greater sense of enjoyment while being home. Of course, having to be home way more often than we're used to due to COVID-19 has only increased homeowners' dreams of finally having a backyard that keeps their families entertained for hours on end.


But along with those dreams come some gnarly nightmares. The upkeep cost alone will scare off homeowners from pursuing any backyard aquatic adventures, and a quick Google search can pull up dozens of articles that'll destroy the possibility of any cannonballs or Marco Polo games in your backyard's future. Much like with any home renovation, building your own pool has its pros and cons. If you're considering taking the plunge, it's best to know what you're getting yourself into.
Let's dive into the reasons you should make those pool-laden dreams a reality as well as all the reasons it might not be the best idea.
PRO: Building a pool adds value to your home
HGTV reports that the average inground pool can up your property's value by 5 to 8 percent. Even if you wind up spending more on your pool than you gain in property value, selling a house with a nicely maintained pool and yard can make your home stand out amongst the competition, especially if you live in an area where having your own pool is a scarcity.
Ann the flip side, even if you live in a neighborhood where many of your neighbors already have swimming pools, your investment is still solid. In fact, in those circumstances, not having a pool might decrease your home's marketability.
CON: More money, more problems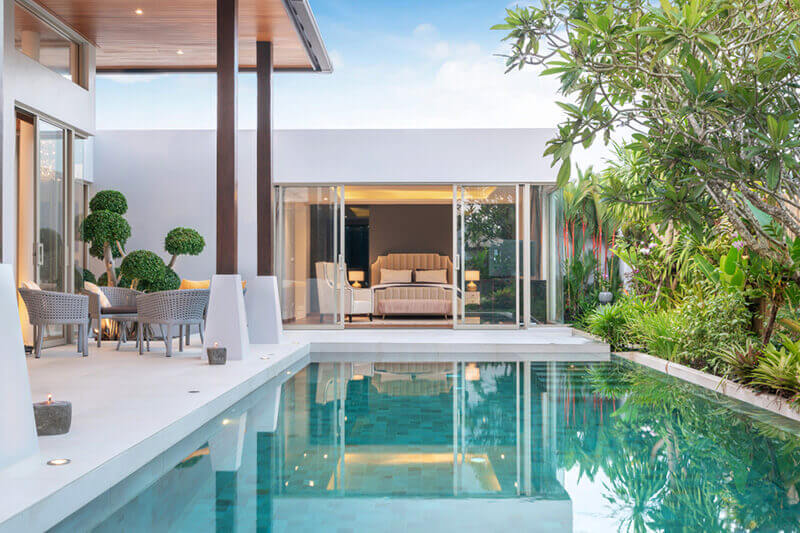 Once your pool is built, you're going to be spending more money-- and you're bound to run into problems at some point, but we'll get to that in a minute.
The annual costs associated with a swimming pool varies depending on where you live, but if you plan on really using your pool, there will be a bit of upkeep. The cleaning and adjusting chemicals run $500 to $1,000 per year if you do the work yourself, and the cost varies depending on where you live. The electricity costs associated with running a circulating pool pump is around $300 per year, and if you want a heated pool, you can add anywhere from $500-800 to the overall annual cost.
And, of course, adding an expensive feature to your yard such as a pool typically comes with expensive repairs. The average cost to repair a pool leak is anywhere between $300 and $3500.
PRO: Swap parental guilt for endless entertainment
The on and off lockdowns and strict safety guidelines set forth by the CDC during COVID-19 has led to an immeasurable amount of frustration for both parents and children. Families have canceled vacations, trips to see relatives, and their normal weekly activities. Building a pool in your own backyard can entirely transform how your family views their home.
Stock up on the pool toys and floaties, spruce up your hardscaping and landscaping, and you've got an entire backyard that provides endless entertainment for you and your loved ones. And when this whole pandemic mess is behind us, you can throw the biggest poolside BBQ your yard can handle.
CON: Pools come with some serious potential dangers
Nearly 300 children under the age of 5 drown in backyard swimming pools every year, according to the Consumer Product Safety Commission, and an estimated 5,000 family pets drown in backyard swimming pools annually. But even if pets or small children aren't a concern for your family, you're going to want to install a safety feature such as a fence or a locking gate.
Pool fences can help prevent your homeowner's liability from increasing since it proactively reduces the risk of accidental drownings (and other accidents).
PROS: Pools are a beacon for healthy activity
Whether you swim laps, play Marco Polo, or simply float around on a raft with a cocktail, your time spent in the pool is extremely beneficial for your overall health--both physically and mentally. Swimming keeps your heart rate up but takes some of the impact stress off your body. It builds endurance, muscle strength, and cardiovascular fitness, and it helps maintain a healthy weight, healthy heart, and lungs.
Pools are a very social place. It's where we play with siblings and friends, laugh, teach each other fun tricks, and use our imaginations. They inspire us to be outdoors and soak in the sunshine instead of lounging on the couch all day bingeing Netflix.
It's certainly easy to financially dig yourself into a hole with a pool installation project, but that's why there are professionals and experts to help us along the way with home renovations. If building a pool is number one on your wishlist, it doesn't hurt to do a bit of research and find out if it's the right idea for you.
ShrubHub helps bring your landscape and hardscape design dreams to life. They can connect you with the perfect contractors for the job in your area so you can eliminate as much stress and unnecessary costs as possible while creating your perfect yard.